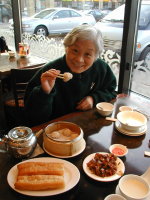 Divine Mother Love
Happy Mother's Day! Mine is no longer with us, but she continues to inspire me as a lifelong teacher, lover of souls, celebrant of children, music, love, laughter. Here in 2001 Mom shares some favorite bites with us.

Tantra honors the Divine Mother in each living being. We exude divinity in every breath, gesture, heartbeat. Yoga is finding that flow of divine essence within us, through breath, body, spirit, connecting that "yoke" to our Mother Essence. No wonder we love Yoga and return to our practice again and again!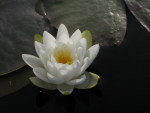 Crown Chakra
Sahasrara, "Thousandfold," names the white thousand-petaled lotus crown, the topmost of the 7 major wheels of energy, Chakras, spinning in the spine. The radiance and whiteness of it can been seen as auras and halos around saints through the ages.

The whiteness holds all colors. Beneath it our 6 Chakras spin in order: Perineum, Sacrum, Navel, Heart, Throat, Brow. Envision these gems: Ruby, Coral, Topaz, Emerald, Sapphire, Amethyst. Each color expresses the drama and passion of one aspect of life. They govern, in sequence: Survival, Sexuality, Power, Compassion, Expression, and Perception. Sahasrara, 7th Chakra, governs Knowledge: inner, experiential knowledge of our true essence as one with divine essence. Its block is Attachment. Its mantra is Om.

Here is the paradox: being thoroughly in the world, alive and interactive, all 6 colored
Chakras vibrantly spinning, yet at peace in the whiteness, "nothingness" and "everythingness" of being: that is Crown Chakra in bloom. It is not to deny any of the gems spinning beneath it. It is to empower yet not cling to any one of them. It is a lifelong developmental task. Imbalances include spiritual addiction at one extreme, and limited beliefs and cynicism at the opposite end.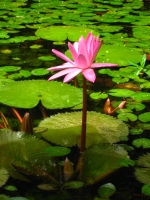 Poet From Lebanon
I like to read this for Mother's Day week classes:

"Your children are not your children. They are the sons and daughters of Life's longing for itself. They come through you but not from you, And though they are with you yet they belong not to you. You may give them your love but not your thoughts, For they have their own thoughts. You may house their bodies but not their souls, For their souls dwell in the house of tomorrow, which you cannot visit, not even in your dreams. You may strive to be like them, but seek not to make them like you. For life goes not backward nor tarries with yesterday. You are the bows from which your children as living arrows are sent forth. The Archer sees the mark upon the path of the infinite, and He bends you with His might that His arrows may go swift and far. Let your bending in the Archer's hand be for gladness; For even as He loves the arrow that flies, so He loves also the bow that is stable." - from Kahlil Gibran, "The Prophet"

Our "children" include every creative effort we bring into the world. And we in turn are the "children" of those who have mentored us. Our bending in gladness, our flying true, our love for both Path and Archer will bloom the petals of Crown Chakra, Sahasrara, "Thousandfold."
Gibran's "The Prophet"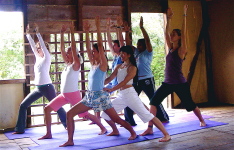 Class Changes
My Yoga Works classes change at the end of May. May 24 is my last Thursday noon class. On June 1, my Friday Flow & Restore becomes Level 1; but I always incorporate Restorative poses from time to time as appropriate! Come & play & enjoy.

My New York Health and Racquet Club Vinyasa Flow class remains Tuesday, 1-2 at 23rd St. I may add a future lunchtime class: Vinyasa Flow, Restorative, or Sweat & Restore. Suggestions from NYHRC students welcome!
Mary's Web Page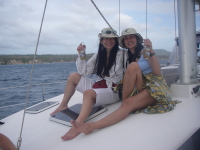 February Retreat
Mark February 16-23, 2008 for my 7-day Tropical Retreat! Exciting decisions under discussion: St. Lucia and Dominica are looking good, and if you go to the website below, see Villa Capri and Jungle Bay, where two upcoming retreats give sample prices and accommodation descriptions.

Retreat suggestions are always welcome. I'm researching weekends on Long Island and upstate New York, and combination retreats with art, writing, or massage partners.
Tropical Escapes: Caribbean Retreats

Responses, Photo Credits
Please share by forwarding to friends; please respond with reactions; or, to be removed from email list, reply with "Unsubscribe" in the Subject line, or use buttons below.

Photos this issue contributed by: Charles Lee, Patricia Perkins, Doug O'Neill, me.

Namaste! My Light bows to your Light. Mary
Mary's Ishta Bio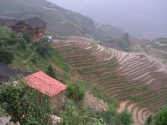 Ducklings for Mom?
For Mother's Day, perhaps a scarf - AND a water buffalo in Mom's name...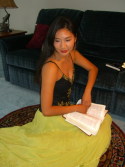 Your Charity Pick: Room to Read
Sylvie writes:
"Thank you again for your newsletter. I love your focus on charities and am happy to share my favorite organization with you."

Thanks Sylvie! Working for global literacy education, is ...

Accessible Kundalini
Kundalini is the coiled energy at the base of our spine at our Root Chakra. Kundalini rises when we do any style of Yoga, setting all our Chakras spinning with energy.

Kundalini Yoga especially focuses breath and chanting to unleash this energy.

Its ties to Sikhism (those turbans and titles) often intimidate Westerners.

Ana Brett and Ravi Singh use a friendly teaching style that may ease Kundalini in, to enhance your own Yoga practice.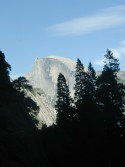 Healing Qi Gong
"Qi" (Chi) is Chinese for Breath, Spirit, Energy, and Life Force, like "Prana" in Sanskrit.

Like Yoga, Qi Gong (Chi Kung) works for healing through breath, body and intention.

Try the complementary healing practice with this wise master. Safe for those with joint injuries.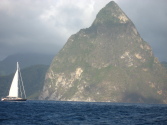 Landmark Education
The Landmark classes help us discern our made-up stories, so that we can create afresh from a clear field - like Zen, which is nothingness and everything - and like Sahasrara, the white lotus crown of divine knowledge.