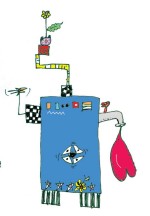 News from the Imagi-nation
Hi Friends, Cable Guys, Blissmas Babes, Viewfinders, Hood Winks, Side Riders, On-Lookers, Cupids, Ex's, and Agnes,

It's a day of hearts, chocolate, hopes and memories, usual routines, and last minute lines at Hallmark. It's a reminder to listen to your heart, act on your dreams, be nicer to yourself and take a moment to create. Create a new thought, a new three line story, a haiku, a silly poem, a page in the book you're writing, a sketch for a new work, a photograph of your little toe. Creating is the ultimate act of joy and makes us nicer people. Dark chocolate consumption is up there too. If you don't have a valentine today, walk down the street as if the world were your valentine. Imagine that it were raining beauty and go walk in it. What would that be like? Marinate in magnificence.

Happy Valentines Day: Click here for your card


Please join me Tuesday, March 6th, 2008 at 5 p.m. PST (8 p.m. EST) for The Joy of Clever Radar - Find out some of what makes Kaizen-Muse Creative Coaching compassionate, playful and powerful in reaching results. For anyone interested in the creative process or creative coaching. Click here to sign up.

Here is the link from last month's call on Reframing with Creativity

Over 200 Improv Everywhere Agents froze in place at the exact same second for five minutes in the Main Concourse of Grand Central Station. http://www.improveverywhere.com/2008/01/31/frozen-grand-central/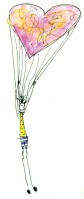 Dropping into Events and Trainings

Sign-up! Join the Almost-Daily Rail (email fortifiers)
Now in addition to the monthly Muse Flash, receive inspiration several times a week to keep you true to your creative spirit - daily reminders keep the soul's expression a priority and help remind us to break the rules of convention and unleash our authenticity. Get a sampling of what the Body Blissmas (and a Happy New Rear) Program is about all in the same regular email service - feed your liberation with The Almost-Daily Rail.  An incredible value for only $3 a month that also includes you in other discounts and freebies as well.
Click here to sign-up or 4-5 weekly email with prompts, inspiration, humor, art.

Third Thursday Drop-in Creative Writing Workshop
Thursday, February 21, 7-9 pm $13
Book Works: Flower Hill Mall Del Mar
Prompts, triggers and tricks to corral words into poetry, prose, characters or just fun.
Just drop in.

Next Complimentary KMCC Call
Please join me Tuesday, March 6th, 2008 at 5 p.m. PST (8 p.m. EST) for The Joy of Clever Radar - Find out some of what makes Kaizen-Muse Creative Coaching compassionate, playful and powerful in reaching results. For anyone interested in the creative process or creative coaching. Click here to sign up.

Altered State of Creativity Workshop Teleconference
Sunday, March 9, 2008  2-4 pm pdt (5-7 edt)  $45
Sink into your creative world and emerge with skills that can serve you with any creative endeavor with Jill Badonsky's two hour workshop that focuses you, starts your creative motors, and keeps you going after the workshop. Sign up by clicking here.

Next 14 week KMCC Certification Training
Begins August 20th. Go to www.kaizenmuse.com for more information.


"I have never been more inspired by any class, workshop or training than the KMCC program. Jill's passion for creativity coaching is contagious, and she delivers the wisdom of her experience in ways that anyone can grasp and understand. My investment in KMCC is the best gift I've ever given to my Self. I know it has the power to change lives..it's changing mine!" ~Debbie Ogle, Asheville, N.C.


Next Chance to Sign-up for Blissmas:
The Next Body Blissmas (and a Happy New Rear) will begin September 2008. Reserve your space for this unprecedented program where you increase your wellness, decrease your weight with creative techniques and a support network of same-minded women. Write info@themuseisin.com for more information.

Mark Your Calendars Now for Weekend Retreat in Rural Massachusetts with Jill Badonsky
October 10-12, 2008 Agelessness, Creativity and Imagination - writing, art, dancing, movement and breakthroughs for women.  Discount to Body Blissmas participants: www.spiritfire.com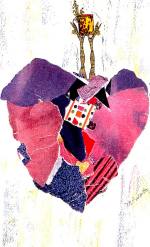 Heart Murmurs
Today is the birthday of George Washington Gale Ferris, 1859, invented the Ferris Wheel. Today is dubbed Ferris Wheel Day.
Write a poem or haiku about Ferris Wheels. You have permission to write a really bad poetry. And I volunteer to set the Ferris Wheel "bar" low poetically speaking with this poem:

The Ferris wheel turns round and round
High it goes, then close to ground
I see afar when I'm at the top
But it scares me and I'm not sure the whole thing is worth it.

Make an acronym for the word HEART.. Here, I'll set the bar low on this one too:

H
 arvey
E
ntertains
A
t
R
enae's
T
onight
Look up and figure out your Enneagram based on just reading the qualities. Appreciate yourself by finding the page that tells what you like about being your type.
www.9types.com

Word Pool:
Take these words or phrases and add more. Weave them into poetry, prose or nonsense. Break the rules:
adjust, fascinating, implore, finally, red bow, running water, mingle, figure, door stop, rumble, story, hear, no, after, fringe, red, fence, order.
Jill's column at Creativity Portal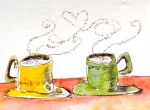 Heart Connections
Congratulations to the latest graduates of the Kaizen-Muse Creative Coaching Certification Training!
 
Adriane Giberson
adriane@onesundayafternoon.com
Irvine, CA
http://www.onesundayafternoon.blogspot.com
http://www.theartsyfartsychick.wordpress.com
I'd like to coach creative individuals who feel the need for some gentle guidance or for individuals who would like to be coached in a creative, innovative way.
Bonnie Winkler 
bonniewinkler@earthlink.net
Bonnie also does dreamwork.
Princeville, HI
Debbie Ogle
bkbinder@bellsouth.net
Asheville, NC
"I work with individuals seeking to live a more authentic, passionate life, especially those facing chronic health challenges or who need support with the business and marketing side of their creative dreams."
 
Lynda Treger
lynda_treger@hotmail.com 
Oceanside, CA
Lynda works with parents wanting to tap into the creative nature of 'parenting for great kids', and with people who work or play in the creative arts and desire knowledge about the creative process: how to begin it, how to sustain it, and how to realize gratifying results.
Lynda's coaching blog-site is under construction.:  
Please check out Lynda's personal blog  www.creativerebelwritings.blogspot.com   for writings on creativity, life happenings and parenting.
Margie Pollock
mpollock6@cfl.rr.com
Orlando, CA
Margie's Blog:  http://painterlymuse.ning.com/ 
Nic Hohn   
art@nichohn.com.au
Queensland, Australia
Art site…. www.nichohn.blogspot.com
Coaching site…. www.myhummingheart.blogspot.com   
Vicki Kramer Nathan
v.kramernathan@gmail.com
New York, New York
Coaching to the Core
Life Coaching Pathways
Bringing Spirit to Choice
http://vickikramernathan.blogspot.com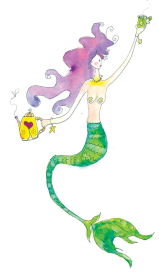 Love Poetry
Making Room by Brian Andreas
When I first met her, I knew in a moment I would have to spend the next few days re-arranging my mind so there'd be room for her to stay.
___________________________________________________________________________________
Half life by Stephen Levine

(We walk through half our life
as if it were a fever dream
barely touching the ground
our eyes half open
our heart half closed.
Not half knowing who we are
we watch the ghost of us drift
from room to room
through friends and lovers
never quite as real as advertised.
Not saying half we mean
or meaning half we say
we dream ourselves
from birth to birth
seeking some true self.
Until the fever breaks
and the heart can not abide
a moment longer
as the rest of us awakens,
summoned from the dream,
not half caring for anything but love.

What?
What is a soul? It's like electricity - we don't really know what it is, but it's a force that can light a room. ~Ray Charles