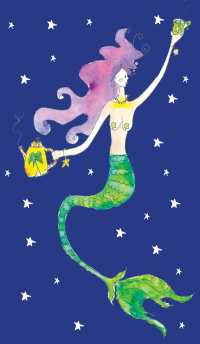 APRIL IN AHA-PHRODITE
"What we see depends mainly on what we look for."~John Lubbock

This just in:
New elaborately complicated technology has revealed ground-breaking news about the planetary constellations and their astrological influence. Mount Olympus astrologers using highly magnified and exceptionally calibrated kaleidoscopic telescopes, have sighted the nine modern day Muses (an upgrade of the classic Greek Muses by Muse channeler, Jill Badonsky), reeking havoc among the stars! Gosh! The presence of these creatively programmed entities is altering astrological tendencies and their effect on mortal behavior. The Muse, Bea Silly is riding the Leo constellation into a humbler state of quiet musing. Muse Audacity is tempting Scorpio to sublimate secrets into songs, Spills is counseling Virgo to lower perfectionistic expectations, and Marge is slapping some common-sense into dreamy Pisces (with compassion) and succeeding at getting Geminii to focus. Gee! As we move into April, it is apparent that we are under the influence of Aha-phrodite, The Muse of Paying Attention and Possibilities. You know what THAT means, don't you? Or… do you? If you don't, meet us for a secret rendevouz with April in Aha-phrodite and the new astrological influcences this coming Thursday, April 3 and/or check out some experiences with the constellation of Aha-phrodite and her prompts below.
Brought to you by the Association of April Fools (AAF).

Wise men learn more from fools than fools from the wise. ~Marcus Porcius Cato
Happy April Fool's Day

Purchase a Creative Workshop in the comfort of your own home: Invent an Imaginary Friend to be your life support. See We Could All Use an Imaginary Friend at Creativity-Portal. To purchase the workshop, go to www.kaizentral.com
Jill's latest column at Creativity Portal - Trust Your Instincts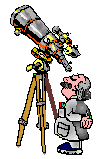 CLASSES, WORKSHOPS, TRAININGS
Details on the Following Classes Here

Would you like to experience low-cost Kaizen-Muse Creativity Coaching with a Kaizen-Muse Creativity Coach in training?
Please email info@themuseisin.com and let us know your creative dream and what's getting in your way. A coach will contact you for four sessions for a fraction of the cost normally charged for this dynamic process. A KMCC coach compassionately takes into account the resistance that comes up during a coaching process, so if you've wanted to try coaching but feel stubborn or resistant, this is the place to begin.

PART TWO of TEN FREE TELECONFERENCES (Get to know all nine Muses and the Bodyguard)
Thursday, April 3, 2008 at 5 p.m. PST (8 p.m. EST)

To sign up for the free Thursday teleconference on April in Aha-phrodite.

Listen to the Marge recording from last month.


DROP-IN WRITING WORKSHOP
Every THIRD THURSDAY of the Month Upcoming: April 17th, May 15th
Time: 7-9 pm $13 Book Works, Flower Hill Mall, Del Mar
An additional writing workshop will be moving to San Diego's South Park in June.

KAIZEN-MUSE CREATIVE COACHING CERTIFICATION TRAINING
June 18, 2008 - September 14, 2008
For more information, go here.
Be trained to help others break through blocks to creative changes, go deep with your own creativity, celebrate and recreate your life with Kaizen-Muse Creative Coaching training.
Jill Badonsky's KMCC training is the ultimate in preparation for creativity coaching. Her tools of the trade, essential; her talent for moving information from her heart to yours, direct; her methods for learning this coaching style, creative and compassionate. I began this journey for the information and self-coaching, and now I am building a coaching business that I am truly excited about! ~Lynda Treger, Kaizen-Muse Creativity Coach Oceanside, CA

I found Jill on a life coaching call and fell in love with her spirit, artistry,and heart. I followed her to a retreat to see just what lay beneath and discovered authentic wisdom, a unique sense of play, and inspiration. This soulful ball of fire designed a powerful and effective method to free-up whatever blocks our expansion as human and creative beings. Her coaching program is replete with perspectives adding new dimension to my work as a coach. Vicki Kramer Nathan, Coaching to the Core, http://vickikramernathan.com

To apply for KMCC coaching, write Jill at info@themuseisin.com

BODY BLISSMAS AND A HAPPY NEW REAR
The amazingly powerful combination of wellness/weight Loss and creativity - make a change in your wellness, weight and creative thinking that lasts a lifetime.
Watch for the mid-April Muse Flash dedicated to details and logistics about the next Body Blissmas Journey.
Choose from:
The V.I.P. Inner Circle beginning August 6, 2008 - January 6, 2009 (throught the holidays!) Location: An on-line community, weekly teleconferences, one-one coaching, nutrition consultation, creativity workshops, a tote bag full of goodies,daily emails filled with support, reminders, art, humor and creativity prompts or
The On-going Month to Month Commitment (with a three month intial introductory period beginning August 1, 2008)
Find out how to adopt a lasting habit of wellness and weight loss while experiencing the expansion of creative passion. This unprecedented program is changing the lives of women across the nation. It is a non-deprivation diet-plan and a creatively stimulating, supportive environment that keeps you plugged into your creative self through everyday support in a six month journey or on a month-by-month basis. Body Blissmas addresses the very reasons programs have failed in the past. If you just can't wait, write info@themuseisin.com for more information.

LIBERATING YOUR SOUL with CREATIVITY, YOGA and MOVEMENT
Three Day Fall Retreat in Rural Massachusetts
October 10 - 12, 2008
Location: http://www.spiritfire.com/
Come enjoy autumn leaves, writing, art, yoga, music, laughing, gourmet healthy food, Shamanic journey and relaxation with your tribe of creative individuals. Juice up your creativity, experience a walking workshop that enhances your creativity and cleanses your emotions, experience the magic that Shaman Chris Magalene creates with her healing journey with nature and images, be dazzled by the loving power of Rae Warde's workshop, join Jill Badonsky in daily yoga for creativity and bliss, bring projects you have not had time to complete or discover new ways to creatively express yourself ... or just participate according to your own intuitive rhythm and partake in the healthy gourmet offerings and the healing restoration of being in the country.
CLICK HERE DETAILS for the above events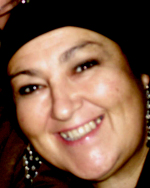 KAIZEN-MUSE CREATIVITY COACH FROM THE U.K
Berni Darnell (Detta) is our first Certified Kaizen-Muse Creativity Coach from the U.K. She is a warm, whimsical, witty and wonderfully wise woman brimming with creative abundance. We are honored that she went through the KMCC training.

What is the creative scene like in the UK?
It's good and getting better all the time! Creativity seems to be the 'buzz' word at the moment and I am meeting so many people who want to know more about creativity and all the ways that it can enhance their lives. They might want to create with colour, with words, music or whatever it is that makes their life more creative. That is why the Kaizen-Muse tools are so great – they help people find out what they love, what they are good at and set them off the creative path to doing a bit more of what they love. I have met people from all parts of the UK and over the internet who are interested in the creative process and it's just
lovely to know that there are real communities – pockets of creative support – everywhere.

What was it like taking training in that originated in the US?
Exciting! I loved it despite the 2am calls. My lovely group of Kaizen Muse coachee's were just the best. The calls worked really well, as did the really helpful teleclasses. They gave me such a rich source of inspiration and they still do. I started out tentatively with a group of people I didn't know, and have ended up with a wonderful group of supportive friends who are inspiring and motivating. We really cheer each other on and are delighted for each other's successes. I am just over the moon and honoured to be the UK's first Kaizen Muse Creativity Coach!

What will you specialize in?
I am passionate about helping people to rediscover what they love – what their creative dreams are and to help to create a life around those dreams. I seem to be specializing in mid-lifers, men and women who have never had the time or resources to explore their inner gifts. I am helping them to say YES it's my turn now! I like to bring in life purpose numbers which is based on their birth number and the challenges and opportunities these numbers present. This ties in beautifully with KMCC to uncover blocks, fears and other stuff we don't always understand.
We then have a creative platform from which we can begin to take the small steps to make our creative dreams more real. Age along with wart's wrinkles and wobbly bits are no impediment to living a life you love!

Best advice:
The best advice to help me step confidently into the direction of my dreams has been from one of the Kaizen Muse Tools and is 'just do it anyway' followed closely by 'it's close enough'. This advice opened up a whole new creative
side to me. It helped me to look at procrastination, perfectionism and not feeling good enough. When I employ this advice, I am able to explore my love of colour, words, and messy art with glee. It helps me to begin the creative
process instead of just thinking about it. I learned so much about self sabotage from KMCC, and the tools to overcome it, I just can't imagine what my life would be like without my KMCC toolbox. I love the freedom of creating things
that don't have to be perfect, the liberating effect of saying no, and the joy of saying yes more. KMCC has encouraged me to turn a 30 year pipe dream into an exciting reality this year with my Creative Juice Retreats on the beautiful
island of Kefalonia in Greece.

Favourite Creative Achievement:
My favourite creative achievement would be my Creative Juice Retreats, a new range of little Wish You cards, some lovely altered journals I have made, a gorgeous poem I have written and made into a booklet and sitting down
to write a book – Six and a half ways to live a life you love .....see I've become so creative I can't make up my mind which one is my greatest achievement, when you open up to all the possibilities that the creative process brings, all
sorts of magical things begin to happen! So I guess to nail it, my favourite creative achievement would be becoming a KMCC who has made creativity a way of life.
Berni who is now in the habit of calling herself Detta invites you to visit www.acreativewoman.com and email
her at Bernadette@acreativewoman.com She is in the process of developing a new website which is called www.expect-joy.com as she feels she is indeed a joy detective!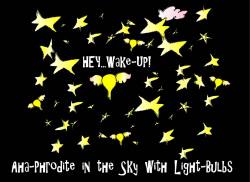 THE INFLUENCE OF THE CONSTELLATION AHA-PHRODITE
The aim of life is to live, and to live means to be aware, joyously, drunkenly, serenely, divinely aware. ~Henry Miller

One of my favorite musicians, Jack Johnson, singing about Constellations.
Click here, sit back, close your eyes, relax.. listen to the stories across the sky.

Be aware of and play at this Jackson Pollock rerun: http://www.jacksonpollock.org/

When we are in the Constellation Aha-phrodite we awaken to the possibilities all around us. We move from the mundane, automatic, dread-lock of default thinking to being fully atuned to what creative inspiration is right here in this moment. Right now, look up, ask yourself: What small sight, sound, sensation could be a creative inspiration in this moment?
My fireplace sits in front of me, piano music titled "Innocence" plays softly, my cat sleeps in a curl on my legs, birds sing and clouds deny backlighting for the tree filled with pink blossoms I can see across the street. That is my present moment and when click on this present mental-channel, creative possibility replaces worry, struggle or the fact that my legs fell asleep because moving them would wake up my sleeping feline.

What's in your moment?
Keep going with these unfinished sentences or repeat and complete them differently each time:
In this moment ...
I pay attention when ...
I come up with ideas ..
Sometimes I come up with ideas in the shower, sometimes the car, many times on a walk. How about you?

Catch the possibility of April Showers:
Make a list quickly of What if it rained…
For example: What if it rained poodles, hammers, grape Jell-O shooters, rain-bows, rain-ribbons, scarves.
Then choose one or two and find the poem or story possibility hiding inside.
For example:
It rained scarves today, red ones, silk ones, satin ones, polka dot and striped ones. I put out several pails to collect the scarf-downpour and then with them, I watered my wardrobe. Now I wear one scarf on Monday and five on Fridays, six on Saturdays and, on Sunday I bury myself in my scarf lake and pray that matching shoes will come and save me.

What if it rained words?
Take this pool of words and make poetry, prose or nonsense. Add more words, don't worry about using all of them:
stranger, buffet, main, lane, jacket, muster, forehead, lady, overhead, shower, burst, stardust, burrow, at last, exclaim, cape, somersault, hoolahoop, wake-up call, downpour.

Join the call about Aha-phrodite this Thursday by signing up at www.kaizenmuse.com .
Call recordings for this series are $25 (the live calls are free).

Specially designed, more comprehensive recordings are available for your own group of friends in your home or as part of your existing women's group, writing group, art group, or coping with reality support group (CWRSG). Experience how reading the book and following the inspiration of these Muses can help you break through creative blocks and resistance as well as provide you with a boost of playful but profound inspiration that lasts the rest of your life. Recordings include guided imageries, exercises, anecdotes, and Muse motivation an hour with Jill Badonsky and are available for $50 (split the cost with your participants). Comes with a free PDF of suggested activities for before and after the call. Done in a group setting, this process is fun and powerful. The recording is in a downloadable format.

Click here for last month's Muse Flash

Check out what's happening at San Diego's Writer's Ink:
http://www.sandiegowriters.org/
YOU JUST GOTTA GO HERE AND PAINT WITH MOTION

Shooting Stars
Congratulations to Newly Certified Kaizen-Muse Coaches!:

Detta (Berni)Darnell, from the U.K. - see above
Martha Mayo from Tennessee
Martha says: As a Certified Kaizen Muse Creativity Coach, I work with people who have a fire in their belly that just won't leave them alone. They feel they have something to contribute to the world and either don't know how to get started or have bumped up against a wall of feelings like self-sabotage, perfectionism, overwhelm or procrastination during the creative process, and haven't figured out what to do next. Within a nurturing and safe environment, we fan the flame by asking small questions, taking small steps and actions, using guided imageries to tap into the client's intuition and weave fun tools into the process to bypass their blocks so they can create, and experience, feeling fully alive." Reach Martha at heartnhands@embarqmail.com

Reach the stars at Stretchfearlessly.comet