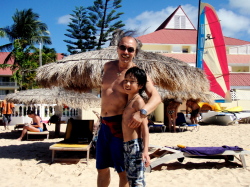 Inner and Outer Sun: Source of Life and Power
My brother George in Canada sent me this Globe and Mail article on the powerful health claims for sunshine and Vitamin D based on medical studies. Yogis have long saluted the sun's life-giving forces, Paramahansa Yogananda writing in the 1950's advocating a minimum of 10-minutes' daily focused sun-soaks.

Our own solar heat, "Tejas" in Sanskrit, shines from our 3rd, or Solar Chakra, behind our abdominal wall from Solar Plexus to navel, yellow like the sun and containing a red down-pointing triangle yantra or visual image.

This inner sun feeds firepower and energy throughout our systems. It governs heart and blood (distributors of energy) and small intestines (digestive fire). It governs our sense of sight (illumination) and our legs and feet (motor power). Glandularly it regulates our pancreas (ego or self center). Energetically, it controls our power or weakness, self-determination, our "right to act" and be responsible for our consequences.

Yogic breathing, bandhas, alignment and asanas all develop a strong but pliable core in which Manipura Chakra's Tejas can burn evenly, a life-giving, light-giving fire, under control. Spontaneity and purposefulness without aggression are evident. A leaky Power Chakra can show as hostility, passivity, or both. Uddiyana Bandha (diaphragm lock), Ujjayi, Kapalabhati and Bhastrika Pranayama all tone a healthy Fire Chakra.

For my two previous Solar Chakra or "Manipura" issues, with Mantras, Yantras, chants and quotes relating to Third Chakra, see links below, sidebar right.
Vitamin D Article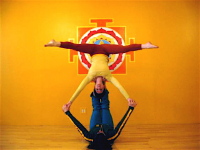 Flying To the Sun
Facing the sun upside down, whether supporting someone's body weight, or flying on their support, in trust and freedom, I experience in AcroYoga what William Trubridge, free-diver, and Gregory Colbert, photographer of land, sea, animals, humans, and air, must experience: flying toward the sun; our inner sun, and our outer sun! Not to mention the solar power I am developing abdominally and spiritually from our core drills and conditioning workouts in AcroYoga classes! All tempered with Metta, loving-kindness.

In early August I am flying to Santa Barbara CA for an AcroYoga teacher training and I am already giddy with the pleasure of training for my training. My muscles and spirit are deliciously stretched, each moment discovering a self that did not exist a moment ago, creating body and soul anew through challenge and experience. Above are my beautiful Acro teacher friends Becca basing and Lila flying in Star Straddle. Solar power to hold yourself up radiantly! And to hold your partner safely in your loving glow.
AcroYoga "High Union"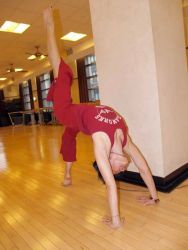 Spring: New Classes!
I am adding two new group classes in May! Monday & Wednesday 11:15-12:15 Open Level Ishta classes, at the beautiful new Ishta Center, 56 East 11th St. between Broadway and University. Click below and read about the Ishta lineage ~ also, look for my Urdvha Dhanurasana photo in Alan's gallery!
Ishta Photos & Bios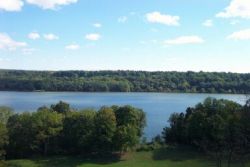 Yoga & Art: June or July Monastery Weekend on Hudson River ~ Limited Space ~ Reserve ASAP
Like Billy Joel, I'm in a New York State of mind whenever I look out the train window to see the sparkling tranquil Hudson River pulling me out of the city. Peacefully delighted. Soothed by sun and water.

My first class for Yoga Works in 2003 was in Irvington by the Hudson River, Sunday mornings. A glorious light, air, and feel, away from the bustle of the city.

I am therefore very excited to plan this Yoga Summer Soul Weekend at Holy Cross Monastery in West Park on the Hudson River. The Weekend is either JUNE 27-29, or JULY 11-13, TBA. The beautiful grounds roll right on down to the river. The brothers there are kind, gentle and wise. They chant, they cook. Some of them practice (some teach) Yoga. One brother offers massage and takes bookings. Guests and brothers share deliciously prepared, healthful meals in a high-ceilinged, panoramic dining hall overlooking the water. There is an outdoor labyrinth and there are quiet indoor reading and meditation rooms, and comfortable simple bedrooms.

$450 Cost includes lodging and meals from Friday evening to Sunday noon, Yoga with Mary, with possible guest Teacher for two sessions of Creating Art as Prayerful Meditation: any Art you create, you keep ~ Paint, Sculpture, Writing, Music, etc. It's a powerful soul-exploration I have done and loved, and I'm always amazed by my own and others' creations. Burn away the vapors ~ shine your creative Sun!

Train and taxi fare from station not included. Rooms need early booking, so RSVP me right away if you have an interest so we do not lose the weekend space! There are only eight available bedrooms for the weekend, so I am calling for a small group of pastoral-minded Yogis to share this beautiful and peaceful Spirit-Body-Soul exploration. Could it be you I am calling?
Holy Cross Monastery~Retreat Site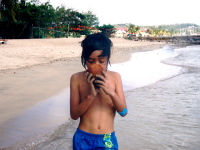 2009 St. Lucia Retreat
Those of you who missed my February St. Lucia Retreat, no worries! Set your sights on next February to fly away with me from frigid sidewalks, to drink fresh coconut juice, feed fish, feast on Yoga, sunshine, joyful people, tropical foliage!

My Yoga program in '09 in St. Lucia will include multiple teachers, classes in Vinyasa Flow, AcroYoga, Meditation, and Restorative; plus Gentle and Beginner.
Yogis Play In Paradise: 2009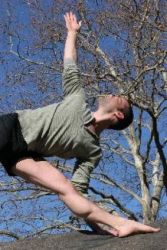 "Gurus"Teachers Illuminate: Alexander Gish
Gurus lead us from gu to ru, darkness into light. Teachers are tiny suns, or rather mirrors ~ reflecting back our own sun, and the sun that gives all life. I specialize in private Yoga personalized for individuals' needs, and monthly I highlight a partner teacher from my Housecalls Team, whom I offer clients with different schedules or needs than I can accommodate.

Alexander Gish received his MFA in Dance from NYU's Tisch School of the Arts in 1999, where he also studied Pilates with Kathy Grant and Anatomy and Kinesiology with Andre Bernard, both pioneers in their respective fields. Upon graduation he immediately began teaching in the Dance Department at NYU, and has since performed with numerous New York based dance companies, among them Mark Dendy Dance and Theater, Keigwin/Co., Brian Brooks Moving Company, and The Metropolitan Opera Ballet. Since 1999, Alexander has taught at numerous US universities and festivals, including full-time from 2003-2005 at The University of Maryland, College Park.

During 8 years of professional dancing and teaching, Alexander managed his own injuries and stayed fit for the rigors of performing with Yoga. In 2005, Alexander moved back to New York, became Yoga Alliance certified through Be Yoga (Yoga Works) and began teaching Yoga full time. He currently teaches at Yoga Works, Practice Yoga, Club H Fitness, and privately. Alexander combines his Thai Yoga Massage studies and ongoing anatomical studies to offer an eclectic, integrated transformation for all aspects of the self.
Alexander: Team Yoga Housecalls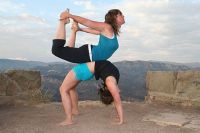 Photo Credits; Forward or Respond
William Winram photo: Shark Freediving magazine. William Trubridge video: William Trubridge. Lila Donnolo & Becca Krauss. Becca & Sarah Vosen in Bow on Bow above, and Mermaid on the Edge at sidebar bottom right. Alexander Gish for his photo. Raul Aranas for Mary's Hanumanasana in Creek. Will Nagel for Mary's one-leg Urdhva Dhanurasana variation. Alan Finger for his photo. Holy Cross Monastery for their river view photo. Faramarz for the Om Factory photo. "Gigi" Harriet's photo from her grandaughters, Sari and Jenny.

I love Replies; I love Forwards to friends. Friends can directly Subscribe below, or Reply to me with their emails. You can also Unsubscribe below, or Reply to me to unsubscribe. I hope you won't! Connected like the rays of the sun; we expand in light.

Peace! Joy! Light! Mary
Mary's Yoga Site~retreats, schedules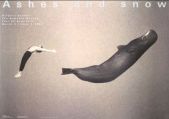 Elephants and Whales Fly In Water ... To Sunlight
Photographer Gregory Colbert's "Ashes & Snow" exhibit came to New York in 2005. See his vision of humanity and nature united. Amazing photography and filmography. Dancing with the elephants, swimming with the whales.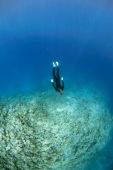 Free-divers to Sunlight
Beyond Fish pose! Man in watery element, flying in one long breath. Yogic breathing is part of the specific training for the high adventure sport of "free diving". Above photo is William Winram; below video is William Trubridge. Both free-dove the "Blue Hole".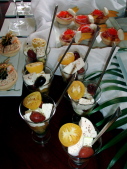 Living in Light: Randy Pausch
My student Pam sent me this link of "Randy Pausch's Last Lecture". What if you knew you had just months to live? What would you want to say? What light do you pass on? Click on this.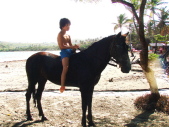 Light On Literacy
Literacy brings sunlight to those in the dark. Student Sylvie writes:

"Please save 23 April for the 5th annual NY Room to Read Spring Event... We threw our most successful event to date last year, raising enough money to build 125 libraries in the developing world. I hope you'll join us this year as we try to break the North American fundraising record for Room to Read once more.

"Whether you're interested in learning more about this incredible organization, are passionate about increasing literacy and making a lifelong impact on children, or if you are just looking for a great party, this is an event to look forward to." ... For information for the party, contact:

SYLVIEPR@aol.com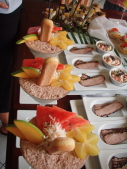 Light on Chakra & Kabbalah
Fascinated by the Chakras? Student Shyama tells me of this 7-week, Saturday 2-hour workshop cycle March 22-May 3, 11AM-1PM, integrating meditation, tantra and Kabbalah with Chakra exploration.

The website has the event. For a list of each week's focus, write to ask for their March Newsletter:
info@attunewellnessandyoga.com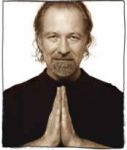 Ishta Center Opens~MAY!!
An original partner of Yoga Works in California, Ishta 2nd generation Yogiraj Alan Finger founded Yoga Zone in New York and then Be Yoga.

Now Ishta Center will open its doors on East 11th Street in May.

Yoga Works continues to support and feature a full range of Ishta teachers at their studios. See YW link below.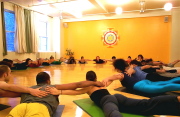 Om Factory: NYC Acro Home
Wonderful oasis of warmth, love and wellness, Om Factory is NYC's home to AcroYoga, currently 4 per week, and LOTS more besides.

Acro Fundamentals Workshop Sun., April 6, 1-4 PM is 3 hours of Partner Yoga, Thai Massage, and Acro basics! Great fun, learning, conditioning.

Parties and Acro Jams abound; get their newsletter, come to a class, or email me!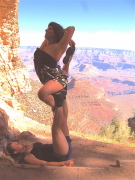 Spinal Sunshine Spa
Esprit Wellness, my midtown chiropractic haven and "spa", specializes in scoliosis and in spinal health for sports & fitness.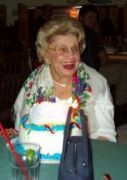 Sunny "Gigi", 104
Thanks Barb for forwarding!

Harriet "Gigi" for Great Grandmother, last week at 104 chose "to just float away on a cloud" after a fully-packed life.

Her longevity tips:

Be happy ~ Do your hair ~ Be positive ~ Enjoy the sun ~ Don't get stressed ~ Do your nails ~ Take life with a light touch ~ Swim and exercise as much as possible ~ Keep up with the times (she had a cell phone) ~
Value your friendships ~ Live and let live ~ Don't shout ~ Be a lady ~ Stay up with politics and current events ~ Never stop learning and trying to improve ~ Make everything you touch and your appearance beautiful ~ Make sure you find a man who can dance ~ Make him and everyone you touch feel ten feet tall ~ When you're blue watch romantic comedies and eat fudge ~ Fill your life with flowers and above all ~ LOVE.

Shine on. Love, Mary