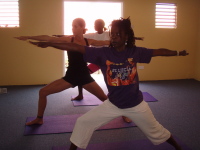 Aiming Our Intentions
I love Kahlil Gibran's "The Prophet" and especially his images in the section on children, each of us arrows from our parents' bows; but each of us also bows ourselves, directing our works, deeds, ideas, into the world as actions with an aim, an intention, "sankalpa" that we set carefully or carelessly.

Throat chakra, through our word, births our desires and intentions as surely as Svadhisthana, our sacral chakra, births our biological children.

Those who work strongly with word and integrity - empowerment coaches or prayer ministers, or writers, parents or leaders - know that the more integrity you maintain in your "word," the more power it has. When you keep powerfully to your word, you reach a point where as one coach expressed it, "you say the word chair and a chair falls out of your mouth".

Truth and clarity. Turquoise colored Vissudha chakra, located in the throat, with a white, oval shaped Yantra like an egg. The affirmation is "I have the right to speak and hear the truth." It invokes "Satya" truth-speaking, the second Yama, and "Saucha" Purity, the first Niyama, even as it is related to the purifying thyroid gland.

The powerful creativity of Word was expressed in "'Let there be Light,' and there was Light." We can all be Mothers and Fathers in our powerful creative 5th Chakra, quite apart from being biological parents or not. Happy Mother's Day & Father's Day, you bows and arrows. "The Archer sees the mark on the path of the Infinite, and He bends you with His might that His arrows may go swift and far."
Mary's Website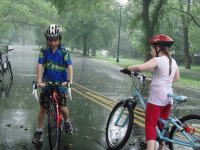 Pedal for Peace II
Wow, May sure tore by in a hurry! Lots of rain and shine, like today, the last day of May, with our intrepid band of cyclists pedaling for peace as we did first time last September. Thank you for those who donated! For more on this and other active peace initiatives you can partake in, or to donate retroactively to honor the wet riders, follow links.
Peace Ride Info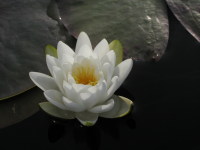 New Restorative classes
In June, my Friday 10:45 class at Yoga Works East Side is now a Restorative! This joins my Monday 11:15 Restorative at Ishta Center and my Friday 12:45 Sweat & Restore at Om Factory - half & half Vinyasa & Restorative, main course and dessert.

See links for full class schedules. All 4 places I teach are healing havens. Ask me for a free first class card if you are new to any of them.
My Web Classes Page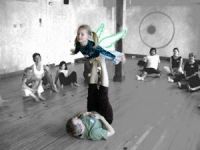 Circus Yoga Central Park Sundays
3 more Sundays in June, including tomorrow! June 1, 8, & 15, from 3-6 PM in Sheep Meadow Central Park (enter West 67th St. or 72nd St.), come try free Circus Yoga with founders Kevin and Erin.
Circus Yoga Sundays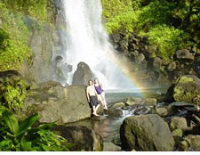 Feb. 14-21 Yogis in Paradise
Believe it or not I'm about to book my February Multi-Teacher Retreat Feb. 14-21, 2009. I'm very excited as I plan to offer a team of teachers covering Vinyasa Flow, AcroYoga, Restorative and Meditation, and Beginner and Family Yoga as needed.

My planned venue is Harmony Resorts in St. Lucia where I held my Feb. 2008 retreat, with Chef Bobo Bergstrom's peerless cuisine for our brunches and welcome and farewell dinners, and pool, town and beach, set on a harborfront location.

A second possibility is Negril Escape in Jamaica, with capacity to host larger groups and children under age 13, and with a larger open-air yoga space with ocean view, as well as pool, beach, garden and ocean view.

Both resorts will boast comparable rates with $1495 double occupancy (excluding airfare) and discounts for under age 17, and will include daily Yoga classes, morning fruit and refreshments, daily brunch, welcome and farewell dinner, airport transfers and personalized retreat coordination by Trish of Tropical Escapes.

Students and teachers, I am welcoming inquiries and interest as I assemble this retreat "Yogis Play in Paradise" A Multi-Teacher Retreat. Stash your vacation funds and block out that week, and keep me informed of your special interests! See the two venues' writeups at links below, and keep tuned to find out where we will be for sure in next month's ENews or check my webpage for constant updates.
Yogis in Paradise: Multi-Teacher Retreat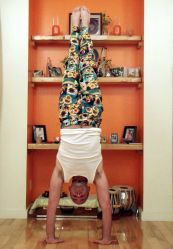 "Flight Instructor": Will Nagel
Will was once my Tuesday Vinyasa student; I've seen his practice grow and expand. He is now a strong, much-loved teacher in NYC in several venues.

Will is a cellist, musician and teacher with a varied career but with yoga anchoring his life since childhood.

As a teenager Will studied Yoga Nidra with Swami Dharmakeerti Saraswati, in the tradition of her guru Swami Satyananda Saraswati.

She invited him to India and helped him find his path at the age of 20 to the feet of his guru, Yogi Ram Surat Kumar. She continues to be a guide and friend. Will is also a devoted student of Sri Dharma Mittra from whom he received his teaching certification.

Often upside down in seemingly effortless and joyful inversions, Will flies to Greece in June to complete his AcroYoga teacher certification.

Will's teaching style focuses on Energy and Awareness and keeping a smile in the effort.
Yoga Housecalls Teachers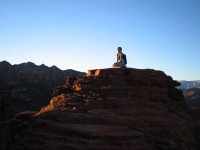 Photo Credits; Forward or Respond
Photo contributions from: Trish Perkins, Harmony Suites, Negril Escape, Award winning Nature photos collection, Charles Lee, Raul Aranas, Circus Yoga, Lila Donnolo and Becca Krauss, Sarah Platt in Scorpion Pose, Alan Finger, Will Nagel.

Please forward to any you feel may enjoy, and feel free to respond directly at any time!

Shanti, peace,

Namaste,
Mary
Mary's Yoga Site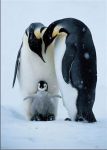 Father's, Mother's Day
"Your children are not your children. They are the sons and daughters of Life's longing for itself.

"They come through you but not from you, And though they are with you yet they belong not to you.

"You may give them your love but not your thoughts, For they have their own thoughts. You may house their bodies but not their souls, For their souls dwell in the house of tomorrow, which you cannot visit, not even in your dreams.

"You may strive to be like them, but seek not to make them like you. For life goes not backward nor tarries with yesterday.

"You are the bows from which your children as living arrows are sent forth. The archer sees the mark upon the path of the infinite, and He bends you with His might that His arrows may go swift and far.

"Let your bending in the archer's hand be for gladness; For even as He loves the arrow that flies, so He loves also the bow that is stable."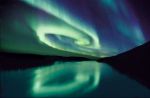 ENews #22 Throat Chakra
The latest of my three previous ENews on the chakra of communication and self-expression.

ENews #2 Throat Chakra
The earliest of the three previous issues on Vissudha chakra.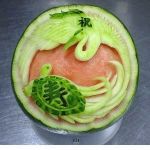 ENews #14 Throat Chakra
On expressing your truth, the 2nd of my three prior ENews on Vissudha.

Visit Yoga Works
Four Manhattan locations, every level, diverse traditions, even Pilates and Nutritionists, Yoga Advisors for new yogis. Yoga Works bends over backwards to make yoga terrific for all.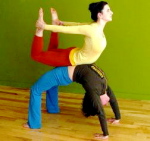 Visit Om Factory
You don't want to do this? There's also great vinyasa here, and Forrest yoga, and my restorative. But... psst "there's more to yoga than yoga."

Try Acro. The metta and sangha in partner yoga brought a new level of tenderness and power to my yoga. That's why I'm flying to CA in August to earn my certification too!

Visit Ishta Center
Few studios have a living Yogiraj from the Indian guru lineages teaching or working daily. Come see Alan in his 4 classes weekly or any of his personally trained Ishta teachers.

Ishta also specializes in Ayurveda and Tantra, and you will find a line of products and Ayurvedic menu of treatments to pamper and realign your energies.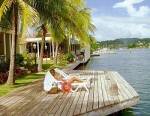 Harmony Resorts: #1 of 2 Retreat Choices
1st possibility for my Feb. 14-21 retreat, Yogis Play Paradise.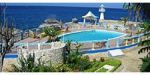 Negril Escapes: #2 of 2 Retreat Choices
2nd possibility of where my Feb. 14-21 retreat will be.