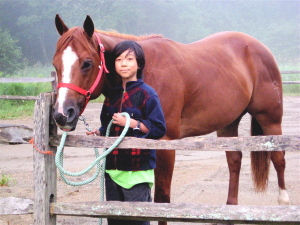 Insight & Ajna
Who and what inspires you? I smile, remembering my son's 6th grade teacher Dana recounting all the boys sharing their superheroes, and Raphael declaring, "I'm my own role model, thank you very much!"

There's yogic truth and wisdom there whether he knew it or not. Our inner teacher or "Upaguru" inspires us each day in our decisions and practice; our external teachers but partner with us in our self-healing and learning path.

Ajna, meaning "to perceive" is the name of the 6th chakra, located in the brow center or 3rd eye. It's the focal point for meditation and for many postures. At the juncture of the optic nerves, near pineal and hypothalamus, it is our "door of perception" or thin veil covering our higher consciousness. It is our access to inspiration, as poets, mystics, and visionaries in all fields have experienced, in the arts, sciences or religion.

The color of Ajna is indigo or violet, like the dusk/dawn light of "Samdhya" meaning the conjunction of night and day. Samdhya is revered as a powerful time for practice and prayer in the East. I love Easthampton artist Roy Nicholson's series "Gloamings" for its exploration through paint of that inspiring magical Samdhya time.

Who is your inspiration? Mine abound among my acquaintances, and yet I'd like to suggest: Be your own superhero. Seek your yet unleashed power. "Inquire Within" as a T-Shirt I saw said in Amma's humanitarian darshan tour through NYC this month.

A few wild and random ideas to lead you there: try something utterly new, bold, exhilarating for yourself. Meditate. Take a cooking class. Trapeze, dive, skydive, dance.

Innersight Yoga is a practice guided completely by voice, for the blind, partially sighted, or students practicing blindfolded. Emily Conradson, pictured with me in these partner poses, teaches it. See her web link below.

Another friend Doran tells of finding acceptance for his body in a naked yoga class in Union Square led by Wendy Tremayne. While some such classes may be pick-up scenes, Wendy carefully emphasizes the healing freedom of being in, and with, our bodies, without pretenses. See Wendy's thoughtful article, and class info. below, under Links.

And naked blindfolded yoga? It exists too. My friend Matt took a workshop and found it transformative and liberating for his practice, and life.

Even if you're not disrobing for your mat soon, you can certainly inquire within. Your breath, or Om, is an aural focus, while you sit simply, spine straight, third eye as your visual focus. Try it and see if it doesn't center you, even on a crowded #6 train.


Holistic Naked Yoga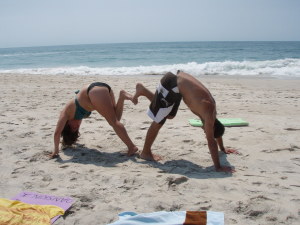 Come 'n play, everything's A-OK
Come to where the air is fresh and sweet! Can you tell me how to get, how to get to -

Mary's Valentine Metta Retreat! Metta means loving-kindness, and it's what my team of teachers and students will create Valentine's Week in St. Lucia, Caribbean, February 14-21, 2009. Just the sweetest, delishiest, healthiest box of chocolates you'll ever receive - or give! With Acroyoga, Hatha, Restorative, Ishta, and Thai Massage, and 4 loving teachers to guide you and love you all week; come alone or bring friends. Suitable for all levels.

More to come in in ensuing issues but space is reserved starting next week so book now. $1750 double and $2150 single occupancy with deluxe upgrades available.


February Multi-Teacher Metta Retreat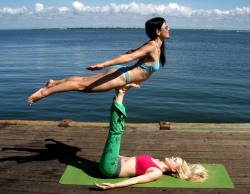 Flying Away August
Just came back glowing and happy from a fabulous yoga weekend on Fire Island with 40 other participants. Om Factory will run a sequel the weekend of Sept. 11-13; if you wish to get news, and sign-on early, subscribe to their own eNews at www.omfactorynyc.com.

I'm flying away next Friday for 3 weeks, doing Acroyoga teacher training in Santa Barbara and due back late August and eager to share even more Acro Therapeutics, Acrobatic Flying, Partner Flow, and Thai Massage with all of you in classes, parties, parks and beaches!

Check my website for schedule updates in the fall! My class subs during Aug. 1-21 are listed at sidebar, and will be on my website's Classes page.


AcroYoga: High Union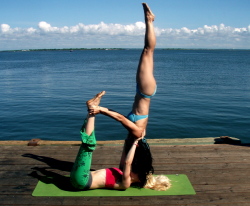 Photo Credits; & Fwd
Photos this issue are courtesy of ace photographers Julie Bertrand, Kyoko Jasper, Matt Stillman, Assistant Cub/Scoutmaster Carolyn Casey, & myself.

Photography models this issue include Raphael and Raul Aranas, Emily Conradson in partner pics with me, Becca Krauss & Ryan Gass in Sole-to-Sole Prep, Gillian Gorman & Carey Urban in Paired Pigeons, Chef Michael Rosner basing me in High Flying Whale, and Cece Chin in a classic Sand Savasana.

Please forward to friends who may enjoy any of the news or links, or may wish to subscribe directly to my monthly ENews for updates on retreats, schedules, and new Yoga events I may post in future.

Shanti! See you late August/early September!

Mary


Mary's Website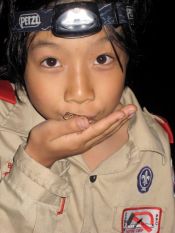 His Own Superhero
Horsemanship, canoeing, and climbing were my "own hero" Raphael's merit badge accomplishments this past week with Troop 1's Scouts in the Adirondacks. Frog-kissing and mosquito-feeding were additional adventures.

Om Factory Retreat
Om Factory's 1st Fire Island retreat, July 11-13, included daily sunrise yoga on the Fair Harbor pier, sundown yoga on Dunewood's Lonelyville beach, with Forrest Yoga, Acroyoga, Thai Massage, and vegetarian cuisine.

Biking barefoot and toasting the sunset were matched with pranayama and circle yoga on the beach, and tons of play and friendship. Lovely!

For the Sept. sequel, subscribe to their ENews on site below.

My Om Factory Friday Sweat & Restore 12:45 classes will be subbed Aug. 1, 8, and 15 by: Emily Conradson.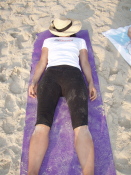 YogaWorks Restoratives
My August subs for Yogaworks Restoratives Fridays at 10:45 are:

August 1, 8: Darcy Bowman

August 15: Dilshad Keshwani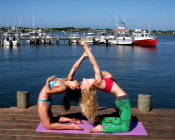 Al Finger's Ishta Yoga
Ishta Center, emphasizing yoga for every individual, is the "Integrated Science of Hatha, Tantra, and Ayurveda" - If you haven't yet visited, email me for a digital 1st class free card that you can forward to friends!

Monday Aug. 4, 11, 18 Restoratives, and Wednesday August 6, 13, 20 Ishta Basics, all at 11:15AM, will be subbed by: Cathy Lilly.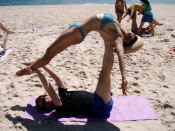 NY Health & Racquet
My NYHRC 23rd St. Tuesday Vinyasa Flow 1:05 will be subbed on Aug. 5, 12, 19 by: Steven Cheng.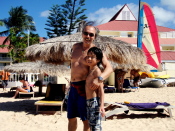 Raul on Film and Stage
Trailers for the Coen Brothers' new film "Burn After Reading" opening Sept. 12 show my hubby saying his 2 lines: "On the floor there" "It was just lying there." Yay Raul!

Next, Raul appears in Michael Weller's new play "Beast" at the New York Theater Workshop, September
to October.