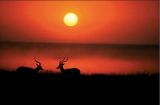 Sacred Sweetness
The changing seasons and colors conjure images evoking the sensuous quality of 2nd or Sacral Chakra, Svadhisthana. "Sweetness" or literally "Place of the Self" in Sanskrit, it is the seat of sexuality, and personal likes and dislikes. The color is orange: saffron, flame, vermilion. Fiery foliage, yams, pumpkins, Cointreau, tequila sunrises. The element is flowing water, the seed mantra to balance Svadhisthana is "Vam". The long narrow "ooooo" vowel sound removes its block or demon, guilt. Use these, and the color orange with the Yantra or visual of a silver crescent moon in the pelvic girdle, to balance you in meditation. Affirm "I have the right to feel, and to want" to let energy flow smoothly for a balanced enjoyment of pleasures, with neither extreme of repression nor dependence. See my issue #19, July 2007 below for more on Svadhisthana chakra.

Mary's ENews Archives: #19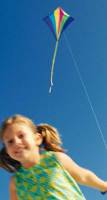 Go Fly A Kite
Make a kite, fly a kite, or BE a kite! All three are sweet options this Sunday Sept. 21 Noon-3 PM at the Fashion Center Kite Flight event on the rooftop of Port Authority!

"Catch a flight from a Manhattan rooftop! The Fashion Center BID invites you to let your imagination soar at our third annual Kite Flight. Join us on the top of the Port Authority Bus Terminal for an afternoon of kite-making, kite-flying, crafts and free food, music and fun!"

AcroYogis will be onhand flying adventurous souls. Come for music, dancing, crafts and food, and celebrate being a fabulous New Yorker! Details and directions below.

Kite Flight! Sun. 9/21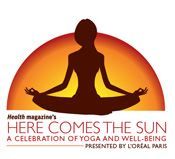 YogaWorks in Central Park
Health Magazine will host a day of Yoga and Health in Central Park's Wollman Rink next Saturday, Sept. 27 from 11am-4pm, starring YogaWorks teachers, including moi. I will teach a relaxed, gentle "Feel Good Yoga" class from 1:20-1:50. 20% of the day's proceeds will benefit Step Up Women's Network and The Ovarian Cancer Research Fund. $30 walk-in, $25 advance gets you in for the entire day's delicious lineup, including Yoga and Pilates, beauty consultations, tastings, sponsor samples, music, giveaways! Details and registration link below. See you in the sunshine!

Yoga in Park Sat. 9/27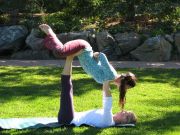 Acro Fundamentals
Come to my AcroYoga® Fundamentals workshop at Ishta Center in November! A joyful, heart-expanding, body-working experience. You don't need to be super bendy, incredibly fit, or a Dutch acrobat. This Fundamentals workshop is appropriate for beginners, and for seasoned practitioners who wish to hone their foundational skills.

ACROYOGA® unites the wisdom of Yoga, the loving kindness of Thai Massage, and the dynamic power of Acrobatics. These three ancient lineages form a unique new practice in trust, connection and playfulness, transforming our individual Hatha practice into a community experience.

We will experience: Circle Ceremony, Asana, Partner Yoga Flow, Assisted Inversions, Partner Acrobatics, Flying Sequences and Thai Massage. Drawing on the natural forces of gravity and "metta" (loving kindness) we encourage the body to let go of fear and tension. In flying therapeutics, the giving and receiving of Thai Massage is taken into the air. From a foundation of mutual support, we empower others to fly and learn to fly ourselves. If you want to expand your Yoga practice or just try something totally different, AcroYoga® is for you!

Co-taught by myself and the lovely Lila Donnolo, certified AcroYoga® teachers. No partner necessary, but you may bring a partner if you like. Beginners welcome.

Saturday November 8 at Ishta Center, 2-4:30 PM. $45/$40. Pre-register by November 1st for the discounted price.

Acro at Ishta Nov. 8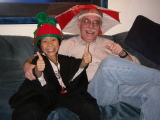 Laughter Yoga
Yes there really is Laughter Yoga - but this isn't it. This is a telephonic "laughter break" you can take from your home or office. 7 times daily, you can call this free conference line and share in a conference call of, no words, just laughing. The times are: Pacific Time 6am,7am, 8am, 9am, 10am, noon and 5pm. East Coast 9, 10, 11, 12, 1, 3, 8. Says Yogini Lindsey Britt: "It is really funny and fun and will get anyone to giggle for at least three to five minutes. So if your day is going not so great give this number a call": 712-432-3900 ext. 6071292

Mary's "Links" Page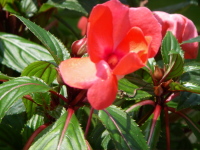 Young Living Essential Oils
I am now a distributor of these therapeutic grade essential oils for health, wealth, clarity, myriad personal and household uses. Lavender... Valor... Abundance... plus the powerful Ningxia Red wolfberry juice.

Browse and order from me, or sign yourself up! My Distributor member number is 1022201.

Young Living Site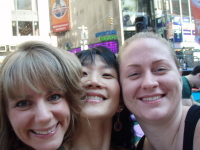 Class Lineup
Keeping track of my classes is easy; just go to my webpage at http://web.mac.com/maryaranas and click on My Classes.

Watch for more workshops and classes/ changes in December and in 2009.

Class Calendar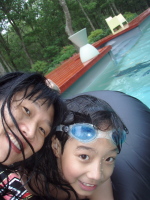 Photo Credits; Forward
Photo credits this issue: Cathryn Collins, the Fashion Center BID, Health Magazine and YogaWorks, Nature's Greatest Photos collection, Jen Leisch, Lila Donnolo, Greg Franklin, and thanks to Anna, Sabrina, Robert, Raphael, and Raul.

Please forward as you'd like, Reply with comments, or Unsubscribe below; please know your email privacy is respected and protected.

Shanti! Happy Autumn Equinox.

Mary

Mary's Website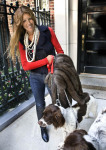 Fall Luxuries
Speaking of sensuality and pleasures: For fashionistas, my client Cathryn Collins creates seasonal trunk shows of her fine knitwear designs and unique collections. The I Pezzi Dipinti fall line is showing at the Regency, Sept. 30, Oct. 1 and 2, 10am to 7pm. Park Ave./61st St.

"Cashmere & other luxuries for humans." Indulge your Svadhisthana.

Info: 212-941-9966. Email: Dipinti@aol.com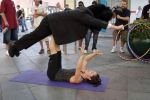 Vote vote vote!
It's November and we exercise the right to be governed by our elected leaders! Get out there and fly a political mascot! No, no, that's AcroYoga teacher Jen from Colorado doing that. I mean, get out there and be a voting American!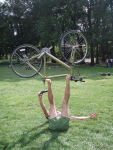 Bike bike bike!
Do your bit for personal and planetary "green"; go fly your bike! No, no, no that's Greg Franklin doing that, I meant, go ride a bike! Find a park, or ride to work, or just be kind to a cyclist when you are a motorist or pedestrian. Help us cut our dependency on fossil fuel, and reduce premature human fossilization!

Meditate meditate!
Free Intoduction to Siddha Meditation at the Siddha Yoga Ashram in New York, 324 W.86 St., Wed. 9/24, 7 -8:15 PM. All welcome. Includes a video of Gurumayi, chanting, meditation, questions and answers.

Group meditation opportunities abound in this busy city. The above plus: Shambhala Center, Self-Realization Fellowship, Contemplative Outreach, are a few, with links below.

Your nearest Yoga studio and place of worship are great places to start.

My website's Links page lists spiritual oases; I welcome additions.


Retreat, retreat!
Come on a fabulous vacation and retreat with me and 3 other lovely teachers: 4 classes daily include Meditation, Acro, Vinyasa, & Restorative. Beautiful Caribbean Island of St. Lucia and a chef's cuisine round out the pleasures.

Feb. 14-21. Absolute Beginner through Advanced Yogis levels. Register by Dec. 1 for $150 Early Bird discount.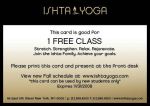 Free Ishta 1st Class
If you or a friend has never been to Ishta Center in the bustling Union Square nabe, here is a printable free 1st class card to invite you to the newly opened - just since May - studio home of Yogiraj Alan Finger, from whom I received training and certification.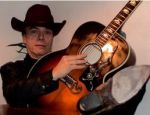 "Beast" until Oct. 12
Time still to catch my husband Raul in Michael Weller's acerbic "fever dream" on American involvement in the Iraq war, at New York Theater Workshop.