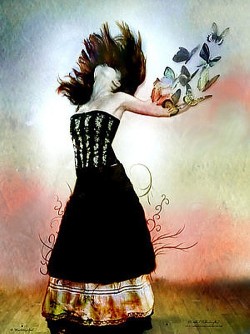 Believer-Flies

"You can do, create, and express anything you want if you will give up the belief that you can't."

~

The Modern Day Muse

, Audacity


Dear ...,

Museium-Webster Dictionary definition of Believer-fly. (n.) An individual once stuck in a tight cocoon (often of her/his own making), who uses audacious belief to emerge into idea pollination, authentic creative expression and an attitude that confidently says: "Yeah, I'm good," even if it's not perfect. The confidence is contagious, magnetic, and electric.

Cocoons, despite their inconvenience, poor lighting, and absence of a good cross-breeze are often the necessary pockets of time needed to fuel creative emergence. But courageous action is eventually necessary for satisfaction and a strong disposition is vital for smooth flight over windshields, away from menacing prey in all its forms, and out-of-view of children with large nets and a set of pins. It's time for you to step away from the cocoon and believe in yourself enough to live the next step of your dream... even if that step is tiny. Breathing deeply into your reservoir of confidence counts as a step (you can do that right now).

What beliefs have kept you in a tight cocoon?
What small thought can you think to be more courageous this month?
Your hair gets matted when you're in a cocoon; isn't it time to fluff?
For a free live teleconference on Five Ways You Can Bring More Courage and Audacity into Your Life by listening to the modern day Muse, Audacity, sign up for the October 16th Kaizen-Muse Teleconference. Receive a free session with a Kaizen-Muse Creativity Coach through the drawing on the call

If everyone likes what you're doing, you haven't gone far enough,
AuDaciTy


The Modern Day Muse, Audacity approves this message.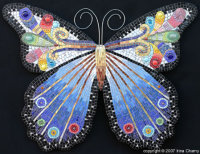 Believer-Fly Creativity Prompts

Creative Practice:
Experience non-attachment: Make an Origami Butterfly Ball. A good way to get your mind off the anxiety of the economy.

Write an acromym for OCTOBER. Here's one from Dale Bowen:


Oscillating

Clouds

Turbulent

Occluding

Brainwaves

Etching
Recourse


October 1 in History: Observances for Creative Fodder:
Happy Birthday to: American Naval Officer James Lawrence. 1781,
Although his last battle was a defeat, while being carried off the ship mortally wounded he uttered, "Don't give up the ship." It became an honored naval motto.
Write about what "Don't give up the ship means in your life."
Make a collaged compilation of a ship that you don't give up.

Happy Birthday to: Julie Andrews, born in 1935
Write about doing a chore, sharing your favorite past time, or just hanging with Mary Poppins. (See right margin for Jill's Doing Yoga with Mary Poppins).

Previously on the Muse Flash, you were asked to write imperfect poetry possibly using nonsense words to create a solution to an imaginary problem.
Here's The Turquoise Melody by Giulietta "Julie" Nardone

Please do not follow the rigid rascal moving toward the finite life tracks.
Rigid, rigid, rigid.
This bug's periwinkle candle may initially beckon you to join him but I urge you to give yourself permission to sing a turquoise melody, haunting and inaccurate but limitless in its celebration of blunder, of spoil, of release, of an inbetween right and wrong kind of beauty.
Sing, sing, sing.
Seek this sort of melody and you shall set yourself free.
Free, free, free.


magnificent mosaics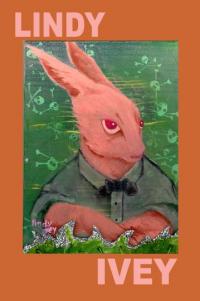 Artist Profile: Lindy Ivey
Artists are everywhere. Lindy Ivey makes the best cappucinos in my hood at Grant's Deli but her real passion is art. Cappucino masterpieces are just her day job. When I saw her and her work at a gallery opening, I knew she was the perfect interview for the Halloween month Muse Flash.


What's your creative passion?
Creating art that has emotion, transforming a scrap of wood, or an old sock, a blank canvas into something people can connect to.
How do you cultivate your passion?
I think just by keeping my eyes open, and working. Working. Working. I also try to get out to gallery openings and pick up art magazines, so I can be surrounded by art, not just my art.
What do you specialize in?
Bringing a little light into the dark. I like to think I can create a sad situation and give it just the right element to make it bareable to look at.

Do you have any formal training?
I feel lucky to grow up in a time and place when art was still part of the school day, because that's basically the only art education I've had. I did take an oil class at The Ridgewood Art Institute, and that's where my love of oils started.
When is your most creative time?
All day, I'm a sponge to my environment, absorbing the way light hits things, taking in people's facial expressions, mentally recording the way certain things make me feel.It's all part of the process. My most productive time is usually at night.
What is your mantra/motto?
I like "live in the moment," but it's probably because I'm a procrastinator!
What's the key to your perserverence?
I've been making things since I was a child and I can't imagine not doing it. It makes me happy and gets me through the day.
Do you listen to music as you make art?

I have a wide range of music playing in my studio, anything from alt-country to old punk, when I feel like getting lost into what I'm doing I have a Coltrain CD I always listen to. Most of the time I just have my ipod going, and sometimes it'll be a bad shuffle that dictates quitting time for the night.
What's the best advice you've received?
"Step back!" When I was a teenager I'd work right up ontop of whatever I was doing, it was how I lived life at the time...closed in. When I took an oil class, Chip Osbourne (my instructor) would tell me to step back. It was always at the perfect time too, when I was most frustrated. It's really simple, but it changed my life.
What's your creative spark?
Sparks are everywhere, sometimes it's a face in the grain of a piece of wood, or a crack it the sidewalk that ignites an idea. I did a series of sculptures that were sparked by a hole in the heel of sock I pulled out of the dryer.
When will you know you've made it?
When I can quit my day job and just make art full time!
What's your favorite achievement?
As far as art goes? I was part of a group show recently with some of the most amazing artists around right now, and my piece was hung next to my favorite artists' (Liz McGrath). Right next to each other... I couldn't even look.
Where do you get your Ideas?
I like to surround myself with images, and things I like, everything from music to old photographs. I think ideas are out there and you just need to be open to recieving them, it's also about timing.I collect things like fabric and wood scraps, old charms, things that I like the feel or look of, I can have an old jar sitting in my studio for years before I see it's potential. Sometimes it's just a matter of feeling the need to build something and looking around and what I have, like "I can turn that into a dress and make hair out of that..." I like it best when I don't have to buy anything, it's recycling at it's best.I have a lot of reference books, and I like to google images for ideas when I'm painting. It's usually the feeling that an image has that gives me an idea rather than the image itself.
Where can your work be be seen?
Lindy's latest Artwork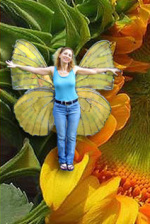 Recommended Links and Happenings
LOW-COST Creativity Coaching Sessions

Kaizen-Muse Creativity Coaching Students are accepting clients for FOUR low-cost creativity coaching sessions!!! If you are interested email info@themuseisin.com with Coaching Interest in the subject line. Do not miss out on experiencing the KMCC tools and techniques which help individuals who are resistant to both coaching and getting to the creative process make breakthroughs.
Find out how Kaizen-Muse Creativity works.

Classes with Kaizen-Muse Trained Coach, Rita Farin
Rita, the Believer-Fly in the picture above, is in Atlanta, GA
Dreaming with Words
To change your reality, begin speaking, thinking and acting in a new way. And write about it! This workshop will not only let you envision a new future, but will unleash the power of your own words, helping manifest your innermost desires. Nov. 22, 10 am- 12:30 pm, Phoenix and Dragon Bookstore, Atlanta, $55, www.ritafarin.com email: rita@ritafarin.com

Take one small step toward a creative life
Whether you'd like to start a new business or write a book, transitioning to a creative life requires a shift in thinking. Learn all about the creative process, how to take small steps and other compassionate ways to make your transition easy, fun and sustainable. Nov. 12, 7-8:30 pm, Phoenix and Dragon Bookstore, Atlanta, Free, www.ritafarin.com


Jill's monthly creativity portal column

The Butterfly Effect
Set free your alter-egos in this month of Halloween magic.

Define your own abundance... there's so much to be grateful for, even in the midst of economic madness.

in joy,
Jill O'lantern
Click Here: Coming into Your Power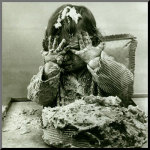 JILL BADONSKY'S EVENTS AND TRAININGS
Trainings, Classes and Workshops Full Descriptions Here

October 10- 12, 2008
The Inner Castle Retreat with Special Appearances from the Nine Modern Day Muses (and a Bodyguard)
We return to Spirit Fire for another Retreat!
Includes attracting abundant prosperity through creative thought as well as provides you with deep laughter, creative re-booting, and meeting kindred spirits.
For information:click here or write here info@themuseisin.com


Every great dream begins with a dreamer. Always remember, you have within you the strength, the patience, and the passion to reach for the stars to change the world.
Harriet Tubman

Wednesday, October 29, 2008 - February 18 2009 - FULL (Watch for the Next Training, March 2009)
New Kaizen-Muse Creative Coaching Certification Training
For more information visit www.kaizenmuse.com
email info@themuseisin.com


Tuesday, November 11, 2008 5 pm pdt, 8 edt

Find out how Body Blissmas (and a Happy New Rear) will change your life forever by providing structure, inspiration, and workshops to enhance your creative passions, your wellness and your weight. Done from the comfort of your home through teleconferences and art-filled emails. Sign-up here for the call.


Saturday, December 6, 2008
Julian Library Creativity Unleashed Workshop with Jill Badonsky
A cozy time to meander up to the land of apple pie, hot chocolate and mountain tops to partake in some creative inspiration and a sneak preview of The Awe-manac.

December 8, 2008 as the sun rises
THE AWE-MANAC: A Daily Dose of Wonder by Jill Badonsky debuts. Bring Jill to your neighborhood, community, church or organization for an Awe-full event... Hmm.. I'd better talk to the PR department about that one. How about an Awe-inspired Event? For samples of The Awe-manac, click here. You can preorder for the holidays at your local independent bookstore or on amazon.com.

Thursday, December 11, 2008 7 p.m.
Book Works, Flower Hill Mall, Del Mar, CA: Book Signing KICK-OFF for The Awe-manac: A Daily Dose of Wonder (Running Press). A quirky take-off of The Old Farmer's Almanac with irreverent astrology, metaphorical planting instructions, nine anti-aging potions (and a spot-remover), over 400 whimsically mischievious illustrations, creativity coaching tips, and creativity prompts called aha-phrodisiacs for everyday of the year and every occasion under the sun.

Sunday, January 4, 2009 3 - 5 pm
Writer's Ink Celebration !!!
3 pm.. live music, combustible excerpts, libations. Free adjective to all attendees.
Live music with Peggy Watson, libations, celebration, super quick writing prompts, and anti-aging potions.

January 17-18, 2009
"Pink" and "Paisley" Magazine Conference and Workshops
Jill is speaking and presenting workshops on THE MUSES! - watch for more details but save the date. It's All Pink Magazine. Hilton Head Island, South Carolina

Events are sometimes updated at www.themuseisin.com .


Doing Yoga with Mary Poppins by Jill Badonsky
An unlikely icon of the practice
she is usually seen singing to children
with animated face tilted
just a tad to the right,
spooning out medicine and making up the super-califagilistic.

Negotiating a twist or even a triangle
may seem dubious
while wearing that long
well-pressed navy blue dress properly accessorized with
nanny bag, hat
and high top button up shoes,
but she uses umbrella as a yoga prop.

And here we are,
me and Mary Poppins doing yoga on the beach.
Her umbrella lifts her above the sand and lifeguard stand
as she sits in full lotus position in the air.
And then Just a Spoonful of Agave Nectar helps the head
go down to the knees in a full forward fold
and exhale and extend.

"Om" I say, but she begins to sing in soprano splendor, "Let's go Fly a Kite" as kites surround her standing in the air in tadasana… standing straight –sternum lifting, butt tucked lowering down now to the lifeguard stand, feet now grounded on his rooftop
.. Lifeguard shouting through a megaphone
"PLEASE GET OFF THE ROOF AND BEHIND THE FLAG."

She is oblivious to his command as she is solidly connected to her inner sound of music-
Oblivious to girls and boys, gulls and noise and anything but her pranayama/ taking her deeper.

"Namaste," she says bowing, hands at heart.
We complete the practice,
she takes me in for my nap.

and then folds my laundry.