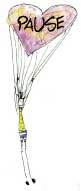 The Pause That Refreshes-CALL TONIGHT
"Learn to pause ... or nothing worthwhile will catch up to you." ~Doug King

Oh hi, here it is, five days into the ILLUSTRIOUS beginning of another month and I'm SUPPOSED to be sending out a Muse Letter... but I've been working hard and moving so I'm on PAUSE, at least this week. Did you know pausing is a powerful non-action in the creative process? I explain tonight.

I'll be back with the REST of the Muse Letter with creativity prompts, people and participles next week. "REST" don't you love that word? Are you making time to do it? Uh huh, I didn't think so. You better show up for the CALL TONIGHT about the magic of doing nothing in the creative process from the Modern Day Muse, Lull. Learn about all the ways that taking a break can serve you. Sign-up here for the call tonight.

Cease from always doing and let the Muse whisper in your ear.
"It takes a lot of time to be a genius, you have to sit around so much doing nothing, really doing nothing." ~Gertrude Stein
"Yet it is in our idleness, in our dreams, that the submerged truth comes to the top." ~Virginia Woolf

Take a pause. Beam yourself here: Let go.
Relax, let your imagination turn your black and white existence into a color one-click on this sentence.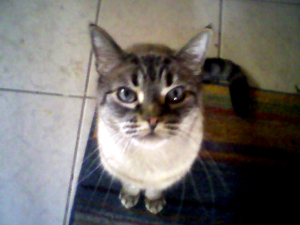 Take a Paws with the Kaizen-Mews Cat
Mambo is the cat of the Modern Day Muse, Lull. He speciailizes in napping with splendid-belly-exposure, purring while simultaneously eating tuna, and abstract furniture art. Like most cats,he is also very wise.

Dear Mambo,

Can you help me overcome procrastination? I can't seem to get anything done due to distractions, lack of focus, my TV addiction, ring around the collar, the yellowing of the kitchen floor, the lint in my belly button, forgetting why I walk into rooms, browsing Internet dating sites, and thinking I have to clear my clutter before I begin anything.
~ Artist in Need of Action


Dear A.I.N.O.M.

Mambo is napping, could you please be quiet?
Be a still lake reflecting the trees,
Lull

P.S. In the stillness a spark ignites that leads to desirable action and inspired passion.

Jill Badonsky's new book debuts, December 8! Click here for a peek at some illustrations.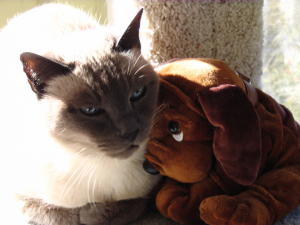 ANTI-AGING TIP
Relax with a loved one.

Breathe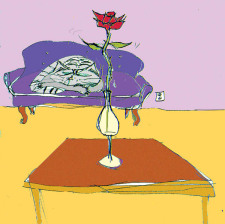 Poetry Inspired by a Paws
Cat Sleeping, Rose Rising

Last Saturday my silver tabby was making those
jerky movements
that cats make when chased in dreams
by dogs
and Hoovers
and other cat-world monsters.

I smiled because
1) I am easily amused, and 2) …well, there's actually just that one reason... I'm easily amused.
Instead of gently waking kitty in co-dependent cat owner fashion,
I turned to visually behold the rose in the middle of the kitchen table.
"stop and smell" reflex surfaced like a bubble
in a cliché' shaped champagne glass.
Considered smelling.
The rose in the vase had its leaves positioned like wings,
right symmetrical with left, horizontal,
well… maybe 12 degrees was more like those rose wings were.
I swear I don't know what it was that made that rose rise
and flap it's leaves in aerodynamic grace,
in perfect perpendicularity,
in slow action motion over to the silver tabby
and whack him repeatedly on the head with its soft red velvet blossom
at least,
oh,
I would say eight times, … maybe nine.

Roses are compassionate flowers
when raised close to rivers rustling in Celtic music memories.
Roses are easily influenced by gracefully soaring river birds.
Roses are not usually
unpredictable…
after all, A rose is a rose and roses are red.
Well, that rose had only five velvety red petals left
when it finished pelting confused,
but now more peaceful
kitty.
The rose rose from the pussycat and back the rose flew with slow, perpendicular, aerodynamic grace to the vase and delicately replaced itself.
The Celtic violin music playing on my CD player stopped.
The rose bowed its head
and one more of its petals
dropped
to the table.
And I was easily amused.
Have a rose, Jill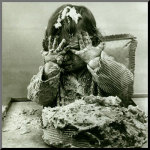 JILL BADONSKY'S EVENTS AND TRAININGS

Trainings, Classes and Workshops Full Descriptions Here





TONIGHT!!:
Wednesday, November 5, 2008 at 5pm pacific (8 pm eastern) The topic is Lull, The Modern Day Muse of Pause and Diversion. Join Jill Badonsky in learning how to let go of the process, rest, refill the creative reservoir in this relaxing reminder of the power of taking a break, thinking downstream thoughts, and taking stock of all that already IS.. Learn some new Kaizen-Muse Creativity Coaching Tools to add to your tool box of magic and creative fulfillment. Take a break from your normally scheduled rut and place the receiver of your phone up to your ear for FREE.Wednesday, Sign-up here



Tuesday, November 11, 2008 5 pm pdt, 8 edt


How you live now will pave the way for your health and creative satisfaction for the rest of your life. Find out how Body Blissmas (and a Happy New Rear) will change your life forever by providing enticing structure, inspiration, and workshops to enhance your creative passions, inspire self-love, your wellness and your weight. Done from the comfort of your home through teleconferences, a vibrant community of like-minded souls and art-filled emails. Sign-up here for the call.



Saturday, December 13, 2008 DATE CHANGED FROM LAST MONTH
Julian Library Creativity Unleashed Workshop with Jill Badonsky
A cozy time to meander up to the land of apple pie, hot chocolate and mountain tops to partake in some creative inspiration and a sneak preview of The Awe-manac.

December 8, 2008 as the sun rises
THE AWE-MANAC: A Daily Dose of Wonder by Jill Badonsky debuts to bookstores everywhere. Bring Jill to your neighborhood, community, church or organization for an Awe-full event... Hmm.. I'd better talk to the PR department about that one. How about an Awe-inspired Event? Awe-some? or Awe-shoo! (gesundteit) For samples of The Awe-manac, click here. You can preorder for the holidays at your local independent bookstore or on amazon.com.

Thursday, December 11, 2008 7 p.m.
Book Works, Flower Hill Mall, Del Mar, CA: Book Signing KICK-OFF for The Awe-manac: A Daily Dose of Wonder (Running Press). A quirky take-off of The Old Farmer's Almanac with irreverent astrology, metaphorical planting instructions, nine anti-aging potions (and a spot-remover), over 400 whimsically mischievious illustrations, creativity coaching tips, and creativity and journal writing prompts called Aha-phrodisiacs for everyday of the year and every occasion under the sun.

Sunday, January 4, 2009 3 - 5 pm
Writer's Ink Celebration !!!
3 pm.. live music, combustible excerpts, libations. Free adjective to all attendees.
Live music with Peggy Watson, libations, celebration, super quick writing prompts, and anti-aging potions.

January 17-18, 2009
"Pink" and "Paisley" Magazine Conference and Workshops
Jill is speaking and presenting workshops on THE MUSES! - watch for more details but save the date. It's All Pink Magazine. Hilton Head Island, South Carolina

January 29, 2008 - February 18 2009 - Classes Fill -sign up now


New Kaizen-Muse Creative Coaching Certification Training
For more information visit www.kaizenmuse.com
email info@themuseisin.com for a FREE e-brochure with a full description.





Events are sometimes updated at www.themuseisin.com .