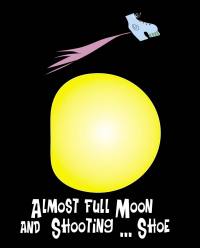 The Awe-most Full Moon: Call Tonight
Hi ,

The moon is almost full, 2009 is one week and a day old - do you know where your mind is? Is it filling or emptying? Ebbing or flowing? Exalting or exhausting?
You're not pressuring yourself with a bunch of ridiculous resolutions, are you? ARE YOU?

Here's a different take on New Year's resolutions from the Modern Day Muses. Additional pressure right now is so unnecessary. Permission granted to give yourself credit for how far you've already come. Filling with that thought generates fuel to do more.

Join me tonight on a free call - I'll be channeling the Modern Day Muses so I can't tell you exactly what it will be about, but I'm pretty sure creativity will be involved. Bring your journal - I have a feeling we will be doing some fun writing type things as well. The recording will be available if you miss it. Write info@themuseisin.com

I've had a number of new subscribers (three I think), since The Awe-manac arrived. WELCOME. There will be typos in the Muse Flash too - it's my way of helping you accept that the world is not perfect and you don't have to be perfect neither, also and too.

Awe-fully nice of you to join us. Okay, enough awe puns, I promise. (awe-choooo!.. sorry, bit of a cold).


Click here for a Fun and Creative Review of 2008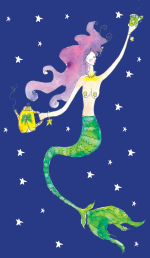 The Muse is In Announcements
1. Congratulations to Sharon Albert and Dare Kent!
They are newly certified Kaizen-Muse Creativity Coaches.
Contact Sharon Albert: nopainwellness@hotmail.com
Visit Dare Kent: Right Brain Yoga coaching website, and Dare 2B Kreative blog
Next Kaizen-Muse Creativity Coaching Training begins January 29, 2009. Click here for more information.

2. Blog Tour: Want to be a Part of The Awe-manac Blog Tour?
There are still openings in February and March and because this is so much fun, I'll be extending to April. Check here for more information.

The January 5 Blog-Tour Stop!!
Pattie Mosca's Artfully Yours, a warm, whimsical and wonderful blog was first on the tour. See that stop here. And be eligible for a free Awe-manac by leaving a comment on her blog.

Upcoming Awe-manac Blog-Tour Stops:
Familiarize yourself with some new blogs.
Jan 10 The Slacker Method click
Jan 14 Claudine Helmuth's Magical Website... click too
Jan 21 The Artsy-fartsy chick... click for chick
Feb 10 Kelly King's Blog Colorful Days... click
Feb 14 Tam Veilleux's Blog Sunflower Studio... click
Feb 24 Janet Whitehead's Musing Along... click
Feb 25 Jenn Simpson's Writing Blog for U of New Mexico click again

Third Week in March: Artella!

Let me know if you want to host The Awe-manac Blog Tour. email info@themuseisin.com

3.: Live Big, Live True If you live in North Carolina, South Carolina, Georgia, Northern Florida.. please come meet me in Hilton Head Island for Women's Day. The Westin hotel package for this event includes a spa treatment and I can't wait!

CLICK HERE FOR MORE INFORMATION ON WOMEN'S DAY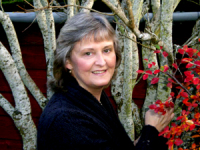 A Modern Day Muse Facilitator Spotlight from Scotland!
Introducing Iris Perrin!
Iris dwells amidst a beautiful Muse Garden in Scotland and creates magical Modern Day Muse Workshops!

What do you like about being a Muse Group Facilitator?
I enjoy the freedom to be creative my own way – not restricted to a set regime of what a Modern Day Muse session should consist of. It's also quite exciting being the only Scottish Modern Day Muse Group Facilitator!

What inspires you?
Music, colour, books and websites, emotions.

What is your favourite achievement?
Preparing and running my own one day motivational workshop.
I was scared and nervous, but I knew I could do it – and I did. The feeling of achievement afterwards was incredible.
The editor of a local magazine took part in that workshop and as a result, an article was written about it. I was featured on the magazine cover – my one and only time as a cover girl!

What is the key to your perseverance?
I now know I have a talent for motivating and inspiring others – which in turn inspires me to keep on looking for new ways to do so.

Share about what you have you created?
One year I was wardrobe mistress for the local Scout Gang Show (a musical theatre production done by Boy Scout groups all over the UK) and thoroughly enjoyed designing costumes and choosing fabrics.
For full interview with Iris, click here.

What is the best advice you have been given?
A life coach I met on a training course told me to listen to what people are saying about you –not what you think they are saying about you.
Another friend advised me, with any form of public speaking, make sure you know what you are talking about.

Where can people find you?
People can find me through my day job – at the website: www.fairburncentre.com which my husband and I run together.
Next new creative adventure for me there is to introduce a Blog – watch that space!

Favorite Quote:
"Whatever you can do, or dream you can, - begin it.
Boldness has genius, power and magic in it - begin it now." Goethe
Find Iris here (for now)

Aha-phrodisiac
Elvis' Birthday today:
Let's Celebrate with an Elvis Presley Title Wave: Combine the words of his song titles and add more to create poetry, prose or nonsense, leave the titles as they are or take them apart.

Easy Come, Easy Go, Echoes of Love, Everybody Come Aboard, Fairytale, Find Out What's Happening, First In Line, Follow That Dream, Funny.
Click here if you have Writer's Block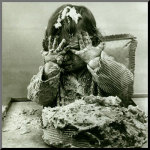 JILL BADONSKY'S EVENTS AND TRAININGS
Trainings, Classes and Workshops
Full Descriptions Here


Every great dream begins with a dreamer. Always remember, you have within you the strength, the patience, and the passion to reach for the stars to change the world.
Harriet Tubman

Body Blissmas (and a Happy New Rear) has begun, but it's not too late to join.
You've only missed one call and they're recorded.

Find out how Body Blissmas (and a Happy New Rear) provides structure, inspiration, and workshops to enhance your creative passions, your wellness and your weight. Done from the comfort of your home through teleconferences and art-filled emails. .
January 17-18, 2009
"Pink" and "Paisley" Magazine's Women's Day Celebration!!!
This fabulous conference is all about Thinking Big and Living True. Come see me if you live around the Hilton Head Island, South Carolina area. The last one sold out. Information is here.
January 29, 2008 - May 6 Kaizen-Muse Creative Coaching Certification Training
email info@themuseisin.com Visit kaizenmuse.com.

The Awe-manac Blog Tour:
Visit these Blogs on these days for insights into The Awe-manac, Jill Badonsky, Creativity Coaching and The Muse is IN

Jan 5 Pattie Mosca visit now

Jan 10 The Slacker Method click
Jan 14 Claudine Helmuth's Magical Website click too
Jan 21 The Artsy-fartsy chick click for chick
Feb 10 Kelly King's Blog Colorful Days click
Feb 14 Tam Veilleux's Blog Sunflower Studio click
Feb 24 Janet Whitehead's Musing Along click
Feb 25 Jenn Simpson's Writing Blog for U of New Mexico click again
Third Week in March: Artella!
April 16-17, 2009
National Association of Poetry Therapy, Annual Conference
Intoxicated Writing: Getting High on the Creative Process with Jill Badonsky More information is here

May 1, 2009
Zne Con! Coaching, Courage and Creating with Michele Breschen and Jill Badonsky. More information here. The ZNE Conference is April 29 - May 3, 2009 Take a look!

Butterfly Fuel Precautions
Then there was the time I put butterfly fuel in my eyes.
In the winter, they remained tightly closed, cocooning…
and my eyes opened
come spring,
and my gaze fluttered about the room in random
loops
and arcs
and zags.
and then without warning ...
[for full story go here]