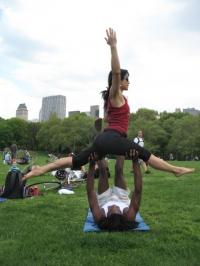 Spring Forth
My father named me "Yi Jun" Easeful Soul. Historically I have been the contrary, worrying and nervous. So, I am fascinated by how fear can originate in a shaky Root chakra, and yet action, fueled by Fire chakra, can burn through the fear.

Eleanor Roosevelt, former First Lady, and fierce social justice advocate, put it this way: "You gain strength, courage, and confidence by every experience in which you really stop to look fear in the face. You must do the thing which you think you cannot do."

Do what you think you can't do - I love it. Notice she doesn't negate fear. She accepts that it will be there. We live with fear, make peace with its presence and we act nevertheless. Therein is our freedom. Therein is courage, is freedom.

Rumi's amazing poem Spring Giddiness, at sidebar, opens by acknowledging the feelings of Sacral chakra quaking over a shaky Root chakra, then invokes the Fire chakra to flame through the loving Heart, expressive Throat, devotional Brow, and blissful Crown chakras.

"Today, like every other day, we wake up empty and frightened. (Root; Sacral)
Don't open the door to the study and begin reading. Take down a musical instrument. (Fire, Heart, Throat)
Let the beauty we love be what we do. (Throat, Heart, Fire)
There are hundreds of ways to kneel and kiss the ground. (Heart, Brow, Crown; Root)"

Note that taking positive action (Fire chakra's affirmation: "I have the right to act") is the propulsion, or catalyst, that allows the flow-through to happen. Our Power chakra Manipura is a fantastic agent for change that utilizes - and transforms - every other chakra, or energy vortex, within us.

Take action. If you veer toward the Vata imbalance of anxiety, know that the bone you chew on is your choice to gnaw on - or not. More action, less fear. "Do the thing which you think you cannot do."

"You were born with wings. Why prefer to crawl through life?" - Jalaladdin Rumi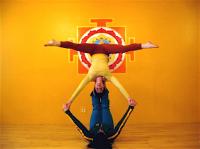 "Star" and "Counterbalances"
AcroYoga in New York: Spring is an abundance of Acro joy. Parks open; classes, performances, workshops, retreats and more abound. Two sources to seek events are: www.acroyoga.org, and Facebook's Acroyoga Nyc's Profiles page. In addition, each studio or venue on their own web pages have details per each offering.

My upcoming offerings include: two intermediate level AcroYoga workshops, focusing on:

(1) Star pose (pictured here with Becca Krauss basing Lila Donnolo), THIS coming Saturday, March 28, 11:30-2:00 at Om Factory, and

(2) Partner Counterbalances (2-3 specific poses, Thighstand, Reverse Thighstand, Back Lever, and preps that facilitate ease in these and other skills), also THIS Saturday, March 28, 3:30-6:00 at Om Factory.

Both are co-taught with the wonderful Chris Loebsack, with assistant Greg Franklin. If you have questions on your suitability for these workshops, email me directly. See you for play & practice!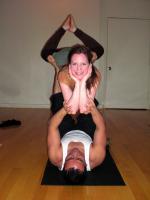 Acro Foundations at PURE: APRIL 4
Three hours sweet, surrendering, soaring magic ride through Acro Land, this foundational workshop is suitable for the very newest of AcroYogis, or the neophyte just wanting to feel solid in flight foundations. Assisted by Jedis Jake Brenner and Greg Franklin, I will lead you through Circle Ceremony, Asana warmup and Partner Flow, Tightness, Strength and Inversion drills, Partner Balancing Poses and Flying. We will then melt away tensions with partner Thai Massage and Savasana, and relax over my rewarding oatmeal cluster cookies in Pure's luxurious lounge. Yes, there are ample rain showers in mens' and women's locker rooms. Open to Pure members and to public. No previous experience necessary; an ongoing Yoga practice is recommended. No partner needed.

Saturday April 4, 1:30-4:30 PM. Register at PURE in person, by phone, or online below!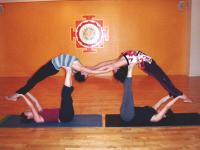 Acro Series: 4 Sundays at PURE
Get ready for Spring/Summer Park Play! This four-Sunday foundational series builds each week on the skills of the previous week. No Acro experience is necessary, but this is also a great follow-up to the April 4th workshop. The 4 sessions must be taken as a series, so we can accumulate a body of skills together. Open to Pure members and to the public. This will prepare the foundations for potential ongoing Acro classes at Pure, so tell your friends! It is great to make new friends to practice in and out of class with. No partner required. Must register before the second session, to take the series.

Two hours per Sunday, 2-4 PM:
April 12, 19, 26, and May 3.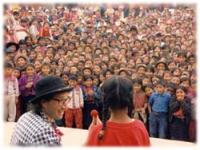 Yogis Without Borders
I am continuously inspired by my fellow yogis and yoginis who combine karma calling with their bliss; or rather, make it into their bliss. The Africa Yoga Project and Cambodian Children's Fund, were both featured in my February ENews.

This month, I heard the adventures of my yogini friend Deven Sisler who just traveled with Clowns Without Borders in Haiti, driving hundreds of miles between villages to perform 2-3 shows a day to crowds of 150 uniformed rural schoolchildren per audience. The 4 volunteers performed skits and shared circus arts and clowning with eager children who have never owned a TV set or video game. Rewarding audiences!

"The place God calls you to is the place where your deep gladness and the world's deep need meet." -Frederick Buechner

My youthful friend Susan Holland, Acro teacher, personal trainer, boxing teacher, recently amazed many of us with her decision to follow her devotional path seriously in a three year Buddhist retreat in the Santa Cruz mountains with limited mail or outside contact. She is there now, and we collectively journal letters to send her, since she can receive/send mail once per month during these three years of deepening faith and service.

Acro teacher friend Samantha Miller pursues her bliss of earth healing in creating an eco-education center in Bali, Thailand, and working with the local communities in composting, tree planting, trash cleanup, creating sustainable farming and permaculture programs.

Each of these three initiatives are non-profit registered organizations that gratefully welcome any tax deductible contributions: their links are at lower right sidebar. When writing or emailing Vajrayana to support Susan, note separately (not on the check, for tax purposes) that you wish to donate in support of Susan Holland.

The Bali Permaculture project does not have their website configured for donations yet, so here is donation information:

Mail Checks made out to "Eco Era Living Wisdom" to: Rachel Sugiharto, c/o Joan Weber, 503 S Sierra Ave. Unit 161, Solana Beach, CA 92075.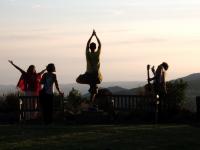 My Schedule; Photo Credits; Forward
Watch for my April ENews for more on Mother's Day Eve Couples Yoga at YogaWorks Westside, Saturday May 9, from 5-7PM, with Mary's mom-made cookies.

Meanwhile, my weekly schedule remains much the same, with the addition of my Tuesday 10:30 Restorative at Pure! See free day pass offer above, good through the month of April.

For photos this issue, many thanks to:

Greg, Akil, Jessica, Raul, Becca, Lila, Charles, Ivan, Jenny, Jake, Kendra, Miriam, Kaia, Metta, Circus Yoga, Clowns Without Borders, my Acro TT5 kula, Sam Miller, and Be-EcoChic of Eco Ethics LLC.

Please feel free to write back anytime and to forward to friends and/or to ask to unsubscribe. I do not share your emails with any lists.

Much love and power, courage and freedom in the face of all adversity, and sheer, brave joy!

Om shanti, shanti, shanti OM

Peace, joy, courage, freedom,

Mary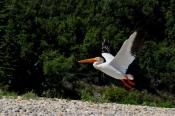 Rumi: "Spring Giddiness"
"Today, like every other day, we wake up empty
and frightened. Don't open the door to the study
and begin reading. Take down a musical instrument.
Let the beauty we love be what we do.
There are hundreds of ways to kneel and kiss the ground.

The breeze at dawn has secrets to tell you.
Don't go back to sleep.
You must ask for what you really want.
Don't go back to sleep.
People are going back and forth across the doorsill
where the two worlds touch.
The door is round and open.
Don't go back to sleep.

I would love to kiss you.
The price of kissing is your life.
Now my loving is running toward my life shouting,
What a bargain, let's buy it.

Daylight, full of small dancing particles
and the one great turning, our souls
are dancing with you, without feet, they dance.
Can you see them when I whisper in your ear?

All day and night, music,
a quiet, bright
reedsong. If it
fades, we fade."

- Jalaladdin Rumi, 1207-1273, Persian Poet/Mystic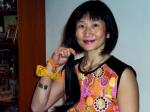 Locks of Love
Every two years or 10" I've donated a ponytail for sick kids' wigs, and received a free haircut. This year I highlight stylist Ali Ozel of Roy Teeluck Salon on 57th Street, and my friend Emily for her style advice!

Ali: I really like the way you feathered it, and I like it even better tossed & shaken than groomed!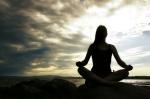 PURE 1-day Pass!
New Yorkers - I teach a Tuesday 10:30 AM Restorative at PURE, and I'd love for you to come!

Email me back to ask for your free digital PURE day pass, good through April. Not just my class, sample a whole day's worth. Yes, friends too, I can send them one, so you can go together.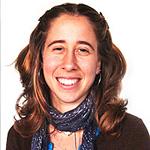 Acro Co-Founder's Intensive: 4/11-15
AcroYoga co-founder Jenny Sauer-Klein will come to Om Factory in NYC to lead a 5-day intensive, a requirement for the Acro Teacher Training in 2010, plus super valuable for its own sake.

You can take Fri. evening or the weekend separately, or the week intensive Friday to Wednesday.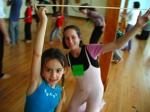 Circus Yoga Family Workshop 4/18
Think Kid & Adult Acro, Circus juggling, tools, skills, and you begin to get an idea of Circus Yoga's fun. They hold many events out of NYC, but this community workshop is in the city, and all ages 7+ are welcome. I'm planning to go! $25/$7, Adults/kids.

At Karma Kids Yoga, 2PM-4:30 Sat. 4/18.
Be Eco-Chic
Eco AND chic; can we have it all? This new online boutique, Be-Ecochic, feels that we can. See their creative, beautiful, recycled products, for yourself; for a gift for a loved one; for a planet-hug.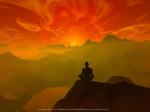 Susan's Retreat
Susan's friends can write her c/o the Vajrayana address on the upper right on this page; donations in her name can be set up electronically via email, or mailed by check, with a separate note indicating her name - not on the check itself.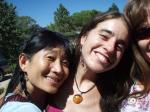 Sam Miller in Bali
Check donations per article in main body of newsletter. Here is a bit more information on the program.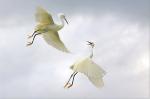 More Rumi: On Love
"Your task is not to seek for love, but merely to seek and find all the barriers within yourself that you have built against it."

"This is love: to fly toward a secret sky, to cause a hundred veils to fall each moment. First to let go of life. Finally, to take a step without feet."