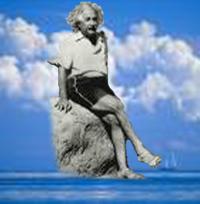 Imagination is everything. It is the preview of life's coming attractions. ~Albert Einstein
Shifting Consciousness with Albert
SORRY if you got this newsletter twice.. first round it only went out to people with emails beginning with M through Z.
March 14th is Albert Einstein's birthday. Albert said a lot of things that validate the imagination, promote breaking the rules, or otherwise teach us to think beyond limitations. That's why when the Greek Muses were upgrading themselves, they named a Muse after him.

Excerpt from The Nine Modern Day Muses (and a Bodyguard):
"'What did mortals need next?' thought the Muses about the continuing inspirational upgrade they were executing. They thought and thought and thought, and then they decided to stop thinking because it was getting monotonous and their brains hurt. They needed a change in thinking. They started experimenting with words, sounds, images, associations, kumquats, and fusion. And new thoughts started percolating.

To get into the spirit of this Muse, protocols were broken and boundaries were stretched. The Muses looked at the same old things but thought different things. Thus, this Muse is a male instead of a female. AND not only that, a mortal inspired the selection of this Muse in a realm where Muses usually inspire mortals. HA! They snickered at this disobedient gesture of pure genius, and then I can't remember which one, but one of them said 'Well, we've got to throw in some surprises or else the mortal mind will stall in complacency when it could be cruising in possibility.'

The Muses sadly mused that mortals often think as if they were confined within a little box. This is ironic because outside of the little mortal think-box side marked "This Side Up," is a take- off ramp to the sky. It has been there all along. Some mortals have discovered it and used its power to reinvent their thinking. After meticulous scrutiny they found one such mortal. They decided that a scientist, named Albert Einstein was the perfect mortal to inspire a Muse.

So, the next Modern Day Muse is named and modeled after this mortal icon of innovation, imagination, and revolutionary thinking. Albert Einstein broke the rules, revered imagination, and believed that we had a choice to live life as if it were a full-blown miracle. Thus, we have Albert, another in a crew of Muses shamelessly promoted by that Badonsky girl."

Albert Einstein also said, "No problem can be solved from the same consciousness that created it." Find out how it is times like these make a creative shift in consciousness even more important, this Thursday with Jill Badonsky on a free teleconference. Sign-up here.

CLICK HERE TO SIGN-UP FOR THE MONTHLY CREATIVITY COACHING CALL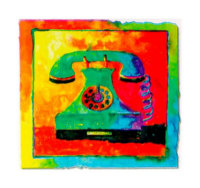 "I don't answer the phone. I get the feeling whenever I do that there will be someone on the other end." ~Fred Couples
Would You Get The Phone?
Today is
Alexander Graham Bell's Birthday
:
See if you can think outside of the box about writing a phone conversation.
Try writing one between:
two emotions like paranoia and puzzlement; or giddiness and surliness, polite and drugged out;
two genres like suspense and a melodrama;
hair-dos like dread-locks and a buzz-cut;
two things in your fridge, your closet or your junk drawer;
your dream and a fairy god mother, both talking about you;
your pets, or your pet and a neighbor's pet;
a salmon and an Indian;
two characters you've invented;
Remember party-lines? Me too.. that'd be fun to write about too.
Or make a collage, a doodle or a non-verbal dance about a phone conversation – let your imagination percolate on that one. I know you can do it.
Creativity Prompts:
Hey.. there's a whole BUNCH of them in
T
he Awe-manac.!!!!
The March 3 Awe-manac Page
If you're on Facebook (a network of avoidance, procrastination, and contagious curiosity), you've probably seen the CD cover game. It's pretty fun to create like this.
Here are some of my covers
(created during a flurry of avoidance). Click on
Captain Abercromby
to find out how to make your own.
"...you will always find those who think they know what is your duty better than you know it. It is easy in the world to live after the world's opinion; it is easy in solitude to live after our own; but the great person is one who in the midst of the crowd keeps with perfect sweetness the independence of solitude." ~Ralph W. Emerson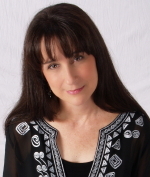 Laurie Hawley
Kaizen-Muse Creativity Coach Spotlight
Have you ever thought, "Something is missing from my life?" Each person has a "right life," a journey through this world that will bring the most possible joy and fulfillment.

As a Kaizen-Muse Creativity Coach and a Martha Beck Life Coach, Laurie helps clients overcome limiting beliefs and create a direct connection between conscious mind and deep self - that part of us that knows our purpose for life and how we are meant to achieve it.

Midlife is a significant turning point. It is a time when our essential selves emerge and our innate creativity becomes second nature. We spend the first half of life trying to meet other peoples' expectations and doing what we should do. The second half of life provides the opportunity to do what we are meant to do.

The mission of Laurie's coaching business, Aha Life Design, is to help baby boomers recreate their lives, relationships, and careers. The second half of life can be the best half. You can contact Laurie at lmhawley27@msn.com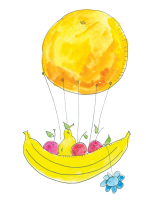 Still life in Hot Air Orange
Stay!
"It's not that I'm so smart, it's just that I stay with problems longer."
~Albert Einstein

Our lives fill with the magic and the miracles that "possibility" thinking can create. This is the physics of fulfillment.

Right now in this economic storm, we need to turn to art, writing, music, dance, theater. Turn off the radio, ignore the fear mongers, begin new habits - go from spending to expressing. The act of creating heals and expands us, reminds us of the abundance that is always there. Creativity, laughter, movement are all free and thank goodness for this opportunity to begin to experience them more, through necessity. Don't forget to share.

Jill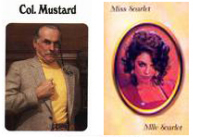 Colonel Mustard and Ms. Scarlett

Just some other stuff
CASE OF MISTAKEN IDENITIES by Jill Badonsky

There are 18 Milton Bradley & Parker Brothers games imbedded in this case of mistaken identity either referred to by title or by clues. Identify all of them and receive a free PDF coloring book with Badonsky art in it. E-mail your answers to info@themuseisisn.com

Dear Colonel Mustard,
Gad man. You killed Mrs. Peacock in the Drawing room with the candlestick. You were supposed to kill Mr. Green in the kitchen with the rope. Mrs. Peacock had the password to the Green account from which the funds were to be embezzled, and now she's dead. I was so hoping this operation could be done right so we could begin a life of decadence directly. I have a headache and won't be able to make it to the group investigation in the Conference Room. Please tell Inspector Closeau I had an emergency and that he is in the wrong movie.
~Ms. Scarlett

Dear Ms Scarlett,
Just to let you know ... Mrs Peacock and Mr. Green have been buying houses on Park Place, as well as upgrading Board Walk with three hotels and are in the process of acquiring the B & O railroad using the money you and I were planning on embezzling. Evidently, they were having more fun than a barrel of monkeys behind our backs.
I was also going to kill Green but just as I was on my way to the kitchen with not only the rope, but the wrench and the candlestick as well because all are very small and take a great deal of pummeling to sever the cranium, a little metal ball dropped off a high bar falling through a suspended bathtub onto a seesaw which catapulted Mr Green in a backward somersault out the kitchen door, past the fountain, where he scrabbled up the chutes and ladders suspiciously collecting in the backyard. I ran as fast as I could but as you know my legs are short and so it turned out to be a trivial pursuit.
~Col. Mustard

Dear Col Mustard,
Thanks for saving me the aggravation of discovering Green and Peacock's operation myself. I went ahead and killed Mr. Green in Marvin Gardens with the pipe and a twister move I learned in my Monday martial arts class and sold his properties in a quick roll of the dice. Presently I'm waiting for you on the battleship you have parked in the waterway by the Boardwalk. Honestly, Col. I'm surprised you were feeling on the battleshipee side of things when clearly this is a yacht-zee kind of escape. But whatever ... I can't wait to get out on the open Parchee Sea and to see you as it's been awhile.

Dear Scarlett,
Forgive my delay, but my mouth, my nose and my posterior have been burning for a day and a half because of the case of mistaken wasabi you had in the refrigerator. I thought it was guacamole. I'm okay now. Should I bring your little poodle, Ouija, with me? ~CM

Dear Mustard,
I don't have a poodle and I don't eat sushi. ~S

Scarlett,
I'm just a bit boggled here. At the risk of being embarrassed may I ask, are you the Ms Scarlett I met at the Taboo Bar on Mediterranean Ave.? ~M

Dear Mustard,
No, I'm the Scarlett you met when you were visiting your roommate in jail.
~S

Dear Ms Scarlett,
I fear I've made a terrible mistake. Sorry! Please leave the keys to the battleship on the credenza.
~Col. Mustard

Colonel,
I ate your caviar, sunk your battleship, and frankly I don't give a damn.
Ta ta,
Scarlett





Movie Trailor for Clue


Flying Monkey... Creativity Detractors

Foiling the Flying Monkeys: 5 Creative Block Breakers for Dedicated Writers
I got to be the guest at the January 23rd Write the Damn Book Teleconference - I talked about the flying monkeys we encounter when trying to write something.

To listen go here


or download at the link below.

Rae Warde wrote this poem from the writing prompt on the call:
Today is a doggy day,
a soggy day,
a day of slippery, moldy sun.

This is a body of faith,
a body of doubt,
of hopeful hopelessness.

This is a time of ancient newness,
a time of wonder,
of questions and wondering.

This is a mind of harsh energy,
a mind where love knows,
no one cares and no one knows.

Today is a feline day,
a sublime day,
a day of shiney, sparkly rain.


Download the teleconference to your MP3 player here