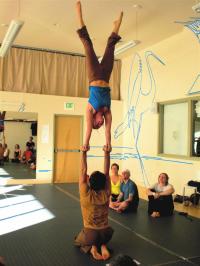 Mother Earth's Embrace
Flying to an AcroYoga immersion last month, I gaze down at fluffy clouds and earth, and marvel at how Mother Earth pulls us in safely to her, even while permitting her brave, skilled children the freedom of flight. I find traveling solo a moving meditation on rootedness. "Uprooted" between places, we are present with just Self. Grounded yet floating through space, completely centered.

If we worry over the landing, we won't enjoy the beauty of the flight. Similarly if we are anxious about our "exit strategy" we won't attempt or achieve a joyful balance whether in yoga inversions, relationship, or life.

With Mother's Day coming May 10, I devote this issue to motherhood, groundedness, Root Chakra topics. I salute Kyoko, fellow AcroYoga teacher mom with me at left sidebar photo above. I salute Isabell and her son Erick, below, who will support my own single mom adventures this spring/summer as Raul performs in two out-of-town shows. I salute my Mom, who inspired me to love and to teach. I salute all my admirable mother friends and surrogate mothers, including many wonderful students. Happy Mother's Day! May you be fed while feeding others.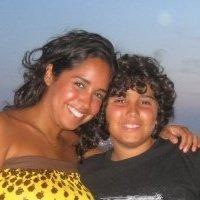 Mom's Day Eve: Couples
Mother's Day Eve: Couples Yoga Workshop at YogaWorks Westside, 5-7PM. Not for mothers only! For anyone who likes to be cuddled like mom cuddled you. Just kidding; no not really. My Mom flew me & my brothers on her feet. She taught us massage, both giving and receiving. She had us walk on her back, and when we grew big and she stayed tiny, she walked on ours.

I won't make you walk on each other! What I will teach you at this Couples workshop is delicious Partner Yoga Flow, and Partner Thai Massage. It is Saturday May 9, and it's 5-7PM, so you have plenty of time for day activities before, and evening after. We're at YogaWorks' beautiful Westside studio near Lincoln Center, next to Shun Lee Restaurant. Bring a relative, friend, or romantic partner. No yoga experience needed! Come feed your self and your relationship this Mother's Day weekend.

$70/$80 per couple. Pre-register for the $10 lower price.
AND moms get an additional 10% discount.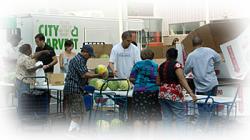 Feed Each Other
The rabbi at a co-led Bible study at St. Bart's Church shared a Jewish picture of heaven and hell. Hell is a lavish banquet where everyone is starving and tortured by the sumptuous delicacies they cannot have. Their arms are in rigid braces so they cannot bend at the elbow, and they cannot feed themselves. Heaven is the same feast, and same braces, but everyone feeds their neighbor. They all feel fed, and loved.

When Jesus blessed the loaves and fishes and fed the thousands, His blessing and one boy's faithful offering may well have opened hearts, and opened food caches for sharing. That miracle of the human heart is indeed far greater than the materializing of food from thin air, however useful a skill the latter is. Matthew, Luke and John do not say how, they they simply state that everyone ate their fill, with twelve baskets left over.

In that spirit, we can donate to City Harvest on May 6 what we would spend on lunch to feed our city's hungry. $10 feeds 7 children for a week. $20 feeds 3 for a month. $50 feeds 3 for the summer. Sharing is mathematically miraculous now, as ever.

From May 2 to May 9, the USPS joins with Feeding America in a "Stamp Out Hunger" food drive. During that week, bring non-perishable food items to any Post Office, and the US Mail will deliver the food to local food banks!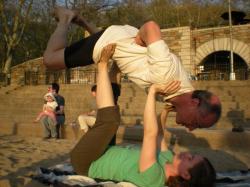 Yoga And The City
The New York Yoga Passbook has over 350 passes for over 125 Yoga, Pilates, and Dance studios in the five boroughs. $75 each calendar year. Offered by American Health and Fitness Alliance.

Another great NYC Yoga resource: on Facebook, find and become Friends with "YogaCity NYC" which is chock full of information on yoga studios, teachers, events and resources for New York. www.facebook.com

For AcroYoga happenings specifically, both official and informal play, befriend "AcroYoga NYC" on Facebook. Here, Andy Eisner and Becky Hahn play in the sandbox at "The Rings" at Riverside Park and 105th St., where AcroYogis frequent. "Play in the sandbox?" Talk about releasing the inner child!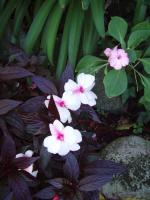 Pure's Got: Kids! & Me!
No, no, I am not teaching kids' yoga. I AM teaching Restorative at Pure Yoga on Tuesday mornings at 10:30.

Pure now has Yogi Beans, yoga for kids aged 3-4, 5-7, and 8-10. And Bollywood Fusion, Kundalini, Anusara, Ashtanga, Mysore, Hot Yoga, Iyengar wall, Zenyasa, and more. And me!

Not to mention free Wi-Fi, a tea shop, deluxe locker rooms, and cushy lounge areas! If you are new, contact me for a free pass to try it out.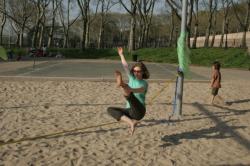 Yogis in Parks
Circus Yoga resumes last summer's Circus Sundays in Central Park, 3-6PM free play/jam time in Sheep Meadow May 3rd through the summer. Juggling, hoops, Acro play, all ages, feel free to join in and play, come when you want.

Most summer Saturdays and Sundays you will find AcroYogis anytime between noon to sundown near the shady treeline in South Central Sheep Meadow. But here is Becky Hahn balanced on a slackline at Riverside Park at 105th St. To join a NYC Google group of Acrophiles that may informally invite one another for local park play, email me. For formal classes and jams, see www.AcroYoga.org for your area.

As Spring/Summer sees many schedule changes and seasonal subs, do check with your studios if you're looking for a particular teacher or class when you go. My class schedules will always be updated on my site, under "Classes & Workshops."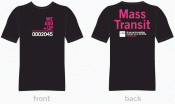 Mothering the Earth
WE ADD UP custom creates each organic T-shirt with its unique number "count" toward climate control.

You choose from any of 24 simple actions you can commit to. The site provides data for each actions. Proceeds from the $20 goes to the organization devoted to the cause.

"No one can do everything, but everyone can do something. Thank you for all your 'somethings.'"
-Jill & Judy, mom & daughter co-founders.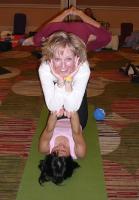 Sacred Center NY
With workshops like Drumming In Spirit and Writing Down the Soul, Sacred Center New York is a beautiful, vibrant interfaith church whose warmth and welcome, music and inspirational messages will surely nourish you, whether in Sunday celebration or meditation services, one of their Sunday or weekday classes. Sign up for their ENews full of offerings.

On Sundays, prayer ministers are available to pray with you after services. SCNY's prayer courses and prayer partners are a rich resource as well.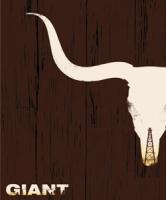 Dad in "Giant" Musical
OK, he's only "Dad" to Raphael. To the world, he's Raul. In Michael John LaChiusa
and Sybille Pearson's grand musical adapation of Edna Ferber's novel of Texas, he is "Polo" the head Mexican vaquero on the ranch.

He sings in Spanish! He plays guitar! See "Giant" at the Signature Theater in Arlington VA from now through May 31.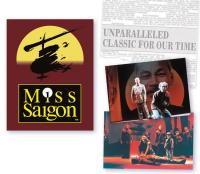 Long Island "Saigon"
If you are on Long Island's South Fork this summer, check out Patchogue's Gateway Theatre in July, and see Raul reprise his critically acclaimed and award-winning performance of the role of the Engineer in "Miss Saigon."

This season will mark his nearly 2,000th performance of the role from National Tour to Broadway to the London stage.

Bellport nearby and Patchogue are both quaint, with little beaches, and ferries to Fire Island!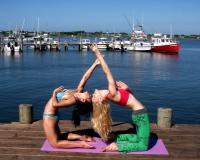 Fire Island Weekends
Om Factory will have more fabulous Fire Island Yoga Weekends this summer! Dock and beach yoga! Vegetarian yogi chef!

Sign up for their superb ENews for these and other dates and details. I will teach at the July weekend!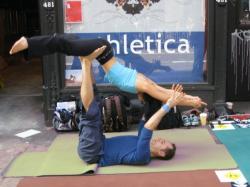 Photo Credits; Forward
Please Forward or Reply as you like; and you can always Unsubscribe. I will not share your emails with any other lists.

Thanks for photos this issue to Kyoko, Andy and Becky, Isabell and Erick, Emily Conradson in Dual Camel with me, Greg basing here, and AcroYoga co-founders Jason Nemer and Jenny Sauer-Klein flying hand-to-hand.

Shanti! Peace!
Mary