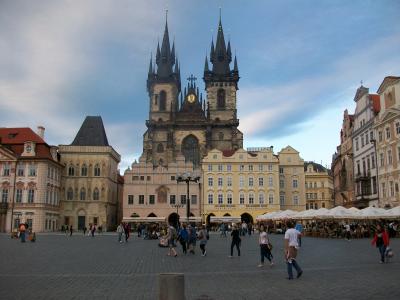 by Carol
This past summer I visited several European cities-- Salzburg, Vienna, and Prague (pictured above) --each replete with a system of interweaving streets that takes a brave soul to navigate. But a sense of adventure pays off as you discover streets that lead to museums, churches, and restaurants. Bear with me and you'll see what my trip has to do with networking.
When I speak at conferences, I meet lots of interesting people. Connecting with Joyce is a great example of what this newsletter is about: how networking can help you.
Here are some guidelines I have learned about networking in the last 2 ½ years:
Print business cards. They're invaluable if you want someone to follow up on your website or to contact you. Fancy designs are less important than legible information.
Don't be shy. Networking only works if you're willing to leave your comfort zone and become acquainted with someone new.
Be polite and respectful. No one likes to feel intruded upon. Introduce yourself, but don't be pushy. Recognize the other person's time commitments, position, and needs.
Think about what you can give. Offer a service, an introduction, or useful information. Be careful to only offer what you can actually provide.
Follow up. After I sign books at a vendor's booth at teacher's conferences, I send a thank you note to the vendor. Stay in touch, as much as you can, with people you meet along the way
Find out about the other person. If possible, gather information about the person you want to network with. Before facebooking ASU professor, Dr. Eric Groce, I did a google search to find out his interests and expertise. So when I sent him my first e-mail, I knew we shared an interest in using historical fiction in the Social Studies classroom.
Networking is like exploring an unfamiliar city: one introduction or connection often leads to another. You're never quite sure where you'll end up. But at least as long as you're in America, everyone you meet will likely speak English. Common ground is always a good place to begin networking.

BROADFOOT'S OF WENDELL: NETWORKING OVER BARBECUE!
by Joyce

Teachers, librarians, and authors have a friend in Jan Broadfoot, the owner of a unique store specializing in books on the Civil War and North Carolina. Each September, Jan sponsors the North Carolina Experience, a day of storytelling, music, barbecue and book connections.

When I think of

Broadfoot's of Wendell

, (near Raleigh) I picture a grassy lawn, stately magnolia trees, and a lovely victorian home. And oh, yes, a separate store building chock full of books.

We arrive in the freshness of a Saturday morning. While teachers and librarians browse the bookstore, we authors head to the big house to set up our programs in the various rooms of the family home.

Each author gives a fifty-minute presentation and then moves aside so another can use the same intimate space. At noon we converge on the lawn between the house and store to enjoy North Carolina's ultimate food - barbecued pork. Authors chat with teachers and librarians who take signed books back to school children across the state.

At my first NC Experience I met Media Specialist Mary Jo Floyd who invited me to speak at Fuquay-Varina Middle School and the Wake County Reading Association. I also made a friend in

Carol Crane

who invited me to present at the

MidSouth Reading and Conference.

At MidSouth, I bumped into

Carol Baldwin

, who quickly became a friend and colleague and is now coauthor of this newsletter.

This is just the beginning of a trail of important literary connections that began because Jan Broadfoot invited me to talk about Blue on a dewy September Saturday in 2006.

by Carol
Before the Internet, writers began their research at libraries. They patronized these meccas of knowledge and adored librarians who de-mystified the world of Dewey Decimal numbers and microfilm.
In the age of Google, Joyce and I still love the librarians (now appropriately named media specialists) who have helped us in the process of writing our books and bringing them to the public's attention. Here are a few we'd like to thank:
When I started researching the 1950's in Charlotte NC, I headed down to the Robinson-Sprangler Carolina Room of the Public Library of Charlotte & Mecklenburg County (PLCMC). Before I arrived, Sheila Bumgarner had already pulled several folders full of relevant documents. Leafing through a 1953 copy of Our Town, I found an article about an engineering National Guard unit that had just returned to Charlotte from Korea. Since Half-Truths opens with the main character's father having left for the conflict in Korea, I was excited to find the name and unit that shipped out from Charlotte "in the dark days of August, 1950."
Since my story takes place in Myers Park, Sheila suggested that I also visit the Special Collections section of the Atkins Library at UNCC. There I met Marilyn Schuster who directed me to LEGACY: The Myers Park Story as well as to old issues of Myers Park Country Club and Charlotte Country Club bulletins- treasure troves of information!
Other PLCMC librarians have been very supportive. Christine Bretz asked me to speak to young writers on learning how to revise their writing; as well as on writing science fiction, fantasy, and mysteries. Cassandra Hunsucker asked me to speak to parents on how they can help their children become better writers, and Snow Wildsmith first spoke to our SCBWI critique group on young adult literature and then later helped me compile a list of recommended reading for Teaching the Story.
Joyce is indebted to Charlotte, a librarian in Williamsburg, Va. who scanned numerous articles from a 1943 issue of the Williamsburg Gazette and e-mailed them to her. Six months later, Charlotte sent Joyce a link to an oral history project. The link led Joyce to two senior citizens who lived and played where her character for her work-in-progress lives. They provided amazing details, historic photos, and gave her a tour of the novel's setting.
Vicki Stanfield is a former school librarian who actively promotes children's books and stays involved with book conferences. In 2006 when Blue was published, she encouraged Joyce to present at North Carolina School Library Media Association. That first conference connected Joyce with school librarians and spread the word about Blue to NC classrooms.

CLASSROOMS CONNECTING WITH AUTHORS
by Joyce

It would be great if every school could afford an author visit each year. But since it isn't likely, there are other ways for students to connect with authors.

BLOGS

Some teachers blog about classroom reading experiences and encourage their students to leave comments on the books. As an author it's really fun to look in on these online conversations.

And of course, many authors blog. I've had exciting conversations with students via

my blog

. Last year before I visited H.H. Poole Middle School in VA, Media Specialist, Julia Goll sent me questions about

BLUE

that students had submitted. I answered them on my blog and Mrs. Goll sent me updates regarding their excitement about our online conversations. By the time I visited their school, I felt as if the students were old friends.

FACEBOOK

Recently, Randy Seldomridge, a language arts teacher at

Granite Falls Middle School

invited me to join a Facebook page created by his 7th Grade Team. He's working on a grant to sponsor me for an author visit. Naturally I joined the FB group! A cool opportunity for "mingling" with students before the visit.

Each of my books now has its own Facebook page. And lots of other authors create FB pages for their books. Students can always become fans and join conversations about their favorite books.

SKYPE

Using SKYPE is another inexpensive way to connect with authors. Carol and I both have SKYPE capabilities and are open to doing visits via webcam.

If your school has done a SKYPE author visit that you'd like to talk about via this newsletter, send an email to one of the addresses below! We'd love to hear from you.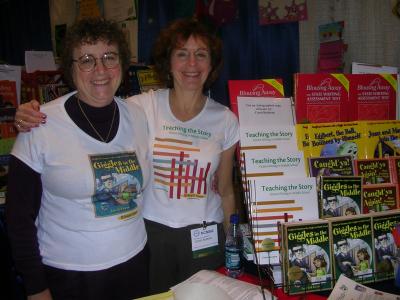 by Carol

According to my guideline #2, (above) you can't be shy if want to network effectively. Networking takes you out of your comfort zone and opens doors of opportunity.

One of the first reading conferences where I presented was in Greensboro, NC. I was scared. But I remembered advice from a seasoned pro, "Smile at everyone you meet." So I reached out beyond myself and I think it paid off. One of the attendees was

Nancy Polette

, an education professor at Lindenwood University and author of over 150 educational books. That night over dinner, she gave me good advice about creating handouts and speaking at conferences. Of course, I gave her a copy of

Teaching the Story

!

Not every contact leads to someone else. Some are just interesting people who I remember. At a

South Carolina Teachers of English

conference I sat next to a teacher who was from Florida. While talking we found out that her children and my publisher's children played together in Gainesville. I doubt I'll ever see her again, but it was a fun connection. On my flight to Texas for the

National Middle School

conference I sat beside a man who shared his concerns about literacy as an employer seeking qualified employees. We exchanged business cards and although I never heard from him afterwards, I

blogged

about him.




Put aside your stomach butterflies, smile, and listen. You'll discover other people's stories and connections that may lead you to other opportunities. It's what networking is all about.

NETWORKING WITH SUSAN TAYLOR BROWN COULD LEAD TO $ 1,000.00 SCHOLARSHIP!
by Joyce & Susan Taylor Brown
When it comes to social networking, author
Susan Taylor Brown
, is one of the most accomplished! So I asked her a few questions.
Susan, how has online social media benefitted you as an author?
People who read my books could always go to my website and send me an email but now that I'm on Facebook and Twitter, as well as my blog, I'm more available. It's like casual talk at a cocktail party. No pressure and lots of fun. Social networking is all about building relationships with people.
I also use online social media to help with articles I'm writing. When I need an expert for a quote on a particular topic I put out a call on Twitter and Facebook and get help in minutes. Same thing if I am researching for a project. It's like having a reference librarian available 24/7.
Susan, how do you see online social media being useful to teachers and librarians?
I'm excited to see teachers and librarians embracing online social media. I see the largest number of them on Twitter, using Twitter in the classrooms with their students and sharing information with their colleagues.
They share the same things they would share in person or via email - booklists, lesson plans, best practices - but the advantage of doing that somewhere like Twitter is that you get a quicker response from a larger population. They call it the "hive mind" and I see that as a good thing. I don't have to know how to do everything, I just need to know where to go to ask the questions.
Can you give us some tips for using social media?
There are a lot of options. You don't have to do it all or learn it all at once. Pick a few places to participate and get known there as a generous contributor of knowledge.
Fill out the profiles on the sites you join and post a picture. It's a great opportunity to promote your brand and yet many people leave them empty. Having an empty profile page is like handing someone a blank business card.

Above all, be professional. Remember that once it's on the Internet, it's there for good. Choose a networking site that feels like a good fit for you. If you're happy about what you're doing, happy sharing what you know with others, people will be attracted to you and everyone wins.
Thanks, Susan!
Susan is offering an
online social networking class
in November. But if you can't take the class,
do
visit her website. She offers a
Teacher page
which leads to a boatload of useful links, including literature resources, writing info, and author websites.
Susan makes school visits via
SKYPE
! And not only that - one of her characters, a Rhino named Oliver, will visit your school for only the cost of his transportation (that is, postage!)
Check it out!

NCCAT + NETWORKING = NEW BOOK
by Carol

Two years ago at the first

NCCAT

workshop which I led with Joyce, I met Steve Johnson, a technology facilitator in North Carolina. Thinking about adding the process of creating digital portfolios to my book, I asked him if his school would be interested in piloting a trial program.

Steve said more than "yes." He suggested that there were many ways in which digital technology could facilitate the process of writing short fiction. He rattled off a list and I excitedly e-mailed my publisher relaying that I had met someone who had great new ideas for

Teaching the Story.

Steve submitted a list of possible technology mini-lessons, tested them in his classrooms, and less than a year later the second edition of my book was released including almost twenty additional lessons which he wrote.

He was right. Infusing technology into the writing process allows for more differentiation and personalization and gets kids excited about writing. Plus, I learned a lot about the technologies that are fast becoming a part of classrooms.

Steve is now working on his own project with

Maupin House

.

Engaging All Learners with 21st Century Tools

is scheduled to be published in summer of 2010. The book contains over forty cross-curricular technology projects and activities that target the multiple intelligences found within every student. "It will help teachers activate their students' minds, bodies, and voices by incorporating the technology they already have at their fingertips in new, progressive ways," Steve said.

Each of the eight intelligences identified by

Howard Gardner

in his 1983 book,

Frames of Mind

(linguistic, logical-mathematical, spatial, bodily-kinesthetic, musical, interpersonal, intrapersonal, and naturalist), will be addressed with at least five technology projects. Steve assured me that "real-world examples will be provided to help teachers make that connection."

I feel like a grandmother as I listen to Steve's excitement about his upcoming book. I didn't have anything to do with creating this book except for connecting Steve with Maupin House—which is what networking is all about!

MISSED OPPORTUNITIES: OUCH!
by Joyce and Carol

It's difficult to network perfectly. Here are a few mistakes we've made.

1. In September I spoke at SCBWI Carolinas Fall Conference. I knew that Carol has been collecting email addresses from folks at conferences so she can update them with info such as this newsletter. But did I think to send a notepad around for those who would like to hear from me again?

In a word, NO! Still regretting that.

2. Joyce has shown me the value of always taking my camera wherever I go. Recently I interviewed three women who lived in Charlotte during the time period I am writing about. I brought the camera but forgot to take their pictures--which would have been wonderful for a blog about the process of writing historical fiction.

No one networks pefectly but we keep trying.

IN THIS ISSUE

FATHER GOOSE: AMERICA'S BELOVED CHILDREN'S POET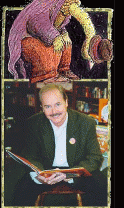 Upon receiving our first issue of "Talking Story", Pa Goose emailed to ask if he could forward it to teachers, librarians, and friends. The answer is yes, Charles! Please use the "send to a friend" function at the top of the newseletter. Networking is what it's all about. Thank you!

WORK THE NET: BECOME AN EXPERT FOR CAROL BALDWIN'S HISTORICAL NOVEL
by Carol
If you are an African American woman who lived in the South in the late 40's or early 50's, or if your mother, aunt, or grandmother fits that description, I would love to interview you/her for my work in progress, Half Truths.
Please contact me at (
cbaldwin6@carolina.rr.com
) Many thanks and I look forward to including how I met you in a future Talking Story issue!

JAN BROADFOOT'S DIRECTORY OF NC AUTHORS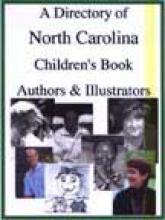 A DIRECTORY OF NORTH CAROLINA CHILDREN'S BOOK AUTHORS AND ILLUSTRATORS, Broadfoot, Jan, compiler, — $15.00 binder 75 pgs. photos. 2006. Elementary, middle school, high school.
Whether you are searching for biographical insight on your favorite North Carolina children's author or you want to arrange a school or library visit, this new directory provides up-to-date information on North Carolina's most popular children's authors and illustrators.

Updates and additional authors & illustrators will be added to our website periodically and may be downloaded free of charge.
Jan Broadfoot sells books, audiovisual materials, and teaching aids that supplement the understanding and appreciation of North Carolina's geography, history, and culture.
www.broadfootsofwendell.com

Win $150 worth of Educational Books!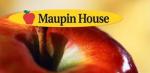 by Carol
CONTEST: Name the Maupin House E-Newsletter!
Maupin House
, my publisher, is hosting a contest to name their electronic newsletter. Now through November 31, 2009, you have the opportunity to make Maupin House history. One lucky winner will receive a $150 Maupin House credit. Be sure to pass this information along to your peers.
To enter, e-mail up to three (3) suggestions with your contact information to Tiffany Morgan at
tmorgan@maupinhouse.com
. Should you submit more, only the first 3 will be considered. To receive their newsletter email Tiffany at the address above.

*Contest ends November 31, 2009. Limit 3 entries per person.*

IN THE NEWS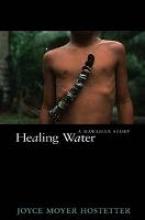 by Joyce
Have you been seeing Father Damien in the news lately? He's the priest who inspired me to write a story about Hawaii's leprosy settlement.
Healing Water,
is about thirteen year old Pia who has never known his real father. But Kamaka, a family friend, has taught him how to work, explore, and take on physical challenges. Pia believes Kamaka is fearless. He never suspects that a time will come when Kamaka could actually betray him. Neither does he expect his own body to betray him, or his government to tear him away from his family and send him into exile.
When Pia finds himself abondoned on Molokai in Hawaii's leprosy settlement, he turns to the skills he learned from Kamaka to help him survive. But the conditions are harsh. Pia discovers that he must choose between anger and aloha, revenge and forgiveness, his own willfulness and the example of someone worthy of being like a father.
Several years after Pia's arrival, Father Damien comes. And the leprosy settlement is never the same again.
Part of the reason Father Damien is so revered today is that he contracted leprosy from his close contact with patients such as Pia. Sixteen years after he came to the settlement, he died from complications related to the disease.