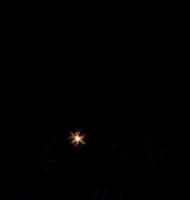 Someone observing the new moon with a twinkle in their eye.
Minimalism, Moon, and a Mountain
Dear ,

Since June 1 is a new moon, I thought it was a good time to wax minimalistically. After all, June is about breaks, letting go, and simplicity..at least I think it is, but there's a good chance I made that up. Here's my minimalistic poem, read by yours truly.

New moons are good for new beginnings. Where would one serve you?
What if you let this moon phase be about simplicity? [Just breathe.]
What if you let go of some of that multitasking? [Just say "one thing at a time."]
What if you sit and just listen to a song? [turn up da volume]
Contemplate the world inside of a simple idea? [Make contemplating noises]

Speaking of being inside of space and simplicity, I accompanied my friend Caitlin to Disneyland on Friday for her birthday. I did it reluctantly - I just lost my mom a month or so ago and my life has been about the art of grief through napping. I didn't know how I'd go 6 hours straight without a retreat under the down... and THEN we rode Space Mountain.

I got to let go... to fully experience the absence of control and just be completely present -fascinated by the lights, the speed, the way your stomach feels when it's in your mouth. The exhilarating rock and roll music's bass guitar beats in your chest at the same rate as the heart. It was the ultimate contrast of the last month's version of darkness, my sedenatry habits, and the usual routine. Fuel for creativity.

What's your lift-off? Perhaps orbiting around a Jacaranda Tree, your art studio, a place you live close to and never visit? Here's a little pseudo-experience of Space Mountain... switch on a fan on so you can feel the breeze of riding through space with the top down! Fast forward to 3:05 minutes.

This Thursday, June 4th 5 pm PT, 6 MT, 7 CT, 9 ET
This month's Free Creativity Coaching Call is about Mind Expansion. This is Anti-aging Potion #3 from The Awe-manac will be presented in experiential form - how can you keep your mind fluent in ideas, creativity, and youth?
I'll also do a short creativity coaching session with someone on the call and talk a bit about the upcoming training. You must be present to be present.
Please join me. Sign up Here.

Rolling around the universe at the speed of smell,
Jill Badonsky
www.themuseisin.com

CLICK HERE TO SIGN-UP FOR THE MONTHLY CREATIVITY COACHING CALL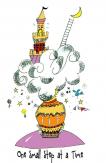 hooray!
Kaizen-Muse Creativity Coaching Training Coming Up
The next Kaizen-Muse Creativity Coaching Certification Training runs from
August 26 to November 12, 2009

KMCC coaches have been trained and certified since January 2004. Come join us and experience a transformation in yourself and a new stream of joy and income.

"Jill, you said right at the beginning of the course that we would not be the same people when this course was finished...That it wasn't possible. I have to admit that I took that pretty lightly. But the truth is that you were right.

I've read dozens upon dozens of books, given my heart and soul to everyone around me...and through all of this I never really "got it". I did get some of it...but I was missing a very important part. That is until now.

So you were right...I am not the same person... There is a real "I" in I now. If that makes any sense.
You know it has everything in the doing and doing in a small way.
You can "get" something intellectually and that's great but until there is practice, that intellectual understanding doesn't mean very much.

Thank you Jill"
P.E.

The KMCC training takes place through teleconferences and active involvement in a rich, Internet community, observations of coaching sessions with Jill, and enjoyable, practice coaching with classmates. You will bond with your own tribe and are supported in a personalized way by Jill Badonsky to discover a new level of your creative self as well as experience the 10 tools that have helped thousands unlock a creative life. Taught by Jill Badonsky with UCLA psycologist, Robert Maurer. More information both here and here and if that's not enough, consult your intuition.

A testimonial for KMCC from Chris Dunmire, the creative genius behind the Creativity-Portal.

Congratulations to the KMCC winter 09 class for making it through!
Congratulations to Susan Lee-Pullen and Elizabeth Humphrey for passing your certification requirements!
To be matched up with a KMCC coach email me at jillbadonsky@hotmail.com.

Visit Creativity-Portal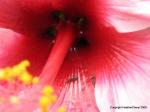 ants in a fancy hang-out
Simplicity
Consider the big lessons that can be learned in the quick reframing of small thoughts.

Small Thought: I love hibiscus flowers, but there's always ants inside of them.
Refreshed Browser: Ants seem to know the best hang-outs.

Small Thought: Roses are pretty, but the thorns are bothersome.
Refreshed Browser: Isn't it great how thorns have roses?

Try a few yourself.

Make an acronym or acrostic out of the word Simple or Simplicity or Minimal. Send me what you come up with: info@themuseisin.com

Visit The Awe-manac Blog for regular prompts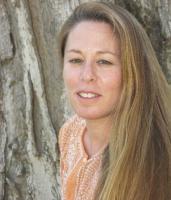 the artist, KMCC coach, writer, Riva
Kaizen-Muse Creativity Coach Spotlight: Riva Weinstein
Riva Weinstein's Magic Medicine™ coaching, workshops, blog and book inspire creative journeys of expansive joy without judgment. She is an artist, writer, workshop leader and Kaizen Muse coach who believes that creativity is like the shaman's journey to alternate realities for healing. Riva creates a safe nurturing environment to explore our creative depths with child-like delight - open hearted, and wide eyed with wonder. She is an annual artist in residence at the Omega Institute for Holistic Studies.
www.modernsacred.com
www.magic-medicine-workshop.blogspot.com
Visit Riva's Magic Medicine here

Schedule of Events
Thursday, June 4, 2009 5 pm pacific/8 pm eastern
Kaizen-Muse Creativity Call- Open to All.
Fun and creative ways to expand your creative thinking. More about KMCC.

Wednesday Evenings August 19 - December 2, 2009
Become a trained as a Certified Kaizen Muse Creativity Coach - from your home.
For more information click here.

Friday- Monday, October 23-26, 2009 San Diego
The in-person Modern Day Muse Facilitator Training. Click here
Sign-up begins July 15, 2009 - add yourself to the list at info@themuseisin.com, limitied enrollment.

November: The Modern Day Muses present at the SoulCollage(R) Conference in Arizona! Watch for details. Watch for low-flying Muses.

Free Teleconferences Monthly. Watch for them in the Muse Flash.
Last Month's Muse Flash

The Muse is IN classes webpage
Brought to you by Original Thought
This free monthly e-zine is dedicated to the pursuit of thinking different for originality, for inner-peace, and for creative expression.
Please copy things ONLY IF you include a link or credit to Jill Badonsky and www.themuseisin.com. Thanks for honoring this and not having Karma spit all over you. That just is NOT pretty.



How I Became a Minimalist Painter
How I became a Minimalist Painter by Jill Badonsky

…and then for motivation, I reviewed the landscapes, abstracts, architectural renderings, intricately detailed surrealisms, the portraits I'd done in the past
I considered my vacillating moods, the meaning of line, dark, shadow, negative space, hue, perspective, value and intensity.

I turned off the TV, ignored, the mess in my car and my refrigerator, plucked my chin hairs, removed cat hair from my blacks, dawned my hat, and made that way Mercury slipped out of retrograde.

I prepared my brushes, my cloths, the canvas, the light, the music, the subject and the sketches…I cleared my calendar for the next week, cancelled my GYN appointment.

And just as I got ready to execute another masterpiece for my portfolio, my cat stepped into the cadmium blue and then onto the corner of my canvas…


I am the one who is odd

Badonsky Art
all art by Jill Badonsky unless otherwise noted.