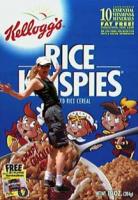 Jill Joins Snap, Krackle, and Pop on their Cereal Box
Cereal Murders
Dear ,

Today is not a new moon. Neither was June 1. Sorry for that blunder in last month's Muse Flash. My source was a dubious, loose association having a one night stand with a mood swing on a tangent. I'll be more medicated.. I mean careful, next time. ...more CAREFUL next time.

But seriously, I'm not on meds but I am thankful for all the corrections you sent and also for the beautiful sentiments about my mom. ... They touched my heart and I'm sure wherever Mom is, she thought it was pretty cool too, although she'd be surprised that people could be so attentive considering the way I wear my hair and the fact that I don't stand up straight even when told over and OVER.. ;).

This month we forge into a BOX THINKING theme. You know me.. I like to break the rules. I know a lot of you do too. Creative publications are always talking about "out-of-the-box" thinking. The real innovative challenge is taking over-used cliches' and making them creative.

There IS creativity in the box as well outside. Sometimes there's even more focus and progress when we have edges to bounce up against containers that provide structure. I don't know about you but sometimes when there's no edges, I find myself in a bathtub sailing across the ocean when I need to be working on my creative passions.

I was also thinking, in another loose association, that I don't want to be on the front of a Wheaties Box. I want to be on the front of Rice Krispies: Snap, Krackle, Jill, and Pop. It's all who you know, and I know Krackle.*

Remember this song by Paul Simon?:
Wish I was a Kellogg's Cornflake
Floatin' in my bowl takin' movies,
Relaxin' awhile, livin' in style,
Talkin' to a raisin who 'casion'ly plays L.A.,
Casually glancing at his toupee.

Ahhhhh, South California.

Playing this song so much in college may be the reason I now live in south California and in the past month have gone into movie making, passionately. Ahhhhh.
If you don't have a creative passion in your life.. look around for classes that would give you structure to learn something new. Classes always work for me as they provide edges to push up against. I took a film-shorts class and now I wear film shorts on every thought I have. A creative passion is a fire of joy.

Thursday, July 9th 5 pm PT, 6 MT, 7 CT, 9 ET
This month's Free Creativity Coaching Call is about Making Creative Prompts a part of your Summer. This is Anti-aging Potion #4 from The Awe-manac will be presented in experiential form - how can you keep your mind fluent in ideas, creativity, and youth?

You must be present to be present.
Please join me on the July 9 call. Sign up Here.

Signed, Sealed, Delivered,
Jill Badonsky
www.themuseisin.com
www.kaizenmuse.com

*Thanks Mitch Hedberg

CLICK HERE TO SIGN-UP FOR THE MONTHLY CREATIVITY COACHING CALL

liberate your creativity
Kaizen-Muse Creativity Coaching Training Coming Up
The next Kaizen-Muse Creativity Coaching Certification Training runs from
August 26 to November 12, 2009

KMCC coaches have been trained and certified since January 2004. Come join us and experience a transformation in yourself and a new stream of joy and income.

The KMCC models uses tools such as specially designed guided imageries, mind-sculpting, play, and new perspectives of thought and compassion. The July 9 call is a good place to learn a little more of what we are about.

"Jill, you said right at the beginning of the course that we would not be the same people when this course was finished...That it wasn't possible. I have to admit that I took that pretty lightly. But the truth is that you were right.

I've read dozens upon dozens of books, given my heart and soul to everyone around me...and through all of this I never really "got it". I did get some of it...but I was missing a very important part. That is until now.

So you were right...I am not the same person... There is a real "I" in I now. If that makes any sense.
You know it has everything in the doing and doing in a small way.
You can "get" something intellectually and that's great but until there is practice, that intellectual understanding doesn't mean very much.

Thank you Jill"
Pam

The KMCC training takes place through teleconferences and active involvement in a rich, Internet community, observations of coaching sessions with Jill, and enjoyable, practice coaching with classmates. You will bond with your own tribe and are supported in a personalized way by Jill Badonsky to discover a new level of your creative self as well as experience the 10 tools that have helped thousands unlock a creative life. Taught by Jill Badonsky with UCLA psycologist, Robert Maurer. More information both here and here and if that's not enough, consult your intuition.

A testimonial for KMCC from Chris Dunmire, the creative genius behind the Creativity-Portal.

To be matched up with a KMCC coach email me at jillbadonsky@hotmail.com.
KMCC students are looking for clients at a discounted rate. Email me for more information.

Visit our KMCC coaches at www.kaizenmuse.com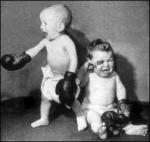 Baby Boxing Match
Tricks are for Kids
The creative self is always at play, tethered to the kid-like spirit, in ever-new a-musement.

"Why don't they make the whole plane out of that black box stuff."
Stephen Wright

Need a new monitor cleaner for your computer?

July is Twyla Tharp's Birthday. She said: "Art is the only way to run away without leaving home."

Word Pool: Play with some or all of the words below. Add more.
Begin with the sentence: It was the day I ran away from home.
Words:
moonrise, underneath, staying, tip, enough, ramble, noise, through, wide, deep, walk, square, capacity, goose, sky, particular, sea, influence, shower, menacing.

Last month the theme was "simple". I love this "acronym" that Sandy DeBoice came up with:
A SIMPLE life IMPELS the soul to seek.

Beam Yourself to a Sunbox - Click Here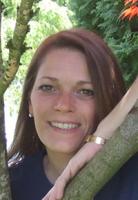 Pam Ellis with a Muse (Muses don't show up in photos though)
Kaizen-Muse Creativity Coach Spotlight: Pam Ellis
Certified Kaizen-Muse Creativity Coach,
Artist, Illustrator, writer, creator and facilitator of the "Art of Spiritual Painting" Workshop, (Muse groups coming soon... August 2009)
Connecting Souls with the Spirit of Creativity in all areas of life!
Nurturing the creative spirit, providing a safe environment to explore, building momentum in a way that is REAL,
EFFECTIVE, completely DO-ABLE and FUN!
ALWAYS staying TRUE to who YOU ARE!
Spirit, Creativity, Life!
Catch the Wave..
.
http://KaizenInspiredLife.com
Pam's site


Schedule of Events
Thursday, July 9, 2009 5 pm pacific/8 pm eastern
Kaizen-Muse Creativity Call- Open to All.
Fun and creative ways to expand your creative thinking. Learn more about Kaizen-Muse Creativity Coaching. Volunteer for a short coaching session on the phone.

Sunday July 12, 2009 1:30- 4:30 pm Looking Through Awe-Colored Glasses
A workshop using the power of creativity to shift your existence from fear, boredom, and emptiness to one of joy, imagination, laughter, and inner peace.
At Seaside Center of Religious Science, Encinitas, CA Sliding scale, you chose: $20-$40.

Dime Stories Dime-Off, July 17, 2009
Jill hosts Dime Stories at Mazara's Italian Restaurant in South Park while Amy Wallen is writing in New York. Themes are Fragile and WantAds.. Join us and read your 3 minute prose. See more about Dime Stories which is not updated with the latest themes probably because Amy is in New York already.

Wednesday Evenings August 26 - December 2, 2009
Become a trained as a Certified Kaizen Muse Creativity Coach - from your home. Almost Full. Register by July 26 for $100 off.
For more information click here.

Friday- Monday, October 23-26, 2009 San Diego
The in-person Modern Day Muse Facilitator Training. Click here
Sign-up begins July 15, 2009 - add yourself to the list at info@themuseisin.com, limitied enrollment.

November 5-8, 2009: The Modern Day Muses present at the SoulCollage(R) Conference for Facilitator in Arizona! Click here for details.


Free Teleconferences Monthly. Watch for them in the Muse Flash.
Last Month's Muse Flash

The Muse is IN classes webpage
Brought to you by Original Thought
I'm honored to be a contributor to SARK's Juicy Journaling Program
Check it Out

More honors to boot. I was honored to have Sandra Magsamen was a part of our Winter Kaizen-Muse Creativity Coaching training. You've seen Sandra's art all over the world and will recognize it on her blog and website. She's running a giveaway contest so make sure you beam yourself over there. She has become one of my favorite Muses - an amazing creative spirit filled with kindness and inspiration.


This free monthly e-zine is dedicated to the pursuit of thinking different for originality, for inner-peace, and for creative expression.
Please copy things ONLY IF you include a link or credit to Jill Badonsky and www.themuseisin.com. Thanks for honoring this and not having Karma spit all over you. That just is NOT pretty.

Thanks to contributors: Randy Herman, Nicky Pitman, Mitch Hedberg, Eber Lambert, Sandra DeBoice, Pam Ellis, Rae Warde, Dare Kent, Snap, Krackle, and Pop.




Click on the box of rain and listen first with your eyes closed

Build A Box Of Friendship
By Chuck Pool

Into a box of friendship
To insure that it is strong
First a layer of respect
On the bottom does belong.

Then to the sides attach,
In the corners where they meet,
Several anchors full of trust,
Devoid of all deceit.

The height of friendship can be measured
By the sides of four,
So make them all a larger cut,
And the box will hold much more.

Now fill it up with courtesy,
Honor and esteem,
Understanding, sympathy,
And passion for a dream.

Add to that your honesty,
Emotions joy and love,
And since they�re so important,
Place them up above

But leave the box wide open
So all can see inside,
To learn what makes a friendship work
From the box you built with pride. a


Badonsky Art