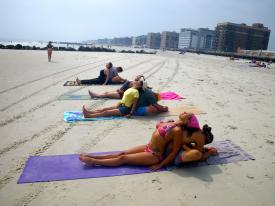 Restorative: "Hidden Treasure"
Om Factory's August Student of the Month, Jillian Krebsbach, calls the studio "one of the hidden treasures of the garment district." I feel that way about Restorative Yoga; it is one of the hidden treasures of Yoga. Props such as bolsters, blankets, and blocks support the body in restful poses that encourage the body's "relaxation response" and deep healing. Very profound and still, this practice balances an active life. The more vigorous your body, mind, OR stress levels, the more you will appreciate it.

As a Mom, wife, AcroYogi, and full-time Yoga teacher, my life is busy. I am grateful for Restorative. I have added a new Restorative class to my teaching week: in addition to Tuesday mornings 10:30 at Pure, I offer a Restorative Mondays 1:15 at Om Factory starting September. Come to Pure or Om Factory; mine and my assistants' loving hands will melt you, with soft music and aromatherapy, into an hour of bliss that sends you refreshed into the rest of your day and week. Email me for a Pure intro. pass.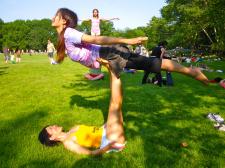 Beach Yoga; Park Yoga
Fire Island, Bellport, Patchogue, East Hampton, Long Beach! My summer's been pretty beachy keen! Latest was Om Factory's Long Beach AcroYoga Day mini-retreat, co-teaching with Chris Loebsack and assisted by Matt Giordano. A perfect day! At lunch break, student and professional sandsculptor Andy Gertler built a castle, with help from Matt, and Dan Murphy.

Save Saturday, Sept. 26 for an AcroYoga Day Mini-Retreat in Central Park, co-led by me and Scott "Twyster" Spampinato! We'll be at Great Lawn Southwest, W.81 St., above Turtle Pond and the Delacorte. Two classes, 11-1 and 4-6, will explore Yang/Yin 1st session, and Yin/Yang 2nd session. Come flow through dynamic/easeful partner yoga, with sky and grass spinning around us and smiles and shared harmony reigning abundant. No partner necessary. All levels welcomed! Acro teachers are our guests!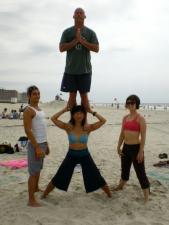 Birthday! 3 Parties!
On Sept. 23 this year I turn a big, auspicious number birthday! To commemorate it I have acquired body art on my left ankle and calf, and will show it off Sunday Sept. 27 while performing AcroYoga® at Om Factory's AntiGravity Grand Opening party, 5pm-12, with kirtans, hoop yoga, Indian dance & AntiGravity demos too. Come, enjoy!

Come play with me the day prior in the Park Acro Mini-Retreat Day, Saturday Sept. 26, above.

And, come play with me on my actual birthday, Wednesday Sept. 23, in my open level AcroYoga® class, 7:30-9:15 at Om Factory. We will have a party after, with cupcakes, in the Surya studio. All levels welcome! Bring friends! Acro teachers are my guests to this class, which I'm co-teaching with the awesome Scott Spampinato. What a way to roll into my next half century.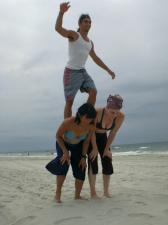 Forward; Reply; Update
My class schedule in September changes slightly, adding a Monday 1:15 Restorative, and moving Thursday AcroYoga® to Wednesday nights 7:30-9:15PM. See my Classes page anytime for updates.

This week at PURE I am subbing Zenyasa classes for Jason Brown, 10:30-11:45 Wed. and Fri. If you're new to Pure, email me for a free 3-day pass.

Please feel free to reply or forward or unsubscribe anytime.

Om shanti,

Mary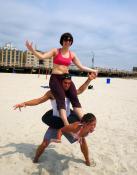 Sitali/Sitkari: Cooling Breaths
Sitali means Cool. Curl your tongue into a tube (if it doesn't curl, simply purse your lips into an O) and sip in a cool Sitali breath (pronounced sheetali). Exhale out the nose.

Sitkari also means Cold and is nicknamed hissing breath. Thinly part the teeth like Dirty Harry, and sip in a thin cool stream. Breath out the nose. Try Sitali or Sitkari, 3-4 minutes.

Next month I'll share my calm, centering Kriya breath for tattoo time or any time calling for focus under duress.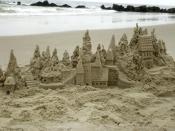 Feeding America
As often happens, food banks experience a summer slump. Help by "clicking," donating, or volunteering during the summer months.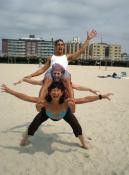 Models Against Addictions
Meret Hulliger, a student in my Acro class, co-founded this non-profit group that raises awareness and funds for addiction treatments, particularly holistic approaches. They welcome Yoga teachers and anyone interested in contributing to events and efforts. Contact: modelsagainst
addictions@gmail.com.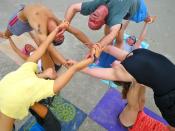 Photo Credits
Photo thanks: Lauren Fabrizio, Andy Gertler, Chris Loebsack, Matt Giordano, Bianca Passiglia, Jillian Krebsbach, Tanya Evans, Dan Murphy, Pure Yoga, Monica Lee.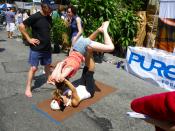 PURE Street Acro
PURE Yoga West Side opens in December! In Aug. and Sept., Pure street fair booths will feature AcroYoga® performers, who will also offer to fly the audience. All 3 fairs are Sundays, 12-6. Look for the Pure booth in these locations:

*8/30: Amsterdam Av/W.70s
*9/13: near E.86th St/3 Ave.
*9/27: Columbus Av/W.70s