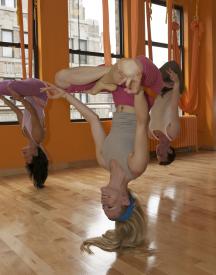 Divinity: Inner Gurus
I love that "Gu" means darkness and "Ru" light, so a Guru or teacher in Sanskrit means "a dispeller of darkness" or literally, "darkness into light." We are all gurus here to guide, and learn from, one another.

I love that our essence transcends physical strength or beauty or youth. Even as we love our bodies with the flame of "tapas" we can look right into eternity in each other's eyes and in our own if we dare.

Therein is the guru. See her, see him. I honor and salute your Guru. Namaste.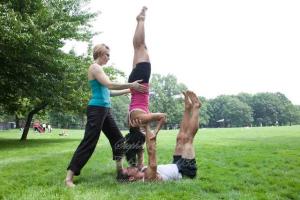 Workshops Celebrate!
As I enter life's 2nd half century, I am like the character in the movie "Sideways": no longer saving the rare wine for the special occasion. The special occasion is Now.

Let's celebrate: Now. All my workshops are celebrations. I hope I will see you at one or more of these special occasions... Or, flipping through the air in park, party, other joyful performance event. Come share the pleasure. Drink the wine. Jesus blessed the wedding at Cana; his Father blesses the wedding of Life: soul and body. Enjoy.

Mary's Upcoming Workshops:

10/30: Flying Without Broomsticks, BambooMoves Bronx
10/31: Flying Without Broomsticks, ISHTA
11/7: AcroYoga® 101, Om Factory
11/15: AcroYoga® Fundamentals, YogaWorks SoHo
12/5: Restorative Aromatherapy Bliss, Pure
12/20: POP The Champagne! AcroYoga® Holiday Celebration, Pure
1/24/10 AcroYoga® 101, Om Factory
2/14/10 Valentine Couples Workshop, 1-4, YogaWorks SoHo
2/14/10 Valentine Couples Workshop, 7-9, Om Factory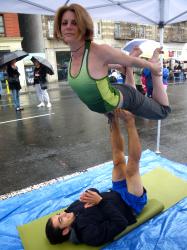 GO WEST! Pure Yoga
Pure Yoga opens West Side on December 15, 2009 ~ with five large studios, twenty-foot ceilings, and ~ my Vata soul rejoices ~ steam rooms!

And ~ AcroYoga®! Come to Pure Acro nights Mondays & Thursdays 7:15-9PM, and enjoy all-day access to Pure West at their AcroYogi Day Rate that is ~ shhhhh ~ less than the usual non-member day rate. Frequent Flyer passes available. Pure members attend free. Mark the date! Mid-December, or January 1st at the latest!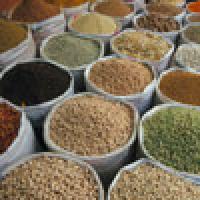 Thanksgiving: $1 Provides 7 Meals
Talk about stretching a dollar. Feeding America, formerly America's Second Harvest, collects and delivers unsold food from restaurants and supermarkets to distribute to the hungry in America. Their challenge this season:

"Let's set a Thanksgiving feast for 9 million Americans facing hunger. We can do it! Because every dollar you give provides 7 meals for families in need. No one should have an empty plate on Thanksgiving!"

What a privilege for me that I can give $1, and each dollar transforms empty plates to full. What miracles we can partake in, no less than water into wine. Ah! A bit of darkness into light?

Many studios this season offer classes and workshops that benefit charities. Check with your studio, and suggest if there isn't one!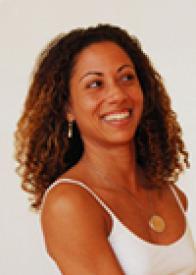 Mindfulness for Arthritis
Allyson Pimentel, Ed.D., R.Y.T., is a licensed psychologist, meditation instructor, and Yoga teacher with a private psychotherapy and consulting practice in Manhattan. She coordinates mindfulness programming at Lehman College and was formerly the training director of Bellevue Hospital's Mind–Body Program and the acting coordinator of the Geriatric Psychiatry Clinic.

Allyson is teaching a special "Mindfulness for Arthritis" workshop at Integral Yoga Center on Monday, November 2nd from 6pm-7:25pm. Please forward this to anyone you know who might benefit. The class will emphasize mindful meditation techniques but will also include some gentle movement.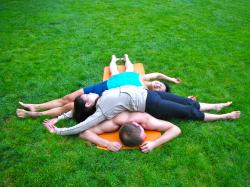 Acro Connections
Those of you interested in being more connected to AcroYoga® events and happenings, please drop me an email by Replying to this and I will fill in whatever you need, be it Acro NYC Google Group, worldwide or U.S. Acro mailings, or Facebook connections.


Forward; Respond
Feel free to forward to friends and to reply or unsubscribe, anytime. I value your email privacy and do not share email lists.

Om Shanti! Namaste ~ Mary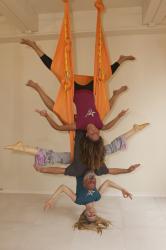 Om Factory! Party & Anti-Gravity
Om Factory celebrated community with a grand party Sept. 27. There was Hoop Yoga, gorgeous classical Indian dance, and two Kirtan groups amongst the gorgeous & continuous performances that night.

See videos of my two AcroYoga performances ~

See-Saw:
http://www.youtube.com/watch?v=4L4Km0pHc00

Dancing After Hours:
http://www.youtube.com/watch?v=P1wmuJ7yfkw

I also got to take an Anti-Gravity class for these photos. Try Anti-Gravity! Releasing, restful, strengthening, and graceful by turns. Very fun, very different. Only at Om Factory.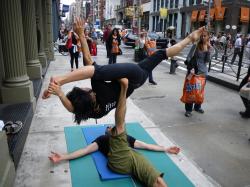 Flying Around Town
NEXT Up Flights:

Spoooky Treats Workshops Hallowe'en Weekend!!

Oct. 30 & Oct. 31 both, see me flying as a witch and/or black cat, teaching two very fun AcroYoga Hallowe'en workshops. Friday night at BambooMoves in the Bronx, and Saturday night Hallowe'en at Yogiraj Al Finger's ISHTA in the center of the city near Union Square. Come trick or treat in the air with us! Treats afterward.

Flying Demos!!

Oct. 30 I am flying in front of YogaWorks SoHo's front doors from 12-2 at 459 Broadway @ Grand St.

Oct. 31 I am flying in the windows of Lululemon SoHo from 2-4 at 481 Bway @ Broome St.

November 7 & 15 Workshops: Two Foundational AcroYoga workshops I'll be leading are coming up! Bring your friends, get up in the air.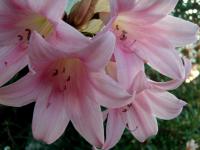 Fundraiser: Girls' Night Out for a Cause
I meet great people when out flying in Parks: one I met last week, Amy Silverman, created this fundraiser for women to get pampered with chocolates, wine, hand massages, makeup and all sorts of girlie goodies THIS Wednesday, 10/28. Only $20 and all sales of products go to "You Can Thrive," an organization supporting women with breast cancer.

Of COURSE I'd like you all to be at my Wednesday night Acro class, learning to Cartwheel into Straddle Bat and start Buddha Flow 2. But if you're not coming to class, YES, go get pampered & purr a little on my behalf, and bring along women friends in need of pampering and eager to share too. Love, mama Mary.


Photo Credits
Thanks for photos, this issue, to: Allyson Pimental, Chris Loebsack, Matt Giordano, Greg Franklin, Kevin & Emily & others at Om Factory, Anti-Gravity, Kara Seymour & Portland, Maine crew at Open HeArt Space, Jake Brenner & park friends, and George Lee for flower photo.