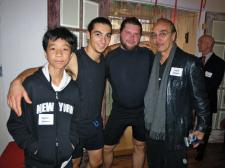 Holiday Abundance
This Thanksgiving I celebrate the simplest of pleasures: friends, family, food, playfulness. I give thanks for the warmth of friends and family, and for work we love to do.

There is always more of that: Work we love to do. Families that need provision, friends that need care. Food to be distributed.

This season I'm delighted to be teaching two workshops that contribute toward efforts we can take to keep the love flowing. And, I am delighted as I see more of my studios, and corporations everywhere, are joining their efforts to create connections for bounty.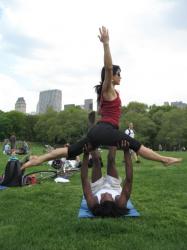 Hanuman's Jaw
AcroYoga® teacher Adam Rinder tells beautifully the story of young Hanuman leaping to the sun thinking it a delicious mango, and the offended god Indra striking him down with a thunderbolt, breaking his jaw and earning him the name Hanuman: "Broken Jaw."

Adam loves Hanuman's fearlessness that knows no bounds. I do too, and also that it is his setback, his injury, his wound, that brings him even more gems of blessings from the council of gods.

In every hero's injury - Hanuman's jaw, Jacob's dislocated hip as he wrestled with God, St. Paul's thorn in his side - are rich jewels of blessings. Yoga teachers gain wisdom with every injury experienced. And we humans on our hero's journeys: can we find the jewel in every setback, every injury, every "thunderbolt" that strikes us down? More than that: can we reclaim our boundless courage, AND retain the blessings? Can we grow, as we grow older, to be fearless AND wiser? Hanuman did; he performed increasingly greater feats of daring and devotion, as he grew.

I'm exploring a pinched rotator cuff and tennis elbow. Among my jewels are a great list of LMTs and Thai Yoga practitioners for myself and others, a great chiropractic office, and I am continuously learning as I still leap toward the sun.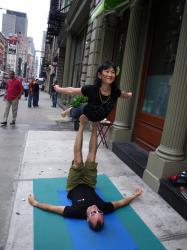 Holiday Elf Flying 11-30
Maybe you need some crockery for your Holiday parties. Or just happen to be in glittering Lincoln Square. I'll be flying at the Pottery Barn, Broadway and 67th Street, this Monday night, November 30, from 6-9PM, with two of my frequent flying partners, Greg & Matt. Come say hello! Help me out with some newer, more seasonal, indoor photos! Come cheer on the holiday spirit! Maybe fetch this Elf a Pumpkin Chai, in between flights!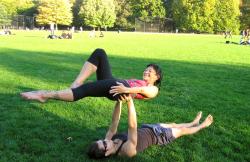 Argentina Flying Week!
December 10-18 I am away from New York City to immerse in a week of Thai Massage and Therapeutic Flying training with my teacher Jason Nemer, co-founder of AcroYoga®. More goodness and healing to bring back home with me! Remind me if you are in need of LMT's or Thai Yoga to pass on some names that may be of use to you, furthering the goodness and the spread of love, healing, and joy.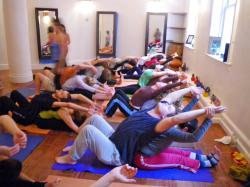 Classes/Workshops
There's so much more, that my friends are leading/teaching, this season is blissfully rich in Yoga offerings at major studios everywhere. For my schedule, see below:

Mary's Upcoming Workshops:

12/5 Restorative Aromatherapy Bliss, Pure Yoga
12/20 POP The Champagne! AcroYoga® Celebration, Pure Yoga
1/24/10 AcroYoga® 101, Om Factory NYC
2/13/10 Valentine Workshop, 1-3, YogaWorks SoHo
2/14/10 Valentine Wine & Chocolates, 7-9, Om Factory

Weekly NYC Classes:

Monday 7:15-9PM AcroYoga®, PURE West, *Begins 12/21
Tuesday 10:30-11:30 Restorative, PURE East
Tuesday 1:05-2:05 Vinyasa Flow NYHRC 23 St.
Wednesday 7:15-9PM AcroYoga®, Om Factory
Thursday 7:15-9PM AcroYoga®, PURE West *Begins 12/24
*PURE West: 341 Amsterdam/76 St; Special AcroYoga®Day Pass: $20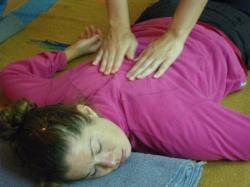 Restorative Bliss this Saturday! Dec. 5
Benefiting Citymeals-On-Wheels, this Saturday, 4-6PM; come to my two-hour Restorative workshop at Pure Yoga East. Pre-register to ensure a spot, as space is limited.

To register and for details, click on link.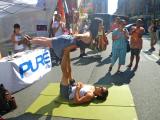 PURE 3-Day Pass
For a 3-day trial pass to Pure Yoga, email me. You may choose Pure East now, or wait for Pure West's opening December 15: twenty-foot ceilings, steam rooms, five large studios. And me! AcroYoga® twice a week, currently scheduled for Monday/ Thursday nights.

We will offer special AcroYogi Day Rates for non-members, including a 6-for-5 class pack!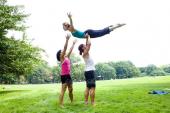 Dec. 20: POP! Holiday AcroYoga® at Pure East
Come celebrate the season with Chris Loebsack my frequent co-teacher, and Matt Giordano my acrobatic partner, as we lead a holiday Acro workshop for AcroYogis and the Pure Staff and Members on Saturday Dec. 20 from 1-3:30.

In the spirit of joy and giving back to NYC, a portion of proceeds will benefit Citymeals-On-Wheels.

Pre-register early to add early to our season's joy: so we know who we're playing with!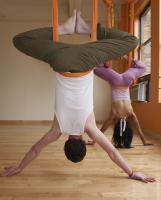 Om Factory 2-Day Pass
Through December, 1st time visitors to Om Factory can obtain a 2 Day Guest Pass from teachers and staff.

Come to the NYC home of Forrest Yoga, AntiGravity, & AcroYoga®! Monthly AcroYoga® Jams, quarterly Kirtans, plentiful Bodyworks & Dessert "B&D" parties. And, me. Wednesday AcroYoga® class every week 7:15-9PM.

Thanks Peeps in Pics
Akil, Matt, Sam, Greg, Chris, Deven, Kevin, Raul, Raphe, & anyone I missed!