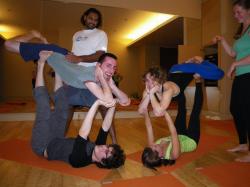 Love Is Space
February for me was filled with love and was a meditation on love. I taught 4 Valentine weekend workshops at 4 studios with 4 co-teachers, all of whom I came to love and appreciate more. Even regular classes like the above felt extra drenched with connection.

I met YogaFit®'s teacher training team and joined them, becoming a YogaFit® Restorative teacher trainer and embracing my new fellow teachers with love.

I flew to California and assisted my teachers Jason and Jenny in their AcroYoga® weeklong immersion, growing with them and with fellow assistant Jeremy in teamwork and loving support. I grew too in learning about communication, receiving, and giving from the students and from my training partner Matt who shared the week.

I visited with my brother Charles and his family, and came home to my loving husband and son. From this space of contentment and love, the following reflections on love in space arise.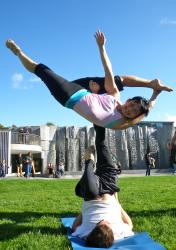 Space Is Love
Yogis call it Prana, Chinese call it Chi. Luke Skywalker calls it the Force.
Paramahansa Yogananda calls it Christ Consciousness. It is the power of creation. It is the Holy Spirit moving through us.

The energy that created the universe shimmers all about us and within us; and someday scientists will measure it in quantifiable units that satisfy the thinking mind. But artists already paint it, sing it, dance it. Sometimes it is distorted and then it looks like hate or anger but it is still just love miscommunicated, bent from its shape.

This love fills the space between atomic particles, sends the electrons spinning in their relationship dance with the protons and neutrons. Love is in the space between us when we relate. It's in the space we allow one another when we respectfully step back and give each other room: room to be solo, or different, or with others besides ourselves.

My new friend, joyful perky yoga teacher Theresa, tells me it is the space she and her husband give each other that keeps their 27-year marriage rich and sweet. Space for them includes their travel for work that lets them cycle back to each other repeatedly with love to share and freedom to go and grow again. It also includes their mutual ability to "leave as they are" the opposite party. "This is especially hard for women to do" notes my wise little friend. Can we love by giving our loved ones their space to be entirely who they are? Can we love ourselves the same way?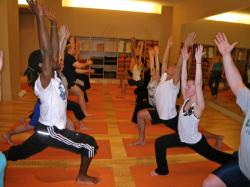 Classes
My classes at Pure East and West continue as per January schedule. In March I will sub several Zenyasa classes. See my web page anytime for class changes. Check Pure's online class schedule for subbing teachers.

Workshops for spring will be posted as set, so watch for those as well, whether Restorative, Thai, AcroYoga® or other.

Thursday night AcroYoga® at Pure West flourishes! Come play with me, Chris, & Matt, & friends. Members come free, and non-members of Pure get great frequent flyer rates.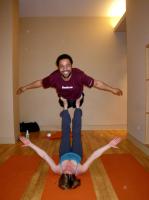 Photo Thanks
Thanks this issue for sharing photos with us: Rena at Lululemon, Jason Nemer and Jenny Sauer-Klein, Matt Giordano, Teri O'Connor at YogaFit, Lauren Fabrizio, Maren Hill, Guy Hubbard, Chris Loebsack, Edgar Latimer, Ralph Craig, Kyle, Nick, & Pure students. My apologies to anyone whose names I missed!


Love is Change
I wasn't the only one who grew during my week away. I came home today to find my 14-year-old Raphael grew the last 1/4 inch to meet my height. My brother says "that's not hard to reach." Teasing aside - don't we want our children, and students, grow beyond us? It's challenging and joyful, and always an opportunity to give space, share love, share grace.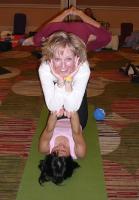 Restorative Teacher Training
I knew nothing about YogaFit® when Beth Shaw invited me to their Reston, Virginia Mind Body Fitness Conference. I quickly looked up their work online, and was moved by their commitment to community service, growth, learning, and bringing quality Yoga to all. Here I am at the MBF Conference in Virginia giving a trainee a little light relief after their 2nd of 4 days in Restorative teacher training. I will be teaching 4-day Restorative teacher trainings for YogaFit® several times per year at different locales in the U.S. and possibly internationally as well.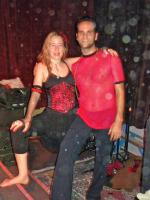 Partnership
Jason and Jenny embody loving partnership for me. The co-founders of AcroYoga® work closely as teaching, training, and performance partners. Their supportive camaderie is even more impressive because they were once a romantic couple, and now can honor each other's personal space while mutually serving a common goal. Here they have just performed an AcroYoga® flow to MC Yogi's music, a fun field trip and night out for the students to come see them "do their thing."