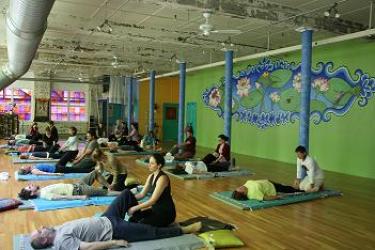 Thai & Restorative Yoga
While I love all of Yoga, the entire sandbox of skills and stories, I especially love two extremes: the yumminess of Thai and Restorative, and the athleticism of Acrobatics and Vinyasa. It seems to me to make sense: we challenge ourselves, and we must equally love ourselves.

This season I amp up both modes. As I write, I am just back from a week of intensive Thai massage at the New England School of Thai Massage in Massachusetts. This season, too, I join YogaFit® MindBodyFitness Conferences to train Restorative teachers around the country. On the Acrobatic side I continue to train and perform, assist and teach ~ both open level AcroYoga® classes, and acrobatic series & workshops in the planning.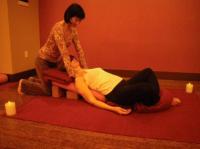 Mother's Day Restorative: May 9
On the restorative side, I lead a Mother's Day Restorative workshop at Pure East, Sunday, May 9, 2-4pm. NOT for mothers only, these two hours are devoted to mothering those who come to receive nurturing, through restorative poses, soothing music, aromatherapy, loving touch, and guided meditation. Registration is limited, so please don't miss out on pre-registering a space for yourself, and maybe a friend too.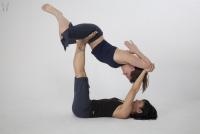 YogaFit® & A Gratitude Attitude
Beth Shaw, founder of YogaFit®, writes in the introduction to her book:

"In his book 'Growing the Positive Mind,' Dr. William K. Larkin says that the body chemistry associated with gratitude is the most optimally healthy state of mind."

Anyone hear an echo of Dr. Masaru Emoto's water crystal work, from "The Hidden Messages in Water"? Dr. Emoto's research discovered that the message of Gratitude projected to water molecules, among all messages, produced the most clean, clear, beautiful water crystal formations.

Consider the effect then on our cellular structure, of every action that we project, outward or inward, especially as we are on average 70% water. We may well heed Beth's words: "Research shows that a positive state of mind affects us at a cellular level. When practicing yoga, be grateful for what you can do, and the rest will come in time -- when it's right, and when you are ready."

Proverbs 17:22: "A cheerful heart is a good medicine, but a downcast spirit dries up the bones." A very literal reference to the hydration of our joints!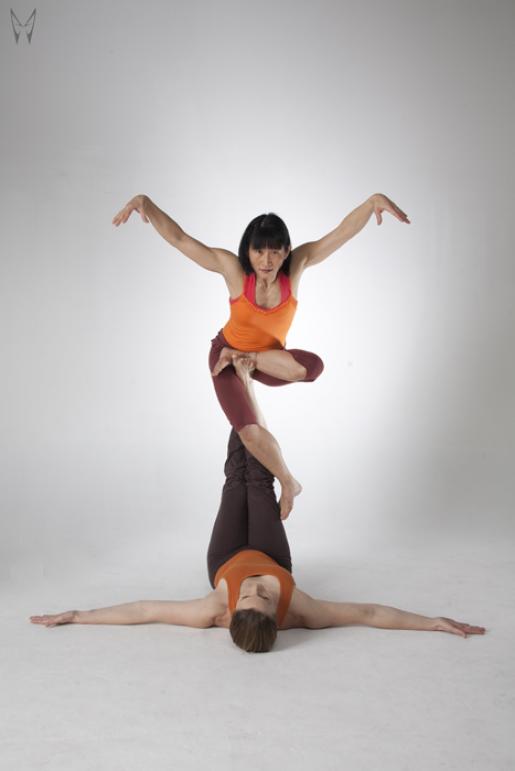 Photo Thanks
Many thanks for photos this issue to: Photographer Megan Jolly, Lululemon Lincoln Square, Kunal Prasad, Jennifer Yarro and Frog Lotus Studios, Marion-Krista, Sam Prestidge II, Greg Franklin, Deven Sisler, Justin Caruso, Anastasia Bobadilla, Matt Giordano, Photographer Aranka Israni, Chris Loebsack.

Om Shanti!
Blessings, Mary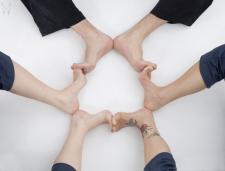 Pure Acro Tuesdays
AcroYoga® at Pure West began in January; we now enter joyously our second season! Beginning April 6 we are Tuesdays, 7pm-8:15 class, followed immediately by Acro Gym from 8:15-9PM, supervised practice.

Come one, come all! Don't be shy. Beginners welcome. All levels of experience are welcome. No partner needed. Pure West members free; Non-Members may purchase single or 4-pack AcroYoga® classes.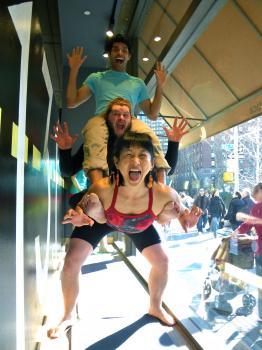 Window AcroYoga®
As Spring warms up, my Lululemon flying in windows moves out in front of the windows!

This Saturday, April 3, come see me flying high on the sidewalk in front of Lululemon Upper East Side, at 3rd Avenue and East 66th Street, between 1:30 and 3:30PM. Don't forget, we are happy to fly bystanders too, as long as you sign a waiver! So smile for the camera! Happy Spring! Spring into gratitude!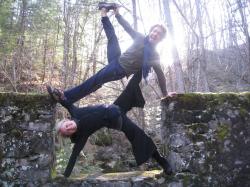 Great Wall Bits...
For those of you in love with building bricks toward a great castle of fun, I'm planning an Acrobatic Flow series spotlighting elements of the Great Wall Flows in the AcroYoga® Flight Manual, with the aim of each of us perfecting our own pieces of the Great Wall.

Watch for it on my Facebook, my Web listings, and the www.acrogyoga.org page under New York City community.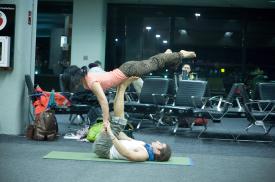 Privacy; Forward; Reply
I honor your privacy and do not share email lists. Feel free to Reply, Forward, or Unsubscribe at any time. See my website, below, for updated events or class schedules anytime.