Arctic Ocean Foreign Ministers told leave it in the ground

The Indigenous Environmental Network, the Council of Canadians, and the Alaska based REDOIL Network have issued an open letter (link below) calling for an international moratorium on all new exploration for fossil fuel resources in the Arctic region. The letter is directed at the Foreign Ministers of Canada, Norway, Denmark, Russia and the United States who will be present at the Arctic Summit in Chelsea, Québec, March 29, 2010.
Click button to view video of demonstration on Monday, March 29th from APTN News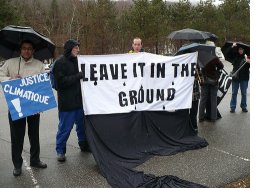 The discovery of 90 billion barrels of oil and 1,670 trillion cubic feet of natural gas in the Arctic region has triggered a rush to secure access that includes petroleum companies such as Shell and Exxon.
"New oil and gas development is anything but responsible in the face of a very serious climate crisis which requires governments like those meeting in Chelsea to rapidly reduce emissions," says Andrea Harden-Donahue, Energy Campaigner with the Council of Canadians. "It is no small irony that increased access to exploit reserves in the fragile Arctic Ocean ecosystem is largely the result of melting sea ice."

Click button to watch video interview with Clayton Thomas-Mueller from APTN News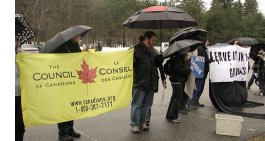 "We believe that a moratorium on fossil fuel development would be a first step to addressing the climate crisis we are in. Strong actions need to be taken now by Governments of the world to effectively address climate change. Indigenous peoples worldwide bear the consequences of Global Warming daily and we want concrete action now," states Faith Gemmill, Executive Director of the Alaska based Resisting Environmental Destruction on Indigenous Lands (REDOIL).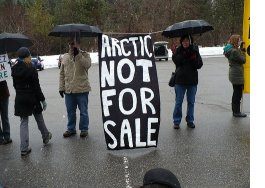 "Climate change is responsible for increased levels of contaminants like mercury, DDTs and PCBs in staple edible fish species near my home community," says Daniel T'seleie, a K'asho Got'ine Dene from Fort Good Hope, Northwest Territories. "Increased development of Arctic oil and gas would not only contribute to the climate crisis that is devastating Arctic communities, it would also add more direct pressure to fragile ecosystems that are already stressed by the combined impacts of climate change and existing development. This would be an unconscionable infringement on the rights of Arctic Indigenous Peoples."
Click button to watch a report from CBC News on the G8, Artic Ocean Summit.

For more information:
Clayton Thomas Muller, Indigenous Tar Sands Campaigner, Indigenous Environmental Network, monsterredlight@gmail.com, 1-218-760-6632
Andrea Harden-Donahue, Energy Campaigner, Council of Canadians, aharden@canadians.org, 613-218-5800

Council of Canadians
700-170 Laurier Ave West
Ottawa, Ontario
K1P 5V5

Indigenous Environmental Network, Canadian office
294 Guigues Ave.
Ottawa, Ontario, Canada
K1N 9H8

REDOIL Network
PO Box 74667
Fairbanks, AK 99707

Lawrence Cannon, Minister of Foreign Affairs
House of Commons
Ottawa, ON K1A 0A6
Click here to read/download the letter:
Open letter to the Foreign Ministers of Canada, Norway, Denmark, Russia and the United States present at the Arctic Summit (Chelsea, Quebec March 29, 2010)
♦ United States Social Forum: DEADLINE EXTENDED to April 20th by popular demand!

Workshop, Cultural Event, and People's Movement Assemblies build a powerful multi-racial, multi-sectoral, inter-generational, diverse, inclusive, internationalist movement that transforms this country and changes history. Don't miss out on this opportunity to recruit new members, network with other organizations, and inspire others by sharing the work you're doing.
Submitting a proposal is quick and easy, around 250 words.
Proposals received by April 1st will be given priority.
New: You can now print out the workshop proposal form. Review the Call for Proposals, tracks used to organize workshops, Cultural event and performance proposal form, and register
to submit a proposal on the USSF website. If you cannot immediately pay we look forward to your payment very soon.
How to submit a workshop proposal:
Read the Call for Proposals
Register your organization
Login in to the USSF website
Go to http://organize.ussf2010.org/workshops and click on "Propose a Workshop" (off to the right)
. Fill out the form! That's it!
If you want to preview the form, you can download it from the Call for Proposals. If you experience challenges navigating the website, you can report problems and get help at 877.515.USSF.
What is the US Social Forum?
The US Social Forum (USSF) is a movement building process. It is not a
 conference but it is a space to come up with the peoples' solutions to the 
economic and ecological crisis. The USSF is the next most important step in our
 struggle to build a powerful multi-racial, multi-sectoral, inter-generational,
 diverse, inclusive, internationalist movement that transforms this country and
 changes history. We must declare what we want our world to look like and we 
must start planning the path to get there. The USSF provides spaces to learn 
from each other's experiences and struggles, share our analysis of the problems 
our communities face, build relationships, and align with our international 
brothers and sisters to strategize how to reclaim our world.
Take action to keep BP out of the tar sands – the single most destructive project on earth.
The BP Fortnight of Shame is a call to action from the UK Tar Sands Network, Rising Tide and the Camp for Climate Action and the North American based Indigenous Environmental Network. In partnership with our UK based allies the Indigenous Environmental Network is working to force BP to reverse their crazy plans to move into Canada's tar sands. It runs between the annual Fossil Fools day on April 1st, which in recent years has seen a flurry of action against the fossil fuels industry, and BP's Annual General Meeting on April 15th. Grassroots groups across the UK and around the world, will be taking action in solidarity with First Nations, American Indian and Alaska Native communities in Canada and across North America to stop BP's deadly plans to enter the worlds most destructive development in their tracks.
Why Tar Sands?
Attempts to avert the planet from sliding into climate crisis are being threatened by a single massive project in Canada's Northern Alberta Boreal Forest. Already, millions of barrels of tar sands oil are being extracted every day, producing three to five times as many greenhouse gas emissions as conventional oil. The extraction process is immensely resource-intensive, currently using enough natural gas every day to heat 3.2 million Canadian homes. Add to this the mass deforestation the projects are causing, ridding us of desperately needed carbon sinks, and it becomes clear this project cannot be allowed to continue if we are serious about preventing runaway climate change.
The effects tar sands are having on local First Nations communities are devastating. The tar sands development in Alberta covers an area the size of England, with toxic tailing ponds so huge they are visible from space, leaking poisons into the local water supply. Not only are indigenous livelihoods and futures being destroyed, but communities on land where tar sands extraction has been imposed are experiencing disturbingly high rates of rare forms of cancer and auto-immune diseases.
Why BP?
BP is the only major oil company with no tar sands extraction projects currently in operation. This is about to change. Since 2007, BP has quietly ditched the 'Beyond Petroleum' sham, because investing in renewable simply wasn't making them enough profit. They have decided to go back to Petroleum, with a vengeance, under the leadership of new Chief Executive Tony Hayward.
Moving into tar sands was one of the first steps Tony Hayward took, acquiring a half share in the Sunrise Project with Husky Energy. The Sunrise Project will be huge, producing 200,000 barrels of filthy oil a day, and using Steam-Assisted Gravity Drainage (SAGD), an extraction process even more energy and water intensive than the more visible surface-mining operations.
The recession has given us a window of opportunity. BP has been forced to postpone their final decision on whether to go ahead until the second half of 2010. This means it is not too late for us to stop this outrageous project. BP is desperate for Sunrise to go ahead, and will certainly not go down without a fight, but with effective and sustained action we can win this one.
What can I do?
In the UK:
Save the date! Saturday, 10th April. 1PM. London.
Join us at a secret central London location for an afternoon of sun, sound systems and subversion.
Make sure BP knows that they won't go into the tar sands without a fight. Meeting point and more details to be announced nearer the time, and keep an eye on: www.tarsandsinfocus.wordpress.com
More info about the BP Fortnight of Shame, April 1 – 15 2010 The BP Fortnight of Shame is a call to action from the UK Tar Sands Network, Rising Tide and the Camp for Climate Action to force BP to reverse their crazy plans to move into Canada's tar sands – the single most destructive project on earth. It runs between the annual Fossil Fools day on April 1st, which in recent years has seen a flurry of action against the fossil fuels industry, and BP's Annual General Meeting on April 15th. Grassroots groups across the UK and around the world will be taking action in solidarity with First Nations communities in Canada to stop BP's deadly plans in their tracks.
From Brighton to Scotland, groups across the UK are already plotting for the Fortnight of Shame. If your local group isn't already planning something, there are still loads of times to pull off a fantastic action. If you aren't part of local group, you could check out the list of local groups that form the Camp for Climate Action network. – or get together with your friends and get cracking!.
Everywhere else across Mother Earth:
The Indigenous Environmental Network is sending out an international call to action against BP on April 10, 2010. Calling all Indigenous Solidarity Activist, front line and fence line communities, allied organizations and you to take action against BP as part of the BP fortnight of Shame! More info on international call to action against BP to come soon!!! Visit IEN tar sands page for more updates: www.ienearth.org/tarsands
Need ideas or resources? Click here to join an online group set up to share resources and information that will come in handy for the two weeks of action.
The BP Fortnight of Shame is in solidarity with Canadian First Nations communities.
More info coming soon!!
♦ Take action with Grassy Narrows

Please join us in Toronto, Ontario, Canada as we demand justice for our people and protection for the water, air, and forests that give life to us all.
Public Talk. Tuesday April 6, 6:30 p.m. Steel Workers Hall, 25 Cecil St. (S of College, E of Spadina).
River Run – creative march and rally. Wednesday April 7, Noon. Meet at
Grange Park (Beverley St. S of Dundas, behind the AGO). Together we will form a wild river that will flow to Queen's park to deliver our demands on World Health Day. We invite Indigenous people to wear your regalia. Others are invited to wear blue, or dress as your favourite wild creature.
For more information go to: www.FreeGrassy.org
To endorse, donate, support, or for more information contact us at:
40 years ago our people were poisoned by mercury from a paper mill that contaminated our river upstream. Our people are demanding justice because we are still dealing with the ongoing health impacts of this avoidable disaster. We want to sound the alarm that this poison will affect everyone if we don't stand together to protect our water.
For decades our GNAA grassroots people have been on the front lines of the movement to defend the earth, and to uphold Indigenous self-determination, culture, and spirituality. We have kicked out logging giant Abitibi for now, but there is still much work to be done. This is a great opportunity to show your support, and to join us in the fight to protect the water, air, land, creatures, and rights that we all depend on.
Migwetch
Grassy Narrows Asubpeeschoseewagong Anishinabek
BACKGROUND
On April 6, 1970 the government of Ontario banned fishing on the Wabigoon River due to mercury contamination from a pulp mill in Dryden. Overnight unemployment in GNAA to rose from 10% to 90%, a primary food staple was lost, and the devastating neurological health impacts of mercury poisoning set in. At the time the government said it would take months for the mercury to wash out of the river system.
Forty years later, a newly translated Japanese study on the health of GNAA residents shows that while mercury levels are going down, the health impacts of mercury poisoning in GNAA are substantially worse now than they were in the 70's. This has huge consequences for GNAA and neighbouring communities. It also has important implications about the long term cumulative health impacts of low level mercury exposure. The study concludes that Health Canada safety guidelines for mercury consumption are not strong enough to protect us from the nearly universal mercury contamination still being spread by coal fired power plants, mine tailings, and other industrial processes.
We need to act now to demand justice for our people, and to protect the
water.
NEW INTERNATIONALIST
The tar sands are the most destructive project on earth – and the campaign to shut them down is gathering momentum. Jess Worth reports from the thick of it.
'If local indigenous communities tell us they don't want the Sunrise Project, then of course we won't do it,' Peter Mather, boss of BP UK, said to me earnestly.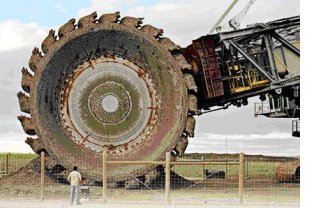 I could barely believe my ears. Was the oil giant, poised to enter the tar sands for the first time, really claiming it would be prepared to back down in the face of local opposition? My strange evening had just got stranger.
I was in Oxford's swanky Randolph Hotel. It was last October, and I'd gone with a group of student activists to BP's flagship graduate recruitment event. The company had really pulled the stops out, lavishing free wine and canapés on around 100 engineering and geology students, perhaps in the hope of giving them a taste of what life could be like if they worked for the transnational.
The fact that the head of BP UK himself was there to deliver the slick presentation told us how important this event was. The oil industry as a whole is facing a huge human resource crisis, with the average age of employees 49 years and the average retirement age 55. The industry is currently an estimated 100,000 people short.1 Getting good staff is key to a company's survival.
So Peter Mather can't have been best pleased when – as soon as he started speaking to Oxford's crème de la crème about how dynamic, green and successful his company was – two of our gang jumped up, took the stage, and delivered an alternative presentation. 'There is no clearer demonstration of BP's determination to ignore the risks of climate change than its decision to invest in Canada's tar sands,' they told the bemused audience who, like most people in Britain, seemed largely unaware that the tar sands even existed.
'Extracting oil from these sludgy deposits produces three to five times as much greenhouse gas as conventional oil,' the young campaigners continued, laying out some of the jaw-dropping facts surrounding what has come to be known as the most destructive project on earth.
'The tar sands are the biggest industrial development in the world, and the second fastest source of deforestation. They are leaving a hole the size of England in the Canadian wilderness. The lakes of toxic waste sludge are visible from space!' Click here to read and learn more.
Photo Credit: Man and machine: the scale of the project is mind-boggling. This 170 metre long bucket-wheel reclaimer is used to shift tar sands along conveyor belts. Photo by: Thomas Ball / www.thomasballphoto.com
♦ FIRST NATION Rights impacted by Alberta Regulations; no Consultation
The Athabasca Chipewyan First Nation is asking why the Alberta Government continues to move forward with its plans and approvals without meaningful Consultation on the ACFNs section 35 Rights. Numerous Government and Regional initiatives are underway without adequate consultation with the ACFN. 'When will Alberta Wake up and Address our Concerns?" Chief Adam asked.
"There has been no assessment of impacts to ACFN constitutionally-protected uses of the Athabasca River and surrounding areas, nor has there been adequate involvement of the ACFN in the development of these Initiatives" says Chief Adam. ACFN members have used the Athabasca River for centuries, yet in the past few decades our members have witnessed a significant deterioration. This change is limiting our traditional uses and limiting our practice of Treaty and Aboriginal Rights.
Land Use Planning for Northeastern Alberta is underway whereby the Government is developing plans for five main land uses in the Lower Athabasca Region: Bitumen Extraction and Production; Transportation and Infrastructure; Forestry; Conservation; Recreation and Tourism. The ACFN is being ignored and cannot understand why their constitutionally-protected rights and uses have not been identified as a priority. Contrary to the principles of consultation, the Provincial planning process is secretive; the Government has refused to disclose their advice sheets on Aboriginal Impacts. The ACFN wants assurance that traditional uses on the lands in the Region will be protected. Alberta has given us no assurances that they will consult in a transparent manner; worse they have not even developed criteria and thresholds to assess impacts on our rights or done the studies which would allow them to properly consult and assess such impacts.
These ACFN Concerns are well known by the Alberta Government which continues to dismiss and ignore them. The ACFN is now publically stating these concerns in the hope that attention will be given to address them adequetly. Chief Adam states: "What is happening to us here is just a start and will eventually happen to the rest of the planet, what is happening here is where the stone hits the ponds and ripples out eventually affecting everyone".
"We are worried" says Chief Adam "there is uncertainty with what the future holds for us. Our way of life is impacted, we are being moved further and further away from areas we use to practice our Treaty and Aboriginal Rights".
The ACFN is warning the rest of the world about these impacts. Our position is that our Nation must be able to continue to exist within our Traditional Lands and must be able to continue practicing our Treaty and Aboriginal Rights. We cannot do so if our concerns are not respected and dealt with in a meaningful, fair and transparent way.
For Further Information:
Chief Allan Adam, ACFN, 780-697-3730.
Athabasca Chipewyan First Nation
Tel: (780) 697-3730
Toll-free: 1-888-420-7011
Fax: (780) 697-3500
♦ Oilsands company attempts to silence former Mikisew Chief
By SHAWN BELL, SRJ Reporter
A former Mikisew Cree First Nation chief (MCFN) went public last week about the pressure his band faced from an oilsands company to fire him last November.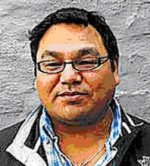 George Poitras admitted he resigned his position as consultation coordinator for MCFN's Industry and Government relations in December 2009, fearing industry repercussions for MCFN if he wasn't terminated from the position

Executives from the oilsands company, which Poitras would not name, flew to Fort Chipewyan in November 2009 demanding MCFN end Poitras' employment with the band, following the August 2009 "bloody oil" tour Poitras helped organize in England.

When MCFN refused, Poitras said members of the band lost their positions with the company and MCFN contracts with the company were terminated.

"Because of this very successful campaign in the UK, one of the oil company's executives flew to Fort Chipewyan and attempted to force the hand of my But the "bloody oil" tour was apparently too much for at least one oilsands company to handle. During the trip to the UK, Poitras wrote a guest editorial in The Guardian newspaper where he stated concerns that oilsands operations are killing his people, and called on BP Oil and Royal Bank of Scotland to pull out of Canada's oilsands.

Poitras insists his international travel and activist work was done on his own time.

Even so, MCFN asked Poitras to refrain from speaking to the media following the meeting with the oilsands executives.

"I left (MCFN) because I would not be silenced," Poitras said.

It remains to be seen if the oilsands company's attempts to discredit Poitras by having him removed from his position with MCFN will be successful.
But one thing is certain - Poitras now has more time for activism, extra time he assured will be used to continue pressure against oilsands development.

"I'm now taking on the campaign full-time," Poitras said on the day he returned from his latest trip to England, for the UK premier of the film Dirty Oil.
♦ EPA Training: Mining Information Session for Tribes
EPA Region 10 has developed a training course targeted toward Tribes.
The training course describes the mining process, environmental impacts from
mining, and regulations and permitting process for mining operations.
Where:
Spokane (specific location to be determined)
When:
April 22, 9:00 am - 5:00 pm
No Registration Cost
For more information contact:
208-378-5691
Agenda
Mining Information Session for Tribes
9 - 10:30: Mining Fundamentals - description of mining and mineral
processing
10:30 - 10:45: Break
!0:45 - 12:30: Environmental Concerns and Issues - potential environmental
impacts of mining and mining waste products and ways to prevent, control, cleanup impacts
12:30 - 1:30: lunch
1:30 - 3:00: Agencies and Regulations pertaining to mining - description of
agency roles in mine permitting and description of EPA's
authorities: NEPA, CWA, CAA, SDWA, CERCLA
3:00 - 3:15: Break
3:15 - 4:15: How tribes can be involved - discussion of how tribes can be involved in mine environmental review and permitting and mine cleanup
activities
4:15 - 5: Time for additional questions, open discussion.
The Northern Quest Resort & Casino is delighted to offer the government per diem rate to EPA Tribal Environmental Workshop. This rate will be available based on guest room availability at the Resort, rather than holding a guaranteed room block for the date of Wednesday April 21, 2010 .
Hotel Reservations:
Reservations may be made through the Resort's Reservation Department by
calling 1.877.871.6772 and requesting EPA Tribal Environmental Workshop rate
to receive the special ra
♦ Women on the Border Awards: Ofelia Rivas and Teresa Armenta Mendez
Congratulations to Ofelia Rivas, Tohono O'odham, and Maria Teresa Armenta Mendez of Altar, Sonora, as Women on the Border Award winners 2010, awarded by Borderlinks.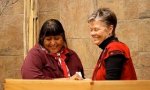 Ofelia Rivas, founder of O'odham VOICE Against the Wall, was nominated by Censored News publisher Brenda Norrell.
"Ofelia repeatedly risks her life for the purpose of truth and justice. She has been the voice of grass-roots people on the border and struggled to protect ceremonies and sacred pilgrimage routes that have been divided by the border. She was the lone voice that exposed the destruction of the graves of O'odham ancestors by the construction of the border wall. Most recently, Ofelia served four days in jail in Chiapas for her support of the indigenous rights movement of the Zapatistas." Click here to read more....
Photo: Ofelia Rivas receives award /Photo Borderlinks
♦ UK and North America groups slam Calgary opening of British 'tar sands' bank
Treasury grilled in UK Parliament over public money being used by Royal Bank of Scotland to support tar sands development
Environmental and anti-poverty groups in the UK have reacted angrily to the Royal Bank of Scotland opening an 'oil and gas advisory' office in Calgary. [1] RBS, which is 84% owned by the UK public has been the subject of controversy in the UK over its record of being the UK bank most heavily involved in financing fossil fuel projects and companies around the world.[2]
Yesterday, a parliamentary transcript of the questioning was published showing that officials from the company created by the government to oversee the bailed out banks, UK Financial Investments, had been vigorously questioned by MPs in a Select Committee hearing over whether or not RBS had been using public money to finance tar sands in Canada.[3]
Speaking after the hearing, Martin Horwood, MP for Cheltenham and Environmental Audit Committee member, said: "The Government must stop RBS using our money to drive the most damaging projects on earth. RBS is using taxpayer's money to finance projects and companies that are driving climate change all over the world. These projects include tar sands extraction in Canada that is trampling on the rights of indigenous communities and destroying pristine wilderness."[4]
The hearing took place on the same day that questions were being asked in Parliament, RBS announced it was opening an office in Calgary that it said it would be an be an extension of its Houston practice and its oil and gas advisory in the United States.
Kevin Smith, from PLATFORM, co-author of the recently published 'Cashing in on Tar Sands' report said: "RBS is positioning itself to cash in on Albertan tar sands. MPs are asking questions about RBS using public money like this because UK citizens would be horrified to learn that their taxes are being used to facilitate the expansion of projects that cause such widespread ecological devastation against the wishes of First Nation communities."
Protests over RBS' involvement in tar sands financing are being planned by the World Development Movement and People & Planet to take place across the UK, including at RBS' Annual General Meeting that will take place on the 28th of April in Edinburgh.
Deborah Doane from the World Development Movement said: "We are planning protests up and down the UK because so much of our money is being used to provide finance for unsustainable tar sands extraction. These investments have a devastating impact on the lives of Indigenous communities in Canada, and are fuelling climate change, just to service the rich world's unquenchable thirst for dirty energy. The RBS decision to open a new office in Calgary to target the Albertan oil and gas market is yet more confirmation that our money is not being put where it should: towards socially useful and low carbon projects."
Clayton Thomas-Muller from the Indigenous Environmental Network said: "The concerns of First Nations peoples should not be taken lightly by RBS. Working with our partners in the UK, we will highlight how RBS is morally bankrupt in profiteering off the most destructive project on earth when we bring the tar sands issue to their shareholder meeting in April in Scotland."
For more information contact
Kevin Smith, Platform - +44-207 403 3738
Kate Blagojevic- World Development Movement - +44-207 820 4900/4913, +44-7711 875 345
Clayton Thomas-Muller – Indigenous Environmental Network - +1-613-789-5653
Adam Ramsay – People & Planet - +44 1865245678
NOTES
[1] The announcement was made in the Calgary Herald on 10 March 2010. See:
[2] In February 2010, the report 'Cashing in on Tar Sands – RBS, UK Banks and Canada's 'Blood oil'' showed that RBS was the UK bank most heavily involved in underwriting corporate loans to companies involved in tar sands extraction. See: http://blog.platformlondon.org/rbstarsands and click here for more info.
[3] The Environmental Audit Committee hearing took place on 10 March 2010 in the House of Commons. The committee questioned Mr Robin Budenberg, Chief Executive and Mr Sam Woods, Chief Operating Officer, UK Financial Investments, the company set up to manage the public stake in recapitalized banks such as RBS and Mrs Lowri Khan, Director, Financial Stability, Mr Chris Martin, Director, Public Services and Environment and Mr David Lunn, Head of Financial Stability from Her Majesty's Treasury.