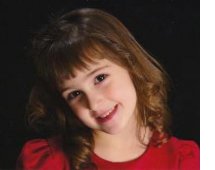 Anna was born on May 24th, 2004. Beautiful and healthy, she was the miracle my husband and I had been praying for. Nearly three years later, in the last month of my second pregnancy, Anna was having a difficult time getting rid of a cold. Bruises that we couldn't explain soon appeared on her back and legs. She was getting paler by the day. Two different health care providers told us she had a virus and it would run its course but I couldn't shake the feeling that something was terribly wrong.
On March 2nd, 2007 we took her to Providence Sacred Heart's Emergency Department and within three hours we got the answer we didn't want to hear. I'll never forget those words. "Anna is very, very sick. Most likely leukemia." I remember the doctor telling us that 85% of children with leukemia survive, but all I heard was that there was a 15% chance she would die. How could this be? We did everything by the book. She was exclusively breast fed, and after she was eating solid foods she was fed as much organic food as we could afford to buy. We have no family history of leukemia, or any childhood cancer. Why did this happen? We soon found out that there are no answers to these questions but there were other parents who had asked the same questions. They knew and lived with the uncertainty we felt. Candlelighters delivered a new patient bag to us and extended a hand to become part of a supportive network.
And so began our battle with the most common type of childhood leukemia - Pre-B cell Acute Lymphoblastic Leukemia (ALL). Her treatment plan called for 2-1/2 years of chemotherapy broken up into 5 parts, with the first four being the shortest and most intense, followed by approximately 2 years of maintenance therapy. She also had two surgeries. Throughout her treatment she had hospitalizations due to complications from the drugs she was taking. She had severe leg pain, difficulty sleeping, and was unable to be in public places for much of the time. Her beautiful brown hair completely fell out, and she was asked by a stranger if she had been in a fight with a lawnmower. The stares and whispers were sometimes unbearable. There were also a lot of questions we had to answer. As a three year old she asked me, "Mommy, am I going to be sick for the rest of my life?" Answering such a serious question felt like my heart was being torn from my chest. Recently, Anna asked why she was born with a port. She actually thought she was born with cancer, and has no memory of her healthy years before ALL. After many such "life and death" talks, the "birds and the bees" should be a piece of cake.
During this time, Candlelighters supported us with "poke" box toys, snacks in the hospital and clinic, financial assistance, gas and grocery cards, an office on the oncology floor where we could drop in and find solace, and respite through fun events that our whole family could attend and feel normal even if only for a little while.
Anna finished treatment on May 9th, 2009 and we celebrated with a big party. Although we are thrilled to be done with treatment, we are not done. Now we watch and wait and pray her cancer doesn't return. We will go to the hospital to draw her blood every 4-8 weeks until she is two years out of treatment. She will be watched very closely for five years, and after that the focus will be watching for latent side effects of treatment. It's a frightening world to live in. In our world headaches are symptoms of brain tumors, bruises mean leukemia, and swollen lymph nodes are a sure sign of lymphoma. We have seen all of these diagnoses in children in the hospital. It's so hard to remember that most of the time these things are symptoms of something much more benign.
We've also seen too many kids relapse months and even years after their initial treatment ended. So now we are trying to live our lives, and not let the gripping fear take hold. Some days are better than others. Our hope is that these drugs we gave her to save her life will get rid of her cancer, while not causing a second malignancy later in life, which is not an uncommon occurrence. We hope that she will not suffer from long term pain, learning disabilities, or infertility, like many childhood cancer survivors do. Only time will tell what the future holds for her. And so you can see that we are not done. We will never be done. This is our new normal.
As we live our new normal, we are still part of Candlelighters support groups. We have found a group that understands what it is like when others have drifted away. We will always remain a part of passing along support for others and drawing on the Candlelighters network when those lingering fears arise as we know they will from time to time.