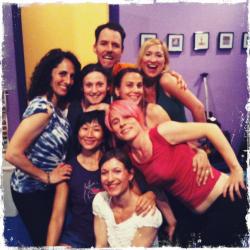 Begin Again, & Again
"Atta Yoganusasanam" the first verse of Patanjali's Yoga Sutras, is usually translated "Now the practice of Yoga begins." ISHTA Yogiraj Al Finger points out it can equally be read "Yoga is the practice of Now" and that is how I like reading it. To be living every moment as ever new; to renew beginner's mind again and again, in life and in practice, that's a Yoga life path.

Watching my friend Lauren's one-year-old nephew proudly taking his first steps on video, I relive the exhilaration of my first headstand and latest acrobatic transition, years ago and just hours ago. First short haircut. First day on a job. First successful plate spinning. We are truly always babies, rejoicing in beginnings, whenever we dare choose to be the puppy cubs, the ones joyous in their beginner's mind.

From CircusYoga® manual: "In the beginner's mind, the possibilities are many. In the expert's mind, they are few." Suzuki Roshi

What are you a beginner at? What's new and exciting for you?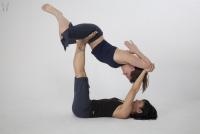 Beginner Acro Workshops: August
AcroYoga® explodes in the parks and beaches in the summer season! Don't miss out on one of these 4 August fundamentals workshops. You will be that much more confident, safe, informed, knowledgeable ... plus, three hours of Acro loving playtime, what a no-brainer! Get a solid introduction, or a refresher. All levels welcome; no partner needed.

August Fundamentals 3-Hour Workshops:

8/7 Om Factory Basics #1 with Mary & Chris

8/8 Om Factory Basics #2 "Movin up" with Mary & Matt

8/15 East Northport with Chris & Mary

8/29 YogaWorks SoHo with Mary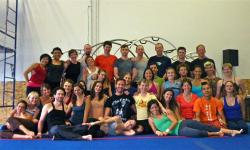 Running Away With the Circus, AND
June for me was jam packed with travels or trainings. I ran away to CircusYoga training, went to Dallas and Denver as YogaFit's as Restorative trainer, and sweated with 34 other AcroYogis in Lux's intense Seattle Advanced Acrobatic Transitions weekend.

June 11-13 weekend I was immersed in a CircusYoga® training, working at skills as unfamiliar to me as juggling, balance pipe, spinning plates & feathers. Also got some fun new games for AcroYoga® circles and for YogaFit®'s circles!

Speaking of that: I am now happily installed as a Restorative Master Trainer with YogaFit® and may be coming to a MindBodyFitness Conference in your city soon!

Pictured above are the hardcore bases and flyers that rocked out Seattle with Lux.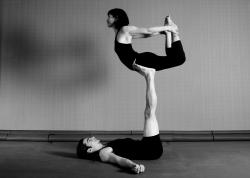 AcroYoga's "OctoberFest"
The first ever official AcroYoga® Festival is taking place this October 8-11, on our own Western shores, in Oakland CA. Attendance is being limited to about 250.

All 3 disciplines of "Acrobatics, Yoga and Thai Massage for both the beginner and the advanced practitioner" will be offered by teachers in those disciplines. Yours truly will be teaching a pair of humble offerings, a yummy partner flow/thai massage class and an acrobatics class. And, taking as many classes as possible! And, just having a wonderful experience.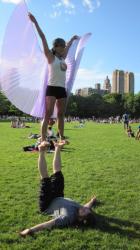 Don't Just Suffer...
I've had a shoulder injury over two years - since early in my AcroYoga practice. Only recently did I bring shoulder, elbow, and insurance card to visit a Sports Medicine office, aka Orthopedic office. Why did I wait so long, I wonder? The strengthening and stretching of my rotator cuff through my PT exercises makes me hum the Rocky theme, and feel like I'm rebuilding a new person. Not even the person I was, a newer person yet!

Thank you, both Helens, Cecelia, Dr. Popovitz, & all the great folk at this office, including kind and efficient desk staff!

Photo Thanks; Forward; Reply
Thanks for photos this issue go to:

Aranka Israni for my pics with Matt; Megan Jolly for my photo basing Deven; Tyler Blank Ryan for Sunset Dancers; Jenn Yarro and Frog Lotus for my Thai photo; to all the lovely Circus Yogis and AcroYogis, and to my Restorative assistants Ralph and Hiroki, my Uber bases Sam & Matt, and my beautiful husband Raul and beautiful son Raphael.

Please feel free to Unsubscribe or to Forward or Reply to me at any time. I do not share email lists.

Om shanti! Welcome, July!

Mary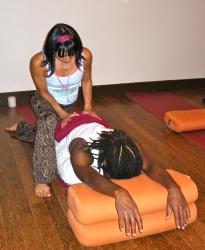 PURE RESTORATIVES
I've added more Restorative to my Pure schedule. Wednesday evening Power & Restore at Eastside continues in the summer with Scott Harig. Thursday evening Restorative at Westside continues ongoing. Eastside's Tuesday 10:30 and Friday 5:30 continue.

And ... I'm doing another two-hour delicious full rebalancing Restorative workshop on July 24!

It will be called "Midsummer's Sweetness" and take place at Pure Eastside studio, 1:30-3:30, Saturday July 24. Look for flyers, and link at Pure's website, next week. Members and non-members equally welcome to come treat themselves (and another, why not?).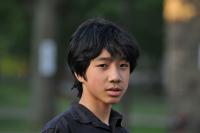 STEPPING UP...
Watching my son's 8th grade class of 2010 graduate School of the Future, it felt like yesterday we had 5th grade elementary school graduation, and just yesterday we parents were learning to leave our precious charges for 4 hours at preschool.

Congratulations Raphael! A long, lazy summer stretches ahead. Then September and LaGuardia Arts High School! FAME - what he may not know that Mom knows is: we do all live forever! Ah. PEACE!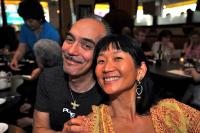 FILIPINO VISIONS
My husband Raul has graced stages from London's Theatre Royal on Drury Lane to major stages from Seattle to Chicago to Boston to Denver to DC's Kennedy Center.

Here he participates in this collection of original one-act plays by Filipino-Americans called The Pearl Project, produced by Diverse City Theater Co., running just the month of July on Theater Row.

Raul's piece is "Something Blue" by Kristine M. Reyes.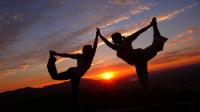 ENVISION/CREATE
I'm frequently reminding students - and friends - to helm their own experience. Is something not to your liking? Change it. Or change your relationship to it.

At your Yoga studio, add input to help them shape the experience to their members' and students' needs. Want a special class? Desire more of a class, a time or a teacher? If you do not ask, it will likely not be given.

Share yourself.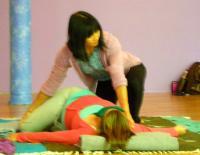 Thai Massage
Don't forget to treat yourself or a friend regularly to this lovely ancient practice that rebalances the Sen energy lines along the body and offers a gentle flow and movement through every limb of the body, re-vitalizing and re-energizing as well as relaxing.

When my times and locations do not work for potential clients I am very happy to connect them to others whose healing hands I trust.