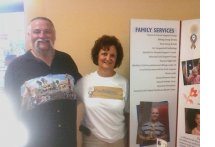 The Inland Empire Motorcycle Coalition staged its' ninth annual benefit ride for families of children with cancer on Saturday, July 24. It was already a bright, warm day when the bikers gathered at 8:30 AM for breakfast at the Eagles Lodge Aerie #2 at 6410 N Lidgerwood. Organized this year by long time biker and coalition member Ed (Hopsing) Harris, there were over 50 participants that attended. The riders checked in at 9:30 AM then lined up along Lidgerwood starting at Francis. It was quite an awesome and inspiring site to see all those beautiful motorcycles lined up to go out and ride the highways for kids with cancer.
Ed Harris and Margaret Kobylus
They took off on their journey at 10:00 AM and started arriving back at the Eagles Lodge at around 2:30 PM. The coalition provided cake and ice cream, and Candlelighters provided cold drinks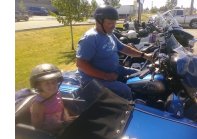 and snacks. Candlelighter families were invited to join the m
otorcycle clubs after the main ride for games and shor
t rides in the Eagles parking lot. The Lautermilch Family was there to participate and spoke to the group about Ashlynn's cancer experience and what Candlelighters has
meant to their family. Event Chairperson, Margaret Kobylus, also told the group how much Candlelighers appreciates the fact that the motorcycle coalition has come back year after year with this event to support kids with cancer, because kids
cancer never goes away either.
Each of the participating clubs and a few individuals presented their funds raised for this years' event. The grand total raised was $3,492.00! We would like to sincerely thank all of the following:
The Hi Rollers Nord's Electric Supply Panhandlers Riders
Roving Gamblers Eastern Evergreen Riders NW Classic MC
Gold Wing Road Riders Inland Empire Victory Riders Third Day Riders, CMA
John Dodgion Richard Hentz David VanBelle
Alfred Carlson Joyce Kelley Calvin Tucker
Nancy Jane Tucker
Candlelighters would also like to thank Mandy Roberts and Old Navy Spokane Valley Store for their donation of kids games for the event. Thank you to the Eagles Lodge Aerie #2 for the use of their facility for this event. Thank you to our event volunteers, Connie Bunch and Mary Anne Ruddis. We would like to extend a special thank you to Ed (Hopsing) Harris and his volunteers for organizing and carrying out a fantastic fundraising and FUN-raising event.