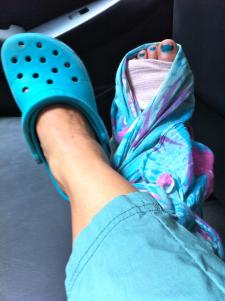 Days of Strength
Finding strength in weakness is a lesson I can use.

The first 2 days after I fell from a high acrobatic move and fractured my fibula were adrenaline-driven, and full of both extremes. I taught 5 classes and a workshop in those first 48 hours, riding on the surf of strength and support from family, colleagues, and students.

That second hour, though, when the cab left me across the street from the studio, I found I could not touch my foot down without crumpling. I stood frozen in place with one leg bent, debating hopping across the street or getting down on my hands and one foot to crawl across. In that extreme weakness, leg burning, traffic lights changing, I saw a tiny, gray-haired woman hurry across the street to assist me.

My savior in that moment, and just one of many in the powerful days to come. My lessons beginning.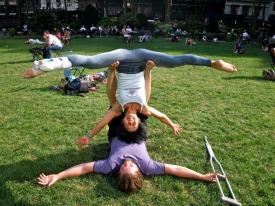 Normal
Healing prayers poured in as I cabbed to teach those first 2 days. Day 3 and 4 were total rest and acceptance days. Day 5, I awoke with an amazing sense of newness, a belovedness, as though elves had moved in overnight and done twinkle magic, or I were a newborn child.

My progress since then is dramatic, or as my M.D. client says: "I actually think it's not normal." I smile. So what is normal? It is what is most common; it is the norm. Perhaps we are called to reset or redefine the norm, simply by being daringly and unabashedly our own version of normal.

I think of Herbert Benson's book "Timeless Healing" and Masaru Emoto's "The Hidden Messages In Water." A major factor in my healing has been prayer, both mine and those of others. Ah, yes, and a grateful embrace of the positive "teaching" event of the injury.

Perhaps that is a new normal.

Do we dare to find, and to be, our own normal?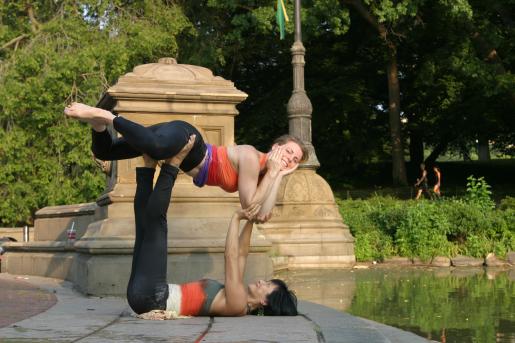 AcroYoga® Summer Sweetness: Workshop This Sunday 8/29
The last 3-hour AcroYoga® Foundations workshop of the summer in Manhattan is this Sunday, August 29, at the beautiful state-of-the-art YogaWorks SoHo space. Saunas in the "men's retreats" & "women's retreats" locker rooms! And, a rockin', fun, fit, joyous community experience, tasting all the elements that comprise the practice. No partner or previous experience required.

Register by this Wednesday midday to ensure a turnout for the studio that will keep the workshop open. The next Basics workshop in Manhattan is likely not to be until January.

YogaWorks SoHo
459 Broadway and Grand Street.
2:15-5:15PM, Sunday, August 29

Telephone: (212) 965-0801
Email: soho@yogaworks.com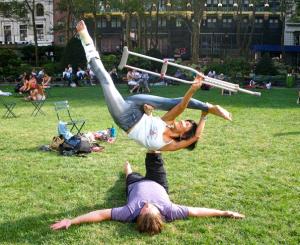 Photo Credits: Reply; Forward
Thanks to Chris Loebsack, spotter and photographer for Bryant Park pics, and to Sam Prestidge for the most careful basing of his career. Thanks to Michael St. Cole of YogArt for Time Square and Bethesda Fountain photos, and partners Chris, Sam, and Matt. Thanks iPhone 4 and Raphael for taking the BMW shot of me and Dad, I mean of Raul and me, on our way upstate on vacation! Thanks, faithful iPhone for being with me and my plaster foot in our 6AM cab ride home from ER.

Thank you, friends. I honor your email privacy and do not share email lists. As always, please feel free to Reply, Forward, or Unsubscribe.

Om shanti! May your adventures abound!

Namaste,

Mary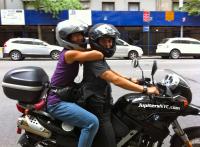 Power In Weakness
Gifts from a little bone break:

Seeing the graciousness of the kind, and the obliviousness of others.

My son: "Need any help, mom?" when he sees me, and actually dropping whatever he's doing to carry out my requests!

Learning to take down time. Learning to rest.
Learning to cry.

Learning to lean on others. Learning to ask for and accept help graciously.

Learning to be one of Ms. Streisand's People Who Need People.

Learning, again, the power of prayer.

Learning to walk. Thankfully.
One foot after the other.
Sweet, slow, grateful steps.
Walking meditation in the city.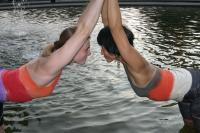 Accepting The Self
Bunion on right big toe. Bent knuckle in index toe. Stiff left knee, weak ankle, tight hip.

We each have our list of irritating imperfections, reasons to judge ourselves.

In our search for greater health, posture, flexibility, we sometimes lose sight of the greatness of compassion, Karuna, for ourselves.

Can we embrace the lovable, imperfectly perfect self, exactly as she or he is right now? As though we were our own most loving friend, the one who accepts us, just as we are?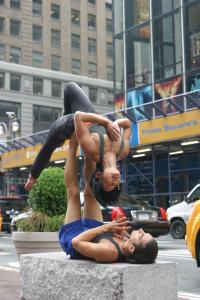 Divine Play: AcroYoga® Festival
Yoga has a metaphor of Creation as a divine play, and us as players. When we joyously play, we are divine collaborators: dancer, dance, co-creator.

AcroYoga® celebrates its first Divine Play Festival, October 8-11 at Historic Sweet's Ballroom in Oakland, CA. Join 40+ AcroYoga® teachers from the world over, 10 Master Teachers, and students from beginners to professionals divinely playing music, yoga, acrobatics, massage, circus, and more.

I'm eager to play with fellow students, and I will co-lead a 1.5-hour partner flow/thai massage class called Sweetness & Delight.

Click below for details: Registration is open!