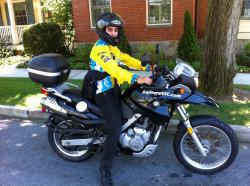 Escape ...
There are times in your "sadhana", your sacred practice, to plunge into your work of course. And there are times when your "dharma" - your path - actually calls you to flee from your work, to escape your work identity, rediscover who you are as a free and separate entity.

Have you ever noticed that you look more attractive on vacation? That those in your life and world look better too? Or is it just me?

I don't mean working vacations, "productive" or learning or training vacations. And NOT family vacations if you are a caregiver while traveling. I mean, to step away from your working world, people, tasks. Whether it's an hour in Central Park watching horse carriages and eating an ice cream, like my lovely friend Judy, above, or an overnight trip upstate with my husband on a rented BMW bike, escape from duty can be your duty to yourself ... to retrieve yourself, sometimes.

Thomas Merton's "The Wisdom of the Desert" and Henri Nouwen in "The Way of the Heart" both caution against "losing our souls" to our jobs, or our day-to-day world's view of us, until it becomes our master, and we its slave. This especially holds true if you love what you do, or are very successful at your work. Finding your "free" soul, apart from your work or job, becomes a fascinating task to remind yourself of.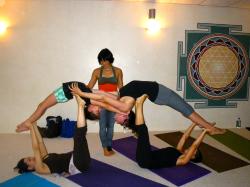 AcroYoga® Foundational Workshops
Summer has been joyous in outdoor park time for me and my yoga playpals, both seasoned and novice acroyogis in the ever growing circle. (All are welcome, so come join us any time you are ready!)

To keep up with the eager new playmates, myself and co-teachers have enjoyed running several AcroYoga® Fundamentals workshops over the summer. Just recently, East Northport's Inner Spirit studio hosted their first one; YogaWorks ran their second successful one. YogaWorks has also hosted my Valentine Couples workshop two years in a row, plus a Mother's Day Couples workshop.

YogaFit® held their very first AcroYoga® Fundamentals workshop in Weehawken, New Jersey this week! We had a sweet crowd consisting of 2 local Acro students, 2 YogaFit Master Trainers, and a dozen or so YogaFit teacher trainees, who chose to add to their 12-hour training day by taking this 3-hour evening workshop! Kudos to all for a fabulous time, team. Thanks to my assistant team Sam Prestidge & Brenna Padesky!

To book workshops at your local studio, see www.acroyoga.org and contact an active teacher in your area; we are all listed, by community, by world region, by teachers' individual names!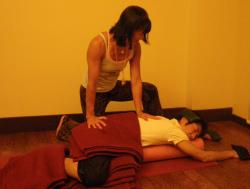 September Sweetness
"September Slumber Party", Pajamas Optional! Wednesday evening, Sept. 22, whether you have an active yoga practice that can use some relaxing balance to it, or simply a life that gets hectic sometimes, this is a really sweet, deeply relaxing way to practice your Yoga. Restorative is gentle, completely supported Yoga postures on blankets and bolsters into which your body can melt and release all tension. I use music, mantra and yantra, aromatherapy and guided meditation to encourage your natural healing rhythms, while my assistants and I ease you into ever deeper rest through nurturing touch as inspired by my Thai massage practice.

Pure Yoga East, Wednesday Sept. 22, 7:30-9:30pm. Come a bit early & enjoy the lovely sofa lounge area, the luxurious showers with better water pressure than mine! So you can freshen up for your pre-bedtime nap! Pure members receive a 10% discount. Pre-registration strongly encouraged.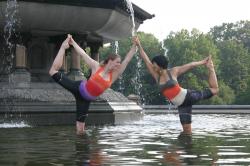 Partner Yoga & Thai Massage
AcroYoga® creatively combines the 3 traditions of Yoga, Acrobatics, and Thai massage. Although the breathtaking flying visuals usually capture the audiences' attention, equally captivating are the practice of Thai Yoga Massage and the softer forms of partner yoga that include partner asana practice and assisted deep stretches.

Look for possible future workshops/master classes on Partner Yoga and Thai yoga at a studio near you; if you are excited by the idea, propose it to a studio near you! We have an ever-growing love army of "Thai massage ninjas," as my teacher Jason Nemer likes to call us, eager to expand "metta", loving-kindness, through the globe.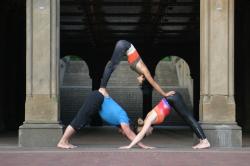 Photo credits; Privacy
Thanks for photos this issue to my iPhone 4, and Michael St. Cole of YogArt for the New York scenes, and my lovely models: Chris, Sam, Matt, Hiroki, Raul, Raphael, Jake, Natalie, Chelsey, Audrey Judy Tobias Davis, and the students at Om Factory and Inner Spirit workshops!

Your privacy is sacred to me and I will not share your emails with any other lists.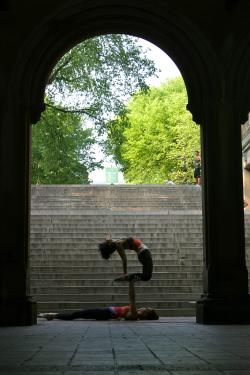 Reply; Forward
Thank you for listening and/or viewing. Please feel free to unsubscribe at anytime, to forward to friends, or to Reply to me!

Enjoy your personal sadhana, your spiritual practice, this season!

Namaste! My light salutes your light.

Shanti,
Paz,
Paix,
Peace,
Shalom,

Mary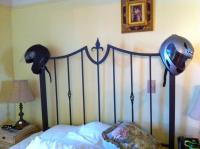 Retreat ...
A retreat need not be a week or even a whole weekend long. A retreat can be an hour spent on the couch with your favorite book, a cup of tea, maybe a loving cat in your lap!

Anne Lamott in her book "Plan B: Further Thoughts on Faith" describes her home "cruise ship" on her couch: "I make a nest for my baby self on the couch in the living room. I stretch out with a comforter and pillows, and magazines, the cat, unguents, and my favorite drink... I try to create a cruise ship, to carry me back toward living... it's unbelievable healing; it resets me. Yet it takes time, at least two hours. You can't rush a cruise ship; you can't hurry doing nothing After a while, you see the sweetest, most invigorating thing of all: one person tenderly caring for another, even if it's just me taking care of me on my old couch."

A meditation class with Yogi Charu at Pure can reset you, too. Your own meditation practice, private or group japa or kirtan, singing to the divine in and around us, always resets me. Prayer, especially the deep, quiet, meditative tradition of Centering Prayer, of the desert fathers, will create for you a silent retreat in the midst of the noisiest city. I wish thee peace & solitude, where thou mayst find it.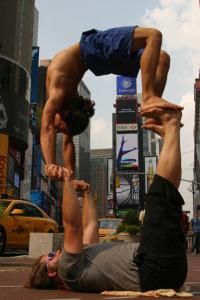 Divine Play - October
Wow! The Lineup! The first official Divine Play: AcroYoga® Festival in Oakland, CA is fast upon us. From Oct. 8-11 over the Columbus Day Weekend, we'll spend four days celebrating all three ancient lineages that form this practice, with Jenny and Jason's master teachers in each tradition as well as AcroYoga® teachers from the world over, music, dance, performances, circus yoga, and surprise treats. A good dozen or more AcroYogis from New York will make the festive trip together. Jai! There is still space to sign up for separate or whole weekend sessions. See the website for details and event schedules!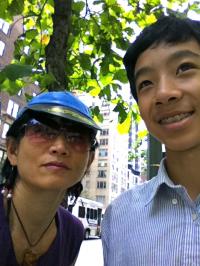 Mantra For Learning
In India every year at exam time and new semester time, parents, and teachers, chant to the goddess Saraswati, the essence of learning and science and arts. I think of her, as I do of all the colorful deities with their given powers, as an embodiment of powers and traits within us. Saraswati is like a muse that we may invoke to awaken our inner teacher, student, artist, and communicator.

As my lovely young man heads into freshman year at LaGuardia Arts High School, I silently thank his/my inner Saraswati for blessing us with the will to learn. I also ask for a student's "beginner's mind" in me and in all of us, every season of our lives as we head into new "semesters" of learning.

"Om Eim Saraswatiyei Swaha!" Salutations to the essence of learning in our lives!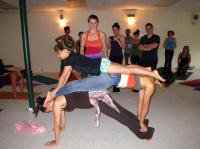 Acro Class Saturdays!
My weekly AcroYoga® class is changing its schedule, just in time for cold weather, to come in and play on Saturdays! It's moved from Tuesday evenings to Saturday afternoons at Pure West: 3:30-5PM class, then 5-6PM AcroGym time included in class price.

Pure is a membership studio but the Acro classes may be purchased on a per class or a 4-pack Frequent Flyer pass! The 4-pack last for 6 months and is a great value that comes to $15 per class for 2.5 hours of total Acro playtime in a beautiful indoor space through the wintry Saturday afternoons ahead of us.

If you are new to Pure West, you may obtain a free 1st class pass from me. Email me by replying to this newsletter.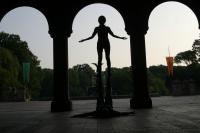 Happy New Year
Every year at Yom Kippur a colleague sends these healing words:

"Please forgive me - for any time that I have hurt you with my words or actions in the past year.
For the times that I have failed you as a teacher or as a friend
For the times that I have been too busy to listen
For the times that I have been less than gracious in my words or actions
Please forgive me~"

I ask that we do the same - for ourselves, for others, in our hearts.

Happy New Year.