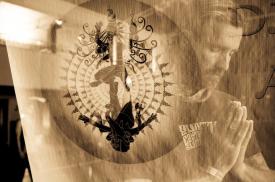 Four Yogic Keys to Peace
Mario Covic's pics above capture fascinating ranges of expressions and candid moments amongst the 40 AcroYoga teachers that joined 200 students and select master teachers at the first ever "Divine Play: AcroYoga Festival" in Oakland CA over the Columbus Day weekend. It was a physically and spiritually transformative journey for everyone in their own way; as always, the journeys continue on afterward.

In life even more than in still photos, there are as many POV's as there are souls on earth. And invariably we encounter stress and conflict. Father Patanjali offered, long ago in his Yoga Sutras, 4 attitudinal keys to inner peace for any situation we may meet. I first explored these 4 keys in Issue #37, January 2009, and felt they were worth a revisit.

Book 1, verse 33: "Maitri karuna muditopeksanam sukha dukha punyapunya visayanam bhavanatas citta prasadam."

The Sanskrit as translated by Sri Swami Satchidananda reads:

"By cultivating attitudes of
friendliness toward the happy,
compassion for the unhappy,
delight in the virtuous,
and disregard toward the wicked,
the mind-stuff retains its undisturbed calmness."

Never mind how accurate or wildly off-base our perception of someone as "wicked" or "happy" may be. It is our response to our experience that Patanjali addresses here, our peace of mind as directly affected by our actions. Patanjali says a shift in our paradigm brings us serenity.

That last bit especially fascinates me. What if, instead of the consummate satisfaction of lavishing blame on those we consider "wicked" - often simply those who oppose us - we just take action to change what we can, and disregard what we can't change?

And, what about compassion (com="with") rather than pity for those we consider unhappy? What about joy for the virtuous rather than irritation; what about kinship with the happy to replace envy?

Try jangling those set of 4 keys in your pocket for a while as a fun practice ... try test driving those 4 attitudes.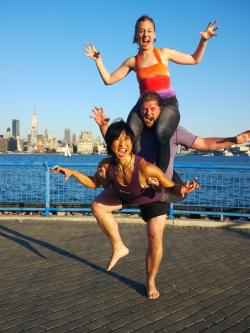 YogaFit AcroYoga Atlanta & NJ
Weehawken NJ, Sept. 18, and Atlanta GA, October 21: I led a regular AcroYoga Fundamentals workshop each of these two nights. They differed from other basics workshops in this one regard: they took place in a hotel conference room, and the majority of participants were YogaFit trainees. Yoga teachers: best AcroYoga students! They loved the practice, bought two Flight manuals, and vowed to buy more online as I only had two with me. Many are now eager to practice Thai massage or Partner flow with their families, and many wish to share partner asana with their yoga students.

Each workshop held 16 students; in NJ I brought two assistants, here pictured. In Atlanta I flew solo with a circle of 16 Acro virgins, now all eager to study with whatever local AcroYoga teachers they can find in their vicinities.

Sowing the seeds of partner practice 'round the country, as I go about training Restorative teachers! I do love my job! Gratitude.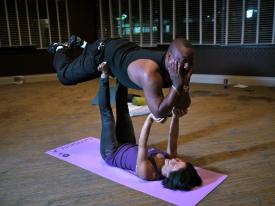 New Classes on Schedule
My November schedule has 8 weekly classes at Pure Yoga, including a couple of new class formats. Check them out below.

Pure is a membership studio, and a truly beautiful and comprehensive one, too, with multiple styles of yoga and fabulous teachers: a place I love to teach and take classes at. All that plus delightfully complete lounges and facilities make it a great place to hang out too, and highly worth membership. Feel free to contact me for free trial passes for newcomers.

In addition, AcroYoga classes at Pure are open to non-members, with per class rates and great 4-class Frequent Flyer rates.

Pure East Classes:

Mon - 10:30-12 Slow Flow Meditation
Tues - 12:30-1:30 Restorative
Fri - 5:30-6:30 Restorative

Pure West Classes:

Mon - 6:15-7:45 Chakra Slow Flow
Thur - 10:30-12 Yin/Yang
Thur - 8-9pm Restorative
Fri - 10:30-12 Chakra Slow Flow
Sat - 3:30-5 *AcroYoga, & 5-6PM *AcroGym

*AcroYoga at Pure welcomes non-members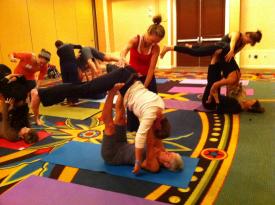 Photo Credits
Photo thanks in this issue go to:

Mario Covic for top and 1st photo; Doc Ajay Johnson for the 2 YogaFit flying pics; Aranka Israni for the November series photo; Brenna Padesky and Lana Mia Heintjes for the SUNY New Paltz photo. Kenny of YogaFit for taking the Restorative group photo and for flying with me in the other pic! Thanks to all my Atlanta Restorative trainees - and fellow trainer Skila Ramirez, too! Thanks also to Jenn Yarro, my Thai massage teacher, and in the photo with her, Jonny Nobleza, Thai warrior ninja extraordinaire.

The other pics are courtesy of my little iPhone 4.


Favorite Charities
As Thanksgiving and then Christmas, Chanukah, and New Year's all bring seasons of feasting and full tables, I especially think of the agencies that work hard to carry food to the plates of the less well-fed amongst us.

City Harvest has 17 trucks and 3 bikes on the road to rescue food for New York's overlooked hungry. Citymeals on Wheels, also for New York City, delivers food to homebound elderly. Feeding America runs food rescue operations around the country. And Heifer International donates livestock and animal husbandry training to needy families, thereby giving future generations of livestock to the families' communities as well, and empowering them in self-provision.

These organizations are linked at my LINKS section at the end of the ENewletter, below at bottom right.

*City Harvest
*Citymeals On Wheels
*Heifer International
*Feeding America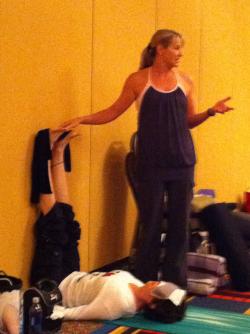 Reply; Forward
I welcome Replies, and please feel free to forward to friends.

Happy Hallowe'en everyone! May it be safe and hallowed and sweet.

Om shanti! Mary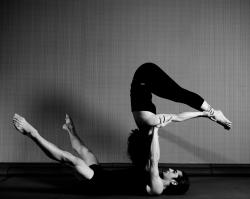 Acro Series: November
We often see AcroYoga Basics workshops and then intermediate/advanced acrobatic workshops. Less often do we see beginner acrobatic workshops. I am happy to offer exactly that in a 4-week Tuesday series in November with fellow AcroYoga teacher Matt Giordano at Reflections studio in midtown west Manhattan.

We will teach and review AcroYoga basics and conditioning, and build on these to teach skills from the level one acrobatic Great Wall Flow. This 4-week series is suitable for: AcroYoga beginners, advanced beginners, and beginner-intermediate level students. 7PM-8:30 classes are followed by 45 minutes of practice time each week. Class dates: November 2, 9, 16, 23.

Registration is open right up to class time Nov. 2nd. Register below! No partner needed! See you there. Wheeee!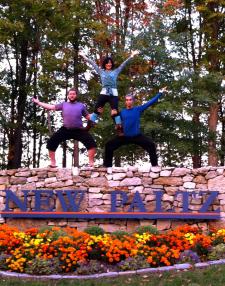 SUNY New Paltz Acro
New Paltz SUNY enjoyed a blast of energy and Acro love Sunday October 3, when Matt, myself, and 2 assistants taught an enthusiastic student turnout an AcroYoga Fundamentals workshop sponsored by the Yoga Club. New Paltz students rocked it!

If you know a college looking for a fun, enlivening, workshop that can lighten the high stress of studies and exams, and build wonderful community and team spirit, reach out to an AcroYoga teacher near you! Search www.acroyoga.org for teachers in your geographical region, or for teachers by name under "Instructors."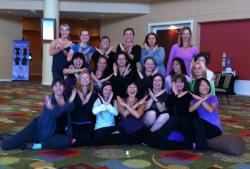 YogaFit Restorative in Atlanta
About once per month I travel to a different part of our lovely 50 States and lead a 4-day Restorative teacher training with YogaFit, a company that brings Yoga to the fitness industry and beyond, its ultimate mission to make Yoga accessible to every single person.

I love the YogaFit essence of non-judgment and non-competition, the devotion to karmic service, the fitness science, but most of all I love meeting trainees from every state and walk of life, all sharing a common goal: Yoga to heal individuals and communities. And, joy of joys, I'm blessed with the sweetest of jobs: training those who are ready to learn to give the ambrosia practice of Restorative Yoga to their families, selves, and students. More gratitude.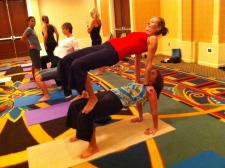 Chakra Slow Flow/Meditation
At Pure East, we have Slow Flow Meditation. At Pure Yoga West, Chakra Slow Flow. These two new classes share a silent seated meditation at the end of classes, followed by a quiet and restful Savasana.

Chakra Slow Flow specifically travels through seven energetic "gates" in the flow portion of class, and ends with a symbolic honoring of the seven "seals," to ground us and to complete our journey.

I encourage you to try out these classes. We teachers, as your journey guides, welcome your input on these Yoga pilgrimages together.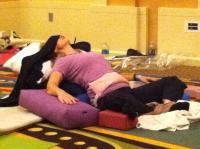 Holiday Restorative Bliss
Check your calendars for Sunday, November 21st from 1-3PM. If there is someone - yourself included - you'd like to take out for a 2-hour "yoga spa in the city" treat, consider coming to me at Pure East for my Holiday Restorative Joy workshop.

We celebrate abundance and tranquility in this luxuriously mellow, leisurely approach to Yoga. Restorative Yoga is variations on the theme of Savasana. In these simple, soothing poses, completely surrendered on bolsters and blankets, we relax into the healing benefits of the poses, accompanied by soft lighting and music, gentle aromatherapy, and my loving touch and guided meditations. A portion of the proceeds will be donated to City Harvest for the holidays.

It may be just the antidote for the hustle bustle of the upcoming season! Open to all levels; beginners especially welcome.

$45 before Nov. 19; $55 thereafter. 10% off for Pure members. Registration open shortly, if not already, at Pure East.

Check website, below, and also you may register via telephone at: 212-360-1888.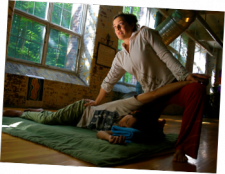 Thai Yoga Massage
For relief from the busy season for yourself, or a gift for a friend, consider a Thai Massage session. This flowing dance of therapeutic yoga as taught in northern Thailand rebalances and unblocks the energy channels of the body, for optimal health and ease. And, it's supremely relaxing, calming, and refreshing at the same time.