For Immediate Release:
First Nations representatives undo greenwashing tactics of Alberta and Federal governments during European Union tour of tar sands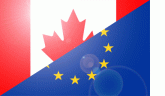 OTTAWA, Nov. 5 – This morning the Indigenous Environmental Network hosted an informal meeting between Members of the European Parliament (MEPs) and elected leadership from First Nations in Alberta and BC to discuss Indigenous rights violations in their communities as a result of the world's largest and most destructive development known as Canada's Tar Sands. High on the agenda for the First Nations is the impacts of the current proposed EU Fuel Quality Directive that proposes to list Tar Sands as a dirty fuel.
Lorraine Hoffman, elected council member of the Athabasca Chipewyan First Nation stated, "It is important to broaden the debate. It is not just about fossil fuels and alternatives, carbon emissions or potential technological fixes. The debate must encompass the impacts of tars sands development on health, livelihoods and treaty and human rights. Otherwise, the conversation will be narrow and technical and only create more injustice for Indigenous communities."
Following this meeting First Nations representatives from the Beaver Lake Cree Nation, Saik'uz First Nation, Athabasca Chipewyan First Nation and the Assembly of First Nations along with trade lawyer Steven Shrybman, author of a new legal opinion on related impacts of a proposed Canada-EU free trade agreement attended a press conference at the Charles Lynch press room at the federal Parliament Building. The aim of this press conference was to highlight the greenwashing of the tar sands by both the Alberta and Federal governments during the EU MEP tour of the Athabasca region. The First Nations who traveled to Ottawa to meet with MEP's on the final leg of the tour are optimistic this meeting and press conference will bring forward a fair and balanced perspective on tar sands development and infrastructure on Indigenous treaty and traditional territories to EU parliamentary members.
"Our greatest concern is to maintain our sacred responsibility to protect our land and way of life for future generations. To us this is not about being compensated or getting a better deal with oil companies," stated Chief Lameman of the Beaver Lake Cree Nation. He went on to state, "This is about protecting our inherent treaty rights as Indigenous peoples, It was unfortunate that EU Members of Parliament could not meet with First Nations in our homeland earlier in their tour to hear our concerns as true stewards of our lands, instead of only receiving the one sided propaganda from government and industry."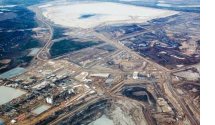 "The European Union should be designating tar sands as dirty fuel as part of its fuel emissions regulations." says Chief Thomas of the Saik'uz First Nation of Northern British Columbia on the EU Fuel Quality Directive. "Tar sands production is speeding up climate change, destroying land, forests and water, and it is subjecting Indigenous peoples to incalculable long-term harm. If Europe cares about climate change, is true to its commitment to Indigenous rights, they should take action to stop the tar sands and stop growth of tar sands infrastructure like the Enbridge pipelines and oil tankers."
First Nations representatives commend EU leaders on the proposed Fuel Quality Directive. The European Union is very influential. Their policies are respected worldwide and often lead the way for environmental changes. If the European Union Fuel Quality Directive takes into account the higher carbon emission from the tar sands, it will help ensure other countries will follow their lead. Restrictions on markets for tar sands would have a drastic impact on the pace of Tar Sands development in Alberta and beyond.
The legal opinion from Mr. Shrybman, which was commissioned by the Council of Canadians and IEN, states that "While the terms of CETA have yet to be settled, it is clear that this proposed trade treaty is being viewed as an important test of EU priorities, particularly where the challenge of combating climate change conflicts with those of promoting further trade liberalization." He goes on to state, "There can be no doubt that current CETA proposals have considerable potential to constrain policy, program and regulatory initiatives needed to address pressing ecological priorities, including those relating to the impacts of oil sands development."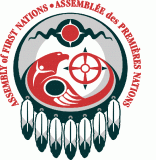 "The Assembly of First Nations strongly believes that any discussions – current and future - and agreements with regards to oil sands development must accommodate adhere to and respect Aboriginal titles and rights and Treaty rights of First Nations," said AFN Vice Chief Morris of the Yukon region.
It should be noted that the European Union members are signatories to the UN Declaration on the Rights of Indigenous Peoples and the ILO Convention 169 on the Indigenous and Tribal Peoples, as well as international treaties on human rights. These international standards must be applied to Canada and to Alberta, and the treatment of Indigenous peoples by governments and oil developers needs to be evaluated in accordance with those standards.
Clayton Thomas-Muller
Indigenous Environmental Network 218 760 6632
Eriel Deranger
Athabasca Chipewyan First Nation 780 903 6598
Dylan Penner
Council of Canadians 613 795 868
EU politicians got skewed view of Alberta oilsands: First Nations leaders
By Keith Gerein, edmontonjournal.com
EDMONTON — A group of European Union politicians investigating the Alberta oilsands got an earful Friday from First Nations leaders concerned about the environmental and health impacts of the operations.
The leaders wanted to ensure that the visiting delegates returned with a more complete picture of oilsands development than what they received from government and industry, said Eriel Deranger of the Athabasca Chipewyan First Nation. "We wanted them to realize the true impacts, not just on the environment but on people, especially indigenous people," she said of the meeting in Ottawa. "The delegation didn't have a lot of opportunities to hear the opposition on their (oilsands) tour."
The politicians' visit is considered important because the European Parliament is currently weighing proposals for a new Fuel Quality Directive designed to encourage greener energy. Some officials are pushing to have oilsands fuels penalized in the new policy by having them ranked as a high-carbon product.
The Alberta government has been trying to fight such a move and appeared to have swayed at least some of the delegates when they visited the province earlier in the week. Two members of the delegation, including chairman Philip Bradbourn of the United Kingdom, told reporters Wednesday they were pleasantly surprised by an oilsands tour.
But questions were raised about whether the group received a skewed view of the issues.
Amid meetings with industry and government leaders, the Europeans spent only 35 minutes with an environmental group, the Pembina Institute. Bradbourn said government tour guides never discussed a David Schindler report that found the oilsands are exacerbating the level of toxins in the Athabasca watershed used by aboriginal communities. Delegates were instead told there is a debate among scientists but that government experts believe the pollutants are naturally occurring. Bradbourn, a member of the U.K.
Conservative party, was not at the meeting with First Nations leaders and his absence was not explained, Deranger said.
She said the remaining delegates seemed receptive to the messages. "The delegation talked a lot about how this was all very interesting since not a lot of this information was brought up on their tour." Although Europe imports little from the oilsands, the Fuel Quality Directive could serve as blueprint legislation for other nations to follow. If the policy penalized oilsands products, that could help First Nations communities pushing to have industry development restrained, Deranger said.
Click here for originial article.
Environmentalists step up campaign against Keystone XL pipeline
By Andrew Restuccia The Washington Independant
More than 75 environmental and conservation groups have signed a petition calling on the U.S. and Canadian governments to halt all oil sands projects that would result in the creation of new tailing ponds, which hold the waste of oil sands production.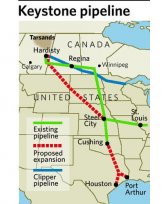 The petition — signed by a slew of environmental groups in the U.S. and Canada like the Natural Resources Defense Council and Greenpeace — appears to target a massive proposed pipeline project that would run from Alberta, Canada to Texas. Environmental groups have mounted a campaign to stop the project, known as Keystone XL.
The petition reads:
We are calling, with one voice, for the Alberta and the Federal government to address the growing and at times deadly impacts tar sands tailing lakes have by immediately denying all proposals that would require the creation of new tailings lakes and by legislating the complete phase out of existing tailings lakes because of the on-going and potential danger they pose to bird, animal, plant, aquatic and human populations.
More than 350 birds that landed on a Canadian tar sands pond were found dead last week. In a blog post on the issue, NRDC's Susan Casey-Lefkowitz wrote:
The tar sands tailings ponds are one of the most dangerous and absurd facets of this industry. Dangerous because tailings ponds are some of the largest dams in the world, constructed for the toxic waste that remains after strip-mining the tarry bitumen from the sand that lies deep under Alberta's Boreal forests and wetlands. Absurd because the tar sands oil industry is wasting precious natural resources and migratory bird habitat for waste storage.
The State Department is currently in the midst of a review of the Keystone XL proposal. Secretary of State Hillary Clinton, speaking in San Fransisco last week, suggested that the State Department would eventually approve the project, though her comments were a bit unclear.
Environmental leaders and lawmakers from the states through which the pipeline would run have pounced on the comments. Eleven Senate Democrats sent a letter to Clinton last week calling on her not to "prejudge" the outcome of the State Department review. And just yesterday, the heads of seven major environmental groups called on Clinton to "recuse" herself from the pipeline review, citing her comments on the project.
Click here for original article.
International Tar Sands Resistance Summit November 19-22, Missoula, Montana
Strategizing Globally to Win Locally: Building an international, grassroots movement to shut down the Tar Sands
The Indigenous Environmental Network and Northern Rockies Rising Tide are pleased to announce the "International Tar Sands Resistance Summit," which will take place November 19-22 at the Lubrecht Experimental Forest conference center, 30 miles east of Missoula, Montana, USA.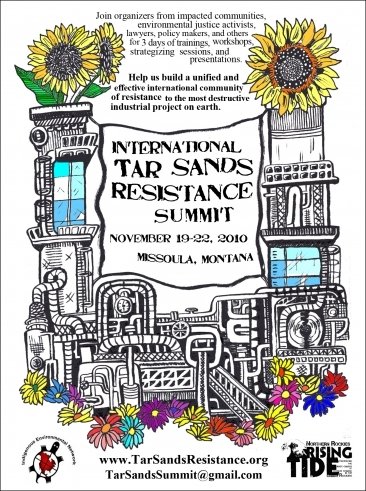 The summit is designed to be a place where individuals representing tar sands-impacted communities can come together to strategize, learn skills and network in order to grow and strengthen the international effort to effectively resist the most destructive industrial project on the planet, the Alberta tar sands. The four-day convergence will focus primarily on connecting individuals and communities affected by the Alberta Tar Sands, the XL Energy Pipeline, and the proposed mega-load shipments. This event is free and open to the public, but due to limited space we will have to cap the number of attendees. Feel free to register online, but please be sure to read the information provided on the form.
Canada blocks development of major gold-copper mine project in B.C.
By JONATHAN FOWLIE, Vancouver Sun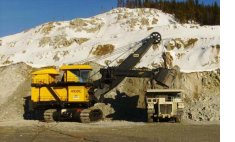 VICTORIA — The federal government on Tuesday blocked the controversial Prosperity gold-copper mine project in B.C.'s Chilcotin, citing what it labelled to be "significant" environmental concerns.
Announced by federal Environment Minister Jim Prentice, the decision overrules the B.C. government, which had given full approval for the major project to proceed.
"We believe in balancing resource stewardship with economic development," Prentice said in a written statement.
"The significant adverse environmental effects of the Prosperity project cannot be justified as it is currently proposed."
B.C's Minister of State for Mining Randy Hawes called Ottawa's decision "disappointing," but said he is not yet ready to declare the project dead.
"We should go back and take a look and see if there's a way that this can be represented and restructured in a way that could work so that it could gain the approval," Hawes said, adding he had already talked to the company behind the project, Taseko Mines.
"I frankly think what they [the federal government] want to see is some changes and some restructuring of the project, if it's possible," he added.
Taseko Mines had been proposing an open pit mine at a site near Williams Lake, promising that the estimated $815-million project will create hundreds of new jobs in the economically struggling region over a minimum 22-year mine life.
The company has already spent $100 million and 17 years on this project to get approvals.
In its decision, the federal government pointed to the fact the mine would result in the destruction of Fish Lake, Little Fish Lake and portions of Fish Creek.
A federal review panel that looked into the project had already determined the project would result in: "significant adverse environmental effects on fish and fish habitat, on navigation, on the current use of lands and resources for traditional purposes by First Nations and on cultural heritage, and on certain potential or established Aboriginal rights or title."
The news hammered shares of Taseko Mines, which fell 25 per cent to $4.89 (U.S.) in after-market trade in the United States.
Local municipal governments were in favour of the mine, but first nations that consider the proposed mine area part of their traditional territory had been expressing strong opposition because the project would require the elimination of a 111-hectare fish-bearing lake.
Click here to read more
Peoples Assemblies on Climate Justice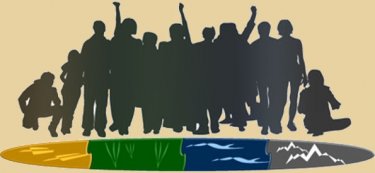 The next major round of UN climate negotiations will be held in Cancun November 29 to December 10. The last one in Copenhagen failed miserably.
This past summer has seen severe wildfires in Russia, devastating floods in Pakistan, mudslides in China, droughts in the Sahel and Niger, and an 87-square-kilometre chunk of ice break off from Greenland.
Why wait for governments to take action?
It is the collective voice of people that can help make climate justice a reality.
This is why the Indigenous Environmental Network joined the Council of Canadians, KAIROS and the Canadian Youth Climate Coalition have endorsed a call to action for hosting People's Assemblies on Climate Justice during the Cancun negotiations.
People's Assemblies on Climate Justice are movement-building and organizing events. A gathering of people that will transform awareness into action through climate justice actions in your community.
As local organizing committees form and assemblies are confirmed, details will be featured here along with additional resources and tools.
Want to know more? Want to form a local organizing committee or join a local organizing effort? Start by being in touch!
Contact: Clayton Thomas-Mueller, IEN Canadian Indigenous Tar Sands Campaigner, at ienoil@igc.org or Jihan Gearon, at ienenergy@igc.org

Groups ask Clinton to recuse self on pipeline bid
By JOSH FUNK - Bloomburg BusinessWeek
Several environmental groups called Thursday for Secretary of State Hillary Rodham Clinton to excuse herself from the review of a $7 billion oil pipeline project because of comments she made last month suggesting support for it.
TransCanada's Keystone XL pipeline needs a permit from the State Department because the pipeline would cross the U.S.-Canadian border in carrying Canadian oil to the U.S. Gulf Coast.
Clinton said Oct. 15 that she was inclined to approve the pipeline. The environmental groups say that's improper because the pipeline is still under review.
"Secretary Clinton's bias on this unnecessary and controversial pipeline undermines the credibility of the State Department's review," Erich Pica, president of Friends of the Earth, said in a statement.
Pipeline opponents say the Keystone XL has the potential to be an ecological disaster and could jeopardize the vast stores of groundwater under the Plains. Supporters say the project could be a boon for U.S. jobs and energy production while strengthening a friendly source of oil.
Clinton's remarks about supporting the project came during a question-and-answer session after an Oct. 15 speech at the Commonwealth Club in San Francisco.
"We've not yet signed off on it. But we are inclined to do so and we are for several reasons -- going back to one of your original questions -- we're either going to be dependent on dirty oil from the Gulf or dirty oil from Canada," Clinton said, according to a transcript.
Clinton also said during her speech that the U.S. needs to develop more clean, renewable energy sources.
State Department officials did not immediately respond to a message Thursday. Previously, a spokesman said no decision would be made on the project until the required environmental review is completed and all the comments received have been considered.
Since Clinton's comments were publicized, more than a dozen U.S. Senators have written letters to her complaining. The lawmakers urged her to consider all sides and conduct a thorough review before deciding whether to allow the Keystone XL pipeline to proceed.
The pipeline would cross Montana, South Dakota, Nebraska, Kansas, Oklahoma and Texas. TransCanada has also proposed connecting from the pipeline to the Bakken oil field in Montana and North Dakota. The proposed path crosses several rivers and the massive underground Ogallala aquifer, which supplies drinking water to about 2 million people in eight states and supports irrigation.
Environmental groups have raised concerns that the pipeline could foul underground and surface water supplies, worsen air pollution around refineries and harm wildlife. They have also speculated about what they consider inadequate pipeline safety and emergency spill response.
Calgary-based TransCanada Corp. has said the pipeline would provide a reliable source of oil to the U.S. from a stable trading partner and would not threaten the environment.
Along with the Friends of the Earth, the letter calling for Clinton to recuse herself was signed by Greenpeace USA, Plains Justice, Public Citizen, the Center for Biological Diversity, Center for International Environmental Law and Indigenous Environmental Network.
Original here....
Judge Suspends Navajo Mining Permit
By MIREYA NAVARRO - New York Times
In a significant legal victory for Navajo campaigners, a federal judge has voided a permit for the expansion of one of two operating mines on the Navajo reservation, calling for a more thorough review of the project's impact on the environment and on cultural sites.
In a decision issued Friday, Judge John L. Kane of United States District Court for the District of Colorado ordered the federal Office of Surface Mining Reclamation and Enforcement, part of the federal Department of Interior, to reassess the proposed expansion of the Navajo Mine on tribal land in New Mexico.
The agency granted the permit for the expansion of mining by 4,800 acres in 2005 after an environmental assessment found that the proposal would have no significant environmental impact.
Navajo groups have long complained of lax oversight of coal operations, one of the largest sources of revenue for the Navajo Nation government. Judge Kane said the federal agency did not comply with the requirements of the National Environmental Policy Act to fully assess potential environmental, cultural and economic effects, like disturbing burial grounds or having to relocate residents.
The judge also ordered "meaningful public notice," like radio ads in both English and Navajo, to ensure public participation in decisions on mine permits.
The Navajo Mine, operated by BHP Billiton, feeds the Four Corners Power Plant, also on Navajo land in New Mexico. The federal Environmental Protection Agency deems Four Corners one of the most polluting coal-fired power plants in the nation and recently announced that it planned to require the plant to install $717 million in pollution controls to curb emissions.
Friday's court decision came in response to a lawsuit filed by two conservation groups, the San Juan Citizens Alliance and Dine Citizens Against Ruining Our Environment. Brad Bartlett, their attorney, said the decision amounted to "a significant rebuke of the federal agency changed with protecting communities, land and water from the harms of Western coal mining."
"This whole area has been utilized for thousands of years by indigenous people," said Mr. Bartlett, a lawyer at the nonprofit Energy Minerals Law Center in Durango, Colo. "This is where people have buried kin."
The decision "sends a very clear signal that it's time for this agency to do its job," he added. Read more....

With Sadness Indigenous Environmental Network honors Dr. Deanna Mae Francis of the Passamaquoddy Tribe at Sipayik Maine in her passing to the spirit world. Dr. Francis was an inspirational leader who helped protect her people, land and way of life from massive fossil fuel development. She will be missed.
Deanna was the first member of the Passamaquoddy Tribe to obtain a medical degree. She graduated in 1998 from the University of New England's College of Osteopathic Medicine. Deanna dedicated her life to medicine and ensuring that everyone around her would never go without. She was a respected member of the Onadoga Okwea Society. She was a fierce defender of her culture, language, and Passamaquoddy values. As a fluent speaker of Passamaquoddy, her traditional knowledge was an ocean. Deanna was concerned about Sipayik's language loss and worked daily to immerse those around her in its beauty and blessed sounds. She raised and help grow many Native children who needed love and basic care. Though her time with us was all too brief, her impact is immeasurable. We now live in a different place without Deanna in this world because loss is greatest whenever a people loses one of its clan mothers.