Greetings Friends and Supporters,
JOIN THE INTERNATIONAL DAY OF ACTION DECEMBER 7, 2010
We call on Indigenous peoples, communities and supporters in the U.S. and Canada to mobilize on December 7, 2010 to reject false market-based distractions and to instead adopt real people-centered solutions to climate change. We are calling for actions in at least 20 cities across the US to be part of the thousands of Cancuns actions that will happen the same day across the globe.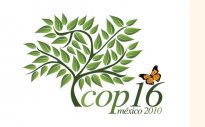 Once again, Indigenous Peoples are demanding that the real solutions to the climate crisis, comes from the grassroots at the 16th Conference of the Parties (COP 16) of the United Nations Framework Convention on Climate Change (UNFCCC) that will take place in Cancun from November 29 to December 10, 2010.
The Indigenous Environmental Network has put in place the RedRoadCancun.com blog where all actions, statements, press releases, video, live audio, and live daily updates from Cancun can be shared and used to further advance our grassroots movement. Watch live video broadcasts daily at 12pm - 1pm CST!
You will find links below to assist your local actions.
IEN is now in Cancun and we call on communities working for food sovereignty, land rights, transportation justice, healthy communities, corporate accountability, and more to use this day of action to advance your local campaigns and to highlight your local work as models of the systems change we need to truly address the climate crisis.
Our actions in Cancun are united by 4 common demands:
We call upon the United States and Canada to support language in the UN climate negotiating text that ensures that the rights of Indigenous Peoples in all countries are respected, upheld and recognized in all final texts and agreements, consistent with the UN Declaration on the Rights of Indigenous Peoples and other international human rights norms and standards.
We call on the United States and Canada to drop the ineffective Copenhagen "Accord" and embrace the Cochabamba People's Agreement and to support language that recognizes the Rights of Mother Earth.
We reject REDD+, offsets, carbon markets and other false solutions to climate change that commodify forests, land, life, and water.
We affirm that people on the frontlines are changing the system and cooling the planet one community and region at a time, and we uplift these grassroots solutions as real and viable solutions to the global climate crisis.
For more information and to share photos, videos and media coverage of your action goldtoothdallas@gmail.com, ienonlinenews@igc.org, ienenergy@igc.org, ienoil@igc.org
Please consider making a tax deductable donation to help us continue the fight for climate justice today!
We want to thank everyone for helping to spread the word…. So please share this newsletter, share links and information on your Facebook pages, Twitter accounts, or other social network!