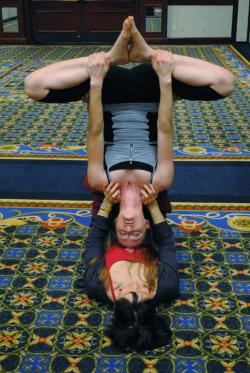 Awesome Enough Already
We grow up loving praise and encouragement. "You did great!" "You're awesome!" And we want to keep on earning those warm fuzzies. Of course we do. At what point though, are we lab rats pressing the "reward" button over and over until we cannot stop even when we'd like to?

Yoga teaches "Abhyasa Vairagyabhyam Tat Nirodhah" - through best efforts, letting go results, we master the whirlwinds of the mind. - Patanjali's Yoga Sutra 1.12

At some point, we can relax enough to know our best is good enough. What else could it ever be? Indeed, if we, as the Boy Scouts, are always doing our best, we are adequately awesome!

Would that be a fair enough legacy? Can that little bit of easing up on ourself allow a ton more enjoyment of every breath that we take? And maybe it lets up a delicious bit on those in our lives who may well be simply already doing their best, too!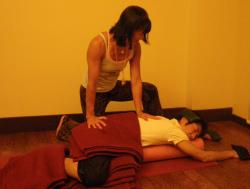 Mary's Valentine Restorative, Pure East
Restorative Yoga bliss awaits you this Valentine's weekend. Mary and her assistants will pamper you in bliss over bolsters and blankets with aromatherapy and hands-on nurturance, as you rest in soothing restorative poses. Treat yourself and maybe a friend! One pair of enthusiastic guests said after the last one: "that was as good as a full-body massage." A sweet gift satchel from Raw Chocolate Love will be our party favor to each guest, to end the afternoon's pampering.

All levels and ages welcome. No yoga experience needed, just a willingness to rest and be nurtured. Wear warm, comfy clothes; socks and sweaters are fine. No sweating will occur, but snoring just might.

Who do you know who deserves some Valentine sweetness for themselves?

A portion of the proceeds will be donated to Habitat for Humanity.
Pure Members- $45 Non Members- $50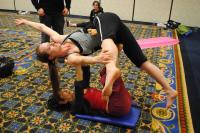 Photo Thanks
Thanks this issue for pics to:

Tori Baker Brough our Circle photographer, Tammie Kim Clark pictured above, my YogaFit San Diego workshop students, Amy Miller for my sidebar sunset, Ralph Craig & Hiroki Tada for the Restorative pic, Josh McGirk and Kristen Mabry in triple plank, and Michael of Yogart.in for me & Chris in the fountain.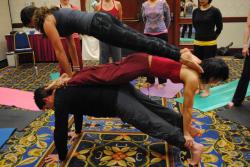 AcroYoga®: High Union
For non-AcroYogis who are the least bit curious about all the fun we seem to be having - it is true! Yoga joins Thai massage joins Acrocatics, & thus in community finds a way to make Yoga, something already wonderful, a yet "higher" wonder. Find a foundational workshop near you, and join the community! Or, pop into a community class near you and meet some acroyogis today.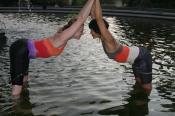 Valentine Partner Yoga: SoHo YogaWorks
Celebrate the joy of relationship with a friend, family member, or romantic partner. In community, we will breathe, stretch, play, massage, and melt body and soul into sheer contentment and bliss. Flow through partner stretches, then take turns giving and receiving Thai Massage with your partner. We will finish with a Savasana relaxation with guided meditation. No experience required. Open to all levels.

$70 per couple by Feb. 1st!
$80 per couple after Feb. 1st
YogaWorks SoHo, 459 Broadway at Grand Street
Sunday February 13, 2011, 2:30-4:30pm

When registering, please provide first and last name of partner you will be attending the workshop with.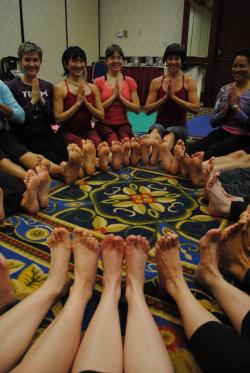 Class Schedule
You can always find my teaching schedule on my website.
Here it is for January 2011.

Pure Yoga Eastside & Westside
Mon 10:30 Chakra Slow Flow, ES
Mon 6:15PM Chakra SlowFlow WS
Tues 12:30 Restorative, ES
Thurs 10:30 Yin/Yang, WS
Thurs 8PM Restorative, WS
Fri 10:30 Chakra SlowFlow WS
Fri 5:30 Restorative, ES
Sat 3:30 AcroYoga®, WS* *Non-member packages available

Workshops/Trainings:
2/12 Valentine 2-Hour Restorative, Pure East, NY
2/13 Valentine Partner Yoga, YogaWorks SoHo, NY
3/17 San Antonio Acro Basics Workshop, YogaFit
3/17-20 San Antonio Restorative Training, YogaFit
3/19-23 Therapeutics Immersion Assist, NYC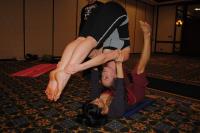 Forward; Reply; Privacy
I welcome Newsletter responses and, if you are my student, class responses & requests. Simply Reply or Forward to a friend.

Your email privacy is honored by me, and you can of course unsubscribe at any time.

Enjoy your February hearts & flowers month! Watch for me in a Lululemon window in your neighborhood, this month!

Om Shanti,
Mary