In this issue of Talking Story, we're focusing on the wonderful world of science. We know it's a broad topic. Don't worry, we won't try to cover it all. But we are excited to introduce some great science related literature and authors who focus on science.
MEET FIONA BAYROCK: Science Writer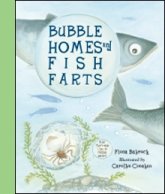 by Carol
In Fiona Bayrock's picture book, readers will discover that, "Bubbles are for popping, fishing, talking-and for sailing, keeping warm, and even shooting hoops! Who knew animals used bubbles in so many ways? Whether they are riding, breathing, or making bubbles, one thing is for sure-animals use bubbles in amazing ways." (Charlesbridge, 2009)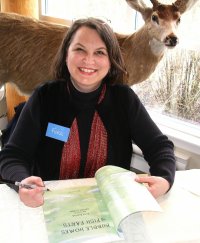 Carol: As a child, were you interested in science?
Fiona: My love of nature and science stems from weekly adventures beachcombing, hiking through forests, or visiting the aquarium and planetarium; but as a child I didn't think of these family fun excursions as "science." To me, science was this unrelated school subject, a class in which we sat in straight rows as we read a textbook and answered questions...no fun, no discovery. Fortunately, things have changed in schools since then!
Carol: What were your favorite science books as a child? How about now?
Fiona: I remember a few photo-illustrated Jacques Cousteau books, but mostly I poured over the National Geographic magazine each month and had an ongoing fascination with the "history of the world" illustrations in the Reader's Digest Atlas of the World. I now have shelves of faves. Animal, a humongous Smithsonian Dorling Kindersley tome, is browser's heaven. Authors I particularly enjoy include Shar Levine, Claire Eamer, Nic Bishop, Steve Jenkins, Kelly Milner Halls, Melissa Stewart, Sneed Collard III, and Loree Griffin Burns. Be sure to check out their books!
Carol: What is the most fun for you as a science writer?
Fiona: For me, research is like a giant treasure hunt, squeezing the first draft onto the page is oh-so-gratifying, and revising allows me to play with words and shape my writing as a sculptor would clay. My goal is to inspire kids to ask questions about their world, to have them make connections and create their own Eureka! moments by 'checking stuff out'. The world is a weird and wonderful and surprising place. I hope my enthusiasm will spill over and inspire others to experience the joy of discovery for themselves.
Carol: How would you like to see science and language arts integrated?
Fiona: The tenets of good writing are the same in every kind of writing---strong verbs, specific language, tight writing, good flow, sensory description, vivid imagery, etc.---and this opens up the possibilities for cross-curricular learning activities beyond the typical "science report". For example, I'd love to see more science poetry and science readers' theatre.
Check out this article on Fiona's website. Although she wrote it for writers, the same writing principles apply to students who are writing nonfiction.
A Science Illustration that is Out of this World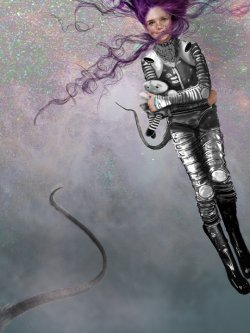 Ms. Caravela, a children's literature illustrator, has a challenge for your students. If your students write stories using this illustration as a prompt, she promises to read them and then will announce on her website the ones that are most creative, funny, and/or provoked interest in science. You will find her contact information here.
GROSSOLOGY: The Science of Really Gross Things!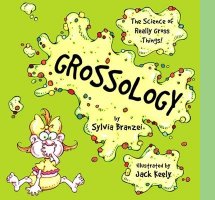 by Carol
If the subtitle of this book won't grab your students' attention, then the blurb from the back of the book will: "Featuring facts about stuff that's slimy, mushy, oozy, crusty, scaly, and smelly!"
Open Grossology and you'll find scientific, historic, and gross facts about everybody's secretions, smells, and scabs. Barf, burps, dandruff, farts, and poop. If it's gross and relates to your body, it's in this book. The highly descriptive prose is a great example of what Maupin House author, Melissa Forney, calls "razzle dazzle writing." (see our giveaways for a copy of her book!)
Consider this description of skin. "A huge number of living creatures survive on your skin... These creatures, called bacteria, sway, roll, bounce, swim, eat and reproduce on your skin. They are so small that a dozen could line up across one pore. On your legs about 8,000 bacteria live in each square inch….Under the grease layer on your forehead are about 8,000,0000 critters for each square inch. That's a larger population of bacteria in one square inch under your forehead than the entire number of people in Kentucky and Tennessee combined!"
After a detailed description of how zits are formed, the reader discovers, "All form of acne start out the same way. Dead skin cells shed inside pores. The dead skin cells then clump together with sebum, bacteria, and bacterial waste in the pore and form a comedo. The word "comedo" actually means "fat maggot" in Latin, because early doctors thought that these bumps were really maggots under the skin…" Gross. (p. 39-41).
Science written in a highly engaging manner. I love it.
MARY CORCORAN: Tree-mendous Science Writer
And while we're on the subject of bodily functions, meet Mary Corcoran, author of The Quest to Digest and The Circulatory Story.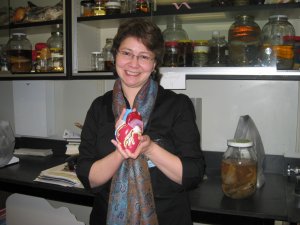 Mary Corcoran with your heart in her hands!
Why do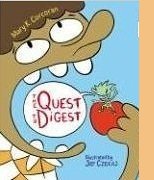 we burp, vomit, and pass gas? Hmm - just a few of the questions Mary answers in THE QUEST TO DIGEST, her fabulous book about the human digestive system. What student isn't going to be hooked on a book that takes a little green critter into the mouth via a bite of apple and sends it on an adventurous journey all the way - yes, all the way - through the body?
In THE CIRCULATORY STORY the
same green t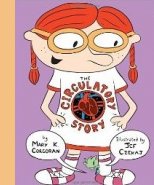 hrill-seeking critter hops
on board a red blood cell to travel through the body via blood plasma.
Mary knows how to take complicated scientific information and break it down into an enjoyable learning experience. And Jef Czekaj
(a published picture book author) illustrates bodily processes in a really fun way. Even adults can understand this stuff!
You've got to love Mary's website and
email address which are based on the word
Tree-mendous. (Mary is a former National Park Service Ranger.)
Now she writes, does author visits, and after school programs.
Programs for Pre K - 2nd grade
by Carol and Joyce
We offer Writers-in-Residence programs and would be happy to customize workshops for your school and grade level. Here are some topics to choose from:
Pump Up the Narrative!
Writing Memorable Memoirs
Writing Across the Curriculum: Using Short Fiction to Supplement Science & Social Studies
Jazz Up your Writing!
Writing From the 5 Senses
We also offer an in-depth workshop that is built around one specific social studies event of your choosing.
Contact us for more info.
Did you know that Charles Darwin married a devout Christian who believed in Creationism and that, in spite of their differences, the two of them somehow managed to love each other to the end?
Deborah Heiligman tells their story in her Award-winning biography, Charles and Emma: The Darwin's Leap of Faith.

If you're a teacher, librarian, or homeschool parent, we'd love to hear how you handle the subjects of
Evolution and Creation.
Do you teach both as theory or one or the other as fact?
(by March 11)
on the subjects of evolution and creationism in the classroom and we'll enter you in our giveaway for one of the items listed below!
(Don't be shy - we aren't looking for a right or wrong answer here.)i
Last issue's winners were:
Linda Anderson- Island Sting
Heather Farmer- The Wreck of the Ethie
This issue we are offering:
Fiona Bayrock's book (Bubble Homes & Fish Farts)

Bonnie Doerr's new book (Stake Out) which ties into studies on environmental science, habitats, and endangered species.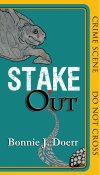 and
book
(Razzle Dazzle Writing)

To enter, Email us by March 11th.
It can be on the subject of evolution and creationism as mentioned in the article above but it doesn't have to be. Just saying, "Hi, please enter me in the contest" works too.
These three science books received Eureka! Nonfiction Children's book awards in 2010:
Pierre, the Penguin by Jean Marzollo.
A Polar Bear's World by Caroline Arnold.
Ubiquitous: Celebrating Nature's Survivors by Joyce Sidman.
Science can purify religion from error
Science can purify religion from error and superstition. Religion can purify science from idolatry and false absolutes.
(Pope John Paul II)
Men love to wonder and that is the seed of science. (Ralph Waldo Emerson)
If it's green or wiggles, it's biology.
If it stinks, it's chemistry.
If it doesn't work, it's physics. (Handy Guide to Science)
The most exciting phrase to hear in science, the one that heralds the most discoveries is not "Eureka, - (I've found it.) but "That's funny..." (Isaac Asimov)
SCIENCE WRITING BOOT CAMP
How can you become an author who ignites the love of science in a child? Join Highlights and Boyds Mills Press science editor, Andy Boyles for
This newly created Highlights Foundation workshop will take place April 27 - May 1, 2011.
We produce this newletter with the help of a lot of great writers, teachers, and friends.
And thank you to our special contributors this time: Bonnie Doerr, Maupin House, and Fiona Bayrock. They're responsible for the generous giveaways!
In our next issue, we will explore the theme of Public Art.