Comprehensive Security Responses to Terrorism Course Concludes
Eight-six Fellows graduated March 24 from the Asia-Pacific Center for Security Studies' Comprehensive Security Responses to Terrorism (CSRT) Course. The military and civilian participants who attended the four-week course came from 46 locations, primarily throughout the Asia-Pacific region, as well as other far reaches of the globe.
Participating in the CSRT course were representatives from Afghanistan, Australia, Bahamas, Bangladesh, Bhutan, Brazil, Cambodia, China, Colombia, El Salvador, Fiji, Germany, Ghana, Guatemala, Hong Kong, India, Indonesia, Jordan, Kazakhstan, Laos, Lebanon, Malaysia, Maldives, Mauritius, Mongolia, Nepal, New Zealand. They also came from Pakistan, Papua New Guinea, Peru, Philippines, Rwanda, Seychelles, Singapore, Solomon Islands, South Africa, Sri Lanka, Swaziland, Taiwan, Tanzania, Thailand, Timor-Leste, Turkey, Tuvalu, United States and Vietnam. more...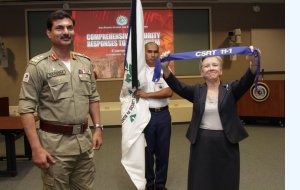 Pictured: APCSS Dean Lauren Kahea Moriarty holds up the CSRT 11-1 Class Pennant with the senior class leader Pakistan Army Brig. Gen. Nadeem Mirza
Upcoming Workshops & Outreach Events
Security Sector Development: National Priorities and Regional Approaches
Apr. 4-8, 2011 in Honolulu
Cambodia, Indonesia, Laos, and Nepal will be the focus of the third Security Sector Development workshop. The 5-day workshop is designed to promote a common and better understanding of a security sector, its management and supervision, as well as evolving roles and responsibilities of security institutions. It will specifically address the following areas: 1) Composition of the security sector: national characteristics and international practice, 2) Security sector governance: challenges and opportunities, 3) Interfaces and engagements with and between security sector organizations, 4) Mechanisms of effectively developing security systems.
Asia-Pacific Security & U.S.-Sino Relationships
Mar. 24-29, 2011 in Beijing & Shanghai, China
An APCSS team traveled to China to engage Chinese academics in discussions of security challenges of mutual concern to both the United States and China. Two days of discussion were conducted in Beijing in concert with the Carnegie-Tsinghua Center for Global Policy. An additional two days of discussion were conducted in Shanghai with Tongji University and the Shanghai Academy of Social Sciences.
APCSS Participates in Science & Technology Workshops
Several APCSS faculty and staff participated in two U.S. PACOM-supported Science and Technology workshops this week in Honolulu. Soft power efforts with a focus on "Forging Regional Science and Technology Ties" were a key focus area of the Pacific Operational Science and Technology Workshop.
APCSS Participants included Deputy Director Brig. Gen. (Ret.) Jim Hirai, Dr. James Campbell, Prof. Shyam Tekwani and Dr. Virginia Watson. Current CSRT Fellow from India, Mr. Amit Sharma of the Defence Research and Development Organization, participated on a Cyber-Security panel. Dean of Academics Amb. (Ret.) Lauren Kahea Moriarty also attended the workshop.
Dr. Scott Hauger participated in the Pacific Environmental Security Conference. Several alumni also participated in the workshops, most notably, Major General (Ret) Muniruzzaman, SEC06-2 alumnus and President, Bangladesh Institute of Peace and Security Studies, who spoke about sustainability issues at the Environmental Security conference.
During the recent Tsunami spawned by the the Japan earthquake, APCSS scrambled to ensure that the Fellows attending the CSRT were safe. APCSS disaster plan called for Fellows to evaculate up to higher levels of their contracted housing. Team members went to the building to provide information and assistance. During this time phone lines to Hawaii were congested so the APCSS Facebook page was used to keep the Fellows' family members up-to-date on what was happening in Hawaii.
APCSS Alumni office also was able to reach out to alumni in Japan to check on their safety and provide condolences.
Jordanian Alumni form the latest APCSS Alumni Association: During the recent Comprehensive Security Responses to Terrorism graduation ceremony, two Jordanian Fellows received the charter to established the Jordan APCSS Alumni Association. This brings the total alumni associations up to 52.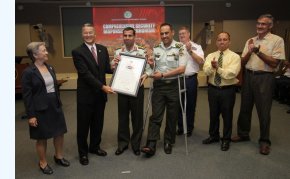 Pictured l-r: Dean Lauren Kahea Moriarty, Deputy Director Brig. Gen. (Ret.) Jim Hirai, Col. Mohammad Salameh Al JBoor, Lt. Col. Jehad Salem Al JBoor, Lt. Col. Stew Taylor, Maj. Rod Santulan, and Alumni Director Lt. Col. (Ret.) John Gasner.
Lower Mekong Initiative Working Group Meeting: APCSS' Dr. Al Oehlers participated in the Inaugural Lower Mekong Initiative Working Group meeting in Phnom Pehn in March. While there he met with the head of the Vietnam delegation, Ambassador Ha Huy Thong and head of the U.S. delegation, Deputy Assistant Secretary Joseph Yun. Both are APCSS alumni.
Homeland Security Training in American Samoa: Mr. Larry Dove (U.S.), EC00-3, recently conducted an American Samoa Homeland Security training session that included four American Samoa alumni from APCSS: Mr. Chester Manaea, EC04-3, Ms. Jacinta Brown, EC04-1, Captain Vaimauga Maiava, CCM09-1 and Mr. Vinnie Atofau, CCM09-1.
Security Sector Development: National Priorities and Regional Approaches
Apr. 4-8, 2011
Advanced Security Cooperation (ASC)
Apr. 28 - Jun. 15
Ambassador LE Cong Phu, Vietnam's Ambassador to the United States
AMB Joseph Detrani - Director, National Counterproliferation Center, Office of the Director of National Intelligence
VADM Manson Brown - Commander, Pacific Area and Commander, Coast Guard Defense Force West
Vice Admiral Sally Brice-O'Hara - Vice Commandant, U.S. Coast Guard
Ms. Jo-Ellen Darcy, Assistant Secretary of the Army Civil Works
Dr. Paul Stockton, Assistant Secretary of Defense for Homeland Defense and Americas' Security Affairs
Army's JCS/OS ARSAF Internship Program Fellows (18), Air War College International Fellows (49), and USAF Cadet Squadron 04 (99)
Delegates of the Korea Interagency Defense Dialogues
You can find past issues of the APCSS Activities Report and the Military Construction newsletter online here.
Copies are also posted on GlobalNet and APCSSLink.