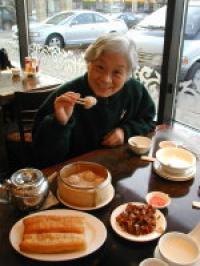 Teachers & Mothers
We approach May, the month of spring & flowers finally for some regions this year! And mothers honored, too.

May 8 is Mother's Day and I remember my own mother who was a lifelong joyful delightful teacher, of adults and of youth, and a lifelong eager learner as well.

I'm reminded by her spirit how we are all eternal pupils, if we allow ourselves, and also we are all our wisest teachers, our own and others'. "To thine own self be true" is an eternal quest. I'm honored to share that quest with so many of you in the path toward self-knowledge.

Who is your favorite teacher? Or - when is your favorite teacher? Consider - our biggest challenges are our best teachers. Give yourself an A for attendance, for just showing up to class!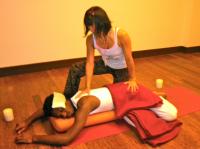 Mother's Day Restorative with Mary
I will not be running as many Restorative workshops the rest of the year, as my travel and teaching schedules are stepping up. But before the summer/fall, I will have one more, and it is Sunday May 8, at Pure Yoga Eastside.

For two hours, from 1-3, we receive the nurturance of our inner loving mother, whom I invoke through meditations, gentle touch, and poses that foster grounding, peace, health and tender loving self-care. As a gift to all my "children" I have a limited supply of lavender scented eye pillows as party favors for attending this "retreat."

Restorative Yoga is the most accessible, open level and user friendly yoga style there is. All levels and ages and all experience levels will benefit from this deeply relaxing, meditative "guided naptime" form of supported yoga poses on bolsters and other props, surrendering to the tender ministrations of your teacher and her assistant. A great gift for a friend.

The charity to receive a portion of proceeds from this workshop is the Susan G. Komen Foundation for Breast Cancer.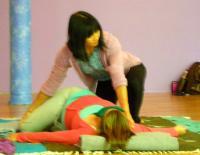 Pure Mother's Day Special on Privates
Until May 8, Pure Yoga studios is offering a special: buy a 3- privates package for $195 ($65/hour private; from $125).

The privates may be with any Pure teacher. For me, it includes AcroYoga therapeutic flying, Thai massage, and restorative yoga options, mix or match. It also includes private AcroYoga tutoring for those who missed the Acro Wed. series coming up in May.

This offer is good for NON-MEMBERS of Pure as well as members! Package must be purchased by May 8, but sessions may be scheduled any time within 6 months.

Ask at the front desk or call the studio. Packages may be purchased as gifts too, but limit one per customer.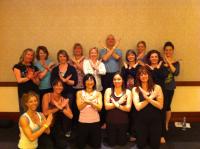 Teacher Training: Pure & YogaFit
I'm honored to enter my second year as Restorative Senior Master Trainer for YogaFit ("Yoga for the Fitness Industry"). This year I will train 8 MindBodyFitness Conference 4-day modules in Restorative Yoga, nationally & internationally.

I'm also honored to be on the formal Teacher Training mentorship staff for Pure Yoga New York, offering my mentorship opportunity to the trainees that pass through the 200-hour and 300-hour programs.

Pure's training graduates have taken my 4-day YogaFit Restorative trainings as well. For interest in either opportunity you may Reply to me. For Pure teacher training questions, email: laina.seplow@pureyoga.com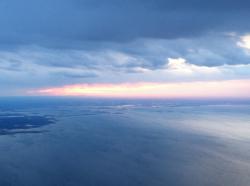 Testimonials; Art Credit; Forward; Reply
A Testimonial:
Here's what my private client Julia wrote me from her expensive spa retreat, that I warned her I'd be sharing.

"we have candlelight yoga at 8 pm tonight after massive spin, rowing, hikes uphill ugh!! ...
Weak yoga teachers..prob think this as you are perfect teacher..calm, smart, fit, thoughtful,strong, intuitive."

We teachers love teacher-love!

From Pure member Jackie Mendez Diez:

"Hi Mary,
Here are the two 'chakra' paintings I did, inspired by you. My only camera is my iPhone, so the quality is not so great. I included a couple of other paintings, also.
Please add me to your email list."

Jackie's flowers are above; thanks Jackie! I lost your other photos, please resend!

Other photos include studio photo by Megan Jolly.

I do not share email lists so your privacy is secure. You are free to Unsubscribe at any time.

Also, please feel free to Forward to friends or to Reply directly to me.

Maha shanti -

Happy Easter, & Passover

Mary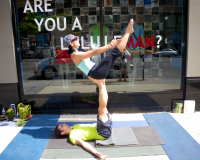 Flying For Japan: Donation Class at Lululemon
Join me and friends at Lululemon Lincoln Square on Saturday morning April 30, from 9AM-10AM as we playfully embrace an AcroYoga community class offered as a 100% benefit for Japan Aid, in their relief efforts for the survivors of the Japanese tsunami.

Assisting me will be Taylor Dunham, Kristina Cubrilo, and staunch supporters Nir, Guy, Hiroki, and as many acroyogis and teachers as are up for some early weekend Acro fun! Bring friends, bring cameras, bring a heart of goodwill. Bring your inner child.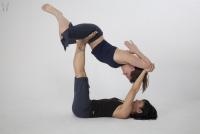 May Wednesdays: Acro 101 Series
Playfulness, joy, strength, grace, are just a few of the gifts we immediately notice in ourselves when we first do this practice. It is for this: the heart opening, the mind opening, as well as the body's growth in power and skills, that practitioners keep coming back.

This AcroYoga 101 series introduces all the elements within the 3-part blended practice of Yoga, Acrobatics, and Thai Massage, and builds from week one to week four for a solid set of foundational skills in a joyful, supportive group setting. My able assistants will be longtime students Guy Hubbard and Nir Pengas.

May 4, 11, 18, 25 from 6-8PM at Pure Yoga West.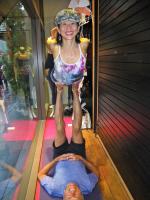 Esprit Wellness
Sports, illness, injury, travel, stress are all risk factors for spinal misalignments that chiropractors call "subluxations." Major ones stop us with pain, and we pay attention, but minor ones can impede us from functioning at our optimal energy and health level.

When I'm self-caring, I get regular adjustments. I had a busy year with a trip every month, a broken leg in July, acrobatics and New York city biking and scootering.

So off I go to Dr. Sid just flying out to an advanced acrobatic immersion in CA. And so energized as I hop up from the table!

Most chiropractic offices accept some insurance plans. Get a solid referral from someone you trust. My Dr. Sid at Esprit is terrific; he specializes in performers and dancers, and also in scoliosis treatment. He has a magic touch! And they have awesome massage chairs and massage therapists.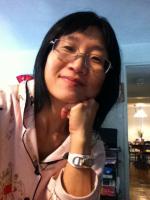 Current Classes
My NYC classes are as follows - for privates scheduling, contact me directly:

*Mon 10:30 Chakra Slow Flow, Pure ES
*Mon 6:15PM Chakra Slow Flow, Pure WS
*Tues 12:30 Restorative, Pure ES
*Thurs 10:30 Yin/Yang, Pure WS
*Thurs 8PM Restorative, Pure WS
*Fri 10:30AM Chakra Slow Flow, Pure WS
*Fri 5:30 Restorative, Pure ES