Security Sector Development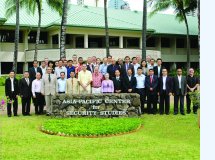 The five-day Security Sector Development workshop held April 4-8 was designed to promote a better understanding of a security sector, its management and supervision, as well as evolving roles and responsibilities of security institutions and focused on Cambodia, Indonesia, Laos, and Nepal.
APCSS Employees Honored by Federal Executive Board
Asia-Pacific Center for Security employees were recognized at the Honolulu-Pacific Federal Executive Board's (FEB) 55th Annual Excellence in Federal Government Awards luncheon held at the Sheraton Waikiki April 21.
The annual luncheon honors employees from many government agencies in Hawaii for their outstanding efforts, dedication, and contribution to the workforce and community. The APCSS awardees for 2011 include:
Team Excellence: CSS Course Management Team: Ms. Miemie Byrd; Dr. James Campbell; Maj. Brian Middleton, U.S. Marine Corps; Lt. Col. Michael Mollohan, U.S. Marine Corps; Dr. Justin Nankivell; Ms. Kerry Nankivell; Lt. Col. Ronald Sargent, U.S. Army; Cmdr. P.J. Tech, U.S. Navy; Cmdr. Christopher Van Avery, U.S. Navy; and, Dr. William Wieninger
Federal Employee of the Year (Clerical/Assistant): Ms. Robin Burrell
Federal Employee of the Year (Professional/Admin/Tech): Ms. Robin Wong
Federal Supervisor of the Year/Manager of the Year: Mr. Richard F. Sears
Leader of the Year: Lt. Cmdr. Damian Clem, U.S. Navy
Exceptional Community Service: Mr. David Shanahan
Mentor of the Year: Mr. Carleton Cramer
Latest ASC Now In Session
APCSS kicked off the Advanced Security Cooperation Course on April 28 with 83 Fellows from the following locations: Australia, Bangladesh, Bhutan, Cambodia, Canada, China, Colombia, Fiji, India, Indonesia, Iraq, Kazakhstan, Laos, Lebanon, Malaysia, Maldives, Marshall Islands, Mongolia, Nepal, Pakistan, Palau, Papua New Guinea, Philippines, Republic of Korea, Solomon Islands, Sri Lanka, Taiwan, Tanzania, Thailand, Timor-Leste, Tonga, Turkey, United States, and Vietnam.
Faculty Updates
Prof. Kerry Nankivell delivered a presentation on Maritime Security at the Royal Roads University conference, Asia Pacific Security: Issues for Canada conference. During the trip she also met with Maritime Forces Pacific staff as well as Think Tanks and NGOs in Vancouver specializing in Asia Pacific trade.
Dr. Bill Wieninger participated in a bilateral workshop to discuss U.S.-Russia cooperation on Early Warning and Ballistic Missile Defense and was invited to chair a panel on whether cooperation in Early Warning and Missile Defense Systems could contribute to Strategic Stability. The issue is a very delicate one as Russia is concerned BMD will threaten its security while U.S. concerns on ballistic missile threats from so-called Rogue states is driving it to invest billions in these systems. Ultimately, the workshop succeeded in broadening dialogue in this sensitive area and also came up with technical recommendations for moving forward in cooperation. The workshop was co-sponsored by Stanford's Center for International Security and Cooperation and the Committee of Scientists for Global Security and Arms Control from Russia.
On April 27th, Ambassador (Ret.) Charles B. Salmon, Jr. lectured a group of MBA students from Harbin University in China who were visiting the University of Hawaii Shidler School of Business. His topic was U.S.-China relations.
Alumni Update
The number of APCSS Alumni Associations is now at 53. The latest associations include Jordan and Laos. Jordanian Fellows attending CSRT11-1 chartered their country chapter. The Laos APCSS Alumni Association was formed by Fellows attending the Security Sector Development Workshop.
Upcoming Workshops & Outreach Events
Workshop on Leveraging Security Cooperation Education Honolulu, May 10-13
This multilateral workshop draws key governmental uniformed and non-uniformed program facilitators, security practitioners, and select APCSS Alumni from eight key partner nations in the Asia-Pacific region with responsibilities for helping nominate the most suitable host-nation participant in APCSS courses and outreach activities. The workshop is designed for our tri-party advocacy teams (Partner Nations – APCSS Alumni – U.S. Embassy). Taking place during the Advanced Security Cooperation Course, it will enable an understanding from personal observation and learning what constitutes the "Right Fellow" for the respective courses, and will empower our advocates, especially our global Alumni Associations, with the knowledge to assist in both identifying the right people and the right positions thus expanding the leader and institutional capacities of our partner nations.
Perspectives on the India-U.S. Strategic Interface: Towards an Improved Understanding of Aspirations, Goals, and Futures
20-24 June 2011, Honolulu
The workshop aims to examine, through bi-lateral dialogs, the efficacy of the contemporary strategic relationship and examine India-U.S. thinking on optimizing it. The workshop, anticipated to be the first in a series of APCSS sponsored conversations between participants on the India-U.S. strategic partnership, will be a useful step in identifying areas of convergence in the relationship, as well as divergences that could potentially retard advancing the partnership. The aim is to enable a series of conversations that could facilitate a framework for further focused security cooperation. The workshop, designed to address the traditional and non-traditional security issues of political, social and economic dimensions, through a candid exchange of perspectives will examine three nominated key areas of intersection over the next 10-20 years: 1)Technology Sharing, 2) Geo-political Dynamics Impacting the India-U.S. Relationship, 3) Current & future security challenges in the Indian Ocean.
Advanced Security Cooperation (ASC)
Apr. 28 - Jun. 15
Comprehensive Crisis Management (CCM)
Jul. 7 - Aug. 5
Asia-Pacific Orientation Course (APOC)
Aug. 22-26
Dr. Paul Stockton, Assistant Secretary of Defense for Homeland Defense and Americas' Security Affairs
Amb. David L. Carden, U.S. Ambassador to ASEAN
Amb. James Moriarty, U.S. Ambassador to Bangladesh
Gen. Dato Sri Zulkifeli, Chief of Army (Malaysia)
Lt. Gen. Sahachart
Pipithkul, Surgeon General, Royal Thai Army
Brig. Gen. Farharth Shaheer(Maldives)
China Institute for Contemporary International Relations

The 2010 APCSS Annual Report is now available online. Click here to download a copy.
You can find past issues of the APCSS Activities Report and the Military Construction newsletter online here.
Copies are also posted on GlobalNet and APCSSLink.