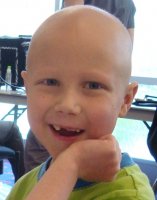 Evan
Simple, good nutrition will help the entire family through the experience of caring for a child with cancer. You can avoid some of the common complaints of treatment, such as constipation, with a diet rich in fruits, veggies and whole grains. Small meals and snacks can be a great way to keep a patient interested in eating – try these cookies as a good start:
Oatmeal Raisin Cookies:
3/4 cup of whole wheat flour or brown rice flour
1/2 tsp of baking soda
3/4 tsp of vanilla
1/2 tsp of ground cinnamon
1/4 cup of unsweetened applesauce
1/3 - 1/2 cup of sugar or healthy substitute such as agave nectar
3/4 cup of dry oats
2 Tbs olive oil or coconut oil or flax oil
1/4 cup raisins
1 egg
1/4 cup of nuts or seeds (optional)
1/4 tsp of salt (optional)
Preheat oven to 350F. Prepare a cookie sheet either with non-stick spray or a parchment paper.
Sift the salt, cinnamon, baking soda (and salt if you are using) into the flour in a bowl.
In the mixing bowl, beat olive oil together with the sugar. Add in applesauce and egg and beat well. Now add in the flour mixture and beat on medium until a semi-stiff dough forms. This dough will be very slightly sticky. At this point, add the vanilla essence, raisins and nuts (if you are using) and mix well into the dough. This step will require a little more strength because the dough is pretty stiff due to the whole wheat flour. But just try to incorporate the raisins into the dough.
Drop by tablespoonful about 3 to a row. Flatten to about 3/4". Just keep in mind that this dough will barely flatten out when it's baking so what you see is what you get. Just don't flatten it too thin that it will turn out to be crunchy like a biscuit instead of crispy on the outside and chewy on the inside. You will probably get about 15 to a standard 9"x13" cookie tray. Bake in the center of oven for about 10-12 mins. When it's done, remove from cookie tray and cool on a rack. It is very good just out of the oven and still slightly warm!
Note: The finished cookie will look "uncooked" on the inside but that's because of the color of the whole wheat flour together with the applesauce so don't be afraid to take a bite.