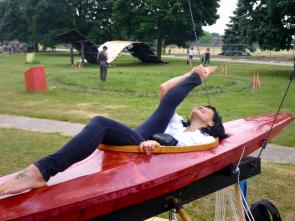 "Non~Compete" Clause
Yoga can be all about health, nurturance, longevity, self-acceptance, and non-competition. After all, Yoga teaches non-duality, that it is all one, that we are all one. The very word Yoga, from the Sanskrit root "yuj" as in "yoke" means union, oneness. We practice meditation to witness our thoughts with detachment, with acceptance, and let go of comparison.

So, when Yoga becomes the fitness trend of the current times, it comes up against pop culture. And now we compare. We wonder if our Yoga clothing is chic enough, our mats and props the latest and best. Our physical practice, how does it compare to others'? Our butts, our abs, our arm balances? Or even, how does my spiritual growth compare to the other yogis I know?

Al Finger, my ISHTA yogiraj, has a "jolly" and irreverent way of joshing us out of that ridiculousness. He puts himself in a mediation posture, with a deeply serious meditation face, and reminds us that, too, is an attitude, a mask, a trap.

How are we "better than" or "not as good as" the yogi next to us, or even ourselves on another day? We cannot help but compare, it is a feature of the thinking mind. But, we can smile and remember Yoga's goal: that realize there is no need to compare. That peace comes precisely in the degree to which we feel the unity rather than the separation of the "us" and the "other", the "self" and the bigger "Self" of us all. That we agree, at least in theory, and in practice, to sign a "non-compete clause" when we step onto our practice mat, or settle into our practice seat. That we come, nakedly vulnerable in our being, nothing to prove, just as we are.

May your practice be steady & sweet.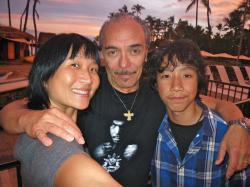 Manifest Wealth
In the Hindu pantheon, each deity is a deep inner symbol of some aspect of our own human nature. Lakshmi, the goddess of abundance, sits in a lotus blossom as gold coins pour from her palms and symbols of value sit in platters at her feet: money, flowers and fruit, prayer beads, gems. One of her 4 palms is frequently raised in benediction. I am so overflowing with abundance, her image says, that I pour forth and enrich others with my fullness. She emits a wealth consciousness that draws everyone - and everything - to her. Awareness of wealth begets more wealth.

And what IS wealth? What do YOUR Lakshmi palms hold? Mine hold the feel of the bike wheels under me and the wind on my face, whirring down Broadway with the billboards above, sparkling Central Park behind. Loyalty and love in the hearts that beat for me both when I rejoice and when I stumble. Morning coffee and the sound of the city waking. The smiles of my loved ones. The wealth of things yet to learn and yet to do. Giving a gift and knowing the gift makes a difference in someone's life.

My Lakshmi shines. As does yours. Welcome her to shine in you ~ Om Shrim Maha Lakshmiyei Swaha. Om!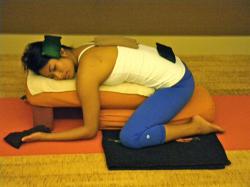 Mother Mary Restorative Training
Don't forget my Restorative Teacher Training weekend at Pure Yoga East that runs Friday evening 7/22 through Sunday 7/24. I have a fantastic group of trainees lined up already, for which I'm super excited. This training is for students and teachers who wish to be able to offer and share this deeply nurturing practice of Restorative yoga. It is 20 hours of Continuing Education credits for current Yoga Teachers. Register by 7/1 for $25 discount.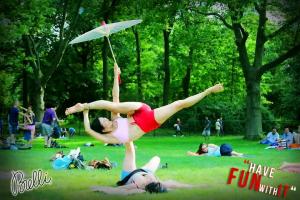 Yoga Park Fun...
Spring and summer, Yoga in the city abound. There's free yoga in Bryant Park with Lululemon, all summer long. There's been Wanderlust in the City, there's Eddie Teboul teaching lunchtime outdoor yoga. And, there's simply playing yoga outdoors, too. Kevin O'Keefe of CircusYoga can be seen almost any weekend afternoon in Sheep's Meadow, turning park-goers into partner yogis, circus yogis, aerial yogis. Here, my pal Metta and I each won a parasol from the Brelli company for posing for their Facebook photo album.

The top two photos are from Governor's Island, where Figment 2011, an annual arts festival free to the public, took place June 11 and 12. Governor's Island has free ferry service every weekend in the summer, and many ongoing exhibits as well as special events. Watch for a special New York City Yoga Festival day, to be announced soon!!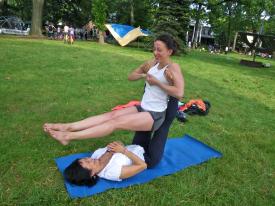 Photos; Forward; Reply
Photos this issue thanks to: Ambrose, Linda, & Florence for Figment; Brelli for me & Metta; Yvette for Restorative; Starlight Theatre for King & I; Jason Morris for July 24 concert poster; Ari Kassman for BDX, AcroYoga Festival for yogi circle.

As always, I welcome replies and please do feel free to forward to friends.

In July, watch for: "Escape to Yoga Island" and AcroYoga workshops and class listings.

Fpr all my upcoming and current trainings, workshops, classes, performances, retreats, you can see my website, anytime.

Happy Dominion Day, everyone! And for my non-Canadian family ~ happy Independence Day, everyone!

Om Shanti! Peace all! ~ Mary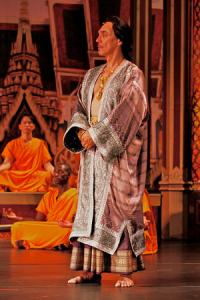 My Kingly Wealth
One of my Lakshmi platters holds the man I met and married 28 summers ago. We have weathered two theatre careers in New York City, parenthood nearly 16 years so far, multiple cities living, touring, working, both on this continent and off.

15 years ago Raul was Standby for Lou Diamond Phillips in "The King & I" on Broadway. Yes he got to go on; yes he danced the Polka with Donna Murphy. This June Raul played the King's prime minister, the stately Kralahome, at the huge Starlight Theatre in Kansas City MO, by special request of Lou who once again it seems, appeared as the King.

It's easy to understand why Lou would request him. Warm, great artistic sensibilities, kind, funny, loving, loyal. My cyclist and my personal trainer. My beginner AcroYoga student. A big part of my wealth.

They got three local reviews, all raves. Here is one.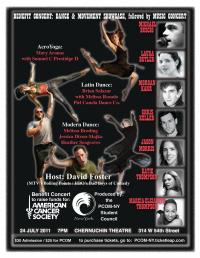 Flying Benefit Performance
Sunday July 24, Sam Prestidge and I will perform a flying flow to open this benefit concert fundraiser for the American Cancer Society. It will take place at the American Theatre of Actors on West 54th Street. See the link for tickets. $30 going fast and limited to 150 seats.

A few of you know I lost both my parents to cancer. My mom's battle with it in 2001 made me choose to become a yoga teacher, and take up a life path dedicated to living in wholeness and without regrets.

I'm delighted to offer something I love to do to combat this illness. Saraswati and Durga join Lakshmi and Dhanvantre, the celestial physician, in blessing this endeavor.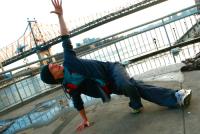 Yoga & Breakin': Breakflow
Check it out! So much fun! My buddies Ari, Renegade, Ryuji, Jun, & the BuddhaX crew teach you to flow with yoga AND break moves, in a breath-centered, beautiful, dynamic, yet accessible flow!

This 4-week series is on a drop-in basis, so take any one or take them all. Maybe I'll see you there!


AcroYoga Festival: 2011
The first ever AcroYoga Festival in 2010 was a huge success; the second one this year is already moved to a bigger venue. Yours truly will be there, teaching up to three separate classes with 4 delightful co-teachers of the worldwide AcroYoga kula.

Whether you are a brand new fresh, AcroYoga beginner, even just keen to see, view, try, taste for the first time ... Or you are a hooked Acrophile, and you know it: this is the closest you can get to the gathering of the entire AcroYoga family. Do not miss it! Sheer celebration, love, joy, play... see you there.

Tickets go on sale July 1st! Click below.