Love it ~ or Leave It
One of the thrills of being a self-employed independent artist is you sometimes line up several lovable projects right next to one another.

One evening during such an intensely scheduled period, I was kvetching to my son while squeezing in a late-night chess game for some make-up quality time. (Kvetch: Hebrew slang for "complain chronically" for my non New York friends.)

My astute teen said, "If you don't like it, why do you do it, Mom?" Why, indeed. Flashback to a line from a parenting book: "Remember, parenting should be enjoyable." I've always gotten a kick out of that, and substituted many words in place of "parenting".

Radical - if you don't love it, don't do it! Or change it 'til you do love it. Work. Hobby. Relationships. Yoga. If it doesn't work for you, you always have actionable routes. Leave it or find a way to love it. Therein begins inspiration and creativity. And, yes, maybe a little kvetching help kicks it off! Be the change - starting in your own life. How can I make everything I do enjoyable? That's a super creative challenge.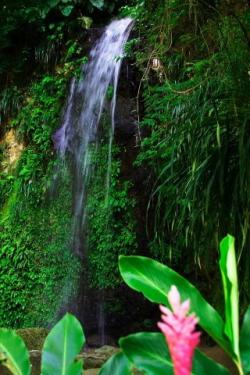 Retreat in January
It's July and sweltering in New York but it will be chilly in January; so I acquiesced, with a little arm-twisting, to one of my private Restorative clients' urgings, to offer a Chakra Flow & Restore long weekend retreat in the Caribbean, over Martin Luther King weekend, January 12-15.

Fares are incredible right now, direct from JFK via JetBlue... so, I've booked two tickets for my son and me, since Raul will be in Dallas doing the musical "Giant" in January. Mm-mm, surf-horseback, anyone? Snorkel trip? Scuba? Hammock? Yoga by day and Restorative by night? Maybe I'll bring my chess set....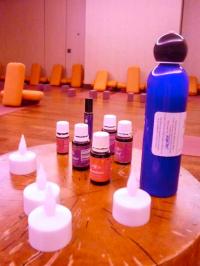 Teacher Training News
I'm delighted to keep on discovering new things I enjoy thoroughly. One of these latest is teacher training.

Yes, I've done it a year and a half already, as YogaFit's Senior Master Restorative Trainer. But last weekend, I premiered my own 20-hour Mother Mary Restorative Yoga Teacher training at Pure Yoga East, with 16 wonderful Restorative trainees. The experience was both thrilling, and labor intensive - not unlike motherhood itself! The next one will be in winter or spring. Keep a look out in these issues.

And of course, you can join me on a 4-day YogaFit Restorative Teacher Training all over the country. Stevenson, WA in August, next; Long Island, NY in September.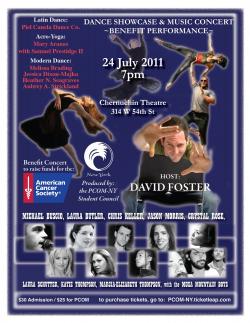 Month of July Recap: Acrobatics~Restorative
Ending June I taught a "Breakin' High" AcroYoga workshop which felt as high as it sounds! Over Independence Weekend, romped in high acrobatic moves with YogaSlackers Jason and Chelsey Magness in the Berkshires.

On July 24 my pal Sam Prestidge and I performed a piece we created for a benefit concert for the American Cancer Society at the Chernuchin Theater on West 54th St.

At the opposite spectrum, I led two Restorative Teacher Trainings: July 13-17 in Scottsdale, AZ for YogaFit, and 22-24 at Pure Yoga East in New York.

Whew. Cruisin' into August ... lookin' for some sun and sand, tree and grass time! I wish you some of each, yourself!

Have a blessed August ... see you in an upcoming class or workshop! My schedule of classes and events including my Chakra Slow Flow, Yin Yang and Restorative classes are always on the Classes/Workshops page of my website.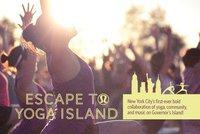 "Escape to Yoga Island" Yoga Festival 8/6
"New York City's first-ever bold collaboration of yoga, community and music on Governor's Island! All are welcome to celebrate with us: complimentary admission, open level classes, bring your own mat!"

How to get the island:
http://govisland.com/html/​visit/directions.shtml

Hosted by Lululemon and featuring one-hour mainstage classes and 90-minute intensives. Check out the lineup!

Come for a 90 minute AcroYoga open level class with me & Matt Giordano from 3:30-5:00. All levels, no partner needed.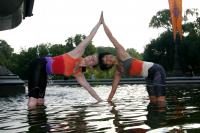 Summer Sweetness: Acro in SoHo 8/28
Come for my annual YogaWorks SoHo summer AcroYoga fun workshop, this time with my lovely friend Chris Loebsack co-teaching!

No need to bring a partner; no experience necessary for this foundational level workshop.

$45 by August 15th, $55 after
Call 646.442.6203 to register, or click below to go online.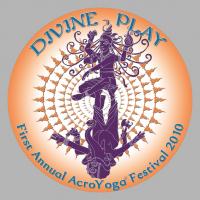 AcroYoga Festival: October
The 2nd annual AcroYoga Festival on the West Coast is open for registration. Whether you are an avid acrobat or an interested novice or anywhere in between, this playful and loving gathering celebrates all three of the disciplines that inform AcroYoga: yoga, thai massage, and acrobatics. And you will find something of interest at every session to partake in.

The first 100 registrants receive $70 off festival price. More details at Facebook page below.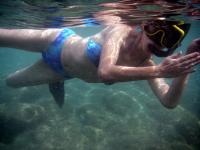 Photos; Forward; Reply; Privacy
Thanks as always for forwarding if of interest to anyone; for replying with comments or feedback.

Thanks for photos this issue to: Raul Aranas, Karen Lee, Chris Loebsack, Michael St. Cole, Hiroki Tada, Jason Morris, AcroYoga, Trish Perkins.

Please be assured that I honor your email privacy and I do not share email lists. You may always Unsubscribe at anytime, by clicking, or by just replying to me. But, I do treasure the cyber sangha for its extension of connectedness, and I am grateful if you do, too.

Om Shanti,

Mary