Faculty & Staff Updates
In June, APCSS bid a fond farewell to a number of faculty and staff, including Maj. Mike Craighead, Col. Timothy Small, Lt.Col. Stew Taylor and SSG Amanda Wakefield.
During this time APCSS also welcomed Col. Timothy Ryan as Chief of Staff, Col. Steven Huss, Col. Yeong Pak, Lt. Col. John Lloyd, Capt. Douglas Krugman, Lt. Col. (P) Mike Lwin, Lt. Col. Chris Heming, Maj. Derrick Connor, Ms. Lori Forman, and Ms. Josefa Brettler.
Faculty Publications & Interviews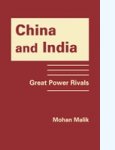 Dr. Mohan Malik has a new book out entitled China and India: Great Power Rivals. According to the book description: "Despite burgeoning trade and cultural links, China and India remain fierce competitors in a world of global economic rebalancing, power shifts, resource scarcity, environmental degradation, and other transnational security threats. Mohan Malik explores this increasingly important and complex relationship, grounding his analysis in the history of the two countries.
"Malik describes a geopolitical rivalry underpinned by contrasting systems, values, and visions. His comparative analysis covers the broad spectrum of challenges that China and India face. Drawing on his extensive research and on-the-ground experience, he concludes with a discussion of alternative strategic futures for Sino-Indian relations."
The Risks of 'Disaster Nationalism' by Dr. Jeffrey Hornung was recently featured in the PACNET newsletter - http://bit.ly/nepGjr
Dr. Alex Vuving appeared on "Asia in Review" to discuss tension in the South China Sea. You can watch it online at: http://vimeo.com/26075959