Classical Conferences and Meetings in 2011
---
ICC—Illinois Classical Conference
October 7–9
University of Illinois
Champaign-Urbana, IL
Representatives: Don Sprague and Laurel De Vries
Presentation: "Visions of Vitruvius in the New World," Don Sprague
---
CAAS—Classical Association of the Atlantic States
October 13–15
Baltimore Marriott Hunt Valley
Hunt Valley, MD
Representative: Don Sprague
---
NYSAFLT - New York State Association of Foreign Language Teachers, Inc.
October 14-16, 2011
Rochester Riverside Convention Center
Rochester Hyatt Regency
Rochester, NY
Representatives: Drs. Lou and Marie Bolchazy
---
MaFLA - Massachusetts Foreign Language Teachers Association
44th Annual Conference
October 27–29, 2011
Sturbridge Host Hotel
Sturbridge, MA
Representative: Don Sprague
---
AIMS - Association of Independent Maryland Schools
October 31, 2011
Baltimore Convention Center
Baltimore, MD
Representative: Don Sprague
---
Other 2011 meetings will be announced in future issues.
Information taken from www.BOLCHAZY.com

Interesting Tidbits to Share
Never underestimate the powerful allure of the classical allusion.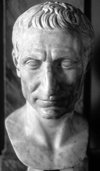 Check out the following Chicago Tribune piece about an art gallery in Chicago called Julius Caesar Gallery. Author Sean Francis deftly uses a set of classics-related terms in the course of his review and towards the end explains the genesis of the gallery's name.
Click here to read full story.
---


Images courtesy of Wikimedia.
Little did Mithridates know! Tradition holds that Mithridates the Great, king of Pontus, ordered his subjects to eat at least one fig a day to ward off disease. And, we now know that the fig provides 58% of the daily value of fiber; a cup of figs contains 63 fewer calories than a cup of raisins; and a study reports that high consumption of figs led to a 34% reduction in the incidence of postmenopausal breast cancer. Mithridates was indeed prescient!
(Source: Chicago Tribune 8/10/2011)
---
Kudos to Bradley and Boyd

Marie Carvahlo, classicist and director of the world languages program at Boston Latin Academy, offers a very positive review of A Vergil Workbook by Katherine Bradley and Barbara Weiden Boyd in the current ACL Newsletter. Carvahlo states, "The Vergil Workbook is unequivocally a 'must have' for the Latin (Vergil) teacher. It serves as a very useful tool for both the teacher and the student." To read the full review, check out
http://www.aclclassics.org/uploads/assets/files/vol33_3.pdf
Editor's Note: A comprehensive Teacher's Manual serves as an equally valuable resource for teachers, especially those newer to teaching Vergil or the AP* Vergil curriculum. The manual features:
• All-in-one teacher's manual includes the complete student workbook and provides answers immediately following each question
• Complete answers to exercises
• Salient points necessary for complete answers to the comprehension questions
• Rubrics for scoring translation exercises using the chunking method
• Comprehensive, customized grading guidelines using the six-to-one grading rubric
• Scansion passages show scansion marks according to the meter
A feature teachers especially welcome: four sight Latin passages with multiple choice questions (and an answer key), that help students' Latin reading comprehension. Teachers are welcome to reproduce these for their Vergil classes.
In issues this fall, eLitterae will highlight what Boyd and Bradley have in store for A Vergil Workbook, Second Edition and what Professor Boyd has done with the revised Vergil's Aeneid: Selected Readings from Books 1, 2, 4, and 6.

Upcoming Webinars August 23 and September 20
Kelly Northrup of the Webb School (Bell Buckle, Tennessee) has been using Latin for the New Millennium since its publication. An LNM enthusiast and frequent contributor to the LNM Teachers' Lounge, Kelly is a dynamic teacher and an inspiring webinar presenter. She is scheduled to give the following two webinars.
Implementing Latin for the New Millennium Levels 1 and 2 will be held Tuesday, August 23, 6–8 pm ET and will last approximately two hours.
Kelly will provide practical advice, suggestions, and tips for using the various components of Levels 1 & 2 of LNM. She will be happy to field questions from webinar participants.
Activities, Games, and Projects for Latin for the New Millennium Levels 1 and 2 will be held Tuesday, September 20, 6–7:30 pm ET and will last approximately ninety minutes.
Kelly will share with you activities that have been refined and adapted based on use in her classes. These games and activities stimulate student interaction with the Latin lessons they're learning. Kelly has coordinated these to supplement and complement Latin for the New Millennium.
All you need to participate in these webinars is high-speed Internet access, computer speakers/ headphones, and your access code, which we will provide to you once you register.
Rave Review for Latin for the New Millennium Webinars
"The webinars are such a gift, and it's so kind of members of the LNM community (whether at the publishing level as you are, or enthusiastic teachers as Ms. Northrup is) to give time and energy to producing them, my only response is to say thank you! In both cases, the webinars offered very good, very useful information and embodied such a great spirit of collegiality that I would only ask you to do what you can to encourage such activity to continue."
–Rodney Larsen (Two-time Webinar Participant)
Academy of the Holy Cross
Kensington, MD
For more information about and to register for free webinars click here

Bolchazy-Carducci textbooks are now available through Google and Xplana eBookstores, with more titles going digital every day! Each eBook offers a variety of tools to enhance the learning process, and eBook distributors are continually adding new features.
What do B-C eBooks currently offer?
eBooks have the same content as our traditional books in print, with these enhancements:

• Searchable

• Adjust text size, typeface, line space

• Free samples of books

• Worry-free archive

• Available on any computer with an internet connection

• Readable on:

- the web (via Windows or MAC computers)

- iPhone, iPad and iPod touch

- Android

- eBook Devices: Barnes & Noble Nook and Reader™ from Sony

Google ebook information: http://books.google.com/help/ebooks/overview.html

Google ebook store: http://books.google.com/ebooks

• Searchable

• Adjust text size, typeface, line space

•Add notes, customized highlights, and other annotations—all of which are added to the embedded annotation manager for convenient access

• Worry-free archive

• Available on any computer with an internet connection

• Readable on:

- the web (via Windows or MAC computers)

- tablet computers (any device that is Flash compatible)

Xplana ebook information: http://tinyurl.com/4qlyhye

Xplana ebook store: http://shop.xplana.com/

How do I purchase a B-C eBook?

Simple! When you are browsing through www.Bolchazy.com, any time you see Google or Xplana eBook logo, click on the logo, and you will automatically be directed to a webpage where you can purchase the eBook.

Can I purchase direct from the distributor?

Yes! If you prefer, you can link directly to our eBook providers' websites and search by title, by author, or by Bolchazy-Carducci Publishers to locate the title you would like to purchase. The Google ebooks store offers a preview of the book, including the table of contents and select pages.

What hardware is required?

You can read eBooks on a Mac, PC, iPhone, iPad, Android, or a variety of eReaders.

Illinois Classical Conference

ICC President and LNM 3 Consultant Becki Wick invites all Illinois classics teachers and colleagues from neighboring states to the upcoming annual meeting of the Illinois Classical Conference hosted by the University of Illinois, Champaign-Urbana, IL, October 7–9.
ICC has lined up Professor Lothar Haselberger, an architectural historian at the University of Pennsylvania, to give the keynote address on Saturday after lunch. Haselberger's specialties include the Temple of Apollo at Didyma and Augustan architecture with an emphasis on the Pantheon.
Bolchazy-Carducci
Links of Interest

Dr. Lou Bolchazy and editor intern Laurel DeVries have been busy putting the new Roman Calendar together. The calendar includes important dates in the Roman calendar as well as a saying from the wisdom of the ancients in Latin for each day. As Dr. Bolchazy is wont to proclaim, "An aphorism a day, reinforces Latin study by the way." The calendar is at the printers and will be mailed towards the end of August.
If you're not on our mailing list for the calendar, shoot us an email to info@bolchazy.com and give us your USPS address.
---
Preview Bolchazy-Carducci Titles
Preview Bolchazy-Carducci titles before you buy using Google Preview.
---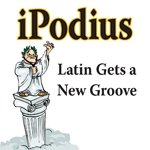 Downloadable Products
iPodius - Bolchazy-Carducci Publishers online shop for: audio, software, video, and a treasure trove of teacher created materials in the Agora.
---

BCP Facebook Fan Page
Become a FAN of Bolchazy-Carducci Publishers, visit our Facebook Fan page for the latest news from BCP.
Mea maxima culpa! I'm afraid I've been in "summer mode" with this newsletter. This July issue is coming to you in August and, thus, it's a July/August issue! As our students would say, "my bad." Please accept my apology.
For many a classics teacher and certainly for Bolchazy-Carducci Publishers, the annual American Classical League Institute heralds the summer season. As Marie Bolchazy's report notes, we were well represented. For the trip from Chicago to the Twin Cities, the prospect of enjoying dinner in the Amtrak dining car as the sun set over the Mississippi was too good to pass up. Sunset was, indeed, beautiful but the floods in North Dakota meant the dining cars were stranded in Seattle! Nonetheless, I enjoyed the journey north. I've always loved trains and come from a railroad family—my Dad was a conductor and my Mom a waitress in the dining car for the New York, New Haven, and Hartford.
New England beckoned in mid-July as I took some vacation time. The trip also afforded me the opportunity to make some Bolchazy-Carducci connections. While in Boston, I met my Boston College High School Greek teacher, Brian Donaher and his wife Marge for lunch. Brian just completed his fifty-first year teaching at BC High where he has mentored thousands of Greek and Latin students. On my way to a reunion in Hope, Maine with four BC High classmates (in our day, we all had to study three years of Latin or Greek and three years of a modern language) and our teacher/mentor, Rev. Richard Gross, SJ, I stopped at Bowdoin College and met Barbara Weiden Boyd and Katherine Bradley for lunch. It's always a treat to meet authors with whom you've exchanged so many emails and the occasional telephone call. Barbara and Katherine are revising A Vergil Workbook so that it meets the demands of the new AP* curriculum. We discussed reworking some of the lessons in the present text into sight passages for the second edition. I asked about providing more vocabulary assistance than the present frequency list from Pharr. Perhaps an electronic version of the full vocabulary? If you have an opinion on this, please email me at don@bolchazy.com. Katherine is composing some discussion questions for the Aeneid books students must read in English. Barbara has already submitted the manuscript for the new edition of her popular Vergil text, Vergil's Aenied: Selections from Books 1, 2, 4, 6, 10, & 12. (See below for more on A Vergil Workbook.)
Following lunch, I checked out the Bowdoin College Art Museum and its special exhibit of Edward Hopper paintings of Maine. The museum has a great collection for teaching including a good set of classical objects. A beautiful new addition serves as exhibit space for special shows. The Hopper show included some of his familiar images of Maine as well as a set of oil landscapes never before exhibited for the public. A luscious treat!
On my return to Massachusetts and a visit with my sister and her family in Mansfield, I stopped in Dover, New Hampshire. Liz Warren and her sixteen-month old grandson, Garrett, joined me so we could celebrate Liz's adoption of Latin for the New Millennium at her school St. Thomas Aquinas High School. Liz has had to teach from the same books for the past twelve years. She is really excited about working with LNM! Before heading back to Chicago, I had lunch with my Greek I teacher, Dean Nicastro, who taught at his alma mater, BC High. He majored in the classics at Harvard where he delivered the Latin address at commencement. After teaching, he went on to the law school and continues to practice part-time.
I hope the summer has provided you similar special experiences and that you kick off the new school year full of enthusiasm.
Don Sprague

64th Annual American Classical League Institute Report
As usual the American Classical League Conference, held in Minneapolis from June 25–27, was jam-packed with good sessions and events. Two of the six pre-Institute workshops topics were "Latin Prose Composition" led by Milena Minkova and Terence Tunberg and "Preparing to Teach the New AP Latin Course" led by Mary Pendergraft, who won a merita award (see photo), Robert Cape, and Dawn LaFon.
Bolchazy-Carducci had a large display—six tables of materials including Latin for the New Millennium, transitional Latin and Greek books, AP* books, the BC Latin Readers, and electronic products. Five representatives assisted: Lou & Marie Bolchazy, Don Sprague (editor), Laurel De Vries (editor intern), and Jody Cull (eLearning and production manager). The booth was busy, especially during the breaks, and there were times that all five of us were serving customers.
Father Reginald Foster was the star of the conference and gave two presentations including a packed plenary session. In the latter, attended by Lou Bolchazy, Father Foster used both major Latin pronunciations, which he alternated depending upon the text: restored classical pronunciation for the classical authors and continental liturgical pronunciation for Medieval and Renaissance authors. Lou welcomed Father Foster's use of transformational exercises and considered it to be a good imprimatur of Waldo Sweet's Artes Latinae.
In anticipation of having Caesar as an AP* author, Caesar presentations were a major focus. "Conquering and Creating Gaul: Caesar's Use of Geographical Description in the Bellum Gallicum" was the title of Debra Nousek's paper. Debra serves as coauthor of our A Caesar Workbook. She proved to be a dynamic and engaging speaker who made connections to the previous day's Caesar talk on the Julian Forum and to the talk on Aeneid 3, which preceded hers. Professor Nousek discussed the structure of the Bellum Gallicum, the role of geographic mastery as part of Roman ideology, and the programmatic nature of the opening chapters, where the reader is presented with a Gaul that already reflects Roman dominance. She highlighted the significance of Caesar's role as pontifex maximus and the art of bridging as an example of human will over natural environment. In all of Latin literature, the phrase faciendi pontem occurs 61 times, 27 of them in Caesar's Commentarii.
Of course, B-C had a Latin for the New Millennium panel, the title of which was "Effective Secondary Latin Materials in the LNM Corpus." Terry Tunberg, Milena Minkova, Rose Williams, and Don Sprague gave individual presentations. Professor Tunberg spoke about the aural/oral components, Professor Minkova showed representative exercises and discussed the type of learning each tested, Ms. Williams gave an overview of the enrichment texts and a general plug for the LNM difference. Mr. Sprague read Helena Dettmer's talk on LNM 3 as she had, unfortunately, taken ill. His piece of the presentation was providing an overview of the electronic resources of LNM. About 40 attendees at the session were engaged and asked good questions.
"Techno-Teaching: Practical & Manageable Online Resources" was the title of Anna Andresian's dynamite 90-minute presentation. She covered online dictionaries, grammars, the Latin Library, the Perseus Project, search tools, an online etymology dictionary, nodictionaries.com, and Google previews. Regarding B-C materials, she specifically covered Gildersleeve, Bennett's Latin Grammar, the iPodius site, Looking at Latin, and Rose Williams' I Am Reading Latin Stories (she truly plugged Rose's books). Her handout can be viewed at www.magistrula.com/techno.pdf. Her PDF link provides many free resources available to Latin teachers.
The banquet is always an ACL highlight. Merita awards were given to Mary Pendergraft of Wake Forest University, especially for her work on AP* Latin, and Rob Latousek of Centaur Systems. Also getting merita awards were Kris Tracy and David Volk. Stan Iverson, resplendent in a Roman toga, read the Latin "resolutions" (to which Terry Tunberg and Milena Minkova contributed their Latinitas expertise). We ended the delightful evening with a sing-a-long featuring Stan Farrow at the piano.
Marie Bolchazy

A Hearty Welcome to New Editor Dr. Buchholz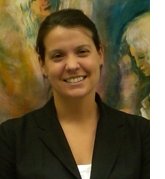 Bolchazy-Carducci Publishers is pleased to welcome Bridget Buchholz to the team as the higher-education editor. Bridget holds her PhD and MA from The Ohio State University and her BA from the University of Wisconsin, Madison. Bridget has taught at The Ohio State University and Ohio Wesleyan University. She has also worked extensively with high school students, both as a tutor to home-schooled students and as an instructor for the Johns Hopkins Center for Talented Youth. Some of Bridget's research interests are the Homeric Hymns, Lucretius, Ovid, and anything pertaining to ancient religions.
Despite being an avid Green Bay fan, Bridget is thrilled with her move to northern Illinois. Bridget enjoys playing tennis, softball, and ice hockey and she is eagerly awaiting winter for the lakes to freeze. Her two dogs, Carmichael and Lorna, love their new squirrel-filled yard.
Double Discount Specials for eLitterae Subscribers
20% discount for each title purchased individually. Purchase one of each title and we'll waive shipping and handling costs as well!
To Be a Roman is an indispensable resource for today's classroom. This workbook is filled with the latest information about the daily life of the ancient Romans. Ample exercises of both an objective and creative nature check students' understanding of the material.
The newly published Teacher's Guide is cross-referenced with the student text. It features:
Exercises reproduced in full from student text

Short answers for all objective exercises

Suggestions for responses to many of the more subjective exercises and activities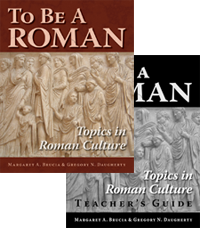 Margaret Brucia and Gregory Daugherty
Student text: viii + 155 pp. (2007) 8 1/2" x 11" Paperback
ISBN 978-0-86516-633-2 $29.00 $23.00
Teacher's Guide: 85 pp. (2007) 8 1/2" x 11" Paperback
ISBN 978-0-86516-652-3 $29.00 $23.00
One copy of each, prepaid, no returns, not available to distributors.
Offer expires 09/15/11
---
PRICE REDUCTION—For a Limited Time
August 17th to September 15th

Buy Bradley's Arnold in hard cover for the price of the paperback!
Put the sine qua non of Latin prose composition in your library—in beautiful hard cover. Bradley's Arnold is a must for any teacher's collection. This edition features updated terminology and is retypeset for ease of reading. Don't miss this chance to own a classic.
George Granville Bradley and Thomas Arnold
425 pp. (2005) 6" x 9"
Paperback, ISBN 978-0-86516-595-3 $43.00
Hardbound, ISBN 978-0-86516-660-8 $51.00 $43.00
One copy, prepaid, no returns, not available to distributors.
Offer expires 09/15/11
Make sure to mention that you are an eLitterae subscriber if you place your order by phone or fax. If you place your order via www.BOLCHAZY.com the eLitterae. the special offer pricing and free shipping offer will be charged at checkout.

With the return to school on the horizon, may we suggest an introduction to Roman education as a topic for returning students but especially for your new Latin I students.
We invite you to put together a mini-lecture drawing from Chapter 6: Roman Education of To Be a Roman by Margaret Brucia and Gregory Daugherty. Bolchazy-Carducci Publishers grants you this one-time opportunity to download and reproduce only the exercises for your students.
Click on these links to download Chapter 6 Lesson
Chapter 6 Student Text (pdf)
Chapter 6 Exercises (pdf) - this can be printed or student can complete on their computers and print with answers.
Insights on the Development of Latin for the New Millennium,
Level 3
Neo-Latin and conversational Latin guru, John Traupman PhD, serves as a special consultant for Latin for the New Millennium, Level 3. We depend on his expertise to ensure that the macrons in LNM 3 are consistently correct. So, as each author unit is completed, I send a hardcopy of the student version and the teacher's version to John who takes his red pen and carefully marks and/or corrects the macrons on the page. And, as you might expect, John also offers some comments on other aspects of the text. John then mails his marked copies back to us. I pass those on to our editorial intern Laurel DeVries whose attention to detail serves us well as she enters John's macrons into the electronic manuscript.
I thoroughly enjoy repartee with John in the course of this process. It is a genuine honor and privilege to work with a teacher and scholar of his stature. I am also humbled that a man of his seniority remains so devoted to advancing the cause of Latin and the classics.
Allow me to share some of Professor Traupman's academic experience and achievements with you. Armed with his BA from Moravian College, John headed to Princeton where he received his PhD in 1956. He began teaching at St. Joseph's University in Philadelphia in 1951 until retiring in 1989. He taught in the Graduate School at Villanova University from 1958 to 1963. Honors include St. Joseph University's Distinguished Teaching Award and a Faculty Merit Award for Research; two awards recognizing his professional service from the Classical Association of the Atlantic States; the Pennsylvania Department of Education's Certificate of Appreciation; and the Comenius Award from the Moravian Alumni Association.
Dr. Traupman has served as president of the Philadelphia Classical Society, the Pennsylvania Classical Association, and the Classical Association of the Atlantic States. He was a consultant for the Pennsylvania Department of Education, classics department chair at St. Joseph's for 32 years, and a member of ACTFL's Board of Reviewers for National Standards in Foreign Language. In his "retirement" years, Professor Traupman served for five years as Editor-in-Chief for Wimbledon Publishing Company of London, England.
And, Dr. Traupman is a prolific author—Bantam and Amsco's Latin-English Dictionary (1966, 3rd edition, 2007), German-English Dictionary (Bantam and Amsco, 1982), Latin Is Fun (Amsco, Book I, 1988; Book II, 1994), German Fundamentals (Barron's Educational Series, 1992), Lingua Latina (Amsco, Book I, 1998; Book II, 2000), Conversational Latin for Oral Proficiency: Phrase Book and Dictionary, Classical and Neo-Latin, 4th edition (Bolchazy-Carducci, 2007).
Thank you, Dr. Traupman, for lending your "macron magic" to Latin for the New Millennium, Level 3.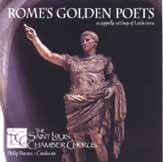 Audio Sampling of Rome's Golden Poets: A Capella Settings of Latin Verse
Check out the two tracks noted below. Students studying Catullus, Horace, and Vergil will enjoy hearing their poetry set to music.
Teachers using Latin for the New Millennium, Level 1 should share the choral version of Passer Mortuus Est with their classes. Students of Vergil will appreciate Josquin Des Prez's Fama, Malum as well as three versions of Dulces Exuviæ. Those studying Horace will appreciate Antonín Tucapsky's Nunc Est Bibendum.
With its chronological, cultural, and ethnic diversity of composers, this recording testifies to the timeless power of the Golden Age of Latin poetry. The St. Louis Chamber Chorus, under the direction of Philip Barnes, perform selections from Catullus, Vergil, and Horace from Odi et Amo to O Fons Bandusiae.
Philip Barnes brings to this recording his appreciation of both Latin poetry and choral music. A native of Great Britain, in 1988 he left London for St. Louis, where he was invited to chair the faculty of the Classics Department at John Burroughs School. In 1999 he relinquished the department chair following his appointment as the Johnston Endowed Chair in Classics. In Great Britain, Mr. Barnes was educated at the Manchester Grammar School and the University of Manchester (music); he also studied at Bristol University (classics) and King's College in London (education). He was a boy chorister at an early age, and as an adult sang with the cathedral choirs of Bristol, Hereford, and Wells. In London, he sang with numerous choruses, notably St. Margaret's - Westminster Abbey, the Consort of St. Martin's-in-the-fields, the Chapel Choir of the Tower of London, and he was also a frequent deputy at St. Paul's Cathedral.
From Horace:
Randall Thompson's Felices Ter
From Vergil:
Review of Rome's Golden Poets
There are some lovely musical discoveries waiting to be made on Rome's Golden Poets. The balance and tuning are generally excellent; the choice of subject matter refreshing, something different that's not already available in 10 different versions on major labels. Barnes' program notes are, as usual, well-written and informative.
–Sarah Bryan Miller,
St. Louis Post-Dispatch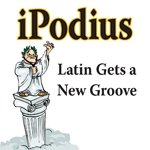 With iPodius, one can purchase downloads of single works.

LNM Level 2 introduces students to Thomas More, Henry VIII, and Tudor England—an historically significant and culturally rich period. A period and a king that have fascinated Hollywood and the film world.
The staying power of Henry's appeal is demonstrated in the Showtime series The Tudors with its four-season run and 38 episodes. Time April 2, 2007 presents an introduction to the series and to the 2003 film The Other Boleyn Girl. "Unlike the corpulent old Henry VIII many of us remember from our history textbooks, young Henry VIII lived a life that was positively high-def-TV-ready, one that could have spiced up 16th-century newsstands, had tabloid editors been around instead of Erasmus . . . For audiences who like their history juicy, relatable and full of comforting moral certainties—which is pretty much everybody without a PhD—there may be no better subject than young Henry. He was a rock star in a glittering, perilous age, an intellectually curious, athletic charmer who became a uxoricidal, paranoid turkey-leg chomper, pursuing a male heir through six wives. It's a wonder it took the entertainment industry so long to fully exploit him—and the other Tudors too—since the period was one of the most scandal plagued in British history."
So, load up your Netflix queue and lose yourself in the world of the Tudors. In retrospect, I should have presented this suggestion back in June as this is quite a filmography! May I invite you to pick a flick or two and offer your insights by posting in the LNM Teachers' Lounge? Let's make this a collaborative effort!

Listed below are the synopses provided by Netflix from whom one can rent the films. The synopses tend to repeat information but do communicate the differences among the films.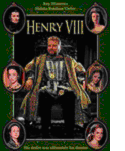 Henry VIII (2003) NR (two discs)
Desperate for a male heir, King Henry VIII (Ray Winstone) married then tossed aside a succession of wives, as illustrated in this two-part Emmy Award-winning television miniseries filled with sexual intrigue and twisted rivalries. Henry becomes increasingly ruthless—from snubbing the Catholic Church and creating the Church of England, to beheading several of his wives—in his obsessive quest for a son.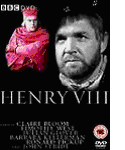 Henry VIII (1979) NR (166 minutes)
With his sights set on marrying the young and captivating Anne Boleyn (Barbara Kellerman), King Henry VIII (John Stride) attempts to take on the Catholic Church so he can divorce his current wife, Katharine of Aragon (Claire Bloom). Deception, betrayal and power fuel this critically acclaimed staging of William Shakespeare's last-known play, a production that was filmed on location in castles and estates throughout England.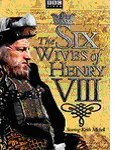 Masterpiece Theatre: The Six Wives of Henry VIII (1970) NR (four discs)
Starring Keith Michell in an Emmy- winning turn as King Henry VIII, this BBC historical drama recounts the lusty monarch's reign from 1509–47—and the sometimes-bloody splits from his unlucky wives. Assuming the throne of the House of Tudor as a strapping lad of 17, Henry inherits his brother's widow—the first in a succession of six women he would marry before injury, illness, and obesity led to his demise in 1547.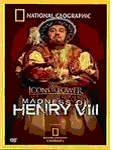 The Madness of Henry the VIII (2006) NR (88 minutes)
Experience the intriguing story of one of the world's most scandalous monarchs in this historical documentary from National Geographic. Expert commentary and historical records bring the Tudor king to life. Best known for his six marriages and "divorce" by execution, as well as for establishing the Church of England and separation of church and state, Henry VIII remains a fascinating figure with a reign mired in sexual and political intrigue.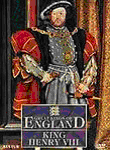 Great Kings of England: King Henry VIII (1994) NR (50 minutes)
Through dramatic re-creations and expert analysis, this fascinating documentary traces the life of King Henry VIII, the colorful monarch who ruled England and Ireland from 1509 until his death in 1547. Henry ruthlessly expanded the royal government's power, which he used to launch the country's Protestant Reformation after breaking with the Catholic Church. Famed for his marital problems, Henry wed six times, "divorcing" two wives via execution.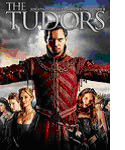 The Tudors (2007) TV-MA
Seasons 2007 through 2010
(hour episodes 10/10/8/10 per season)
All the splendor, romance, intrigue and scandal of England's 16th-century royal court come dramatically to life in this lushly adorned series that follows the reign of notorious Tudor monarch Henry VIII (Jonathan Rhys Meyers). Whether it's steering the fate of his country or bedding his most recent mistress, the charismatic king often lets his passions rule, making for one of the most tumultuous periods in the history of the throne.
The Other Boleyn Girl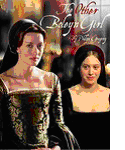 (2003) NR
(115 minutes)
Based on Philippa Gregory's best-selling novel, this largely improvised BBC production imagines the passion, rivalry and intrigue of two sisters—Anne (Jodhi May) and Mary (Natascha McElhone) Boleyn—vying for a spot beside King Henry VIII (Jared Harris). Henry takes the married Mary as his mistress, but soon casts her aside in favor of Anne, who struggles to produce a male heir to the throne. Philippa Lowthorpe directs.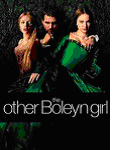 The Other Boleyn Girl (2008) PG-13
(90 minutes)
Director Justin Chadwick's opulent historical drama stars Natalie Portman as Anne Boleyn and Scarlett Johansson as her sister, Mary—both beautiful, ambitious and vying for the heart of powerful but intemperate King Henry VIII (Eric Bana). Though both women are the monarch's mistresses, only one can become his queen consort—but at what cost? The supporting cast includes Kristin Scott Thomas and Jim Sturgess.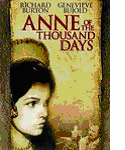 Anne of the Thousand Days (1969) PG
(146 minutes)
When King Henry VIII (Richard Burton) decides to divorce his first wife, Katherine of Aragon (Irene Papas), and marry the beautiful Anne Boleyn (Geneviève Bujold), he ignites religious and political drama that stretches from London all the way to Rome. This acclaimed film (which won an Oscar for Costume Design) focuses on the woman at the center of the affair to tell the story of one of the most dramatic chapters in English royal history.
In the next eLitterae, we'll provide a study guide for the film, A Man for All Seasons, which explores Thomas More's decision of conscience that alienated him from Henry VIII and led to his execution for treason.