August is vaccination awareness month. The goal of vaccination awareness month is to ensure all children are up to date on their vaccination schedules. Many parents ask me what vaccinations their children should have, whether they are safe, and whether their children are at risk if they don't receive the recommended vaccinations. There is no definitive answer to any of these questions. Many alternative health care doctors suggest avoiding or modifing vaccination schedules. Most conventional medical doctors insist that all children have the full amount of recommended vaccinations. In order to help you make the best decisions for your family we will review the facts.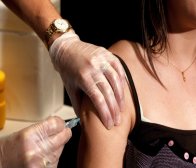 I have researched mortality rates of the common pathogens according to the Centers for Disease Control.
1. The latest statistics on the rotavirus infection show that 55,000 cases of hospitalized diarrhea were reported with less than 40 deaths.
2. One thousand diptheria cases are reported annually with a 5-10% mortality rate.
3. Before the Polio vaccine came out, there were 13,000 - 20,000 cases reported each year, and no current Polio cases have been reported since vaccinations efforts have started.
4. In 2008 there were 131 cases of measles reported with no deaths in the United States. Worldwide there were an estimated 900,000 deaths related to measles, most of which occured in countries not using the vaccine.
5. In 2010 there were 1,521 cases reported with 0 deaths. Most of these cases were in isolated communities on the east coast, and most cases were reported from immigrants who had not been vaccinated. On a side note, mumps can cause sterility in males.
6. In 2007 4519 cases of hepatitis B were reported in children. Twenty-five percent of infants who have the virus will become chronicaly infected and die prematurely from cirrhosis or liver cancer.
7. In 2010 there were 21,000 cases of Pertussis reported with 26 deaths. Of those 26 deaths, 22 of them were children under the age of 1 year. The number of infections have steadily risen since the 1980's despite the vaccinations starting in the 1920's. Currently, annually there are an estimated 295,000 deaths around the world with an infection rate of approximately 48 million.
8. From 2001 - 2008 there were 197 reported cases of tetanus infections in the U.S. An estimated 13% of these cases died from the infection, and an estimated 96% of these cases did not receive the vaccination.
9. Chicken pox death rates were reported from 1998 - 2001 as 14 deaths for every 1 million infected cases. The rates of infection and death have decreased over the last few decades.
10. In 2007 57,000 total deaths were reported as being caused or complicated by pneumonia or influenza. The ages ranged from infants to the elderly. The statistics did not list how many people who died from these two infections had been vaccinated.
Are vaccinations safe? Only you can decide. Evaluate the number of infections compared to the rates of death. Many other developed countries who do not receive vaccinations have similiar infection and mortality rates for the infections listed above. If you are not going to have traditional vaccinations, you might want to consider visiting Dr. Pederson in order to develop an antioxidant supplementation plan so that your immune system will have a fighting chance.