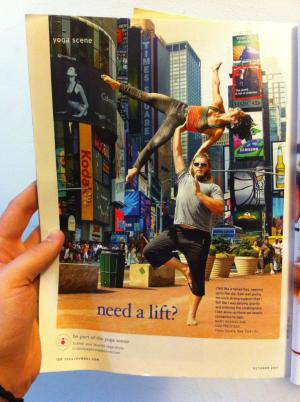 "Flag Me" - If You Can!
As I write this, I am packing to go teach yet another 4-day Restorative teacher training for YogaFit, this time in Melville Long Island. It is good that it is close to home, since my hubby is in rehearsals for yet another "Miss Saigon," this time in Maine. As I write and pack, simultaneously I am cooking dinner for my son before I go, and juicing fresh veggie essence to take with me for superfood!

Yes, it can be hard to flag me down. Here is the October Yoga Journal issue out on newsstands now through this month! My buddy Sam does indeed look "non-chalant, like he has people growing out of his arm all the time" as a student says.

After 40 minutes' phone interview with Yoga Journal they chose their quotes. I think I was prompted for the word "alone"; my own sense was much more "free, in my own space" than that word suggests.

Anyway, here is a quick update of all the exciting events upcoming; I'm working to keep the Acro events at sidebar right, for those folks to glance there quickly for the exciting events near and far fast upcoming!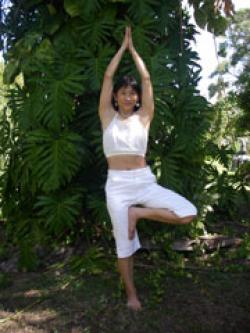 Caribbean Flow 'N Fly Retreat January
I'm flying to St. Lucia, Caribbean Islands on the January 12-15 long weekend, for sunshine, snorkeling, kayaking... and you are invited to come and do some yoga with me!

I've held two prior retreats on St. Lucia. The last one was also at Harmony, this delightful little boutique hotel centrally located in the northern Rodney Bay area of the island.

Early bird discount of $100 before October 15th, and a discount of $25 each applies if you register with a friend. See link for full details and the very affordable price for some winter tropical paradise time!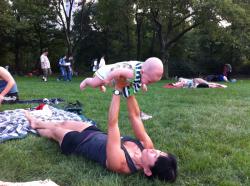 Fall/Winter Schedule
In a snapshot, here is what I am up to this September, October, and November, and a peek up ahead.

Pure Yoga Classes:

M-10:30 Slow Flow Meditation, East
M-6:15PM Chakra Slow Flow, West
T-12:30 Restorative, East
Th-11 Yin/Yang, West
Th-5:30 Vinyasa, East (starts 10/13)
Th-8PM Restorative, West
F-10:30AM Chakra Slow Flow, West
F-5:30 Restorative, East

Sept Events:
*YogaFit Restorative Training, 9/15-18, LI
*YogaFit Acro Workshop, 9/17, LI
*September Sweetness Acro 9/25, YogaWorks SoHo

Oct Events:
*3-week Thur Acro Intermed-Advanced series
*10/15 Early bird deadline January Retreat
*New Vinyasa class Pure East Thur 5:30

Nov/Dec Events:
*2-Hour Restorative Workshop, Pure, TBA

Jan Events:
*Caribbean Retreat 1/12-1/15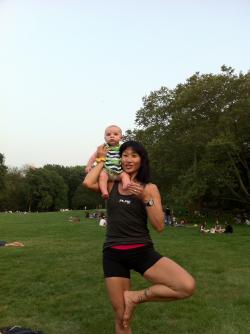 Photos; Forward; Reply
Thanks this issue for photos to photographers: Michael Sivanataraj St. Cole, Aranka Israni, Raul Aranas, Karen Lee, Jake Brenner; AcroYoga Festival.

And to photo models: Sam Prestidge, Chris Loebsack, Matt Giordano, and this adorable little Bodhi Ames, courtesy of AcroYogini Mama Sandy Ames.

In case you do not notice it, little Bodhi and I are practising our version of the same Butterfly in Tree pose that got me and Sam Prestidge onto the back page of Yoga Journal.

As always, please forward to friends you think may enjoy this cyber sangha. I welcome replies, and you may unsubscribe anytime by writing to me. I honor your email privacy and do not share email lists.

Maha shanti!

Much blessedness and peace to you.

Mary



Divine Play: Early Bird TODAY
Divine Play is a wonderful annual AcroYoga Festival that began last October, and will be even more spectacular this year, including a "beginner's track" to especially welcome all people entering the practice for the first time.

I will be teaching a basics Acrobatic class with Matt Giordano and an "Un, Deux, Trois" Thai Massage for one, two, and three class with Lila Donnolo and Daniel Scott Spampinato. But there are literally dozens and dozens of exciting classes, for beginners and for advanced practitioners, in all three areas of: Thai Massage, Yoga, and Acrobatics!

Tonight 9/14 until midnight is the Early Bird registration deadline!!! But - you can totally register right up until the dates of the Festival. Hope to see you there!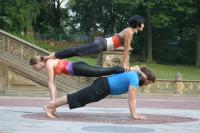 Two AcroYoga 101 Workshops
I remember my first AcroYoga Fundamentals workshop: November 2007 at Om Factory on a Friday night. It transformed my life and has turbo boosted the joy quotient in my teaching and my practice on innumerable levels ever since. So I am happy to offer frequent Foundations workshops. Two upcoming in the NYC area are:

This Sat. 9/17 in Melville, NY at the Hilton, 7:15-9:30PM; it is open to the public as well as to YogaFit trainees and trainers. See links below for more details and location.

Sunday 9/25 at YogaWorks SoHo, "September Sweetness" is a three-hour foundations delight, assisted by my own two beautiful gals Taylor and Bianca and other pals.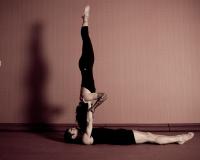 Oct: Acrobatics Series
Intermediate AcroYogis will want to train & hone their flying and basing skills with me and Matt Giordano in this 3-week Thursday October series. It runs Oct. 13, 20, 27 and culminates in a special flow we've created to include all the required entry elements for the November Advanced AcroGasm weekend, plus some sweet transitions we've used to meld them into an Acro4Play Flow! See link for pre-reqs and great prices.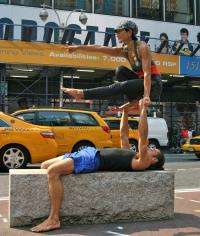 November: AcroGasm
I am a participant in this Advanced weekend, not a teacher! Lux of SeattleAcro, and Jason & Chelsey Magness of YogaSlackers are three stellar acrobatic AcroYoga teachers and creators. They kick off a 6-city acrobatic tour here in New York, Nov. 11-13 weekend. All serious acrobatic playmates are there, or are square!

i'm so dedicated to us learning from these three wonderful teachers, I created my October 3-week series just to prepare us all for this training!