"There comes a time…"
There comes a time when you need to take a stand. When sending letters and signing petitions isn't enough. When together we must say, "enough is enough — not on our watch".
That time is now. We must act together for the health of our planet, our air, our water, our climate, and our children.
On September 26
th
we need you to come to Ottawa to join a historic action to oppose the tar sands. In a large peaceful protest, many will be risking arrest to tell the Harper governmentthat we don't support his reckless agenda; that we want to turn away from the toxic tar sands industry; and that we oppose the direction he's taking this country.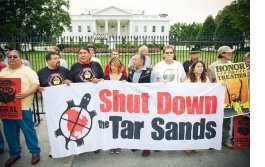 In the U.S., people by the thousands are taking a stand. From Aug 20th to Sept. 3rd, thousands are pledging to risk arrest in daily acts of civil disobedience to convince President Obama to reject the Keystone XL pipeline that would bring dirty tar sands oil to the U.S. On September 26
th
, we will stand up to Prime Minister Harper to pressure him to stem the tar sands industry at its source.
Tar sands mining and other extreme forms of energy extraction like Arctic drilling, shale fracking, and nuclear power generation send us in the exact opposite direction that we, as a civilization, must go to ensure global survival. If we burn the tar sands, we blot our nation's reputation; if we leave that carbon in the ground, we'll do the world an enormous favour.
On September 26
th
we are asking you to come to Ottawa to participate in one of the largest acts of civil disobedience on the climate issue that Canada has ever seen.
Be a part of turning Canada away from the toxic tar sands industry. Help forge the future we all want to live in.
If you are interested and willing to take action email
ottawaaction@gmail.com
or go to
www.ottawaaction.ca
to sign-up today.
It will be a powerful day, and more powerful if you're a part of it.
Sincerely,
The Council of Canadians
Greenpeace Canada
Indigenous Environmental Network (IEN)
Organizational Endorsers:
First Nations Endorsers:
Unis'tot'en Nations
Yankton Sioux Tribe
Yinka Dene Alliance
Individual & Celebrity Endorsers:
Bill McKibben – Writer, Environmentalist, Founder of 350.org
Bruce Cox – Executive Director, Greenpeace Canada
Clayton Ruby – Criminal Lawyer and Member of the Order of Canada
Dr. Danny Harvey – University of Toronto Professor and Lead Author, Intergovernmental Panel on Climate Change (IPCC)
Dave Bidini – Canadian Musician & Author, Rheostatics, BediniBand, DaveBedini.ca
Dave Thomas– Actor, Writer, Producer, Hoser Doug Mckenzie, SCTV
George Poitras – Mikisew Cree Indigenous First Nation
Gordon Laxer– Professor of Political Economy
Gordon Pinsent– Elder Statesman of Canadian Theatre, Away From Her, Due South
Graeme Gibson – Author and Member of the Order of Canada
Graham Greene– Actor, The Green Mile, Dances with Wolves, Die Hard with a Vengence
Hart Bochnar– Actor, Die Hard
James Biggar – Executive Director, LeadNow.ca
James Hansen– Internationally renown Climate Scientist
James Kamau – Director, Youth Initiative Canada (YIC)
John O'Connor – Medical Doctor
Joseph B. Uehlein– Labor Organizer and Environmentalist
Judy Rebick– Journalist, Political Activist and Feminist.
Kai Nagata– Ex-CTV Bureau Chief and journalist
Kate Vernon– Actress, Battlestar Galactica
Maude Barlow – Chair, Council of Canadians
Mia Kirshner– Actress, The L World, The Black Dahlia, 24, Vampire Diaries
Naomi Klein– Author and Journalist
Peter Keleghan – Actor, 18 to Life, The Newsroom, PolluterHarmony.ca
Shirley Douglas– Canadian television, film and stage Actress and Activist
Tahmoh Penikett– Actress, Battlestar Galactica, Smallville
Tantoo Cardinal – Actress, Dances with Wolves, Member of the Order of Canada
Tom Goldtooth – Director, Indigenous Environmental Network (IEN)
Tony Clarke – Author and Director of the Polaris Institute
Tzeporah Berman– Canadian Author and Activist
♦ Dene Nation to participate in ottawa protests
For Immediate Release
September 22nd, 2011
Yellowknife, NT
The Dene Nation is supporting a day of civil disobedience and protests in Ottawa next week as part of its ongoing opposition to the proposed Keystone XL pipeline. Dene National Chief Bill Erasmus will be there to participate in the protests and to make sure the views of Dene are represented.
On Monday, hundreds of people will flood Parliament Hill to demand a future free of the destructive Alberta tar sands. Many of them will enter the Parliament building and risk arrest by staging a sit-in in protest of the proposed Keystone XL pipeline that, if built, will carry tar sands crude to refineries in the southern United States.
"This is part of ongoing activity that is directly related to opposition of the tar sands," Erasmus said. "From northern Alberta to the Arctic Ocean, our communities are directly downstream from tar sands developments. Water pollution and climate changing greenhouse gases from the tar sands are impacting our rights - protected under Treaty 8 and Treaty 11 - to hunt, trap, and fish as we always have on our land.
The Keystone XL pipeline expansion would facilitate a huge increase in tar sands expansion, and this pipeline must be stopped." Continue reading.
This summer, 11 veteran U.S. and Canadian scientists and environmentalists — Tom Goldtooth, Maude Barlow, Wendell Berry, Danny Glover, James Hansen, Wes Jackson, Naomi Klein, Bill McKibben, George Poitras, David Suzuki, and Gus Speth — issued a continental call-out. The call was for people right across the U.S. to come to Washington D.C. and join in two weeks of non-violent civil disobedience actions to try to stop the massive tar sands Keystone XL pipeline. The response has been overwhelming.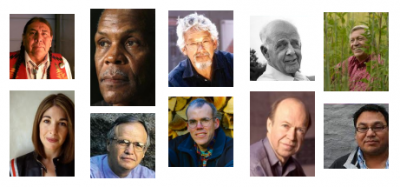 Knowing the horrific impacts a mega-pipeline from the tar sands in Alberta to refineries in the U.S. gulf coast would pose to communities, waterways, ecosystems and the planet, people are signing up by the thousands. They are pledging to risk arrest to draw a line in the sand and say "no." They'll deliver that message by daily risking arrest until the project is stopped.
On September 26th, we have a chance to match their courage and do the same in Ottawa.
If you are interested and willing to take action email ottawaaction@gmail.com or go to www.ottawaaction.ca
to sign-up today.
Opposition to the tar sands is becoming an international effort

Drum circles pound a steady beat and the PA howls as hundreds of dancers bob and duck in rhythm, as beads and neon swirl in colourful Aboriginal costume. Swept into the middle of the churning mass are a handful of pale British youth.
It's July 2 at the Beaver Lake Cree Nation Pow Wow, about a two-hour drive north of Edmonton, and those visitors are environmental activists from a UK group called People & Planet. They've travelled from London to Lac La Biche, Alberta as part of an international anti-tar sands campaign. "We were surprised when we came into Alberta, how based around oil it was," said 21-year-old Becca Hemmant from Bangor University. "In Edmonton, the first thing we saw were big signs saying: 'Welcome to Oil Country' and 'We Support Big Oil.'"
The dozen-strong group of students, campaigners and filmmakers were invited to visit Beaver Lake Cree Nation by former chief Al Lameman. The Beaver Lake Cree currently have a massive civil lawsuit against the governments of Alberta and Canada arguing that unchecked oil and gas developments are destroying their ability to hunt, trap and fish on their traditional land—which they say is a violation of century-old treaty rights. Read more.
September 2011
Tribal Government Chairs and Presidents, Traditional Treaty Councils, and US property owners, with First Nation Chiefs of Canada, impacted by TransCanada's proposed Keystone XL tar sands pipeline and tar sands development present at the Rosebud Sioux Tribe Emergency Summit, September 15-16, 2011, on the protection of Mother Earth and Treaty Territories:
Recognizingthat TransCanada's proposed Keystone XL pipeline would stretch 1,980 miles, from Hardisty, Alberta, Canada to Nederland, Texas, carrying up to 900,000 barrels per day of tar sands crude oil, which would drive additional tar sands production;
Recognizing the existing resolutions and letters in opposition to the Keystone XL pipeline;
Guided by the principles of traditional indigenous knowledge, spiritual values, and respectful use of the land;
Affirming our responsibility to protect and preserve for our descendants, the inherent sovereign rights of our Indigenous Nations, the rights of property owners, and all inherent human rights;
Affirming our Indigenous view that the Earth is our true mother, our grandmother who gives birth to us and maintains all life;
Recognizing that the tar sands in northern Alberta, Canada is one of the largest remaining deposits of unconventional oil in the world, containing approximately 2 trillion barrels, and there are plans for a massive expansion of development that would ultimately destroy an area larger than the state of Florida;
♦ Making 'cents' of the tar sands
What do these three things have in common: wolves, water and wealth? Depending on your perspective, the first two are expendable if they get in the way of the third. For those heavily invested in Alberta's tar sands, myopia creates a dollar sign imprinted on the landscape that obliterates the view to the inherent value of what lives or exists there.
The latest casualty is about to become the packs of wolves that roam northern Alberta. After Canada was pushed to protect the endangered woodland caribou herds by a legal action brought forward by Beaver Lake Cree Nation, Enoch Cree First Nation and Athabasca Chipewyan First Nation (sponsored by RAVEN), it came up with a draft plan that is, in a word, appalling. The 'recovery' plan consists of killings thousands of wolves, with absolutely no thinking about protection or enhancement of caribou habitat. Nope. Just kill all the wolves. That, says Minister Peter Kent, will ensure the numbers of the fragile herds don't drop any further.
Of course, there is no science to support that. In fact, available science – of the kind that was supplied by Dr. Stan Boutin in his thorough study of woodland caribou and the risks posed by the tar sands industries – states quite the opposite. Without habitat – lots of it – the caribou face regional extinction in a couple of decades. But money talks – and what it says to the minister and all those involved is that there is 'bubbling crude" under that habitat. Oil, that is. Black gold. Texas tea.
Sunday September 25 Training will run from 1pm to 8pm on Sunday, September 25
at 55 Laurier Ave. E., at The University of Ottawa, Building Desmarais (DMS), 1st floor, Room 1160.
Please plan to arrive in Ottawa by the evening of the 24th or the morning of the 25th for the training.
It is mandatory that everyone attend this training. This won't be like every other rally you've attended. Because we are dealing with an arrestable situation it is incredibly important that everyone is on the same page, understands the action, legal consequences and the basics of non-violent direct action.
One person's action out of line can jeopardize everyone else. In addition to the safety reasons the training will be crucial for building group solidarity and trust for the action. We can look at this as a fantastic opportunity to build community and solidarity for the climate movement :)
If, for some reason you absolutely cannot attend the training you must email us in advance at ottawaaction@gmail.com
so that we can make other arrangements.
Monday September 26
We will be meeting at 10am at the Centennial Flame on Parliament Hill. Please don't be late, final instructions for the sit-in will be shared at the solidarity rally.
Solidarity Rally: There will be a solidarity rally at the Centennial Flame on Parliament Hill at 10:00am. There will be statements from a ranges of speakers and an opportunity to support sit-in participants. This is a rally that is intended for broader participation and not include the risk of arrest.
♦ Endorsing Mass Civil Disobedience Action
September 21, 2011 (Ottawa, ON) – Canadian First Nations, American Indian Tribes, Territorial, Provincial and Federal First Nations Governments and Advocacy groups have added their support for a rally featuring a civil disobedience sit-in against the tar sands on September 26 in Ottawa.
"Current operations in the tar sands are violating our human and constitutionally protected treaty rights.
Our community is currently in court with some of these companies and plan to oppose any and all future development with similar legal action," said Lionel Lepine of Athabasca Chipewyan First Nation "We demand free, prior and informed consent for development in our traditional territories as recognized by the United Nations Declaration on the Rights of Indigenous Peoples." Read more.
♦ DENE NATION BECOMES PART OF INTERNATIONAL ACCORD
DENE NATION BECOMES PART OF INTERNATIONAL ACCORD OPPOSED TO KEYSTONE XL PIPELINE
The Dene Nation has helped prepare an accord opposing the Keystone XL pipeline with First Nations, tribal leaders, and property owners in the United States and Canada. The accord was agreed to at a meeting on the Rosebud Sioux reservation in South Dakota last week, and is the latest in a serious of coordinated actions between different entities with diverse interests opposing the pipeline. Read more.