WE JUKE UP IN HERE DVD/CD WEB PRE-ORDERS CONTINUE... CHECK OUT ON-LINE PREVIEW!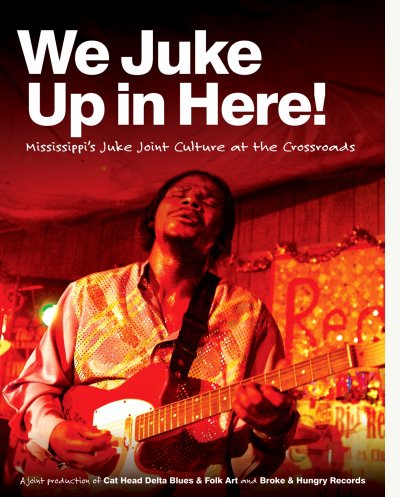 PRE-ORDER DVD/CD SET TODAY: Go to our official film web site www.wejukeupinhere.com to view the FIRST VIDEO TRAILER, read about the project and PRE-ORDER NOW for this April 2012 DVD/CD release.
Pre-orders will ship first with retail store distribution coming later. Be the first to get WE JUKE UP IN HERE, and we pay the shipping (even internationally!!). Beside that, our post-release retail will likely be a touch higher than our pre-order price, so why wait? Besides, your pre-order will help us finish the new blues film.
UPDATES ON MOVIE FRONT: Back in August, we added bluesmen Elmo Williams, Hezekiah Early and Lil' Poochie to our growing movie roster.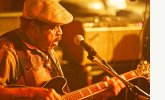 We filmed their truly excellent performances at Red's Lounge during Sunflower River Blues Fest week. As you may recall, we filmed Louis "Gearshifter" Youngblood and Anthony "Big A" Sherrod back in June (and guess what... we're filming a couple more juke joint legends this week at Red's...).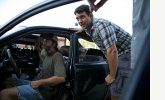 We plan to wrap up filming in November. Then, we'll be onto the editing process in preparation for our April premiere and release. Pre-order the DVD/CD set today... It's comin' soon!
ABOUT THE MOVIE: We Juke Up In Here is a new film and music project from the makers of the award-winning blues movie M for Mississippi. We Juke Up In Here follows producers Jeff Konkel and Roger Stolle as they explore what remains of Mississippi's once-thriving juke joint culture. The film is told largely from the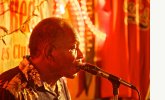 vantage point of Red Paden, proprietor of the legendary Red's Lounge in historic Clarksdale, Mississippi. Paden, a true Delta character and jack-of-all-trades, has been running his blues and beer joint for more than 30 years – providing one of the region's most reliable live blues venues and an authentic stage for a cavalcade of veteran blues performers, both legendary and obscure. Told through live music performances, character-driven interviews and rare on-camera blues experiences, viewers are taken below the surface of the quasi-legal world of real Delta jukes – while it's still living and breathing.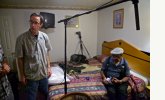 Mississippi's juke joint culture may be at a crossroads, but as Red likes to say, "The Game's for life . . . and that's for damn sure!" We Juke Up In Here is a joint production of Broke & Hungry Records and Cat Head Delta Blues & Folk Art.
FILM/CD PRODUCTION TEAM: Talented M for Mississippi film/soundtrack alumni Damien Blaylock and Bill Abel also return for the new film (as director of videography and chief recording engineer, respectively); also on board this time around is photo-videographer Lou Bopp (his on-location film production photos from August at are featured above; note Abel's mobile recording car).
MARKETING SPONSORS AND PARTNERS:
Current marketing sponsors include...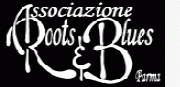 Our chief partner, principal sponsor and European distribution partner is the Rootsway Roots & Blues Association (www.rootsandblues.org), a nonprofit organization from Parma, Italy. Founded in 2004, the group is dedicated to promoting rural and indigenous American and African-American musical art forms throughout northern Italy. The Roots & Blues Association has brought several Mississippi blues performers to Italy in recent years and was a partner on M for Mississippi.

Other sponsors include Nayati Dreams (www.nayatidreams.fr), Cathead Vodka (www.catheadvodka.com),

Lemuria Books (www.lemuriabooks.com), Jeff Rose (ajstephans@verizon.net) and Jerry & Marge Konkel. Thanks y'all!
SPONSORSHIP OPPORTUNITIES STILL AVAILABLE: For marketing sponsorship information, please contact either Roger Stolle (roger@cathead.biz) or Jeff Konkel (jeff@brokeandhungryrecords.com) for basic sponsorship options or to discuss a special sponsor package that addresses your unique promotional needs. ASK ABOUT SPECIAL "WORLD PREMIERE" SPONSORSHIP OPPORTUNITIES coming soon!

UPDATES ON HIDDEN HISTORY OF MISSISSIPPI BLUES BOOK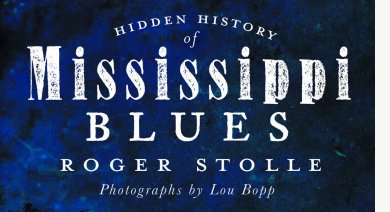 (CAT HEAD NOTE: Pardon my shameless, ongoing self-promotion of the book. Hey... somebody's gotta do it! -- Roger)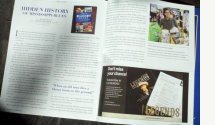 NEW REVIEW IN MISSISSIPPI LEGENDS MAGAZINE BY BILLY HOWELL: "If you don't know a lot about blues music and the Delta musicians who birthed it, lived it and kept it alive - in spite of the more popular modern American musical genres spawned from it - then 'Hidden History' can rectify that in as little as 119 pages of easy-to-understand text. Roger Stolle, a transplanted Mississippian, and owner of Cat Head Delta Blues & Folk Art in Clarksdale, has penned a short, well-articulated portrayal of the blues and the Delta musicians for whom it was and still is a way of life. … Stolle fulfills his aim to introduce new fans to blues history, revive the passion for blues in those already acquainted with it, and to have fun doing it. The book is segmented into seven chapters and one of the calling cards for Mississippians and Mississippi appreciators interested in the blues is Stolle's balanced approach in analyzing cause and effect without disparaging the haves or the have-nots. Stolle allows the lives and the music to enjoy center stage. … 'Hidden History' provides a fun and informative romp in a figurative cotton field replete with anecdotal stories, authentic lyrics, great photography by Lou Bopp, and some insight into the hard times that birthed a form of music responsible for just about everything heard musically in America and often around the world today." (TO READ MORE THAN THE EXCERPT ABOVE, PLEASE GO TO http://mississippilegends.com/articles/hidden-history-of-mississippi-blues
THANKS TO ITALY'S WONDERFUL 'IL BLUES' MAGAZINE FOR THE 4-PAGE COVER STORY ON THE NEW BOOK! VERY COOL...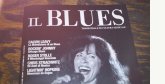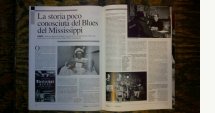 NEXT BOOK SIGNING IS THIS WEDNESDAY EVENING AT WORLD-FAMOUS DELTA BLUES MUSEUM IN CLARKSDALE: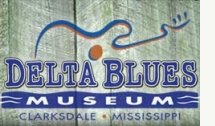 Join me us this Wednesday, October 5th from 5pm to 7pm at the Delta Blues Museum in Clarksdale to here me (Roger) talk about the new blues book (and maybe read a bit from it) and enjoy complimentary drinks/appetizers and live blues by Anthony "Big A" Sherrod. Thanks to Shelley Ritter and her fine team for graciously hosting the event. If you can't be there, I'll betcha the museum would still take your book order by phone, and I can just sign/personalize your copy that night. Hope to see some of y'all there. BTW, there's plenty of live blues that night in Clarksdale as well, so stick around afterwards and have some fun.

OR... IF YOU CAN'T MAKE IT 'HERE' FOR A SIGNING... Please

just log on to my new Cat Head web store at http://www.cathead.biz and buy it securely 24/7; include a note, and I can personalize your copy. Or, if you're an old-school, non-web customer, you can just call me at my Cat Head blues store during regular biz hours (662-624-5992), and order the book ($19.99 plus $5 domestic s/h). I'll be happy to deface it with a personalized signature! Thanks, by the way, to everyone who has bought the book; I appreciate all the nice emails, too. Thanks, Roger

VISIT THE WORLD-FAMOUS 'DELTA BLUES MUSEUM' IN CLARKSDALE, MISSISSIPPI...
DELTA BOHEMIAN.COM COVERS CLARSKDALE SCENE & MORE (subscribe today for all their updates, blogs, etc.)...
MEET THE DELTA BOHEMIANS: Billy and Madge of DeltaBohemian.com provide multimedia coverage of all things Delta and most things bohemian. Check out their web site full of blogs, photos, info and more. You can subscribe to their email list for free. www.deltabohemian.com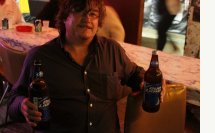 CHECK OUT PO MONKEY'S JUKE JOINT & CLARKSDALE HUMMINGBIRD PARTY SLIDE SHOW... To the left, DB's Billy Howell shows how Po Mky's Lounge customers drink (ie. two-fisted and livin' large). See the rest of the photos at the link below. You'll also find a short video and some upcoming events y'all may wanna see... http://www.deltabohemian.com/play-weekend-posted-92211/#comment-7530
PS - Billy is also your friendly host at the Clark House in Cdale!
STAY AT THE CLARK HOUSE RESIDENTIAL INN IN HISTORIC CLARKSDALE, MISSISSIPPI -- note there are new vacancies for this fest weekend!!!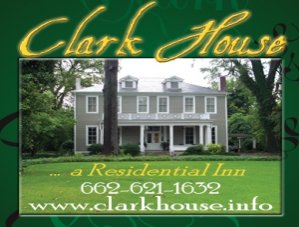 THE CLARK HOUSE RESIDENTIAL INN -- AFFORDABLE COMFORT AND CONVENIENCE IN CLARKSDALE, MISS.
The Clark House is your comfortable alternative to motels. Located in the beautiful residential section of the Clarksdale Historic District -- just three blocks from the center of downtown's government, business and entertainment center. Rooms from $75, each with private bath, desk and sitting area, including internet access and continental breakfast.
Originally constructed in 1859 by Clarksdale founder John Clark. It was the first home built in Clarksdale, and is listed on the National Register of Historic Places. The Clark House has just been extensively refurbished and beautifully redecorated as a residential inn.
Reservations can be made online at http://www.clarkhouse.info or by calling the Innkeeper at 662-621-1632.
THEO D. AND THE 'ROCK & BLUES MUSEUM' -- SUBJECTS OF NEW DUTCH DOCUMENTARY FILM THIS WEEK IN C'DALE...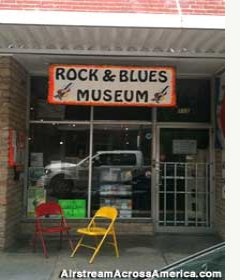 BREAKING NEWS FROM THEO DASBACH VIA VOLUNTEER PUBLICIST SHELLEY RICKER...
HAMBONE ART AND MUSIC GALLERY
111 E. Second - Downtown Clarksdale... Tuesday, October 4, 8:00 PM - 11 PM
Delta Dutch Boogieman Theo D will be performing on the electric keyboard
Dutch film makers will be filming for a documentary!
Second Street Blues Party
Rock & Blues Museum
113 E. 2nd Street Downtown Clarksdale, MS
Saturday, Oct. 8 - 11 AM - 3:30 PM
Sunday, Oct. 9 - 10 AM - 3:30 PM
Free! Bring your folding chair and ENJOY!
Saturday Line-Up:
11 AM - Delta Dutch Boogieman Theo D on the keyboard
12 noon - Selwyn Cooper Band from Louisiana
1 PM - Bill "Howl-N-Madd" Perry
2 PM - Stan Street Trio
3 PM - Carlos Elliot, Jr. Happiest Days Blues Band from Colombia, South America!
Sunday Line-Up
10 AM - Carlos Elliot, Jr.
11 AM - Daddy Rick
12 noon - Selwyn Cooper
1 PM - Mississippi Rose Lee
1:45 PM - Deak Harp
2:30 PM - Stan Street Trio
This is a free festival. Musicians donate their talent and time to perform for the love of the music. Admission to this part of the festival is free. Any and all donations to the musicians are appreciated. Many of the performers will have CDs for sale and they are always most
happy to sign them for you!
THE DEN
220 Yazoo - Downtown Clarksdale
Saturday, October 8, 7:30 PM until ?
$5 Donation at the door
Mississippi Blues Legend T-Model Ford will perform along with Selwyn Cooper Band, Theo D, David Raye, David Summers, Liz Mandeville and Carlos Elliot Happiest Day Blues Band from Colombia South America.
SPECIAL NOTE: A Dutch film crew will be filming all of the above performances for a Dutch blues documentary with an international flair!
These events sponsored by the Rock & Blues Museum, a 501 (c)(3) not for profit organization, 113 E. Second Street in Downtown Clarksdale, MS
ROCK & BLUES MUSEUM
113 East 2nd Steet, Clarksdale, Mississippi 38614. Go to blues2rock.com for hours & more.

JUST CAN'T WAIT FOR 'CAT HEAD UPDATE'? JOIN US ON FACEBOOK FOR MORE UP-TO-DATE UPDATES...

SOCIAL NETWORKING WITH CAT HEAD ON THE WORLD WIDE WEB
Through the magic of lasers and extension cords, you can join Cat Head (o.k... it's actually under the name of owner "Roger Stolle" if you're searching for it) on that big 'n fancy Facebook thingie. The Stolle/Cat Head Facebook page provides photos, blogs, press releases, event info, etc. in a much more regular way than the sporadic (if hopefully quite in-depth) Cat Head Update e-newsletter. "Friend" us and see watcha think. Thanks so much. Also, feel free to share your own blues or Mississippi news via Facebook. Hope to see y'all floating out in cyberspace!
HERE'S A LINK TO MY FACEBOOK PAGE:http://www.facebook.com/profile.php?id=668255573
'THE LOFTS AT THE FIVE & DIME' LUXURY CONDOS IN CLARKSDALE, MISSISSIPPI -- note there are new vacancies for this fest weekend!!!
THE LOFTS AT THE FIVE & DIME ARE OPEN FOR BUSINESS
One of the newest places to stay in downtown Clarksdale, Mississippi, is also one of the most luxurious and updated -- with master suites, full kitchens, wi-fi, flat screen TVs (w/cable and DVD player) and much more. Check out the room photos at www.fiveanddimelofts.com. Then, plan to make the most of your next Delta visit.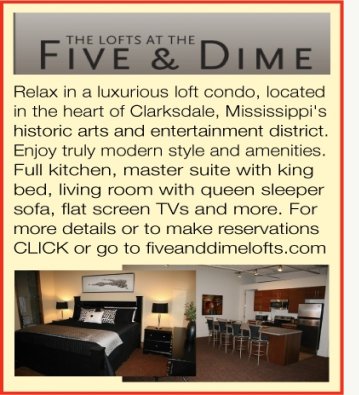 s
CLARKSDALE 'PRESS REGISTER' NEWS -- BLUES AND MORE

SUBSCRIBE AT PRESSREGISTER.COM...
Subscribe to Clarksdale, Mississippi's hometown newspaper and supporting their efforts to tell the world about our vibrant Clarksdale community.
Blues Museum hosting Stolle book signing
By JESSICA BAYS The Press Register | Posted: Tuesday, October 4, 2011 9:16 am
A book signing will be held Wednesday from 5-7 p.m. for Roger Stolle's book "Hidden History of Mississippi Blues" at the Mississippi Delta Blues Museum.
According to Stolle, owner of Cat Head Delta Blues & Folk Art store, co-producer of the film M for Mississippi and co-organizer of the annual Juke Joint Festival in Clarksdale, the book is largely based on the questions that blues fans and Cat Head customers have asked him over the past decade. The book features chapters on cotton, juke joints and the 'Crossroads' and includes interviews with Delta blues musicians such as David "Honeyboy" Edwards, James "T-Model" Ford, and Jimmy "Duck" Holmes.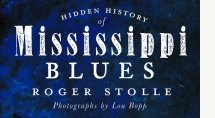 The book also contains photographs by Lou Bopp and a preface by Broke & Hungry Records founder Jeff Konkel.
Stolle said that the book's intro tells how he got into blues as a self-described "white kid from the mid-west" and that the book is sort of a "love letter" to Mississippi of how much he's learned about the culture, history and musicians, and an invitation for others to come and visit.
"Hopefully this book helps illustrate that it's not some nebulous far off place that doesn't exist anywhere…and that it'll lend an invitation for others to come out now and visit and just soak it all up," said Stolle.
Publicist Dan Watson with The History Press said, "What makes this book different is that Roger Stolle is ingrained in that community because he has ties with the juke joint festival there and personal stories of the musicians that live there, which makes the book more personal. It's more about looking at it up close than looking at the picture farther away."
Shelley Ritter, Director of the Delta Blues Museum, said they are glad about having the book signing at the museum and congratulate Roger on his success.
"We're proud of Roger for publishing his book and we're happy to host a reception honoring him and his accomplishments."
The book signing includes complimentary refreshments and live music where Stolle will also speak and sign copies of his new book.
Besides the museum, Stolle said the book can found at the Shack Up Inn gift store, Cat Head, Square Books in Oxford, historypress.net and amazon.com.
Jessica Bays is a reporter for the Press Register and can be reached at 662-627-2201 or at news@pressregister.com.

PLAN NOW FOR THE 2012 'CLARKSDALE FILM FESTIVAL' AND 'JUKE JOINT FESTIVAL'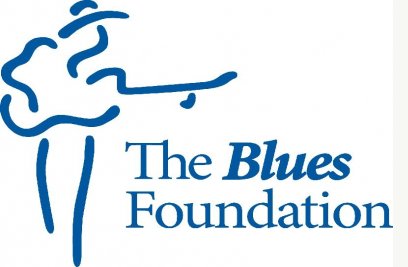 VISITOR'S CENTER & BLUES MUSIC HALL OF FAME... The Blues Foundation recently took a historic step towards implementing its vision of an international home for blues music, one where the artists and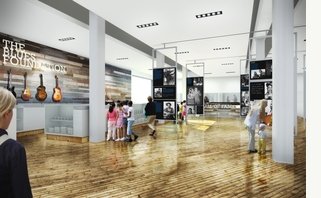 music will be celebrated. The Board of Directors approved plans to create a dynamic visitor's center and blues music hall of fame in the building the organization purchased late last year to house its offices. Plans for the building include a striking exterior façade, visitor's center, gift shop, temporary exhibit gallery and, most prominently, a permanent gallery honoring the artists and recordings that have been inducted into the Blues Music Hall of Fame. The purchase, move and planned renovations are all designed to enhance the ability to serve our mission, to preserve blues music history and expose it to a wider audience.
The Blues Foundation is currently in the early stages of a fundraising campaign. Construction is expected to take approximately 14 months. The project has also been endorsed by a long list of luminaries, including Dan Aykroyd, Dusty Baker, Marcia Ball, Jim Belushi, Steve Berkowitz, Congressman Steve Cohen (D-Memphis), Dion, Billy Gibbons, Peter Guralnick, B.B. King, Bettye LaVette, Shelby County Mayor Mark Luttrell; Steve Miller, Joe Perry, Bob Porter, Bonnie Raitt, Keith Richards, Bobby Rush, Hubert Sumlin, George Thorogood, Memphis Mayor AC Wharton and James Woods. More supporters are being added all the time and will continue as the campaign moves forward. For more information, go to http://www.blues.org.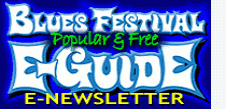 CHECK OUT BLUES FESTIVAL GUIDE ON-LINE AT bluesfestivalguide.com
Where you can find fests, read articles, list your fest (for FREE) or buy an ad! ALSO, subscribe to their e-newsletter. It is weekly and very informative.
RECENT ISSUE OF THE E-MAGAZING FEATURED THE OPI MAKEUP AD (SHOT IN CLARKSDALE WITH BIG T, RAZORBLADE AND HOWL-N-MADD PERRY IN PHOTO) AND SOUTHERN LIVING MAG ARTICLE ON VISITING THE DELTA SHOWN BELOW...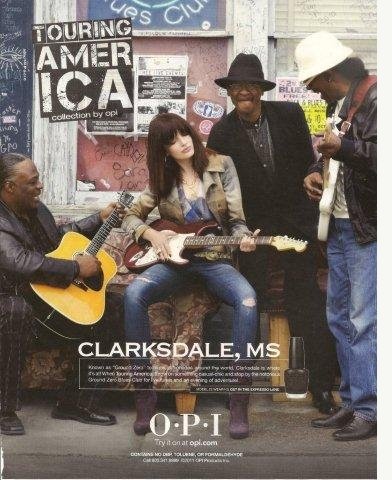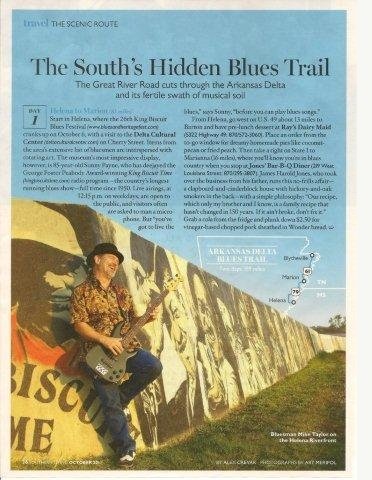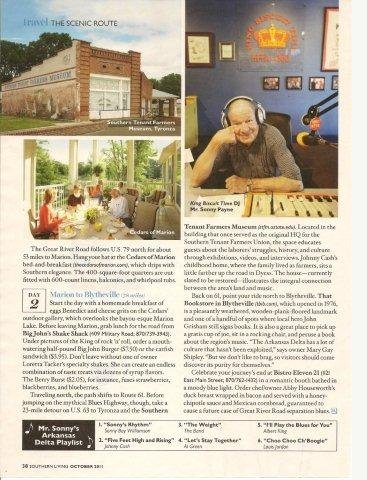 XM / SIRIUS RADIO LISTENERS... "CATCH WEEKLY DELTA BLUES REPORT!"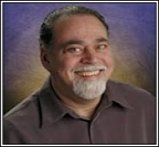 BILL WAX OF BB KING'S BLUESVILLE ON XM/SIRIUS RADIO CALLS CAT HEAD ON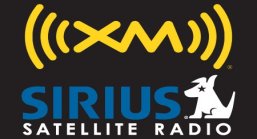 THURSDAYS TO TALK BLUES
Have XM or Sirius Radio (or know a friend with it)? Then, please tune in most Thursday afternoons (4pm Central/5pm Eastern) for the Cat Head Delta Blues report with Roger Stolle and Bill Wax. Bill basically calls me at Cat Head most Thursdays, and we chat about blues shows, characters and related activities coming up... down in the Delta. Mississippi blues news you can use! Keep up to date on your favorite Mississippi blues players, juke joints, music festivals and so much more. Don't have satellite radio yet? Check it out at the link below:
SUPPORT 'MUSIC MAKER RELIEF FOUNDATION' AND THE BLUES

"As always, your donation to Music Maker's Annual Fund will support forgotten musicians while strengthening our culture. You can enrich thousands by giving voice to one musician through Music Maker! " -- Tim Duffy.
Read MMRF's fall newsletter and donate today at:
ALSO NOTE: Cat Head carries many of Music Maker's wonderful CDs -- old, new, men, women. All good stuff! Stop by and see.
A FEW UPCOMING LOCAL AND REGIONAL ARTS & MUSIC FESTIVALS OF INTEREST...

10/14-15 - Tennessee Williams Festival
Clarksdale, MS
(662-621-4157)
Annual festival in honor of the former Clarksdale resident. Includes "post Meet & Greet at Clark House... with music, gourmet food and live drama..."
10/14-15 - Bukka White Blues Festival
Aberdeen, MS
www.bukkawhitefestival.com
Annual blues fest in Aberdeen -- hometown of Mississippi blues legend Bukka White! Starring BIG GEORGE BROCK, KENNY BROWN BAND, BIG JOE SHELTON, HOMEMADE JAMZ, JAKE LEG STOMPERS, THE HANCOCK CO. More info on fest web site.

10/14-16 - Crescent City Blues & BBQ FestivalNew Orleans, Louisianahttp://www.jazzandheritage.org/blues-fest/
Wow! Killer FREE festival with Super Chikan, Duck Holmes, South Memphis String Band, Bettye Lavette and others.
10/16 and 10/23 - MS Delta Regional Blues Challenge, Parts I & II
Indianola, MS
jmwebb@tecinfo.com • www.indianolablues.org
Support Mississippi blues as the MS Delta Regional Blues Challenge works to send some real-deal blues acts to the big IBC in Memphis (early 2012):
Sunday, 10/16 - The Blue Biscuit - SOLO/DUO competition - www.thebluebiscuit.com.
Sunday 10/23 - da' House of Khafre - BAND competition - www.csadeturnipseed.com.

10/29 - Hambone Festival!
Clarksdale, MS
www.stanstreet.com
- Annual HAMBONE FESTIVAL returns out front of the Hambone Gallery on Sat., 10/29 with related events the day before and at GZBC that Sat night.
- ALSO at Hambone Gallery.. Live music (usually blues) every Tuesday, 7pmMORE FESTIVALS AND MUSIC EVENTS at www.cathead.biz

MISSISSIPPI DELTA TOURISM ASSOCIATION CONTEST...
CLARK HOUSE OWNER & CLARKSDALE FEATURED IN 'DESERT SUN' NEWSPAPER...
Mississippi blues tribute has desert roots by Bruce Fessier, The Desert Sun - http://www.mydesert.com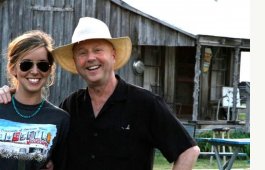 (Palm Desert native Charles Evans poses in Clarksdale, Miss., with Erica Hall, co-owner of the Oxbow restaurant in the city that is a home to the Delta blues. courtesy of the Delta Bohemian)
It's amazing how many blues legends are
from the little delta town of Clarksdale, Miss.
Muddy Waters, John Lee Hooker, Ike
Turner and Sam Cooke were all born there.
The Queen of the Blues, Bessie Smith, died
there. The Father of the Blues, W.C. Handy,
was inspired there. Guitarist Robert
Johnson transferred the "Faust" legend to
some crossroads there.
It would be hard to find as many music
icons in any other small town — unless you
consider that such pop legends as Al
Jolson, Gene Austin, Bing Crosby, Frank
Sinatra, Gene Autry, Elvis Presley and Barry
Manilow have lived in Palm Springs.
But, unlike Palm Springs, Clarksdale has
created a plan to celebrate its musical
heritage. And a Palm Desert native is an
integral member of its team.
Charles Evans, who graduated from Indio
High School in 1969 and College of the
Desert two years later, has purchased 19
buildings in Clarksdale and plans to "fix
them up and create a tourist-driven
location for blues music."
He once said the plan was to turn
Clarksdale into "the Branson of the Blues."
But he's not saying that now.
"Branson recalls Disneyland," he said at a
coffee shop near his home in Santa Rosa,
Calif. "The only way to make it work for
blues in Clarksdale is to make it real. You
can't be fake."
Clarksdale's Carnegie Public Library
recognized the commercial appeal of its
blues heritage in 1979 when it formed the
Delta Blues Museum. Memphis native
Morgan Freeman joined a movement to
revitalize the city's downtown with the blues
in 2000 by co-founding his Ground Zero
blues nightclub. In 2005, the state began
marking historical blues sites, such as the
cabin on the cotton plantation where
Muddy Waters grew up, as part of the
Mississippi Blues Trail.
After that many businessmen and artists
became interested in Clarksdale.
"We see people from all over the world
coming to Clarksdale every day," said
Shelley Ritter, executive director of the
Advertisement
Delta Blues Museum. "We have a lot of
people who own property that don't live
here."
But no one owns as many buildings as
Evans. And Ritter says he's definitely no
carpetbagger. He's letting the museum use
one of his buildings for storage and he's
hosting a reception at his Clark House bed
and breakfast for the city's annual
Tennessee Williams Festival Oct. 14-15.
The late playwright also spent much of his
childhood in Clarksdale.
Evans sincerely loves Clarksdale and the
blues. He played in a blues-based band in
Palm Desert and was introduced to
Clarksdale by the Mississippi-born blues
harmonica great Charlie Musselwhite.
Evans attended Sonoma State University
after COD and got into real estate
development after earning a business and
economics degree. He eventually served on
the Santa Rosa Planning Commission.
Musselwhite, who lives in Sonoma County,
contacted Evans through Santa Rosa blues
radio host Bill Bowker six years ago seeking
advice on buying a building he'd found in
Clarksdale for $30,000. Evans looked into
the market and, when he found a 50,000-
square-foot abandoned hardware store for
$105,000, he put in a bid. Then they went
to Clarksdale together to see their
properties.
They wound up being partners in the
hardware building and Musselwhite
recorded a 2006 CD titled "Delta
Hardware" featuring Evans' photo of their
building on the cover.
Evans said the buildings in Clarksdale were
"cheaper than buying carpet."
That combination of cheap land and
cultural heritage soon began attracting
artists, writers and musicians to Clarksdale.
Evans began buying one and two-story b
uildings with a vision of turning them into
arts-oriented shops around a common
area that could be used for performances.
He began studying other cities that had
used the arts to revitalize its downtown (as
Indio would like to do) and concluded that
Clarksdale could follow their formula.
"What I continue to try to do with Clarksdale
is facilitate tourism," he said, "and part of
the attraction for tourists, beside the
historical blues music, is the art colony. Just
like you've got Laguna Beach, Carmel,
Santa Fe, Asheville, N.C. — these places
started out as backwater places and artists
gravitated to them because they were
Advertisement
cheap. Once there were artists, people
came to see the art and then it became
self-perpetuating. I'm saying Clarksdale
could be that."
Evans hasn't been back to the Coachella
Valley in years, but he keeps in touch with
some desert natives. He's surprised Indio h
as become a city of festivals as the home
of the Coachella Valley and Arts Festival.
But then, I'm surprised an arts colony could
develop in the Mississippi Delta. I was
there six years ago when the biggest a
ttraction was Indian casinos, which is
something else it has in common with our
area.

"LAST OF THE GREAT DELTA BLUESMEN" DAVID 'HONEYBOY' EDWARDS PASSED RECENTLY AT 96 YEARS OLD -- RIP.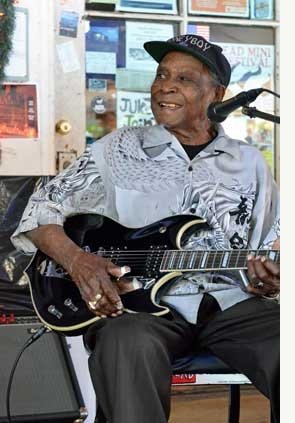 (CAT HEAD NOTE: Mr. Honeyboy Edwards will be greatly missed. We were very fortunate to book him many times in Clarksdale at Juke Joint Festival, Sunflower River Blues Festival, Ground Zero Blues Club and my Cat Head store mini fests. His final performance was out front of Cat Head on Sunday, April 17th. Kim Welsh took the photo to the left at that final gig. RIP.)
---------------------
WORLD BEAT - Bankok Post (published: 9/13/2011) www.bangkokpost.com
A fitting tribute to the last great Mississippi Delta bluesman
The last link to the famed Delta blues of the Mississippi Delta, David "Honeyboy" Edwards passed away last week, at the age of 96. Edwards, an edgy slide guitarist with a clear, strong voice, was the last of the great pre-World War II bluesmen from the Delta.
Born in Shaw, Mississippi in 1915, Edwards left home at 14 to follow and perform with Big Joe Williams; he ended up going on the road as an itinerant musician for the next two decades. And as he travelled around the South, he met and played with many great pioneering musicians like Rice Miller (harmonica), Johnny Shines, Charlie Patton and Tommy Johnson. The latter two were amongst the first of the Delta bluesmen to record their songs in the late 1920s but it was the Delta's most famous bluesman, Robert Johnson, who Edwards was asked about as he had travelled with Johnson for several years and was there on the night Johnson died in the 1930s _ reportedly poisoned by a jealous husband.
There is a great deal of conjecture about whether the Delta blues is actually different from country blues although the predominance of solo performance featuring a lot of slide guitar seems to be a defining characteristic of much Delta blues, and Edwards was a master of this style. If you listen to Edwards, Johnson and someone like the early Muddy Waters (from his Plantation Recordings by Alan Lomax), you'll hear very similar patterns to their guitar-playing.
This sound was developed in the Delta, which is not actually the real mouth of the Mississippi, which is 322km further south, but rather a 322km-long plain that stretches from south of Memphis to Vicksburg.
Here's how Edwards described his wandering minstrel life in Robert Palmer's book Deep Blues (Viking, USA, 1981): "Here's how it would go. On Saturday, somebody like me or Robert Johnson would go into one of these little towns, play for nickels and dimes ... And sometimes, you know, you could be playin' and have such a big crowd it would block the whole street. The police would come around, and I would go to another town where I could play at ... Anywhere was home. Where I do good, I stay. When it gets bad and dull, I'm gone. I knowed a lot of places and had enough to go to make it. Man. We played for a lot of peoples."
Despite having a career that stretched more than 80 years, Edwards only recorded 15 albums and there were long periods of recording inactivity between albums. Like Muddy Waters, Edwards earliest recordings were made by Alan Lomax in Clarksdale, for the Library of Congress, in 1942. He recorded a number of sides under various pseudonyms like "Mr Honey" in the early 1950s and even released one album, Drop Down Mama on the Chicago-based Chess label but unlike Muddy and his fellow Delta bluesmen like Howling Wolf, who became stars of the Chicago r'n'b scene (and would later influence rock'n'roll and pop music), Edwards did not prosper as the blues went electric. He didn't record again until 1979. Despite this, he continued to tour and perform and in the 1990s, like other blues survivors such as Pinetop Perkins, he enjoyed a comeback that lasted until last week (he was scheduled to play in Chicago on the day his died and then on to a European tour), recording several excellent albums, including Don't Mistreat A Fool (Genes), Back to the Roots (Wolf) and his last album, Roamin' and Ramblin' (Earwig). He recorded an amazing live album with the other remaining pioneering blues legends Pinetop Perkins, Robert Lockwood Jr and Henry Townsend (ages ranging from 89 to 94), called Last of the Great Mississippi Bluesmen: Live in Dallas (Blue Shoe Project), which won a Grammy Award for Best Traditional Blues Album in 2008.
He found time from his busy touring schedule to pen his autobiography, The World Don't Owe Me Nothin' (Chicago Review Press) in 1997 and features in many scenes with John Hammond on the latter's documentary film into the myth of Robert Johnson, The Search for Robert Johnson (I reviewed this documentary last year). Last year, documentary filmmaker Scott Taradash directed a documentary on Edwards' life, Honeyboy and the History of the Blues (Free Range Pictures), which features interviews with Keith Richards, BB King and Robert Cray. I haven't seen the new film yet but it's worth looking out for.
Since Edwards recorded so little and was predominantly a live performer, the best place to start to find the music of this blues legend is on some of the sites like YouTube which has lots of cuts from his albums and some live songs -- play loud!

OREGON NEWSPAPER HIGHLIGHTS CLARKSDALE'S LIVING BLUES CULTURE...
Cradle of the blues still rocks in Clarksdale
Published: Sunday, September 11, 2011, 6:00 AM
Special to The Oregonian
BY: JOSEPH B. FRAZIER
Portland's Waterfront Blues Festival is the biggest west of the Mississippi River and among scores that pop up nationwide each year. But all those blues had to come from somewhere.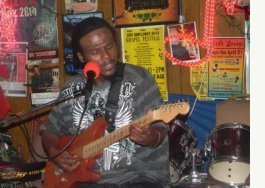 To find the cradle of this most American form of music head for The Crossroads, where U.S. highways 49 and 61 merge at Clarksdale, Miss., tucked into the Delta in the state's northwest corner. It is a must-stop for blues hounds, new or confirmed. To get there point it south from Memphis, Tenn., for about 75 miles down the Mississippi Blues Highway 61.
Clarksdale, population about 26,000, and its environs have been birthplace or home to bluesmen such as Muddy Waters, Sonny Boy Williams, Robert Johnson, Son House, Ike Turner, the Five Blind Boys, the Staples Singers, Conway Twitty, W.C. Handy and Sam Cooke. Plus it claims actor Morgan Freeman, authors Tennessee Williams and Tom Harris ("Silence of the Lambs" and "Black Sunday") and, less famously, Ku Klux Klan founder Nathan Bedford Forrest.
Yet the Delta remains one of America's poorest regions. Its legacy of poverty has propelled a constant exodus north, and it's best-known today for those who moved on.
But visitors to pleasantly sleepy Clarksdale still can hear the real deal from local and touring bluesmen in a number of "juke joints" and blues cafes and soak up the atmosphere of a Delta town with at least one foot still planted in another time.
Part of Clarksdale's charm is that it still lacks the glitz and sequins of many other music destinations. As in many Delta towns, several buildings are boarded up, bringing a down-at-heels look and a suspicion that anything destined to happen here did so long, long ago.
But at night in places like the juke-authentic Red's Lounge, the Bluesberry Cafe, Hopson's Commissary or the Ground Zero Blues Club, local bluesmen such as T-Model Ford and Watermelon Slim, frequently back from road tours, hold forth for long hours. Cover charges vary, but on a recent night seemed pegged at $5.
Live performances are frequent on weekends and semi-regular the rest of the week. Always call ahead.
Or ask Rat. He knows.
Frank Ratliff, "Rat" to everyone in Clarksdale and something of a town fixture, has lived here all of his 70 years. He owns and holds court at the improbable Riverside Hotel.
Once the Riverside was the G.T. Thomas Hospital for the then-segregated town's black residents. It is where blues queen Bessie Smith died, in Room 2 -- then the emergency room -- after a 1937 auto accident.
Some lore says she died because she was turned away from the "white" hospital, but historical markers strongly suggest that the ambulance crew knew better than to even try there, and took her straight to G.T. Thomas.
Rat's mother turned it into a hotel in 1944, and for years it was where bluesmen stayed because there was nothing else available to them in the South of the time.
Ike Turner wrote "Rocket 88," often recognized as the first rock 'n' roll record, while living there.
Room 2 not for rent
You enter a narrow hallway lined with rooms. No credit cards. No in-room Internet. No cable TV. No phones. Shared bathrooms. Air-conditioned and spotless.
It isn't conventional lodging, but blues hounds adore it. At $55-65 it is low- to mid-range for Clarksdale. Rat will drive you to an ATM if need be. "It's a courtesy," he says. "You are in your house."
If you go
Where to stay: Riverside Hotel (www.7rat7.com, 662-624-9163) is a fixture of the town. Other Delta-themed choices include the elegant Clark House (www.clarkhouse.info, 662-621-1632), a Colonial Revival mansion oozing antebellum-type charm, with eight well-furnished rooms. Rates are $75-$130 for two. Above the cavernous Ground Zero Blues Club, which also features sound Southern cooking in a former cotton-sorting warehouse owned in part by actor Morgan Freeman, are the Delta Cotton Company Apartments (www.groundzerobluesclub.com, 662-645-9366), with kitchens, $95-$150.
Where to eat: Restaurants run the gamut from the very high-end Madidi (www.madidires.com, 662-627-7770) to fast food and a lot in between. Like Ground Zero, Madidi is partly owned by Freeman, who shows up there fairly often.
Worth visiting: Delta Blues Museum, www.deltabluesmuseum.org, 662-627-6820.
More info: www.clarksdale-ms.com
— Joseph B. Frazier
When you check out, just leave the key dangling in the door, just as it does in Room 2. A lobby sign conveys the spirit of the Riverside: "Be Nice or Leave."
Rat won't rent out Room 2 or be photographed in it, but a portrait of Bessie, who could be a gin-swilling hellion and was one of the world's top performers in the 1920s and 1930s, is propped against the pillow.
Elsewhere in town, Hopson's Commissary, the former company store of a huge cotton plantation, is where many fieldworkers may well have "owed their soul."
It is crammed with memorabilia, and on Monday night happy hours the musicians play for tips and the outrageous barbecue is free. The ambience is off the charts.
Old farm machinery stands outside in various states of decay as does a shopworn police cruiser straight from central casting (as in: "You in a heap o' trouble, boy.")
Mechanized planting and harvesting pioneered at Hopson's in the 1940s helped diminish the "field hand" class of worker as many headed north looking for work.
But it was the flow of recently freed slaves to the North that gave birth to the blues we know today.
Robert Birdsong, whose hats include assistant fire chief, local blues historian, raconteur and tour guide, tells of how slaves gathered in antebellum New Orleans' Congo Square on Sundays with their traditional music and how it segued into the call-and-response formats they took with them when they left to avoid the Jim Crow laws that followed the Civil War. The laws ensnared both the wealthy free blacks and the former slaves. "It put them in one pot," Birdsong said.
"All roads led to Clarksdale," he said. "Highway 49 headed up from Biloxi, Highway 61 from New Orleans."
Those with money could go upriver by boat to Northern cities. The poor walked their way north through the Delta.
With ample local talent and the proximity of other blues hubs such as Chicago and Beale Street in Memphis, he said, Clarksdale blues audiences, many of whom had been to Chicago or Beale Street, were picky.
Clarksdale still draws talent.
Beer, funk and blues
On a recent night at Red's, bluesman T-Model Ford, who may be 90 (his driver's license and passport disagree) was celebrating his first wedding anniversary to wife No. 6, backed only by a nimble drummer, running through long sets before pauses to call out his trademark "Jack Daniel Time!" The jug was passed, the blues resumed, and the beer and the funk flowed.
Red's is lively but not rowdy. You can dance, but not on the bar.
Nearby (almost everything is nearby in Clarksdale),the Bluesberry Cafe looks like a garden-variety restaurant but with better posters and a stage for occasional live music.
With several festivals honoring juke joints, Tennessee Williams, films, individual bluesmen and more, the town can fill up.
The broader blues heritage comes alive at the Delta Blues Museum in the former 1920s-era railway station, a rich repository of blues memorabilia and displays and a good source for blues CDs and more.
Send questions and comments to travel@oregonian.com.

WELCOME TO "KING BISCUIT BLUES FEST WEEK EDITION" OF CAT HEAD UPDATE FROM CLARKSDALE, MISSISSIPPI...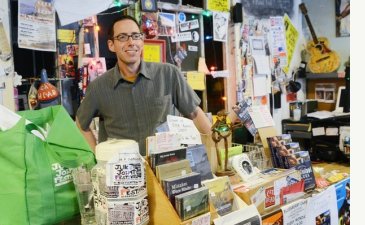 (PHOTO BY KEN FLYNT: Thanks to Mississippi Legends mag, Ken Flynt and Billy Howell for the kind book review in latest issue. Read below.)
Welcome to another sporadic edition of the CAT HEAD UPDATE: The Mississippi Blues Newsletter -- "all the blues that's fit to print."
CHECK OUT OUR BRAND-NEW AND IMPROVED CAT HEAD DELTA BLUES & FOLK ART WEB SITE & NEW WEB STORE... Please go to http://www.cathead.biz immediately to check out the new site.
If you already have my site archived or bookmarked, please plug in my web address and then refresh. Also, if you have it linked to your site, please double check that it comes up ok as the internal page links have changed slightly (especially the music calendar and Clarksdale guide pages). Note that we now offer a special selection of killer blues CDs, DVDs, books and more on-line at our new web store. I'll be updating those offerings regularly plus offer special gift stuff for the upcoming holidays! Also, the music calendar is more expansive and updated than ever, and I've archived some past e-newsletters in case y'all missed 'em the first time. Thanks and enjoy.
IT'S KING BISCUIT BLUES FEST WEEK IN HELENA, ARKANSAS (AND NEARBY CLARKSDALE, MS)... Still want to attend the crazy-great week of blues events?! Well, it is not necessarily impossible to find a room (no matter what some may say). For a complete listing of Clarksdale & vicinity accommodations, please go to http://www.cathead.biz/CatHead/Clarksdale.html and scroll down. Also, here are some places to try that have recently had vacancies available for this or other recent festivals; maybe try 'em first:

Clark House says they have rooms (www.clarkhouse.info; 662-621-1632; host@clarkhouse.info), Lofts at Five & Dime says they have rooms as well (www.fiveanddimelofts.com; 662-645-8874); Middleton Guest House (sleeps 1 or 2 people; $100/night, 3-night min, middletonrealty2003@yahoo.com); The Squeeze Box (new; clarksdale@squeezebox.bz); America's Best Value Inn has vacancies (State St.); OR Uptown Inn (not sure rates; pretty basic but had vacancies as of yesterday; 662-627-3251). ALSO, remember that folks do cancel during fest week, so it's worth calling around. You could also CAMP; contact either Chamber/Tourism at 662-627-7337 or John Ruskey at john@island63.com.
RECENT BLUES, MUSIC AND FOOD EXPERIENCES: Living in Clarksdale, MS, means I'm within 90 minutes of some amazing musical venues, festival events and tasty restaurants. A few recent musical highpoints include... Bob Dylan at Mud Island Amphitheater in Memphis; sure, his voice is gravelly, but he's still THE MAN; loved it. Memphis Music & Heritage Festival organized by Center For Southern Folklore in Memphis; BLUES, soul, rock, country, jazz and soul; lots of FREE fun; yeah, it rained, but no spirits were dampened.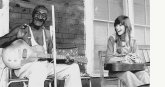 Jim Dickinson Folk Festival at Levitt Shell in Memphis featured Sid Selvidge, Jimbo Mathus, North MS Allstars and others for FREE; amazing; hopefully, it'll be annual. Sam Chatmon Blues Festival in Hollandale, MS; first of hopefully an annual event; lovely day, friendly local audience and great music; personal fav was probably Libby Rae Watson (both her pre-war style blues performance and personal photos of Chatmon, RL Burnside, Eugene Powell, Houston Stackhouse and others; see sample photo!!). Also, Red's Lounge juke joint has been continuing to crank out the old-school stuff with T-Model Ford, Robert Belfour and others every weekend; just blues heaven on earth. Between Red's, Ground Zero, Hambone, Bluesberry, Rust, Hopson and Stone Pony... Clarksdale now has live blues music 6-7 nights a week! A few recent gastrological (aka restaurant) highpoints include: An epic rack of lamb at Blue Levee Restaurant in Rosedale, MS; perfectly prepared in a generous serving at a very fair price; fish 'n chips appetizer and house salad were also wonderful; they have a great beer selection or you can bring your own wine.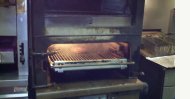 Homemade pizza at Trolley Stop Market in Memphis; actually, the whole menu looks great -- as their stuff is made from locally/regionally grown/raised ingredients; you can also buy art, gifts and fresh veggies there. Doe's Eat Place in Greenville, MS; ok, it ain't much for ambiance, and they don't actually own any printed menus... BUT they're steaks are big a-- and delicious (see steak oven in photo); the french fries are also pretty amazing (if unhealthy), and the house salad is tasty if basic; located on blues-historic but crack-infested Nelson Street, no worries... an armed security guard will help you park out front; buy beer or bring your own wine; tasty! ALSO, locally in Clarksdale... Oxbow, Rust, Lady at the Levee, Madidi, Ramon's, Wop's and several other restuarants continue to kick butt. (Recently, Oxbow has added some dinner nights to their schedule in addition to the Mon-Fri lunch. Highly recommended.) A new restaurant called Yazoo Pass is coming to Yazoo & E 2nd in about a month. Super cool!
PLAN NOW FOR 'CLARKSDALE FILM FESTIVAL' (JAN) AND 'JUKE JOINT FESTIVAL' (APRIL): Book your rooms and make your plans to attend Clarksdale's premiere January and April festival events. More info coming soon to http://www.jukejointfestival.com. ALSO, if you are a filmmaker interested in possibly screening your Mississippi/Southern/Blues movie at our Film Fest, please watch http://www.jukejointfestival.com/film_fest.php for updates, and then fill out/submit an application along with your DVD.

OR... if you are a blues act interested in possibly performing at Juke Fest, you can email your electronic promo kit to roger@cathead.biz after October 15th. For other area festivals and live music listings, please go to http://www.cathead.biz and click on the calendar link.

CAT HEAD MINI BLUES FEST AND MORE COMING THIS WEEKEND!!!: As Cat Head continues to celebrate its 9th anniversary... come on by and check out our enormous selection of blues CDs, DVDs, magazines, books, Tees, caps and more... PLUS enjoy free live music on Sat and Sun... See below for more info.
Thanks and best regards y'all,
ROGER STOLLE
(and my faithful blues pug, Sadie)

Cat Head Delta Blues & Folk Art
252 Delta Avenue, Clarksdale, MS 38614
662-624-5992 - roger@cathead.biz
PS - PICK UP THE NEW ISSUE OF BLUES REVUE MAGAZINE

Catch my regular "Down in the Delta" column in Blues Revue mag. The upcoming issue features an interview with legendary Delta blues drummer Frank Vick; his rock solid and recognizable beat has backed up everyone from Little Milton and Albert King to Big George Brock and Terry "Harmonica" Bean; he's also a heckova nice guy -- who's always got a smile for his audience. Pick it up at Cat Head or click to subscribe... THANKS! (BTW, the NEXT issue's column will feature a behind the scenes portait of the "making of We Juke Up In Here!" Stay tuned.)

CLARKSDALE, MISSISSIPPI'S MUSIC EVENTS DURING HELENA'S KING BISCUIT BLUES FESTIVAL WEEK:

FOR MORE UPDATES ON LIVE MUSIC, GO TO:
http://www.cathead.biz/CatHead/Music_Calendar.html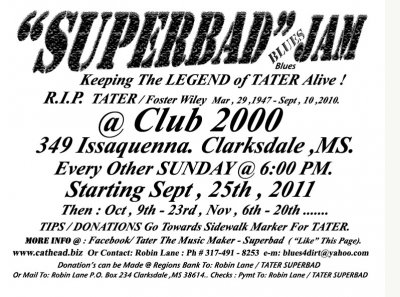 HELENA'S KING BISCUIT BLUES FESTIVAL LINE-UP -- THURS-SAT, OCT 6-8, 2011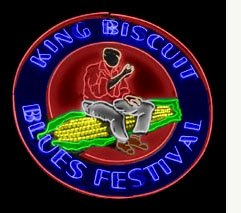 KING BISCUIT BLUES FESTIVAL IN HELENA, ARKANSAS (30-MIN FROM CLARKSDALE)
(Lineup is subject to change:
Awesome blues fest with plenty of worthy related events in both Helena and nearby Clarksdale -- including the "KB Call & Response Blues Forum" on Sat at Malco in Helena and the Cat Head Mini Blues Fest on Sun in Clarksdale. Read on for more information.
SEE OFFICIAL WEB SITE FOR BREAKOUT BY STAGE (note that the schedule below is by day/time but does not specify which stage the acts are on):
Thursday, October 6th
2010 Emerging Artist Winner - The Overtones
11:30 a.m. - 12:00 p.m.
2011 SBBS Battle of The Bands Winner
12:15 p.m. - 12:45 p.m.
IBC Winner Lionel Young Bandweb
1:00 p.m. - 1:45 p.m.
Sterling Billingsley Band
2:05 p.m. - 2:55 p.m.
Mike Zito
3:10 p.m. - 4:20 p.m.
Reba Russell Band
4:40 p.m. - 5:55 p.m.
Roy Rogers

6:15 p.m. - 7:30 p.m.
Room Full of Blues with Special Guest James Cotton
7:50 p.m. - 9:05 p.m.
Buddy Guy
9:30 p.m. - 10:45 p.m.
Friday, October 7th
Sherrie Williams
11:30 a.m. - 12:30 p.m.
Andy Coats
12:00 p.m. - 1:00 p.m.
Don Nix
12:45 p.m. - 1:45 p.m.
Lil Biscuit Band featuring Phillip Stackhouse
1:20 p.m. - 2:20 p.m.
Chillyrose
2:00 p.m.
Larry Garner with Special Guest Sam Joyner
2:00 p.m. - 3:00 p.m.
Spoonfed Blues featuring Mississippi Spoonman
2:40 p.m. - 3:40 p.m.
Cleome Boya
3:00 p.m.
Hubert Sumlin, Kenny Smith Band tribute to Willie "Big Eyes" Smith,
Bob Margolin
3:15 p.m. - 4:15 p.m.
CeeCee James
4:00 p.m.
Gwen White
4:00 p.m. - 5:00 p.m.
Michael Burks
4:40 p.m. - 5:50 p.m.
Heather Cross
5:00 p.m.
Wampus Cats
5:30 p.m. - 6:40 p.m.
Anson Funderburg & The Rockets
6:10 p.m. - 7:25 pm.
Sean Apple & The All Night Blues Band
6:00 p.m.
Don McMinn
7:00 p.m. - 8:10 p.m.
The Birthright Blues Project
7:00 p.m.
Paul Thorn
7:45 p.m. - 9:00 p.m.
Paul Thomas
8:00 p.m.
Dexter Allen
8:30 p.m. - 9:40 p.m.
Young Guns

9:00 p.m.
Delbert McClinton
9:30 p.m. - 10:45 p.m.
Bobby Rush
10:00 p.m. 11:15 p.m.
Saturday, October 8th
KIPP Delta ELA Chorus
11:00 a.m. - 11:45 a.m.
Stacy Mitchheart
11:30 a.m. - 12:30 p.m.
Brandon Bailey
12:00 p.m. - 12:45 p.m.
T-Model Ford
12:00 p.m. - 1:00 p.m.
KING BISCUIT CALL & RESPONSE FORUM (aka Blues Symposium with all-star blues cast) -- Malco Theater on Cherry Street, 12:30pm-2:30pm
David Bernston "Blues in the School"
12:30 p.m.
Kirk Fletcher
12:45 p.m. - 1:45 p.m.
Harmonica Lessons in the 6th Block
1:00 p.m. - 3:00 p.m.
Keith "Kid" Harden
1:00 p.m.
Marcus "Mookie" Cartwright
1:00 p.m. - 1:45 p.m.
Ben Wiley Payton
1:20 p.m. - 2:20 p.m
Ed Bowman and The Rock City Players
2:00 p.m.
Big Bill Morganfield
2:05 p.m. - 3:20 p.m.
The Peterson Brothers Band
2:00 p.m. - 2:45 p.m.
Lonnie Shields
2:40 p.m. - 3:40 p.m.
Coyote Bill
3:00 p.m.
The Matthew Davidson Band
3:00 p.m. - 3:45 p.m.
Hamilton Loomis
3:35 p.m. - 4:50 p.m.
Homemade Jamz
4:00 p.m. - 4:45 p.m.
Lee Pons
4:00 p.m.
Moreland & Arbuckle
4:00 p.m. - 5:00 p.m.
The Stillwells
4:45 p.m. - 5:00 p.m.
Clover Blue
5:00 p.m.
Jeff Robbins, Mountain Music
Maddie Webb
5:00 p.m. - 5:15 p.m.
Matt Schofield
5:05 p.m. - 6:10 p.m.
Anna Arnold
5:15 p.m. - 5:30 p.m.
Blind Mississippi Morris & The Pocket Rockets
5:30 p.m. - 6:40 p.m.
Skeeter and Darla Self
5:30 p.m. - 5:45 p.m.
Kathy Davis
5:45 p.m. - 6:00 p.m.
Jason Jaco and West Helena Baptist Drama Team
6:00 p.m. - 6:15 p.m.
The Bobby Lawson Band (David Bennett)
6:00 p.m.
Zinse Agginie, Interactive Drums
Brick Fields Band
6:15 p.m. - 7:45 p.m.
Tommy Castro
6:30 p.m. - 7:45 p.m.
Earnest "Guitar" Roy
7:00 p.m. - 8:10 p.m.
Grace Askey & Black Market Blues
7:00 p.m.
St. Peter Choir
7:45 p.m. - 8:00 p.m.
The Stax Review – Eddie Floyd, Duck Dunn, Steve Cropper
8:00 p.m. - 9:15 p.m.
Charlotte Taylor
8:00 p.m.
Silver Cloud Choir
8:00 p.m. - 8:15 p.m.
Phillips County Quartet Choir
8:15 p.m. - 8:30 p.m.
Cedric Burnside
8:30 p.m. - 9:40 p.m.
Dixie Wonders
8:30 p.m. - 8:45 p.m.
Gospel Train
8:45 p.m. - 9:00 p.m.
Ratio Male Chorus
9:00 p.m. - 9:15 p.m.
Young and Ready
9:15 p.m. - 9:30 p.m.
Blessed Full Seven (7)
9:30 p.m. - 9:45 p.m.

Keb' Mo'
9:35 p.m. - 10:50 p.m.
Memphis Harmonizers
9:45 p.m. - 10:45 p.m.
Billy Branch & The Sons of Blues
10:00 p.m. - 11:15 p.m.
http://www.KingBiscuitFestival.com
or call 870-572-5223 for more information.

"CALL & RESPONSE: THE KING BISCUIT BLUES FORUM" SATURDAY, 10/8 @ MALCO THEATER, HELENA, AR
The world-famous King Biscuit Blues Festival celebrates its 26th year with the addition of an exciting new event on Saturday, October 8, 2011, at the historic Malco Theater in Helena, Arkansas.
At 12:30pm, Don Wilcock (KBA winning journalist) moderates "Milestones of the Blues" with Billy Branch, Tommy Castro, Moreland & Arbuckle, Ryan Perry. At 1:30pm, Marc Smirnoff (Oxford American magazine) moderates "State of the Delta Blues Today" with T-Model Ford, Blind MS Morris, Lonnie Shields, Jeff Konkel (Broke & Hungry Records), Roger Stolle (Cat Head Delta Blues & Folk Art).
"We're not putting on a blues symposium of experts interviewing experts, explained Don Wilcock, also an event co-organizer and moderator. "We're putting on a conversational blues festival, really, where legendary blues performers do most of the talking."
The King Biscuit Blues Festival takes place October 6th through 8th in historic Helena, Arkansas. The "Call and Response: The King Biscuit Blues Forum" at 12:30 p.m. on that Saturday will follow a related event earlier in the day at Helena's Delta Cultural Center entitled "100 Years of Blues" (10:30 a.m. to 12 noon at the Miller Hotel -- www.deltaculturalcenter.com).
For more information on "Call and Response: The King Biscuit Blues Forum," contact Don Wilcock at donwilcock@msn.com or Roger Stolle at roger@cathead.biz. For more information on the festival, please go to www.kingbiscuitfestival.com.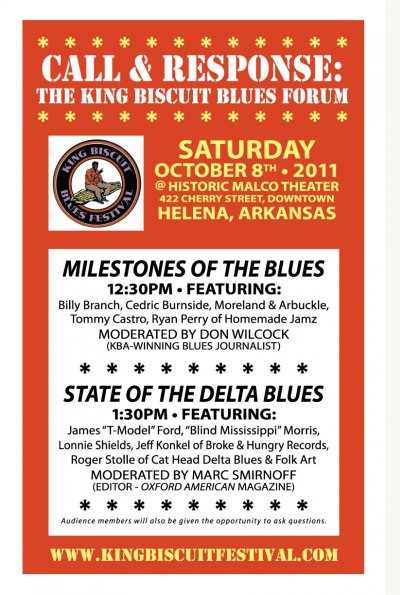 BAREFOOT WORKSHOPS RETURNS TO THE MISSISSIPPI DELTA FOR NEW WORKSHOPS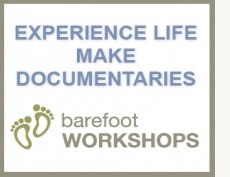 BAREFOOT WORKSHOPS TO RETURNED TO CLARKSALE RECENTLY... and created a few more wonderful documentary short films capturing a bit of the Mississippi Delta for all time.
SEE THE NEW FILMS ON-LINE ON VIMEO... produced and instructed by Alison Fast, Chandler Griffin & Edward Symes...
"Drawing on a Dream" featuring musician/artist Duff Dorrough of Ruleville, MS (13:30) - A film by Susan Dobbs & David Rae Morris. GO TO: http://vimeo.com/29587274
"Music Is Life," (10:30) - A film by Ezra Howard, Jennifer Dean & Wilma Mosley-Clopton. GO TO: http://vimeo.com/29594378
If interested in joining a workshop or more information, please contact Chandler Griffin at chandler@barefootworkshops.org.
GENERAL BLUES & RELATED NEWS AND INFORMATION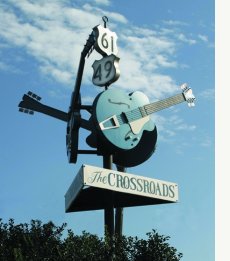 (PHOTO of Clarksdale 'Crossroads' by Chuck Lamb; available as a post card at Cat Head store.)
SCOTT COUNTY TIMES REPORTS 'WING DANG DOODLE' A SUCCESS: Under a clear blue sunny sky with a slight breeze and low humidity, a large crowd gathered throughout the day in Forest, Mississippi's Gaddis Park to participate in the 8th Annual Wing Dang Doodle Festival on Saturday to enjoy chicken, music, arts and crafts, sports and all around family fun. A variety of music styles was provided by Jimmy Duck Holmes, South 20, Chad Wesley and Tim Frith. The Chamber took the name from a Blues song, "Wang Dang Doodle," written by Willie Dixon and sung by Koko Taylor. The "Wang" was changed to "Wing" to showcase the prominence of the local poultry industry.
MEDICAL FUND FOR MISSISSIPPI MUSICIAN DUFF DORROUGH... Info via Thacker Mountain Radio (Oxford, MS): Our

friend and Thacker band leader, Jerry 'Duff' Dorrough, is in intensive care in Jackson. If you would like to help with his mounting medical bills, send a check to:
Planters Bank
P.O. Box 9
Ruleville, MS 38771
Make check payable to Duff Dorrough Benefit Fund, and put "attention to ... " either Chris West or Amanda Ware on the outside of your envelope. If you have questions, call the bank at 662-756-4321; ask for Chris West or Amanda Ware. Or email cwest@planters-bank.com. Thank you for your support and prayers.
READ ABOUT DUFF: http://www.deltamagazine.com/duff.html
VIDEO ABOUT DUFF: http://vimeo.com/29587274

SLIDE SHOW/VIDEOS SHOT DURING PAST JUKE JOINT FESTIVALS IN CLARKSDALE, MISS...
See what all the hype is about... then plan to attend during the weekend of April 14th in 2012:
1. "Spirit of the Blues" by Jill Coursin - http://www.youtube.com/watch?v=DyVlkBSMLio
2. "Clarksdale Juke Joint Festival, Mississippi" by Christophe Cirendini - http://www.tumblr.com/tagged/clarksdale+juke+joint+festival
NEWS OF NAT'L BLUES MUSEUM IN ST. LOUIS, MO: The National

Blues Museum (NBM) is kicking off its $12 million fundraising campaign on October 14 at the Partnership for Downtown St. Louis' Downtown Ball. Net proceeds for this year's Ball, which will be held in the newly restored Peabody Opera House, will benefit the NBM and will go toward matching an anonymous challenge grant of $100,000. Kim Wilson of the Fabulous Thunderbirds, and The Blues All-Stars featuring Anson Funderburgh will be the national headliners at the event. Tickets for the Ball are available online at www.downtownstl.org/downtownball or www.downtownballstl.org.

A FEW UPCOMING 'MISSISSIPPI BLUES TRAIL' MARKER DEDICATION EVENTS:
9/12 - Blue Room Club, Vicksburg, MS, 10am.
10/5 - Staples Family, Drew, MS, 10am.
10/11 - Little Brother Montgomery, Brookhaven, MS, 11am.
10/12 - Oxford-Lafayette County Blues, Oxford, MS, 4pm.
11/4 - Jimmy Rogers, Ruleville, MS, 1pm.
11/5 - J.B. Lenoir, Monticello, MS, 9:30am.
11/11 - Oktibbeha County Blues, Starkville, MS, 2pm.
MORE INFORMATION ON TRAIL - www.msbluestrail.org
NEW EDUCATIONAL DIRECTOR AT BB KING MUSEUM...

"The B.B. King Museum is pleased to welcome Dina Bennett, Ph.D. to head the education and outreach efforts of the Museum. Dr. Bennett received her doctorate degree in Folklore and Ethnomusicology with a minor in African American & African Diaspora Studies from Indiana University in Bloomington. Her recent work experience includes teaching music education at the university level, teaching in public schools, and contributing biographical articles of African American blues musicians to The Grove Dictionary of American Music." ALSO AT BB KING MUSEUM... Blues musician Andy Coats will perform live in Lucille's, the gift shop at the B.B. King Museum, on Saturday afternoon, October 8th from noon – 3:00. Following the performance, Coats will conduct a blues guitar workshop from 4:00 – 5:30.
MISS DEL'S GENERAL STORE ON DELTA AVE IN CLARKSDALE COMPLETES EXPANSION... Visiting blues tourists can FINALLY find espressos & lattes, microbrew beer & gourmet cheese, cinnamon rolls & sweet potato pies... within a block or two of multiple restaurants, museums, stores and specialty overnight hotel accommodations... as well as Cat Head store (of course). Check it out. (Just don't get in MY way when I'm in line with my beer and pie.)
(662) 624-2381 - www.missdels.com

MISSISSIPPI PRE-I.B.C. BLUES CHALLENGES:
These challenges feed the big International Blues Challenge in Memphis, TN (Feb 1-4, 2012).
1. MS Delta Regional Blues Challenge - Indianola, MS
jmwebb@tecinfo.com • www.indianolablues.org
Sunday, 10/16 - The Blue Biscuit - SOLO/DUO competition - www.thebluebiscuit.com.
Sunday 10/23 - da' House of Khafre - BAND competition - www.csadeturnipseed.com.
2. Central MS Blues Society Blues Challenge - Jackson, MS
601-613-7377 or prblues@comcast.net.
Monday, 10/10 - Solo/duo competition at 8:00 p.m.
Monday, 10/24 - Band competition at 8:00 p.m

BLUES CLUB OWNER (AND MUSICIAN/DEEJAY) BOB CORRITORE RECEIVES HONOR... Bob Corritore receives Certificate of Special Recognition from the State of Arizona! During the 20th anniversary celebration of the Rhythm Room, Bob Corritore was presented with a "Certificate of Special Recognition" issued by Janice K. Brewer, Govenor of the State of Arizona. The certificate sites accomplishments in the field of blues that have contributed to the community. (CAT HEAD says, "Congrats Bob!")

"BATTLE OF THE BANDS" COMING TO GROUND ZERO BLUES CLUB IN CLARKSDALE, MS... Battle of the Blues Bands on Saturday, October 15, 2011 at 11:00 AM. Register by Saturday, October 8, 2011. First Place: Trophy and Weekend gig at Ground Zero Blues Club. www.groundzerobluesclub.com
NEW BLUES BLOG WEB SITE AND FB PAGE... According to press release: "For innovative, interviews, reviews and VIDEOS -VIDEOS! and now rare and unique vintage on consigment - it is your AMERICAN BLUES BLOG" - http://www.AmericanBluesBlog.com - http://www.facebook.com/AmericanBluesBlog
OTHER BLUES/TOURISM WEB SITES TO CHECK OUT:
www.bluesfestivalguide.com
www.highway61radio.com
www.msbluestrail.org
www.visitclarksdale.com
www.clarksdalenow.org
www.clarksdaleinfo.com
www.clarksdale.com
www.cathead.biz
www.bluessource.com
www.indianolablues.org
www.highway61blues.com
www.jukejointfestival.com
www.mformississippi.com
www.sunflowerfest.org
www.groundzerobluesclub.com

CLARKSDALE'S CAT HEAD STORE OFFERS KILLER LIVE BLUES DURING DA BISCUIT WEEK -- DON'T MISS IT!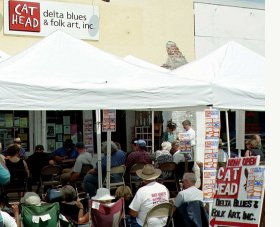 As Cat Head continues to celebrate its 9th Anniversary, we're proud to bring y'all some great live music and an amazing selection of blues CDs, DVDs, LPs, magazines, books, shirts, caps, artwork and other cool crap during the King Biscuit Blues Festival weekend. Treat yourself to something fun... and start your holiday shopping early! Full music event line-up is posted on MUSIC CALENDAR web page at http://www.cathead.biz
Cat Head Delta Blues & Folk Art, 252 Delta Ave., Clarksdale, MS
662-624-5992
"Your Delta blues headquarters for CDs, DVDs, T-shirts, books, art and more!"
(PHOTOS: Top is past FREE Mini Fest. Bottom is a store photo by Ken Murphy, included in Mississippi: State of Blues.)
SEE CLARKSDALE MUSIC LISTINGS ABOVE FOR CAT HEAD'S WEEKEND EVENT LINE-UP...
UPDATE ON PLACEMENT STATUS OF BLUESMAN TOMMY JOHNSON'S HEADSTONE
PRESS RELEASE
Status of WarmSpringsCemetery and the Headstone of Tommy Johnson
October 4, 2011
CONTACT: The Mount Zion Memorial Fund – T. DeWayne Moore, tmoriver@gmail.com, 615-663-7858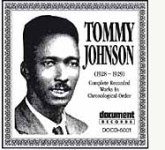 Crystal Springs, MS – At the meeting on August 10, the county board of supervisors forwarded the belief that they would be done building the road to Warm Springs Cemetery within a month. Almost two months later, nothing more than surveyors' boots had disturbed the ground leading from the cemetery to Henry Road, but the county finally started working on the road in the last days of September. The truth of the matter is that while the board voted to build the road, the law only requires them to do so at their "discretion." Even with the road construction project now underway, it is impossible to determine the completion date. In short, the relocation of Tommy Johnson's headstone will almost certainly not happen in November.
In accordance with the legal agreement, the easement to Warm Springs Cemetery must be located within fifteen feet of the property line between two landowners, each of which own one acre of the two-acre site. Thus, the county had to order a special fixture to install across the roadside culvert.
The fixture arrived in the last week of September, but some of the trees along the first quarter mile of the property line also require removal, which will undoubtedly delay the construction of the road.
Until the county finishes the road and removes several large trees that obscure the burial ground, no one can rehabilitate or conduct a thorough study of the cemetery.
Only once the site is restored and mapped will the Mt. Zion Memorial Fund relocate Tommy Johnson's 500-pound headstone, which remains on display at the J.T. Biggs Memorial Library in Crystal Springs. On the day of the relocation, the Tommy Johnson Blues Foundation will organize and host a ceremony for its unveiling at one of the most-inaccessible "holy sites" in the history of the blues––Warm Springs Cemetery. The date of the ceremony is as of this moment unknown.
T. DeWayne Moore
Ph.D. Candidate in History
University of Mississippi
Site Manager, The Mt. Zion Memorial Fund

RECENT BLUES PASSING... WILLIE "BIG EYES" SMITH
(Obituary courtesy of Bob Corritore)RIP Willie "Big Eyes" Smith - January 19, 1936 to Sept 16th, 2011. It is with great sadness that we report the unexpected passing of one the true greats of the blues. Willie "Big Eyes" Smith. Willie passed away this morning of a stroke. He was 75 and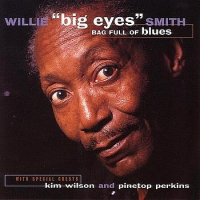 was musically active until the very end. A brilliant drummer, harmonica player and vocalist, he represented the true essence of Chicago Blues, and was highly regarded by all as an undisputed master. He was an alumni of the Muddy Waters band and wore those stripes with honor. Willie "Big Eyes" Smith was born in Helena, Arkansas in 1936, and started playing harmonica at age 17, shortly after moving to Chicago. His harmonica first appeared on record in the 1950s gracing recordings by Arthur "Big Boy" Spires, and Bo Diddley (Willie played the harmonica on the Diddley classic "Diddy Wah Diddy"). At some point in the mid to late 1950s he started playing drums and in 1959 began his long association with Muddy Waters. Smith's drumming first appeared on record on Muddy Waters' 1960 album release of Sings Big Bill Broonzy. Smith had a real gift for drumming and his playing would help to define the later Muddy Waters Band sound. Many of us remember the classic Muddy Waters lineup of Muddy, Willie, Pinetop Perkins, Bob Margolin, Luther "Guitar Junior" Johnson, and Calvin "Fuzz" Jones. In June of 1980 members of Muddy's band struck out on there own, and formed the Legendary Blues Band which eventually found Willie as the lead vocalist, showcasing his stellar, down-home vocals. Willie released his first solo album, Bag Full of Blues in 1995, which firmly established him as an artist in his own right. Willie would revive his first instrument in later years, and in 1996 he would release Way Back, which debuted his new direction, and showed him to be a solid harmonicist. His final recording, Joined At The Hip was a collaboration with the now deceased Pinetop Perkins, and it it earned the two a Grammy in the Traditional Blues category. We have just touched upon a few of the many recordings of Willie "Big Eyes" Smith who's discography as both a frontman, and a sideman represents the highest of heights in the blues. Willie had a strong work ethic and was a consummate professional, and as a result he worked relentlessly. He won numerous BMAs (Blues Music Awards) as "Best Blues Drummer", and he always carried great bands with him. Of note is the wonderful management of Patricia Morgan, who helped guide the later part of Willie's amazing career, and the impressive booking of Blue Mountain Artists. Also thanks to Willie for bringing out the wonderful talent in his band with Jimmy Mayes, Bob Stroger, "Little" Frank Krakowski, and for his wonderful collaborations with other Muddy alums. Willie leaves his greatest legacy with his son Kenny "Beedy Eyes" Smith, who has become one of the world's greatest blues drummers and carries on his father's sound and tradition. Prayers for all of Willie's family, friends, fellow musicians, and fans as we say goodbye to one of the greatest blessings of the blues. We love you "Big Eyes". To visit Willie "Big Eyes" Smith's website click http://www.williebigeyessmith.com/

STREET'S "HAMBONE GALLERY" IN CLARKSDALE FEATURED IN DBJ BUSINESS BRIEF...

Hambone Art Gallery
Florida native Stan Street finds success in creative hot spot
By Mark H. Stowers
Photograph by Matthew Wood
There's no shortage of creativity in the Mississippi Delta. From Blues to Food, the rich soil has nurtured scores of talented artists. Six years ago, Stan Street moved from his Florida home to settle into the Delta's artistic hot spot, Clarksdale, and open his own art studio—the Hambone Art Gallery. Though an artist at heart and vocation, it was the business side of the creative world that drove him to open his own gallery.
"I kind of got sick of galleries taking half of what I earn on a painting," he explains. "I understand that, but now we own this building and we live in it upstairs. So it makes sense. I can afford to sell my paintings for a little bit cheaper, and I get 100 percent of the profit."
Though not inspired by "Benjamins," Street fuses his love of music with what he sees in every day Delta life to create his art. And blues music feeds his artistic hunger. Street lists Muddy Waters, Slim Harpo and Howlin' Wolf as musical influences along with many others.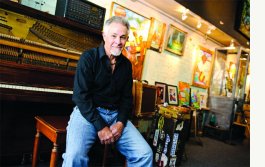 "I started doing portraits of blues musicians and blues-related art with music and bright colors," Street says. "And I do a lot of poster artwork for [blues] festivals."
Among his inspirations are Delta landscapes and primitive found objects—"the gallery is a nice variety of stuff."
Street doesn't relegate the space to paintings and art creations alone; music fills the rafters every Tuesday night.
"We play, and we have a beer license and a little bar here in the gallery, and we have a wood burning stove," he says. "So it's a great place. All I have to do is walk downstairs to go to work."
To keep the walls and floor space filled with art, Street does accept pieces from other artists for purchase.
"I have a few other people in here as well," he says. "The first few years I didn't, but now I'm really glad because I sold some stuff and had some bare spots. I have a guy named Dan Dalton from Portland, Oregon, and a couple other artists too."
A visit to www.stanstreet.com will take you to his gallery and he also has a Facebook page complete with pictures of his work. The gallery is located at 111 East Second Street next to Madidi, where he also has several pieces on display. Normal gallery hours are Tuesday through Saturday from 11 a.m.-5 p.m.
"We're open longer in festival season, and if we're not open just ring the doorbell. We live upstairs. We'll come down and open up," Street says. An "open door" gallery policy? Only at Hambone Art Gallery in Clarksdale.
VIEW DELTA BUSINESS JOURNAL E-EDITION AT:

TUTWILER, MISSISSIPPI'S CRISTEN BARNARD DESIGNED 2011 KING BISCUIT BLUES FESTIVAL POSTER... NICE!!
"DEPARTURES" MAGAZINE FEATURES BLUES TRAIL...
http://www.departures.com/articles/touring-the-southern-blues-trail?page=7
Touring the Southern Blues Trail
By Richard Schweid
Jul/Aug-2011
From roadside juke joints to new hotels, the blues live on along the Southern Blues Trail.
The blues, the bedrock of American music, began on a vast stretch of fertile soil called the Mississippi Delta, which goes from Memphis to the Yazoo River and southerly to Vicksburg. The roots of blues can be traced to West African tribal songs, but the first seedlings grew out of this soil, rich in cotton—and rich in the misery wrought picking it.
"The blues," Howlin' Wolf once said, "is problems," and for a long time the history of the blues, like problems, was covered up. But in 2006, Mississippi began to protect its history with the Mississippi Blues Trail. Today the path courses through the Delta, touching nearly every juke joint, homestead and graveyard where the blues began. There are more than 130 markers, and as the trail heats up, more are added yearly. But it's not just history. The blues live.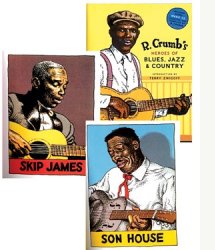 Today the blues can be heard nearly everywhere. Just turn on the radio: The 12-bar blues is the skeleton for everything from punk to jazz to country to rock 'n' roll. But a journey across the Blues Trail yields new hues and deeper richness. The path has drawn many, from folklorist Alan Lomax in the 1930s to filmmakers Roger Stolle and Jeff Konkel, whose 2008 documentary, M for Mississippi, captured the bittersweet richness of the area's music and musicians. And as the blues have gained popularity worldwide, new hotels, restaurants and museums and modern juke joints have sprouted like morning glories along the Blues Trail.
Memphis, TN
There's nothing like the Handy Band that played the Memphis Blues so grand. —W.C. Handy, "Memphis Blues"
In 1948, author David Cohn wrote that the Delta begins in the lobby of the Peabody Hotel (rooms, from $180; 149 Union Ave.; 901-539-4000; peabodymemphis.com) in downtown Memphis. The grand lobby, with its high wooden ceilings, dates from 1925, and the fountain is home to the five famous ducks that make their stately way from the bank of elevators to the fountain, where they pass the day. Guests assemble every day at 11 in the morning to watch the parade.
Blues arrived early in Memphis, dug in deep and gave birth to rock 'n' roll. Elvis Presley, who grew up in Tupelo, Mississippi, and moved to Memphis, was influenced early on by the blues, as were Jerry Lee Lewis, Carl Lee Perkins and Johnny Cash, all of whom recorded at producer Sam Phillips's Sun Studio (sunstudio.com). The legendary venue is open daily for tours, and a number of clubs, like the B. B. King's Blues Club and the Rum Boogie Cafe, keep Beale Street lively. Though the real work of the blues begins roughly 130 miles south, famous early bluesman W. C. Handy's words still ring true: "Take my advice," he sang in the 1916 classic "Beale Street Blues," "and see Beale Street first."
Greenwood, MS
Lord, that I'm standin' at the crossroad, babe, I believe I'm sinkin' down. —Robert Johnson, "Cross Road Blues"
Robert Johnson, the world's most notorious bluesman, met his end in Greenwood at the age of 27, the victim of a jealous husband. At the Little Zion Missionary Baptist Church (Money Rd.; 662-455-0004), a humble wooden church set under oak trees, a small graveyard holds Johnson's tombstone. "He influenced millions in his time," it reads. Devotees come from all over the world to leave guitar picks, coins and bottles of beer and whiskey on his grave. At the base of the pecan tree, there's another marker. "When I leave this town, I'm 'on' bid you farewell," it says, a line from Johnson's "From Four Till Late." "And when I return again, you'll have a great long story to tell." There are at least two other graves for Johnson—one in Quito and another near Morgan City, both in Mississippi—but that's fitting for a man who was rumored to have sold his soul to the devil to learn how to play guitar.
Such bargains are unnecessary at The Alluvian Hotel (rooms, from $195; 318 Howard St.; 866-600-5201; thealluvian.com), opened in May 2003 by the Viking Range Corporation, whose HQ is in this town. The Alluvian has 45 guest rooms and five suites, plus a full spa and a cooking school at which some of the South's best chefs, like Tyler Brown of Nashville's Capitol Grille, give courses on barbecue and other, lesser traditions. Next door is Giardina's (314 Howard St.; 662-455-4227), one of the Delta's most historic restaurants. Founded in 1936, Giardina's maintains its old Southern charm but is helmed by young chef Nick Seabergh, who serves bright, ingredient-driven cuisine such as baked oysters with Benton's bacon.
Indianola, MS
Nobody loves me but my mother, and she could be jivin' too. —B. B. King, "Indianola Mississippi Seeds"
The stretch of Highway 82 between Greenwood and Greenville is a 50-mile-long belt across the Delta, past planted fields and catfish ponds. Red-winged blackbirds perch on telephone wires, and armadillos (deceased) lay by the road. A little more than halfway down this stretch is Indianola, the seat of Sunflower County and the heart of the Delta.
Indianola is where a young man named Riley B. King worked on a cotton plantation in the 1940s. On Saturday nights, he would come to town to stand on the corner of Church and Second streets and play his guitar. In 1947, he moved to Memphis to play his blues on Beale Street and changed his name to B. B. King, but he never forgot his roots. At age 85, having sung the blues to presidents and royalty around the globe, the man known as "the ambassador of the blues" returns to the Delta every summer, as he has since 1973, to give a homecoming concert.
In 2008, the building that once housed a cotton gin where the young Riley B. King worked was transformed into the $15 million, world-class B. B. King Museum and Delta Interpretive Center (400 Second St.; bbkingmuseum.org), which provides a solid grounding in the basics of the blues and the Delta, using King's life as a parable. The tour ends, fittingly, in a guitar studio.
But the blues don't stop there. A few years ago, King bought Club Ebony (404 Hannah St.; 662-887-2264), a historic blues club from 1948 where Ray Charles, Count Basie and King himself played as young men. Although he reinvigorated the place, it doesn't traffic in nostalgia. Club Ebony is as good a place for a juicy hamburger and a cold beer as it ever was. Although the live bands have largely been replaced with a jukebox, on Saturdays you will still find bluesmen such as Jerry Fair and Blues Crew and Jake and the Pearl Street Jumpers performing on the stage.
Forty-five minutes northwest of Indianola, off Highway 61 in the middle of a field near Merigold, is the classic juke joint Po' Monkey's (662-748-2254). It looks like a strong wind could blow it down—but it's looked like that for nearly 50 years. Owned by Willie "Po' Monkey" Seaberry, it doesn't have live music, but its sound system delivers a connoisseur's selection of rhythm and blues every Thursday night.
Holly Ridge, MS
I'm goin' away, to a world unknown. I'm worried now, but I won't be worried long. —Charley Patton, "Down The Dirt Road Blues"
There's hardly a town here now, but there is a cemetery, and in it rest the remains of Charley Patton, whose tombstone reads "The Voice of the Delta." Patton died young—at the age of 43, in 1934—and was buried at a tombstone long lost, but such was his legend that John Fogerty, of Creedence Clearwater Revival, paid for a gravestone to be placed on the site.
Leland, MS
I've been in Texas, I've been on the run. I'm going to Leland, Mississippi, mama, You all know that's where I come from. —Johnny Winter, "Leland Mississippi Blues"
This tiny town has turned out an amazing number of fine blues players, from James "Son" Thomas to Johnny Winter and boogie-woogie pianist Mose Allison. At the Highway 61 Blues Museum (307 N. Broad St.; highway61blues.com), Leland's musical sons are enshrined in murals and exhibits. Pat Thomas, the son of Son Thomas, can be found at the museum performing every day. The younger Thomas says, "Playing the blues makes me feel good, so I'm just going to keep the good work up. I'm satisfied, and I got an 11-year-old who wants to learn the blues. He's already got a guitar."
Clarksdale, MS
Clarksdale, Mississippi, always gon' be my home. That's the reason you hear me set right here and moan. —Son House, "Clarksdale Moan"
Nowhere has the worldwide interest in the blues spurred greater revitalization than in Clarksdale. The town is home to two blues museums: the public Delta Blues Museum (1 Blues Alley; museum.org), in which one can find the cabin from Muddy Waters's sharecropper days reassembled, among other exhibits; and the private, nonprofit storefront Rock & Blues Museum (113 E. 2nd St.; blues2rock.com), opened in 2006 by Theo Dasbach, a blues lover from Holland who hosts biannual blues festivals in downtown Clarksdale.
Roger Stolle, a codirector of M For Mississippi, owns Cat Head Delta Blues & Folk Art (252 Delta Ave.; cathead.biz), which is full of Delta blues books, albums, DVDs and CDs, some of which are produced by Stolle's own label, Cat Head Presents. "People didn't believe the blues could save Clarksdale, but it has provided a solid foundation," Stolle says.
Clarksdale offers more than just music. The Lofts at the Five and Dime (121 E. 2nd St.; 888-510-9604; fiveanddimelofts.com) are six spacious new lofts above a landmarked Woolworth building. At night, venture to Madidi (164 Delta Ave.; 662-627-7770; madidires.com), a sophisticated restaurant co-owned by another native son, actor Morgan Freeman, with riffs on Southern soul food like buttermilk-fried quail accompanied by truffle-clover honey.
And after the fried quail, let the blues draw you into the night. Clarksdale is home to two of the Delta's best blues clubs: Ground Zero Blues Club (387 Delta Ave.; groundzerobluesclub.com), also co-owned by Freeman, and Red's Lounge (395 Sunflower Ave.), a genuine juke joint, small, hot and crowded, where you're likely to hear some of the Delta's greatest living bluesmen, like Robert "Wolfman" Belfour and Terry "Harmonica" Bean. Little has changed (except the cover charge) since Son House sang "I can have a good time there, if I ain't got but one lousy dime."

CLARKSDALE'S HISTORIC 'RIVERSIDE HOTEL' FEATURED IN TAIWAN NEWS...
Hotel provides no-frills US blues experience
By ROGELIO V. SOLIS
Associated Press
2011-09-08 08:05 AM
It is not the Heartbreak Hotel or the Ritz, and George Washington did not sleep there.
But The Riverside Hotel in Clarksdale is widely regarded as a historical exhibit of blues music.
And, oh yes: Muddy Waters did sleep there and Bessie Smith died there.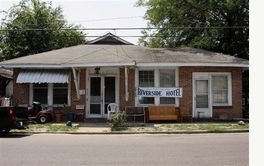 Waters and other blues icons roomed at the Riverside from the 1940s to early 1960s as they made their names in clubs throughout the South. For decades before that, the building was a hospital that served black people during segregation, and it was there that Smith died after an auto accident in 1937.
The former G.T. Thomas Hospital reopened as the Riverside in 1944 and has established a loyal group of fans who love its authenticity as a "bluesman" hotel.
It is a simple place: Rooms have single or double beds, and there are bathrooms on each of the two floors, one for women and one for men. But there is no cable TV or Internet access.
"I run a nice, clean and comfortable place," the hotel's owner, 71-year-old Frank "Rat" Ratliff, says matter-of-factly.
Mitch Goldstein, who manages the South African musical group Ladysmith Black Mambazo, extolls the hotel's simple authenticity and says Ratliff definitely underrates the property's appeal.
"It's not just a museum, but it is a place that you can sleep in," said Goldstein, of Cedar Grove, New Jersey. "Just to know that I spent a night in a room that Muddy Waters slept in is very cool."
The two-story building consists of the original eight-room former hospital and additional rooms built on, for a total of 21 guest rooms.
"In 1943 my mother, Z.L. Ratliff Hill, bought the property and had it expanded," Ratliff recalled. "She drew the plans of how she wanted it."
Ratliff said his mother was a seamstress and arranged to rent the hospital, which was later renovated into the hotel by Thomas, the hospital's namesake. She later bought the hotel from Thomas' widow in the summer of 1957.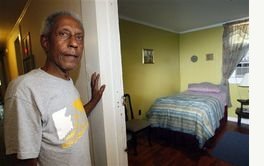 The Ratliffs' living quarters were the former hospital's rooms and offices, but some of those were made into guest rooms, as well. All rooms are equipped with dressers and bed frames that have been there since the first day the doors opened as a hotel. Ratliff also has provided some creature comforts like a small refrigerator, microwave and a television.
"If I put new furniture or change the rooms, it would not appear to be the place the musicians stayed," Ratliff said. "That's the way the building was built. It stays like that. If I change it, I might as well close them doors, because people want it that way."
Blues fan and part-time musician Michael Waugh, of Lawrenceville, Georgia, agrees. He brought his wife and two young children to spend the night there last December.
"I thought it was incredible," Waugh said. "I am a huge fan of the blues and was looking for a blues experience."
The Waughs spent the night in the room used by Waters, and while it took a little time to adjust to the shared bathroom idea, the family took it in stride.
"For me to play my guitar where Muddy Waters played is pretty special. It provides me a bigger connection to the music," said Waugh, who plans to return to the hotel this year, around the Christmas holidays.
It costs between $65 and $70 per room, per night. "This is a family business, and I only go up on the fees when the taxes go up," Ratliff said.
He also said the bluesmen who stayed at the hotel had their favorite rooms. And while he has no plans to label the rooms, he tells each guest the history of each room and the history of the musicians who stayed there.
Ratliff said he gives each new guest a tour of the hotel and allows the guest to pick a room at check-in. "When they return, they just go to their rooms, and if they leave something there, it is still there when they return," he said.
Among the who's who of blues musicians who have spent time at the Riverside are Ike Turner, Robert Nighthawk, Sonny Boy Williamson II and, of course, Muddy Waters, who lived on the property for several years. The Blind Boys of Alabama also stayed there when passing through the state.
"My mother rented by the week and by the night," Ratliff said. "She helped them out when they had no money. She fed them or gave them a place to stay when they was broke. And when they needed someone to co-sign on a loan, my mother did that. They always paid her back."
But even with all that musical talent at the hotel, none of it rubbed off on either him or his mother.
"My mother loved music and tried to play piano. She bought a piano but just pecked on it. She even got me music lessons when I was a kid, but I was not musically inclined," Ratliff said, laughing.
Ratliff, who worked for 23 years for Wonder Bread bakery, fully took over managing the hotel in 1997 when his mother died. He currently is grooming his daughter, Zelina L. Ratliff, 40, to continue the tradition.
Clarksdale Mayor Henry Espy is glad to hear that.
Although the building is rough in appearance, and surrounded by shuttered shotgun houses, long houses with all rooms extending in the same direction, it is one of the cornerstones to the town's resurgence, he said.
"When festival times come around, you cannot get into the place," Espy said. "Tourism is now the driving engine for not only Clarksdale but the (Mississippi River) Delta."
And along that line, the city hopes to redevelop property surrounding the hotel to include a park, walking trails, and even a catfish pond. The city also is seeking a grant to help rebuild the housing adjacent to the hotel.
"But we dare not mess with history. We want to keep it authentic," Espy said. "It is what it is, is how we describe the hotel. So many historic things are gone, and the place has not had a makeover. That would undermine the place, its authenticity.
"People come from all over the world to feel how things were then, to see the river, to see the cotton in the fields and feel the 112 degree heat. They want authenticity," Espy said. "It is what it is."
___
If You Go...
RIVERSIDE HOTEL: 615 Sunflower Ave., Clarksdale, Mississippi; 662-624-9163. Rates: $65-$70 room, shared bathrooms.