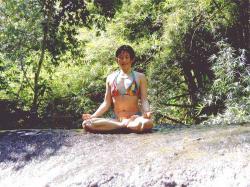 "One Percent For Peace: The Real War on Terror"
I kept in my files the above article I read in Yoga International in 2005 because it struck me so deeply then. It does now too, and behold - now there is a link I can share, so you can read and keep it for yourself.

The astounding findings of the multiple scientific experiments discussed in this article: when 1% of any given population meditates at once, that entire region experiences a dramatic, measurable decline in violence.

This pattern repeated itself across styles of meditation, and affecting both man-made violence (battles, street crime, domestic crises) and natural disasters (forest fires, earthquakes).

Read for yourself, and consider the premise. The real war on violence may indeed begin within, as Jesus and all past wise masters have timelessly told us. The exciting new factor is the math, and the interfaith power of 1% meditating simultaneously as a simple and actionable formula for transformation on both a personal and a societal level.

If this excites you to begin or redouble your own meditation practice, consider joining others to magnify that group effect. Search for group meditation centers in your area in churches, temples, mosques, and the growing groups of meditators that meet for hour-long meditations across the country. My Links section at lower sidebar right will offer some leads.

Om, Aum, Amen Amin, Omega... Peace.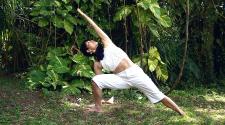 Fall Class Schedule
I now teach 8 classes at Pure Yoga, 4 each at East and West, including 2 new Vinyasa classes.

And I have my St. Lucia January retreat 1/12-1/15, with early bird deadline Nov.15, and my Holiday Restorative Workshop at Pure East December 17. Register now for either or both, & make me & yourself happy!

Check my website anytime for updates. Here is my new class lineup at Pure Yoga New York:

M-10:30 Slow Flow Meditation, East
M-6:15PM Chakra Slow Flow, West (ends 10/31)
T-12:30 Restorative, East
Th-9:30 Vinyasa L2, West
Th-11 Yin/Yang, West
Th-5:30 Vinyasa L1/2, East
Th-8PM Restorative, West
F-10:30AM Chakra Slow Flow, West
F-5:30 Restorative, East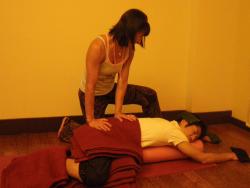 Holiday Restorative Workshop
Rejuice and reboot yourself for the holiday season ahead.

Bring yourself to my 2-hour Holiday Restorative Treat, Saturday December 17 from 4-6PM at Pure East. Members and non-members welcome, total non-yogis and serious yogi/ni's all equally welcome, to come and retreat with me.

A great gift for self or a friend! I will have gifts for each guest; and my gift to Heifer International is 10% of proceeds; they are my favorite holiday charity that "teaches a man to fish, instead of giving him a fish." I link to them and other favorite charities, at end of newsletter at sidebar.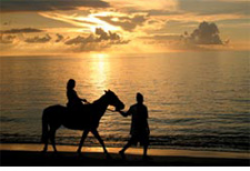 Tropical Retreat in January
I don't know about you, but with the snow falling this weekend outside my window, I bought flights to a warm clime in February too! to get a sunny escape from Vitamin D deficit and the seasonal affective disorder I know I am prone to.

In January's frigid days, I invite you to come join me in some beach and blue sky breezes, in St. Lucia, Caribbean Islands. I've done two winter yoga retreats on this island, with the fabulous Trish of Tropical Escapes. She will advise you on staying the extra Sunday night (it's Martin Luther King weekend), or extra excursions (horseback beach trips, scuba, zipline) or massage bookings you might want (other than a thai massage you can book with me). We offer $100 discount with a Nov.15 registration, on already great prices, so check it out. Children under 12 require special permission from hotel; check with Trish on this or other logistical questions! Check in with ME on yoga itinerary questions!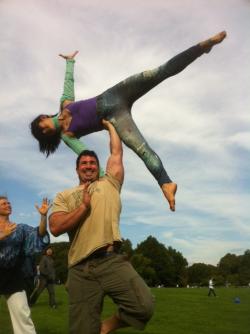 Photo Thanks; Forward; Reply
Thanks this month for photos to: Andy Eisner, Linda Mittel, Raul Aranas, Ogunquit Playhouse, Karen Lee, Lux Sternstein, Troy Lucero, Hiroki Tada, Mario Covic, Trish Perkins, Chris Martucci, Helene Kerherve.

Please feel free to forward, respond, or unsubscribe at any time. Your email privacy is sacred and I do not share email lists. Happy Hallowe'en! May you be merry & safe!

Om shanti! Peace! Mary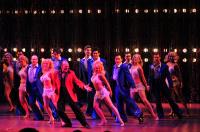 Share Your Dream
Yoga at 16 years in my life is a fairly recent development. Theater has been there for my husband Raul and myself since we met in it 28 years ago. It has brought us to cities around the world, and new people and experiences.

Sharing what we love is a blessing that artists earn, often at a high price. The privilege to do what we desire, AND balance a home and family is a gift not to be taken lightly or for granted. We give gratitude for yoga, and theater, in our lives! This Fall, I got to be a single mom for two months as Raul brilliantly pitched the American Dream to packed houses at the Ogunquit Playhouse production of "Miss Saigon" in Maine.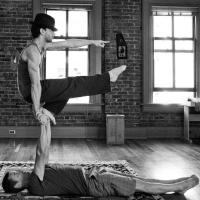 Advanced AcroGasmic Weekend in NYC
SeattleAcro and The YogaSlackers Present: Intermediate/ Advanced Acro-Transitions • Acrogasmic Tour •

Lux, Jason and Chelsey have been described as some of North America's most innovative developers of the acrobatic arm of the AcroYoga practice. They combine conscious powerful movement, and a keen understanding of how to manipulate center of gravity through steadiness, inertia, and momentum.

They are kicking off their 6-city teaching tour with New York City. Pre-pay by Nov.1 for early bird discount.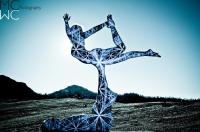 Live Out Loud! ~ 5-Day Acrobatics, Movement, & Performance Immersion With Jenny Sauer-Klein
AcroYoga co-founder Jenny Sauer-Klein comes to New York for an exciting intermediate level 5-day immersion, from November 29-December 4. If you just want to have fun in your interactive practice, or if you are serious about pursuing the AcroYoga path, this is definitely for you! By application; early bird discount ends Tues Nov 1.

See the Facebook event page below, and the YouTube trailer here:

http://www.youtube.com/watch?v=VIONBNQiv_Y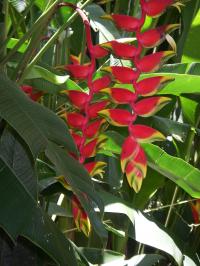 Giving Back
I mention my favorite holiday charity, Heifer International, above in my Restorative Workshop article.

Other charities that do the same admirable work of educating and building up the communities they work with include Habitat for Humanity and Children International. Food delivery organizations that feed the hungry in our communities include Feeding America, and local groups like City Harvest and Citymeals on Wheels in New York.

Experience how good you feel when you channel your blessings in a way that shares them, even a little bit, both this season and all year. And if it is time you have to give, try a local group like New York Cares, or the international group All Hands Volunteers.

All links below.