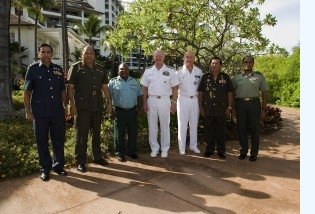 Each year U.S. Pacific Command hosts a meeting with Chiefs of Defence from around the region. This year 27 Chiefs of Defence came to Hawaii for the meeting. Of the 27 were seven APCSS alumni including (l-r): Sri Lanka's Air Chief Marshal Roshan Goonetilleke, Chief of Defence Staff ( EC 04-1); Brigadier Tau'aika Uta'atu, Commander, Tonga Defence Services, (SEC 05-3); Brigadier General Wanji Francis Agwi, Commander, Papua New Guinea Defence Force, (TSC10-2); Admiral Robert Willard, Commander, U.S. Pacific Command (PRS09-1); Rear-Admiral Jerome Regnier, Joint Commander Armed Forces in French Polynesia (TSC 11-1); Lieutenant General Eth Sarath, Deputy Chief of Defense, Royal Cambodian Armed Forces (SEC 08-2); and Major General Moosa Ali Jaleel, Chief of Defence Force, Maldives National Defence Force (EC 00-3).
APCSS alumni were also actively involved in the U.S. Air Force and Pacific Air Forces' Pacific Air Chiefs Conference. Held in Hawaii and Washington D.C. the conference included: Air Marshal S.M. Ziaur Rahman (Bangladesh), EC03-2, Lieutenant General Soeung Samnang (Cambodia), SEC06-2, Air Vice Marshal Peter Stockwell (New Zealand), SEC05-1, Major General Chee Meng Ng (Singapore), SEC07-1, and Air Marshal Harsha Abeywickrama (Sri Lanka), EC03-3.
Building Security Cooperation Through Executive Education
Seventy-three senior military and civilian government leaders from 30 countries and territories graduated October 12 from the Asia-Pacific Center for Security Studies "Executive Course: Advanced Security Cooperation."
Attending the regional security course were representatives from: Australia, Bangladesh, Bhutan, Cambodia, Canada, Chile, China, Fiji, India, Indonesia, Japan, Malaysia, Maldives, Mauritius, Mongolia, Nepal, Pakistan, Papua New Guinea, Philippines, Republic of Korea, Russia, Singapore, Sri Lanka, Tanzania, Thailand, Tonga, Turkey, Uruguay, United States, and Vietnam. More...
Publications & Presentations
Note: The views expressed in these articles are those of the author and do not necessarily reflect the official policy or position of the Asia-Pacific Center for Security Studies, U.S. Pacific Command, the U.S. Department of Defense, or the U.S. government.
Coming soon are two articles from Kerry Nankivell that were accepted for publication: an upcoming book review in Ocean Development & International Law (journal) and an op-ed piece in the Canadian Naval Review magazine entitled 'The Cost of Absence'.
Dr. Alex Vuving gave several presentations on China in the last few months. They included "The Rise of China and Regional Leadership in Asia" at the Institute of Southeast Asian Studies (Singapore) and "The Grand Strategy of a Rising China" at the Leadership Conference of the U.S. Air Force Office of Special Investigations in Honolulu. Later this month he will give a lecture on "Soft Power in East Asia" at the Far East Conference of the Commander Naval Forces Japan in Minneapolis.
The October FORCE Magazine (India) featured an article by Dr. Mohan Malik entitled "Chinese Chill: China-India Face-off in the South China Sea: Concert or Conflict?"
Malik discusses how "the geopolitical chess game is intensifying as Chinese and Indian navies show off their flags in the Indian and Pacific oceans with greater frequency." Read more…
Acting APCSS Director Brig. Gen. (Ret.) Jim Hirai and Dr. Jim Campbell attended UH/PACOM Subcommittee on Disaster Management at the National Disaster Preparedness Training Center. APCSS faculty members will serve on all five working groups: Recovery and resilience (Dr. Campbell); Response coordination and transition (Mr. Tom Peterman); Risk and vulnerability assessment (Ms. Jessica Ear); Communications, info management (Mr. Herman Finley); and Leadership development (Ms. Lori Forman), to provide recommendations to the Commander of U.S. Pacific Command.
Dr. Jeffrey Hornung is one of 15 participants selected for the US-Japan Network for the Future program. This unique program is building a network of "New Generation" Japan specialists that can bring diverse expertise and perspectives to the bilateral policy-making process in the mid- and long-term. The program is sponsored by The Maureen and Mike Mansfield Foundation and the Japan Foundation Center for Global Partnership.
Hornung also had an article published in the Diplomat entitled "Japan's Future in the Balance." In the article Hornung discusses how Japan's Prime Minister Yoshihiko Noda is "facing his toughest challenge – and it has nothing to do with recovery from the March disasters…Noda faces a dilemma of choosing a policy that prioritizes Japan's broader economic interests or domestic political dynamics." Read more…
Korea Review, a new journal edited by APCSS alumnus Kim Jaebum, will feature "Extended Deterrence on the Korean Peninsula: Stability in an Age of Global Nuclear Reductions, Maturing Missile Defenses, and DPRK Provocations" by Dr. Bill Weininger in an upcoming issue.
Several APCSS faculty attended PacForum CSIS Strategic Partnership Forum along with senior leaders from government, military and business to assess issues and provide recommendations to the Commander of U.S. Pacific Command in areas of: Disaster Mitigation; Future Cooperation/Confrontation with China; Building Resiliency in SE Asia; Energy Security and Green Growth; and Beyond APEC.
"Back to Baghdad" is a new book written by APCSS alumnus Lt. Col. Gonchigdorj "Nyam" Nyamdorj (Mongolia, EC08-2). A lieutenant colonel in Mongolian Army and the Editor-in-Chief of Mongolian Armed Forces Newspaper "Soyombo," Nyamdorj wrote about Mongolia's contributions in Afghanistan and Iraq. More...
APCSS-ACSC Joint Global Security Seminar
Fellows from Australia's Command and Staff College (ACSC) came to Hawaii October 17-21 to be part of the "APCSS-ACSC Joint Global Security Seminar." Co-hosted by the Asia-Pacific Center for Security Studies (APCSS), a U.S. Department of Defense regional center, and the Australian Command and Staff College, this five-day workshop was part of the ACSC's Global Security Issues elective.
Through this seminar Fellows gained a better understanding of the nature of post-Cold War power shifts in the international system; identified common approaches to dealing with traditional and transnational security challenges in the Asia-Pacific region; developed critical thinking and analytical skills; and understood capabilities, organizational structures and roles of the military forces in other nations.
A similar seminar is planned for the New Zealand Command and Staff College in November. That workshop will focus on Asia-Pacific Security Trends, Challenges, and Opportunities. It will be held in conjunction with the group's 12-day overseas study tour which also includes visits to Vietnam and New Caledonia.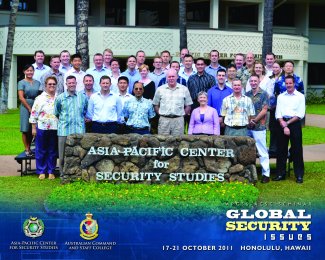 Transnational Security Cooperation (TSC) Course
Dec. 5-9
Senior Executive Asia-Pacific Orientation Course (SEAPOC)
Jan. 18-20, 2012
Asia-Pacific Orientation Course (APOC)
Jan. 23-27, 2012
Recently, APCSS was pleased to host orientation visits by a number of distinguished visitors/groups including:
- The Hon Jason Clare, Minister for Defence Materiel, Australia's Ministry of Defence
- Air Marshall S.M. Ziaur Rahman,Chief of the Air Force, Bangladesh Armed Forces
- Hawaii JROTC program - students representing 15 local High Schools.
- Mr. James Miner, DSCA
APCSS Insights is a new way of sharing timely and relevant findings of interest and opinions by our faculty with professionals concerned with security in the Asia-Pacific region. The first edition, "Why the United States Should Engage Burma Now" by Col. Michael R. Lwin was distributed as an e-newsletter.
If you would like to receive future editions by email you can subscribe to it via the Activities Report subscription link below- please update your subscription to include APCSS Insights. You can also find it online at http://www.apcss.org/apcss-library/publications/
The latest edition of Currents Magazine is now available online at: http://www.apcss.org/apcss-library/publications/currents/

APCSSLink is now part of GlobalNet. This upgrade provides a number of improvements to the portal including building connectivity between Regional Centers and expanded Communities of Interest.
Below are a list of Communities of Interest currently maintained by APCSS:
Please note you must be an APCSS alumnus to access these Communities of Interest.
Attention APCSS Alumni: We are conducting our annual alumni survey now through Nov. 30.
Please take some time to fill out this survey and give us your feedback. Check the latest Alumni e-Newsletter for the line or email: AlumniDivision@apcss.org
Mahalo for your kokua!
You can find past issues of the APCSS Activities Report and the Military Construction newsletter online here.
Copies are also posted on GlobalNet and APCSSLink.