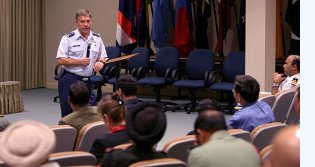 Retired U.S. Air Force Lt. Gen. Dan Leaf will be the new director at the Asia-Pacific Center for Security Studies beginning January 17.
A former deputy commander at U.S. Pacific Command, Lt. Gen. Leaf has extensive experience in the Asia-Pacific Region having been stationed in both Korea and Japan. He also had temporary duty assignments in Pakistan, Australia, India, the Philippines, Singapore, and Vietnam. Read more...
Under Secretary Flournoy visits APCSS
Under Secretary of Defense for Policy Michele Flournoy visited APCSS on Wednesday, Nov. 30, 2011. After a tour of the facilities with Acting Director Brig. Gen. (Ret.) Jim Hirai, she and her party joined 18 members of the APCSS faculty for a roundtable discussion.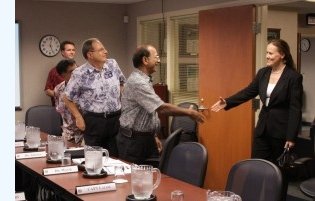 Under Secretary Flournoy opened the discussion by reiterating statements made recently by President Obama, Secretary of State Clinton, and Secretary of Defense Panetta highlighting the growing importance of the Asia-Pacific region to U.S. policy.
APCSS- New Zealand Defense Force Command and Staff College Seminar on Asia-Pacific Security Trends, Challenges, and Opportunities
New Zealand Defense Force Command and Staff College Fellows participated in a special workshop at APCSS held November 21-22. The Fellows gain a better understanding of the nature of regional power shifts, particularly as they relate to the U.S., China, and India. They also had an opportunity to exchange perspectives on key transnational security trends, especially in the maritime, economic and natural disasters areas; develop collaborative approaches to existing; and emerging security challenges and identify best practices in the functioning of national security institutions. Rear Admiral J.R. Steer, Vice Chief of New Zealand Defence Force led the NZDF CSC team which included 45 multilateral course members plus NZDF Staff. APCSS was the final stop in a 12-day overseas study tour which also included New Caledonia and Vietnam.
Publications & Presentations
Note: The views expressed in these articles are those of the author and do not necessarily reflect the official policy or position of the Asia-Pacific Center for Security Studies, U.S. Pacific Command, the U.S. Department of Defense, or the U.S. government.
Dr. David Fouse has a new article in The Korean Journal of Defense Analysis entitled "Japan's New Defense Policy for 2010: Hardening the Hedge."
The article which appeared in the December issue is an expanded version of an earlier article he did for APCSS.
In the article Fouse states "that Japan has placed new emphasis on developing its own capability to deter China in the "gray zones" of disputed territories and waters near its southern island chain. Consensus across the Japanese security community on this new strategic outlook has led to the abandonment of the Basic Defense Force concept and the adoption of a 'Dynamic Defense Force' concept as the underlying logic driving Japan's defense policy."
"Japan's new policy of dynamic deterrence emphasizes increasing its visibility in the southern islands through improved intelligence, reconnaissance and surveillance (ISR) capabilities as well as enhancing its capability to deal with contingencies arising in that area by developing a more mobile and flexible force structure that is better coordinated for a timely response. While domestic ideological battles continue to thwart the adoption of collective self-defense and other controversial revisions to Japan's defense policy, Japan's willingness to play a larger role in monitoring Chinese maritime expansion in the East China Sea has been welcomed by the United States," says Fouse.
The article concludes that Japan's "3/11″ disaster is unlikely to change its new defense policy and that the future of Japan's defense transformation will most likely be guided by the outcome of Japan's engagement with China.You can read the full article online at:http://www.kida.re.kr/data/kjda/04_David%20Fouse.pdf
Twenty-four senior executives complete Transnational Security Cooperation course
Twenty-four senior executives from 21 countries and one international organization completed the Transnational Security Cooperation (TSC) course Dec. 9 at the Asia-Pacific Center for Security Studies in Honolulu. They included military and civilian leaders from Afghanistan, ASEAN, Australia, Bangladesh, Cambodia, Canada, China, Fiji, Indonesia, Japan, Laos, Malaysia, Maldives, Mongolia, Nepal, New Zealand, Republic of Korea, Russia, Thailand, the United Kingdom, the United States and Vietnam.
The course is an intensive program for current and future senior regional influencers/leaders; military officers at the one- to four-star level, as well as their civilian equivalents from the Asia-Pacific Region. Curriculum emphasizes the impact of current and future change in the region, as impacted by regional and global security threats.
Read more: http://www.apcss.org/twenty-four-senior-executives-complete-transnational-security-cooperation-course/
From APEC-2011 to APEC-2012: Challenges and Opportunities for Regional Security and Energy Cooperation
A full-day roundtable entitled "From APEC-2011 to APEC-2012: Challenges and Opportunities for Regional Security and Energy Cooperation" was held at APCSS on November 15, 2011. The event was conducted in partnership with the Maritime State University (MSU) of Vladivostok, Russia and Far Eastern Federal University (FEFU) of Vladivostok, Russia. The speakers, representing MSU, FEFU, APCSS as well as the East-West Center and PACOM, emphasized the importance of innovative security thinking, evaluated regional institution building and role of APEC, discussed Russia's evolving role in the Asia-Pacific and exchanged perspectives on energy and maritime security trends in the region.
"Security is vital for trade – security is the cornerstone of economic prosperity," said one young delegate when asked why regionanl security is important.
The doors of the Asia-Pacific Center for Security Studies (APCSS) auditorium were opened Nov. 8 to welcome Commander, U.S. Pacific Fleet Adm. Patrick M. Walsh, who spoke to more than 120 students and educators from 21 Asia-Pacific Economic Cooperation (APEC) economies.
Thirty or so of the students were from Kamehameha Schools here in Hawaii and all are delegates of the "Future Voices of APEC" program. The delegates represent most of the 21 APEC member economies and were here to participate in the program, which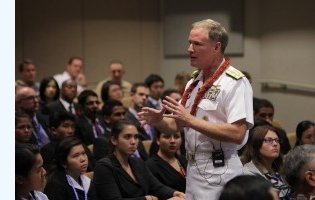 included a week of discussions, tours and contact with business leaders from the region. more...
Senior Executive Asia-Pacific Orientation Course (SEAPOC)
Jan. 18-20, 2012
Asia-Pacific Orientation Course (APOC)
Jan. 23-27, 2012
Comprehensive Security Responses to Terrorism (CSRT) Course
Feb. 23- Mar. 23, 2012
Recently, APCSS was pleased to host orientation visits by a number of distinguished visitors/groups including:
- International Military Attaches
- The Hon. Kim Beazley, Australian Ambassador to the U.S.
- Amb. Dan Mozena, U.S. Ambassador to Bangladesh
- Amb. Evan J. Paki, PNG Ambassador to the U.S.
- Lt. Gen. Dato Abdul HADI bin Hj Hussin (Malaysia)
- Maj. Gen. Thomas Conant, PACOM
- Mr. Jim Rolfe, Deputy Director, Asia Pacific Military Center of Excellence (AUS)
- Mr. Chris Castro, Director, Bureau of East Asian and Pacific Affairs/ Multi-lateral Affairs
APCSSLink is now part of GlobalNet. This upgrade provides a number of improvements to the portal including building connectivity between Regional Centers and expanded Communities of Interest.
Below are a list of Communities of Interest currently maintained by APCSS:
Remember, you must have your APCSSLink account open to view some of the newsletter links. Also, if you're experiencing difficulty navigating the site, there is a new "GlobalNet Guide" to help you
APCSS Insights is a new way of sharing timely and relevant findings of interest and opinions by our faculty with professionals concerned with security in the Asia-Pacific region.
If you would like to receive future editions by email you can subscribe to it via the Activities Report subscription link below- please update your subscription to include APCSS Insights. You can also find it online at http://www.apcss.org/apcss-library/publications/
The latest edition of Currents Magazine is now available online at: http://www.apcss.org/apcss-library/publications/currents/

You can find past issues of the APCSS Activities Report and the Military Construction newsletter online here.
Copies are also posted on GlobalNet and APCSSLink.