Help Us Hit 2,000 LIKES on Facebook...
Give Classic City Brew Fest Tickets this Season!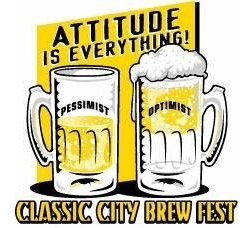 Give the beer lover in your life tickets to one of the Southeast's longest-running and most popular craft beer events. Our 17th annual Classic City Brew Fest on Sunday, April 15, 2012 in Athens, GA will feature almost 250 of the greatest craft ales and lagers from around the world, live music from Steel String Session, and an exciting new cask ale pavilion with close to 15 one-off firkins. Taste beers at the Classic City Brew Fest in several enjoyable venues without crowded lines.
Tickets are only $39.99 each! For tickets and complete details, visit www.brewfest.net. Xorbia tickets can be printed out and given as holiday gifts. Tickets are very limited, and will not last long!
Sponsors: Athens Area Humane Society, Terrapin Beer Company, Five Points Bottle Shop, Redhook, Trappeze Pub, Chops & Hops, Brewtopia LLC and Foundry Park Inn & Spa.
Owen Ogletree to Host Beer Cruise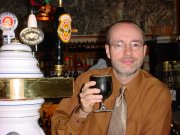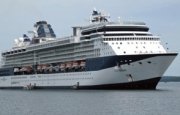 Owen Ogletree is hopping on board to host the 14th annual Magic Happens Beer Cruise sailing from Vancouver BC down to Victoria, San Francisco, Monterey and San Diego on September 14-22, 2012. Owen will run onboard talks, tastings and beer bingo, and our port excursions will include some delicious brewpub and craft brewery visits. What a fantastic, beery holiday gift this cruise would make! To book, contact Michael or Marcie at 800-824-4968 / travel@magichappens.com. Click here for complete details on the beer excursion. Bon voyage!
Also inquire about Magic Happens' 10th anniversary All About Beer cruise to Scotland, France, Ireland and England coming up on July 28 through August 9. Experience breathtaking scenery, wine tastings, Scotch samplings, a VIP Guinness tour and more. Gregg Glaser, News Editor of All About Beer magazine and Publisher/Editor of Modern Distillery Age, will be the guest host. www.magichappens.com
Owen's Most Recent UK Jaunt
Owen Ogletree took Kerri 'Beer Wench' Allen and friend Nick Allen on a epic, week-long, UK real ale tour of Manchester, Liverpool, Sheffield, Birmingham and Dudley during Thanksgiving week of 2011. Here are some highlights and links to our Google photo albums...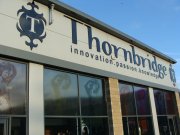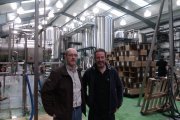 Thornbridge Brewery: A pioneering influence in the current craft beer surge in the UK, Thornbridge started out as a tiny brewery housed in a tool shed behind a manor house near Bakewell, UK. Spurred on by the phenomenal success of its hoppy Jaipur IPA, the guys at Thornbridge have moved to a spacious new plant on a historic, light industrial, river site just outside of town. The original brewhouse is still used for test batches and special seasonal beers, and the creative brewers at Thornbridge crank out an ever-changing range of award-winning cask ales and bottled ales and lagers. When in the Sheffield area, be sure to stop by their visitors center and also pop into their exceptional pubs. Click here to see Owen's interactive photo album from Thornbridge. The photo above and to the right was taken by Nick Allen and shows Owen Ogletree and Thornbridge's Alex Buchanan in the new brewhouse.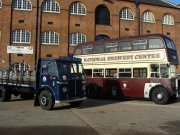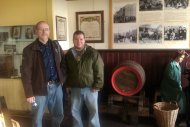 Burton's National Brewery Centre: Around 100 years ago, Burton Upon Trent, with its perfect hard water, made up the ale brewing center of the universe. Giants like Bass made use of the mineral-rich water to produce dry, hoppy pale ales that became world famous last century. Visitors to the area can visit some delightful, historic pubs such as Burton Bridge Brewery's fantastic Bridge Inn. No stop to the district would be complete for any beer lover without a tour through the informative National Brewery Centre that includes a Worthington test brewery, gift shop, vintage beer vehicles, expansive displays and a tasting room. Click here to check out Owen's interactive photo album from the centre.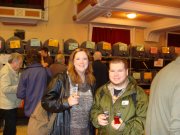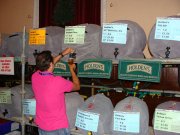 Dudley Winter Ales Fayre: Pictured above and to the left are The Beer Wench and Nick Allen enjoying marvelous cask ale samples at the annual Dudley Winter Ales Fayre held just outside of Birmingham, UK. This friendly and intimate CAMRA (Campaign for Real Ale) event showcases stronger winter cask ales from the surrounding region, with beers being available in 1/3, 1/2 and full pints. We thank the fest organizers for a marvelous tasting event. Click here to see Owen's photos and details from the festival.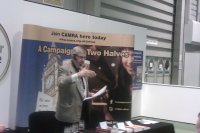 BBC Good Food Show: This annual BBC gourmet food exhibition (winter edition) was held last week in Birmingham, UK. The amazing event featured several, huge exhibit halls filled with booths of food, cooking equipment, wine, whiskey, cheese and beer. For anyone interested in food, cooking or beverages in the UK, this show is a must-see. We were lucky enough to sit in on a beer tasting hosted by our friend Roger Protz (above). Roger, the editor of CAMRA's best-selling UK Good Beer Guide, guided us through a sensory evaluation of five of England's top bottle-conditioned ales. It was a delicious experience!
Featured Beery Links & Events

12/6/2011 - Wild Heaven Beer Dinner at Trappeze Pub in Athens, GA. Trappeze will be serving five courses with five beers, and dinner will cost $60 a seat. Reservations will be handled by Nancy Palmer at wildheavenbeerdinner@gmail.com.

Trappeze Pub in Athens GA also runs its annual Stout Festival through December 4. The event features a huge selection of the world's best black ales on draft as well as special cask tappings and by-the-glass bottle selections.

01/28/2012 - Atlanta Cask Ale Tasting. Experience almost 35 exceptional cask conditioned, real ales from the best craft breweries in the Southeast, USA, and UK. Only a handful of tickets remain. Click here for details and tickets.

BREWTOPIA EVENTS' FULL INTERACTIVE BEER CALENDAR is always just a click away - featuring the best beer happenings around the Southeast and beyond.

We Three Georgia Seasonals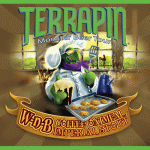 Terrapin Wake-N-Bake Coffee Oatmeal Imperial Stout: This time of year, as the days get chilly, it's comforting to know that you can pour yourself of mug of black as night Wake 'n Bake Coffee Oatmeal Imperial Stout. This stout is thick, rich and full of real coffee flavor. That's because it's brewed with the Terrapin Wake 'n Bake coffee blend of premium Costa Rican, Guatemalan and Zimbabwe coffees from Jittery Joe's in Athens.
Red Brick Double IPA: Rev up your winter hop taste buds for Red Brick's powerful Double IPA. This delicious brew offers a rich malt backbone balanced by loads of spicy flavoring and aroma hops - a beer that's proud to call Atlanta home.
SweetWater Festive Ale: Georgia beer lovers consider the annual Festive Ale from Atlanta's own SweetWater Brewing Company a perennial favorite. Available every winter in six packs, red wax-topped liter bottles and on draft, this luxurious, strong dark ale offers a rich blend of allspice, caramelized grains, cocoa notes and a warming alcohol content. Savor it in a brandy snifter alongside a slice of cherry cheesecake.
Cask Ale Brewpub Coming to Griffin, GA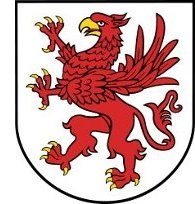 Look for the new cask-centered Eagle & Lion brewery to open around February in Griffin, Georgia. The business is named for the two animals that make up the mythical Griffin, as well as the Anglo-American connection of an American eagle and British Lion. The Eagle & Lion's Mark Broe said, "Our brewpub will feature house cask ales as well as some local beers on draft and one light American lager. In mythology, the Griffin guards treasure - which in this case is our cask ale. To my knowledge, this is the third cask-only brewpub in the United States. I was trained in 2004 at Brewlab at the University of Sunderland and worked for several years at the Grand Union Brewery in London - winning many local, regional and national awards. My equipment is the former Birmingham Brewery from Birmingham UK, which I shipped over this summer. It included 150 casks. The Birmingham guys gave me their recipes, and for fun I'll brew their mild and pale ale here. My own lineup will be an ordinary and special bitter, IPA, gold, stout and a rotating special."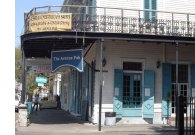 News from Polly at The Avenue Pub - New Orleans' best craft beer destination...
"We got in some great new beers a couple of days ago at the Avenue Pub... kegs of Synebrychoff porter, De Molen Cease & Desist Imperial Stout and Poperings Hommel Bier. Also stop by the pub to look for new bottles of Cantillon Rose de Gambrinus, Jolly Pumpkin La Parcella pumpkin ale, Drie Fonteinen Oude Gueuze, Pannepot Grande Reserva and Pannepot."
The Avenue Pub boasts a rotating selection of more than 47 draft beers on two levels – matched with some of the best bar food in the country.
Something Strange in Denver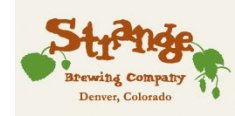 Click the image to the right to view Owen Ogletree's new video tour of Strange Brewing Company in Denver, CO. Owen shot the short video during a Beer Advocate outing the week of the 2011 Great American Beer Festival.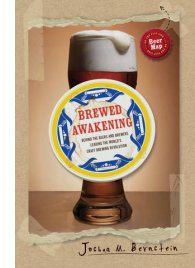 New craft beer book spotlight...
"Joshua M. Bernstein's Brewed Awakening shines a spotlight on the variety, ingenuity, and innovation that is alive and well in the beer community. Over the past decade, the collective renaissance of beer and brewing has proven that this is the best time in history to be a beer drinker. Brewed Awakening is a great look behind the curtain of the beers that are making this revolution so great." —Ken Grossman, founder, Sierra Nevada Brewing Co.
Click this link for more information.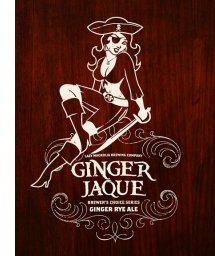 Ginger Jaque
Ginger Jaque, the second release in Lazy Magnolia's Brewer's Choice Series, invokes the likeness of one of the brewery's premier international award winning amber rye ales (AmberJaque) spiced with a bold zest of ginger. Brewed with carefully selected rye grains, traditional malts and hops, expect an impressive aroma of sweet ginger accompanied by a dry, rye finish. A very approprate ale for a chilly, winter night.
ABV: 4.39% / Grains: Maris Otter, caramel malt, wheat, with roasted pecans / Hops: Nugget and Willamette
Help Us Hit 2,000 LIKES on Facebook!

CLICK HERE to "like" Brewtopia Events on Facebook and see photos and posts from Owen Ogletree and The Beer Wench as they sip, quaff and sniff craft beer around the world. Also join in our lively craft beer discussions, posts and updates on exciting beer happenings!
COMING UP...
We post from special winter holiday beer events and seasonal beer releases.
See our Facebook photos and beer reviews from Asheville, NC - the "Munich of the Southeast."
Owen Ogletree and The Beer Wench visit Cornwall, England - home of savory pasties and malty cask ales!