Note: The views expressed in these articles are those of the author and do not necessarily reflect the official policy or position of the Asia-Pacific Center for Security Studies, U.S. Pacific Command, the U.S. Department of Defense, or the U.S. government.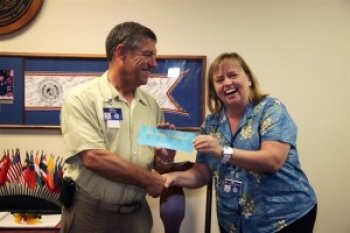 APCSS Director Air Force Lt. Gen. (Ret.) Dan Leaf congratulates Dr. Lori Forman with a new door sign, depicting her new title after receiving news that she earned her Ph.D. Jan. 20.
APCSS' Dr. Bill Wieninger writes about "Extended Deterrence on the Korean Peninsula: Stability in an Age of Global Nuclear Reductions, Maturing Missile Defenses, and DPRK Provocations" in the latest Korea Review journal.
According to Wieninger, "Successive governments in South Korea and the United States have struggled to craft policies which will lead to the denuclearization of North Korea and limit its provocative behavior, but have not succeeded to date. In the face of two major provocations in 2010, questions have been raised about the effectiveness of deterrence vis-à-vis North Korea.
"This article argues that while provocations have and will occur, extended deterrence remains solidly in place. South Korea and the United States can continue to pursue policies which reduce North Korea's perceived security threat safe in the knowledge that the risk of large scale conflict on the Korean Peninsula is extremely low."
The Korea Review is a new journal published by the International Policies Studies Institute (IPSI).
Dr. James Campbell published a chapter entitled, "Human Health Threats and Implications for Regional Security in Southeast Asia," in the book, Human Security: Securing East Asia's Future (B.C. G. Teh, editor), Springer, New York, 2012.
According to Campbell, this chapter discusses local and transnational public health challenges that threaten regional health security.
"Infectious diseases, natural and man-made disasters and environmental change negatively impact human populations worldwide, but they are especially challenging for vulnerable populations in many of the developing nations of Southeast Asia," said Campbell. "These health security issues represent non-traditional regional and global security challenges."
Through a series of case studies, the chapter highlights the requirement for multilateral collaboration and cross-sectoral interagency cooperation, to achieve sustainable health security. Best practices discussed include government cooperation and transparency, and engaging local expertise in health security planning.