2/25-2/26, 2012
Audre... Santa Fe, NM 928-300-5090
3/10-3/11, 2012
Lisl... Burlington, CT
860-673-6863
3/16-3/18, 2012
Ami... Hopkinton, NH
603-573-5950
3/23-3/25, 2012
Holly... La Grange, IL
708-352-8481
3/23-3/25, 2012
Dana & Sam... Cornville, AZ
928-634-5285
4/20-4/22, 2012
John... Bristol, CT
860-922-6846
5/04-5/06, 2012
Siddiqa... Los Angeles, CA
484-452-5574
We are now taking regisrtrations for our Level II Sacred Medicinal Aromatherapy Retreat that is being held April 18-22, 2012. This is an experince unlike any other. If the Earth is calling you home, then this is the retreat for you.
The picture above was painted by Wendybyrd Smith. The "GateKeeper" is a Being from another dimension that is here to show us the way to our Ascension. Giclees available.
Also, Cynthia is coaching people privately to increase their vibration for the glorious Ascension process that we are in. If you are interested in finding out more information, you can reach her here.
Swinging Between the Worlds
Have you noticed that we are swinging between the worlds? One moment we find ourselves in complete harmony and balance, and the next moment we find ourselves having to choose Love all over again. The veil is so thin and our choice to Love is a constant companion. I know that we at WOTE are very excited about the changes that are here. We taught our first "Wisdom of the Heart" weekend and anchored the message that Love-Self Love and Living from our Divinity, is our only option during these times. We have an obligation to ourselves to move forward in our Evolution, so that we can help Gaia, Humanity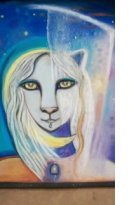 and all Life through the lifting of our vibrations. The only way to do that is to think and perceive from the heart. Joining these two aspects of Self can be a transformative tool for your own Evolution.
One of the emotions still getting in the way is the emotion of Guilt. Guilt can keep us from really loving ourselves. It creates a haze and a fog over our sense of power. Guilt covers up the brilliance of who we really are. The guilt of things past and present keeps us feeling unworthy and that has no place in the world of Love. Find these places of guilt and release them now. Remember, we came here to release all the emotions and pain that no longer serve us. We came to remember that we are Divine Beings of Light. We came to remember that we are so loved and in loving nothing can harm us. We came to sit in the stillness of our Hearts to usher in Heaven on Earth. What could be more exciting then that--unless of course we take a ride on a space ship.
I will end this transmission with a quote from a poem called Spiraled Hands, written by a dear friend Kendra Mark.
"Much of your pain is self chosen, it is the bitter poison by which the doctor within you heals your forgotten self. Trust the physician, and drink your remedy in silence and tranquilly, For his hand is guided by the tender hand of the unseen."
From the Deep Space of Love
Cynthia and the WOTE Folk
WOTE has found a new family farmer who is growing Helichrysum italicum originally from Corsica (Island south of France) in Albania. If you travel east of Corsica across the waves you will find Albania on the same latitude. This beautiful essence will be labeled Immortelle but with the origin labeled Albania plus a stickie on top of the lid w/an A for Albania. The price will be lower than the Corsican origin. We are very happy about this. We will still have the Corsican as well as the arenarium. The Albanian italicum will be priced between the arenarium and the italicum from Corsica.
Also we are carr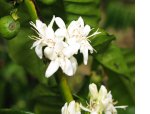 ying a new flower essence that is oh, so amazing; Coffee Flower Blossom Essence---Coffea robusta. Another essence for Wisdom of the Heart work. Pricing is available upon request.
Both of these essences will be in the updated price lists coming out in a few weeks. Please call or email us and we will email the updates to you.
Essences for Transformation
Carnation... This beautiful sweet deva lifts our very heart to new levels of joy. Using her transforms hurts and pains to joy and bliss. Allow her to take you as high as your soul wants to go, lifting your vibration to new heights of joy, happiness and bliss.
Rhododendron... This exceptional beauty helps us tune into our hearts wisdom for what we want for ourselves, not someone else's desire for us. She calls our soul family, our place (home), and/or our calling to us, using the heart as the communicator.
Jasmine...This powerful tiny flower has the ability to transmute anger, hatred, malice, towards the self and others, into Love. If you are ready to rid yourself of all transgressions toward your self and others, she will help you release it.